From the Open-Publishing Calendar
From the Open-Publishing Newswire
Indybay Feature
M20 Contingents Demand End To US Militarism In Korea And Japan
Pictures From The March 20th Anti-War Protest In San Francisco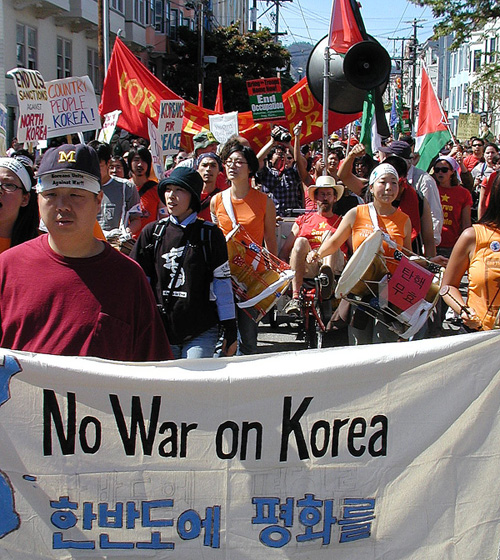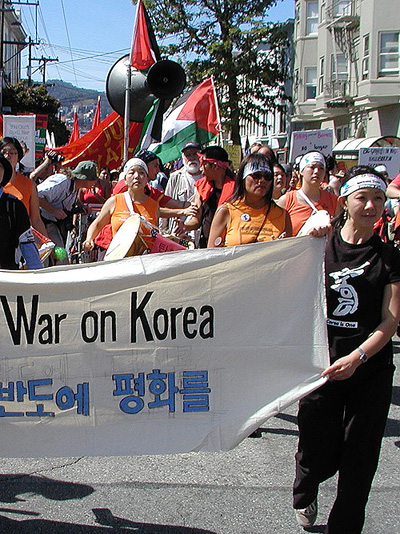 When Rumsfeld arrived at the Defense Ministry on Nov. 17 for talks with his South Korean counterpart, Cho Young-kil, antiwar protests were so fierce that Rumsfeld was forced to enter the building through a side gate. "No blood for Bush" was one of the chants. "Don't make our young men the bullet shields of the U.S." was another.
Rumsfeld's trip comes at a time when new diplomatic overtures are being made to resume six-way talks with North Korea to discuss a year-long crisis around nuclear issues. A South Korean official indicated that a new round of talks could take place on Dec. 17 in China.
It also comes at a time when the U.S. is "repositioning" its troops in South Korea. While the change reflects a pulling back of about 15,000 troops of the U.S. 2nd Infantry Division from the frontline demilitarized zone with North Korea, critics charge that the pullback may actually heighten the danger of an air or missile attack by the U.S. against the North by removing U.S. troops from the area adjacent to the DMZ. Peace activists have urged vigilance.
The United States has about 37,000 troops in South Korea. Those troops and the many U.S. military bases in the country have given rise to a huge popular movement demanding their departure. About 200,000 people in Seoul and 60 other cities demonstrated under the slogan of "U.S. out!" on June 13.
http://www.pww.org/article/articleview/4424/1/190/
On September 16, representatives of more than 360 South Korean organisations, including trade unions, student unions and progressive parties, announced their opposition to any decision by the Seoul government to send combat soldiers to Iraq.
In a joint statement, the groups demanded that the South Korean government reject the US demand for South Korean combat troops to help defend the "immoral" occupation of Iraq.
http://www.greenleft.org.au/back/2003/556/556p20.htm
Three so-called emergency contingency (Yujiho) bills brought before the Diet by the Koizumi government, which would amend the Self Defense Forces law, are supposedly aimed at allowing Japan an effective response in the case of a military or terrorist attack.
Should these bills ("the first of their kind since World War II" according to the Japan Times, 4/17/02) become law they would allow a direct curtailment of Japanese civil liberties and an immediate militarization of all aspects of Japanese life. The bills" language is so vague that a "threat" could be declared on almost any pretext.
This is the closest Japan has ever come to a swift return to the militarism of the early Hirohito years. Broad war powers would be given to the prime minister in an "emergency." The Self-Defense Forces would be allowed to destroy or confiscate property at its discretion.
http://www.zmag.org/japanwatch/0202-yujiho.html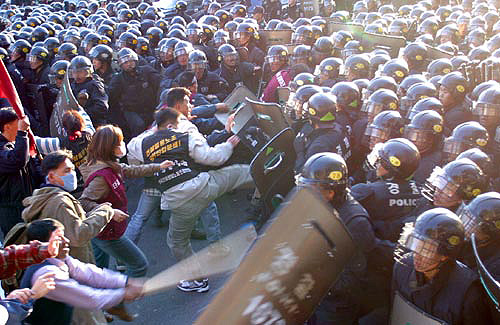 We are 100% volunteer and depend on your participation to sustain our efforts!
Get Involved
If you'd like to help with maintaining or developing the website, contact us.