From the Open-Publishing Calendar
From the Open-Publishing Newswire
Indybay Feature
Grand Juries, Undercover Agents, Threats, and Intimidation
Grand Juries are being used to repress progressive groups in Fresno and throughout the country. Find out what grand juries are and what you can do to protect your rights.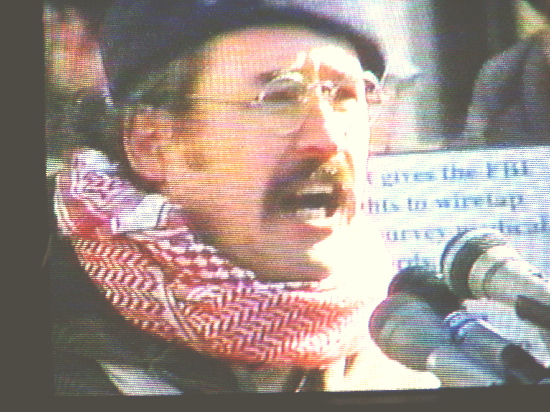 GRAND JURIES, UNDERCOVER AGENTS, THREATS AND INTIMIDATION
By Mike Rhodes and Catherine Campbell
A Federal Grand Jury issued a subpoena to anti war activists at Drake University in Iowa earlier this year. The Grand Jury wanted membership lists, agendas and other information from the campus anti-war group. The infiltration of groups engaged in peaceful protests was accelerated when Attorney General John Ashcroft and the Bush administration passed the Patriot Act in the wake of September 11. Ashcroft encouraged the FBI and local law enforcement agents to infiltrate community groups like Peace Fresno and the group at Drake University. Now, the tactic of using Grand Juries to investigate these groups has started to emerge.
In Iowa, Fresno, and around the country, people are outraged at the governments use of agents to infiltrate peaceful groups. The new tactic of using a Federal Grand Jury to threaten and intimidate peaceful protestors who are not suspected of any crime is outrageous. One of the problems, as explained by Brian Terrell, a member of the Catholic Peace Ministry, is that if "people know that our group at Drake University is being investigated by the Joint Terrorism Task Force, it will have an effect on who comes to the next meeting." The use of Grand Jury investigations and undercover agents has a chilling effect on the democratic process. Nobody wants the government to associate their group with terrorism.
But, when word got out about the governments use of the grand jury in Iowa, pressure mounted and the government was forced to drop their use of that tactic. While many people have heard about the Drake University incident, few of them know that grand juries are being used right here in Fresno to threaten and intimidate local community groups who are engaged in work for social and economic justice. In the last six months there have been at least three grand jury investigations, specifically targeting and disrupting the work of community groups. With the threat of jail hanging over the head of anyone who discloses information about grand jury activity, there may well be a lot more going on here than anyone knows about.
But what is a grand jury and how do they function? What are your rights if you are called to testify before one? Here is what we know:
The grand jury is an archaic, secret organization of the powerful chosen by the powerful. There are county and federal grand juries. Sometimes grand juries are used by prosecutors to conduct criminal investigations by interrogating witnesses in secret. When this is done, the prosecutor is deliberately choosing the grand jury process to avoid media and public scrutiny. The usual way of prosecuting crime is through the criminal justice system, which is constitutionally required to be open to the public, with investigative materials (statements and other evidence) mandatorily available to the defense. A grand jury proceeding is secret, even to the indicted person's attorney.
A grand jury has the power to compel the attendance of witnesses through issuing subpoenas, and sometimes does so on a mass scale "sweep" designed to intimidate hordes of people into grand jury appearances without having consulted counsel. A grand jury can also issue search warrants, have investigators record phone conversations, and conduct undercover operations. The scope of a grand jury investigation is not hampered by the usual rules of evidence and can be as broad as the prosecutor wants it to be.
The grand jurors themselves are rarely involved in any of these processes; prosecutors pluck the strings of the grand jury instrument. Jurors rarely see the subpoenaes, the warrants, or the undercover operatives. Jurors almost always do exactly what prosecutors ask them to do and are infamous for issuing unfounded indictments.
The failure to comply with a grand jury subpoena will result in a sanction, and incarceration is the usual outcome of a willful refusal to testify. One who decides not to comply with a grand jury is engaging in serious civil disobedience that will result in a jail term of an indefinite length.
It is possible to "quash" a federal grand jury subpoena under Rule 17 of the Federal Rules of Criminal Procedure if "compliance would be oppressive." Some limited protection is also available under the Fourth Amendment of the Constitution. As a practical matter, however, courts rarely quash grand jury subpoenas. Anyone called before the grand jury can refuse to testify before the grand jury if he/she asserts that the testimony has the possibility of being personally incriminating under the Fifth Amendment. Individuals also retain their personal privileges, such as the attorney-client privilege and the marital communication privilege.
Persons called before a grand jury to testify do not have the right to counsel in the grand jury room. However, you can have a lawyer present outside the room, and you can ask for as many breaks as you want or need, including one per question, to consult with counsel. Counsel should be consulted by anyone who receives a subpoena to testify before a grand jury.
For further information on the history and abuses of the grand jury, read: Frank Donner, The Age of Surveillance.
If you live in the Central Valley, have received a subpoena to testify before a grand jury, and you feel you have had your
civil liberties violated due to your political or religious activities contact Nicholas DeGraff at
assistance-fresno [at] riseup.net
or (559) 213-2042. It is important that the incidents of civil liberties violations be monitored and that victims are told about their legal options.
###
The photo above is of Brian Terrell on Bill Moyer's NOW show on PBS TV.
We are 100% volunteer and depend on your participation to sustain our efforts!
Get Involved
If you'd like to help with maintaining or developing the website, contact us.