From the Open-Publishing Calendar
From the Open-Publishing Newswire
Indybay Feature
Haiti Background : Gerard Latortue
Latortue is an an international business consultant who served as foreign minister in 1988 to former President Leslie Manigat. He is an economist who spent part of his career with the United Nations, living in Togo and the Ivory Coast. For the past year he has been calling for Bush to help oust elected President Aristide. Now that Aristide has been kidnapped and the US has troops in the country, Latortue's wish has come true and the US has appointed him the acting Prime Minister.
"Latortue spent part of his career with the United Nations, living in Togo and the Ivory Coast."
http://www.wehaitians.com/library%20covets%20haitian%20collections.html
Gerard Latortue Was One Of Those Who Pressured Bush To Stage The Coup
( the following was published January 24 2004 )
Gerard Latortue, a former Haitian minister of foreign affairs and international relations under President Leslie Manigat, said many are demonstrating in South Florida because they're hoping "the echoes will go to Gov. Bush, and he will advise his brother."
http://www.moun.com/Articles/jan2004/1-25-3.htm
Statement By GERARD LATORTUE, Boca Raton Dec. 18, 2003
The majority of the Haitian community in South Florida admires the position taken by the Editorial Board on Haiti (Crisis in Haiti boils on U.S. doorstep, Nov. 5 editorial). On that same day, the U.S. ambassador in Haiti and the independent United Nations expert on human rights explicitly recognized that ''Security has much deteriorated in recent weeks'' in Haiti and that ``It's hard to advocate an electoral solution when people can't demonstrate peacefully.''
The time has come for the White House to get involved directly in the search for a viable and sustainable solution to the crisis.
http://www.miami.com/mld/miamiherald/news/world/haiti/7518665.htm?template=contentModules/printstory.jsp
Tortue also described the rebels (many former death squad memebers) as "freedom fighters":
Widespread civil unrest causes anguish for S. Florida Haitians Feb 11, 2004
" But the community still remains divided over who's responsible for the chaos. Some, like Gerard Latortue, a Boca Raton resident and former Haitian foreign minister, described the people responsible for the recent violence as freedom fighters in a battle against an oppressive regime. "They became violent in response to Aristide," he said. "I see it as a liberation movement. " Others, like Emmanuel Virgil, co-owner of Virgil Tuxedos in Fort Lauderdale, think the resistance is fueled by the rich... (Google News Australia -- Top Stories)
http://216.239.53.104/search?q=cache:iQPRWeD4Y_YJ:uscities.surfwax.com/files/Boca_Raton_Florida.html+%22Gerard+Latortue%22+economist&hl=en&ie=UTF-8
While he doesn't believe France is legally obligated to repay the debt, Gerard Latortue, a former Haiti foreign minister who lives in Boca Raton, said ``it's the moral and politically responsible thing to do.''
Instead of outright asking France for money, however, the Haitian government should prepare a development plan for the country showing where the money would go, said Latortue, an Aristide critic.
http://www.miami.com/mld/miamiherald/news/world/haiti/7518665.htm?template=contentModules/printstory.jsp
Early in June, Gerard Latortue, the Foreign Minister, visited Washington and asked State Department officials and members of Congress "to come to see and assess the situation" before they took further action against the Manigat government. He urged the United States to consider the alternatives: "If we go, it will not be democracy that comes."
...
On June 14th, General Namphy summoned Colonel Paul and informed him that he was being "promoted" to head of intelligence at military headquarters -- that is, to a desk job. There were rumors that Reagan Administration officials, who had been heavily criticized for the United States' inability to unseat Panama's Manuel Noriega, had promised Latortue a partial resumption of aid if Paul was transferred. Some people said that Namphy, annoyed by Manigat's recent actions and impatient with his lack of results in dealing with the Americans, was preparing the ground for a coup against the President; others that Namphy had ordered the transfer at the urging of the President, who was setting a clever trap for the General.
http://www.markdanner.com/newyorker/121189_Beyond_3.htm
Articles sur Gerard Latortue (French)
http://www.lecontact.com/articles_sur_gerard_latortue.htm
see also
http://www.indybay.org/news/2004/03/1672966.php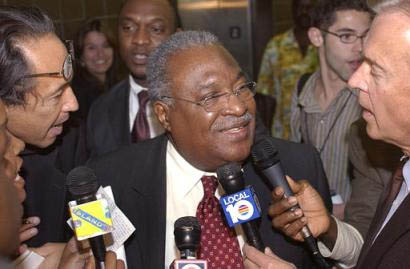 We are 100% volunteer and depend on your participation to sustain our efforts!
Get Involved
If you'd like to help with maintaining or developing the website, contact us.