From the Open-Publishing Calendar
From the Open-Publishing Newswire
Indybay Feature
Haiti Background : Gerard Latortue
Latortue is an an international business consultant who served as foreign minister in 1988 to former President Leslie Manigat. He is an economist who spent part of his career with the United Nations, living in Togo and the Ivory Coast. For the past year he has been calling for Bush to help oust elected President Aristide. Now that Aristide has been kidnapped and the US has troops in the country, Latortue's wish has come true and the US has appointed him the acting Prime Minister.
"Latortue spent part of his career with the United Nations, living in Togo and the Ivory Coast."
http://www.wehaitians.com/library%20covets%20haitian%20collections.html
Gerard Latortue Was One Of Those Who Pressured Bush To Stage The Coup
( the following was published January 24 2004 )
Gerard Latortue, a former Haitian minister of foreign affairs and international relations under President Leslie Manigat, said many are demonstrating in South Florida because they're hoping "the echoes will go to Gov. Bush, and he will advise his brother."
http://www.moun.com/Articles/jan2004/1-25-3.htm
Statement By GERARD LATORTUE, Boca Raton Dec. 18, 2003
The majority of the Haitian community in South Florida admires the position taken by the Editorial Board on Haiti (Crisis in Haiti boils on U.S. doorstep, Nov. 5 editorial). On that same day, the U.S. ambassador in Haiti and the independent United Nations expert on human rights explicitly recognized that ''Security has much deteriorated in recent weeks'' in Haiti and that ``It's hard to advocate an electoral solution when people can't demonstrate peacefully.''
The time has come for the White House to get involved directly in the search for a viable and sustainable solution to the crisis.
http://www.miami.com/mld/miamiherald/news/world/haiti/7518665.htm?template=contentModules/printstory.jsp
Tortue also described the rebels (many former death squad memebers) as "freedom fighters":
Widespread civil unrest causes anguish for S. Florida Haitians Feb 11, 2004
" But the community still remains divided over who's responsible for the chaos. Some, like Gerard Latortue, a Boca Raton resident and former Haitian foreign minister, described the people responsible for the recent violence as freedom fighters in a battle against an oppressive regime. "They became violent in response to Aristide," he said. "I see it as a liberation movement. " Others, like Emmanuel Virgil, co-owner of Virgil Tuxedos in Fort Lauderdale, think the resistance is fueled by the rich... (Google News Australia -- Top Stories)
http://216.239.53.104/search?q=cache:iQPRWeD4Y_YJ:uscities.surfwax.com/files/Boca_Raton_Florida.html+%22Gerard+Latortue%22+economist&hl=en&ie=UTF-8
While he doesn't believe France is legally obligated to repay the debt, Gerard Latortue, a former Haiti foreign minister who lives in Boca Raton, said ``it's the moral and politically responsible thing to do.''
Instead of outright asking France for money, however, the Haitian government should prepare a development plan for the country showing where the money would go, said Latortue, an Aristide critic.
http://www.miami.com/mld/miamiherald/news/world/haiti/7518665.htm?template=contentModules/printstory.jsp
Early in June, Gerard Latortue, the Foreign Minister, visited Washington and asked State Department officials and members of Congress "to come to see and assess the situation" before they took further action against the Manigat government. He urged the United States to consider the alternatives: "If we go, it will not be democracy that comes."
...
On June 14th, General Namphy summoned Colonel Paul and informed him that he was being "promoted" to head of intelligence at military headquarters -- that is, to a desk job. There were rumors that Reagan Administration officials, who had been heavily criticized for the United States' inability to unseat Panama's Manuel Noriega, had promised Latortue a partial resumption of aid if Paul was transferred. Some people said that Namphy, annoyed by Manigat's recent actions and impatient with his lack of results in dealing with the Americans, was preparing the ground for a coup against the President; others that Namphy had ordered the transfer at the urging of the President, who was setting a clever trap for the General.
http://www.markdanner.com/newyorker/121189_Beyond_3.htm
Articles sur Gerard Latortue (French)
http://www.lecontact.com/articles_sur_gerard_latortue.htm
see also
http://www.indybay.org/news/2004/03/1672966.php
Experience: In 1962, became co-director and then director of the Institute of Higher Commercial and Economic Studies in Port-au-Prince. Served as Foreign minister in 1988 to former President Leslie Manigat, who was toppled in one of the 32 coups fomented by Haiti's army. Worked for United Nations Development Program in West Africa. Worked as an international business consultant in Miami.
• Education: Studied in Haiti, then at the Institute of Political Studies and the Institute of Economic and Social Development in Paris before returning to Haiti in 1960.
• Personal: Age: 69. Born in Gonaives, Haiti. Spent 25 years in exile during the Duvalier dictatorship. Married, three children. Now lives in Palm Beach County and hosts a television program. Is an avid book collector whose library includes coveted editions of Haitian history.
http://www.miami.com/mld/miamiherald/news/world/americas/8148730.htm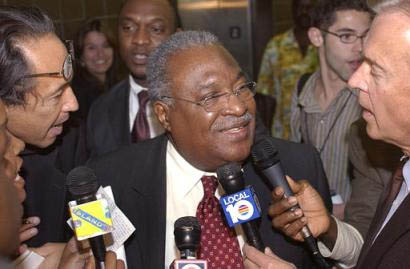 New Haitian Prime Minister Gerad Latortue, of Boca Raton, Fla. is surrounded by media as he readies to board a plane to Haiti at Miami International Airport Wednesday, March 10, 2004. Latortue, believes only free elections can save this traumatized country. (AP Photo/Mitchell Zachs)
he new prime minister is Gérard Latortue, 69, a lawyer and economist who has long lived abroad but is a technocrat with a reputation for integrity. He was selected by the American-backed council of "eminent Haitians" assembled after the resignation, under pressure, of President Jean-Bertrand Aristide on Feb. 29.
...
Mr. Latortue served briefly as foreign minister in 1988, in the government of Leslie Manigat, which was installed by a military junta after the Duvalier government fell. Mr. Manigat was overthrown after less than a year in office, and Mr. Latortue went on to work for the United Nations Industrial Development Organization for many years. He is currently a business consultant in Boca Raton, Fla.
http://www.nytimes.com/2004/03/10/international/americas/10HAIT.html
U.S.-and-French-installed Viceroy of Haiti, Gerard Latortue, is now demanding that the sovereign nation of Jamaica refuse to allow legitimately elected Haitian President Jean-Bertrand Aristide to stay on the neighboring island country, according to this report from Reuters:
Haiti's new leader fired a diplomatic broadside at Jamaica on Friday for allowing ousted President Jean-Bertrand Aristide to visit, while U.S. and French troops came under renewed attack by gunmen...
Latortue announced he might fly to Haiti's Caribbean neighbor this weekend to pursue an agreement with Jamaican Prime Minister P.J. Patterson to limit Aristide's stay.
"Since the word was known yesterday afternoon that Aristide is coming to Jamaica we have observed an increase in tensions in Port-au-Prince," Latortue told reporters.
http://www.reuters.com/newsArticle.jhtml?type=worldNews&storyID=4559901
According to the US Government's Voice of America, Washington wants Aristide muzzled while in Jamaica, too.
(see
http://www.voanews.com/article.cfm?objectID=ED2049C7-D422-4B6B-8F31B7EA25A157AB
)
This is "democracy?" No, this is what the aftermath of a coup d'etat looks like.
According to the Associated Press:
Latortue brushed aside Aristide's claims that he never formally stepped down as president.
"Otherwise, what am I doing here?" Latortue asked reporters.
http://www.miami.com/mld/miamiherald/news/world/8171710.htm
Is that a rhetorical question? Where is Aristide's alleged "resignation letter"? AP's own translation of the supposed "resignation" letter reveals that it was not a resignation at all, not by any legal standard. The text that the US Embassy "translated" from the original Creole as "tonight I am resigning" more truthfully translates to "if tonight is my resignation." What kind of "resignation" is that? (And why haven't AP and other Commercial Media followed up on that story?)
What is Mr. Latortue doing there? He is presiding over an illigitimate government, imposed by violent coup d'etat.
Meanwhile, denials of recent weeks by Colin Powell and other US officials that they had been gagging Aristide from speaking by dumping him in the Central African Republic (another land of a coup installed illigitimate government) were proved to have been lies, today, when Powell got on the phone - according to the reports above - to Jamaican officials and insisted that they stop Aristide from exercising free speech there.
This is all going to come to a boil soon at an upcoming Caribbean Community of nations (CARICOM) meeting this month in St. Kitts... Who will the Caribbean nations recognize as the legitimate governor of Haiti? The one who did not resign and was removed - even by Washington's admission - by threat of force? Or the one who was never elected, but, rather, installed under an illegal process?
It is impossible for any honest journalist to describe Mr. Latortue as a legitimate prime minister. He is not. You will know the dishonest ones by their failure to tell the whole story.
In the meantime, the job ahead for Authentic Journalists and truth tellers everywhere is to spread the word: Coup-installed Gerard Latortue - who has spent recent years in Boca Raton, Florida, living high off an oligarch's TV station - is an illigitimate thief of a nation's democracy, and deserves no respect, only scorn, and constant, insistent, correction to his illegal claims to rule Haiti.
http://narcosphere.narconews.com/story/2004/3/12/203759/782
We are 100% volunteer and depend on your participation to sustain our efforts!
Get Involved
If you'd like to help with maintaining or developing the website, contact us.