From the Open-Publishing Calendar
From the Open-Publishing Newswire
Indybay Feature
California City Takes the Lead in Recognizing Same-Sex Couples in Civil Marriage
It's Official! Marriage Licenses Issued to Same-Sex Couples in San Francisco!
Marriage license issued to MECA leaders and legal spouses,
Molly McKay and Davina Kotulski, on Feb. 12, 2004, Naitonal Freedom to Marry Day.

---

Message From Molly McKay, Co-Executive Director, MECA, and newlywed:

Here is our official marriage license from the state (see above)...it's the same document that all other legally married couples get to prove they are married. I have legally married the woman of my dreams and I can't tell you how happy I feel today. I finally understand that saying, "I have a song in my heart." I guess she and I will go to MA in May to throw birdseed for other couples - I hope they aren't too mad that we got married before they did.

What exciting times! We just never know what will happen next!

I walked up the steps to City Hall for our 5th annual "Stand up for your relationship by getting turned down for a marriage license" protest and a friend ran up and said, "There won't be a demonstration," and I thought--what happened--did we not get the permit right or something and he said, "No protest because they are letting us marry."

And at that exact moment I saw Phyllis with her marriage certificate in hand and I went running over to her and started crying with joy. How beautiful that she and Del--our founding mothers of the movement--were able to live to see this glorious day and serve as the first legally married same-sex couple in the United States.

The day was a whirlwind. Major kudos to Assemblymember Mark Leno and his unbelievable stamina as he married couple after couple without rest in the rotunda throughout the entire afternoon. Thank you to our straight ally San Francisco Mayor Gavin Newsom--his press conference was so powerful and clear, "Read the CA Constitution--there is no argument, not letting same-sex couples marry is
discrimination and it's wrong." He is a rising star of the Democratic party and his action confirms that the winds of change are in full gust and blowing our way for good. He will always be remembered as a friend and history will prove his action just and on the right side of US history.

Tons of MECA, EQCA, NCLR, and other Coalition friends were there with their partners--Toni Broaddus had the full-on bride glow--she and her "spouse," Janice, were just beaming with joy. Our MECA chapter leaders, Ellen and Shelly rushed down from Davis to legally marry after 30 years together--Sharon Smith and Michelle and their two beautiful babies Kennedy and Chase were there to witness their mom's marriage--it was...how can I put it in words--priceless--dreamlike.

It is sweet moments like these that gives meaning to the larger struggle and shows us the glimmer of light at the end of the tunnel. I have the marriage certificate on my door at the office today--my law firm is throwing me an impromptu wedding shower (firm-wide 200 attorneys) this afternoon, and I have more hope in my heart than ever that we will win this fight, and soon!

--Molly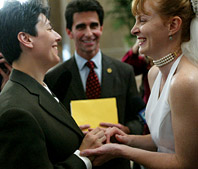 Together eight years and legally married on February 12, in San Francisco, Davina Kotulski and Molly McKay excitedly exchange vows. Officiating at their ceremony is Assemblymember Mark Leno, who on the same day introduced a bill into the legislture that will allow same-sex couples across the state to legally wed.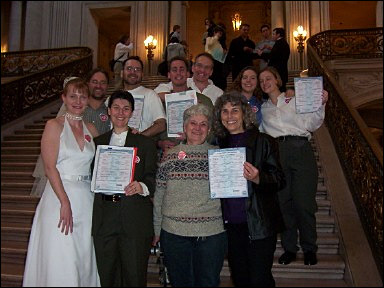 MECA leaders (and newlyweds), show off their civil marriage licenses at the courthouse in San Francisco.
We are 100% volunteer and depend on your participation to sustain our efforts!
Get Involved
If you'd like to help with maintaining or developing the website, contact us.