From the Open-Publishing Calendar
From the Open-Publishing Newswire
Indybay Feature
Ecuador Indians Battle Oil Giants for Amazon-ChevronTexaco
In the northern Ecuadorean Amazon, Indians are suing U.S. based ChevronTexaco over environmental damage they say ruined their land and made people sick. When it rains, oily pits left by Texaco continue to leak a black sludge into rivers.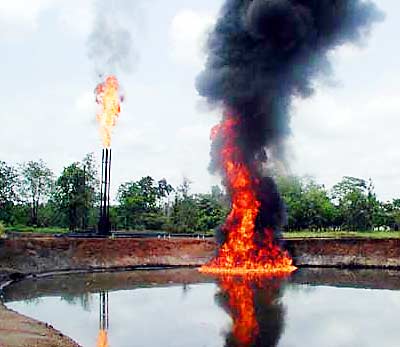 ACTION ALERT: Ecuador Indians Battle Oil Giants for Amazon
Issued December 19, 2003
By Glen Barry, Ph.D., President, Forests.org, Inc.
TAKE ACTION:
http://forests.org/emailaction/ecuador.htm
Cultural genocide and rainforest ecocide are too high of price tto pay for gasoline. This is occurring in Ecuador as Indians in the Amazon fight to protect their land from marauding oil companies and elitist government officials. In the northern Ecuadorean Amazon, Indians are suing U.S. based ChevronTexaco over environmental damage they say ruined their land and made people sick. When it rains, oily pits left by Texaco continue to leak a black sludge into rivers. This and the fact that so little benefits have accrued to local communities has rightly made many of Ecuador's Indians wary of promises of "black gold".
Further south, the struggle of the Sarayacu and other indigenous groups has become a flashpoint for opposition to the oil industry, as their peaceful protest marches have been violently attacked by pro-oil forces. Against this backdrop, the Ecuadorian government plans to open virtually all remaining pristine rainforests of the Southern Ecuadorian Amazon to oil companies, which is certain to lead to more indigenous conflict and environmental devastation.
Rainforests of the Ecuadorean Amazon are a biological and cultural treasure to be protected at all costs. The age of reckless abandon is over - oil production in environmentally sensitive areas against the wishes of local peoples is unacceptable. Insist that indigenous rights are protected and oil drilling in Ecuador's rainforest end at:
http://forests.org/emailaction/ecuador.htm
======================================
Violence Erupts Against Sarayacu
2003-12-12
For more information:
http://www.sarayacu.com
On the eve of an historic march to protest plans for oil extraction on their sacred homeland and denounce the series of human rights violations that their community endured over the last year, members of the Kichwa nationality from Sarayacu were violently attacked and detained last Thursday by pro-oil forces while mobilizing from their community en route to Puyo, the nearest city and site of the march.
Sarayacu, a community of approximately 1500 has been waging an unprecedented nonviolent campaign of resistance to plans by the Argentinean oil company CGC, Houston-based Burlington Resources, and UK Perenco to explore for oil in their territory.
Traveling up the Río Bobonaza by canoe, some 120 Sarayacu men, women, and children were stopped by members of the Canelos Kichwa community upriver, employed by CGC. Warning shots were fired at members of Sarayacu and dozens were detained by force. Several were able to escape into the forest, where they hid and spent three days lost until they found their way to the closest town. The others though, were not as fortunate. While detained, men and women leaders of Sarayacu, including the former President of the community, were attacked during the night with wooden clubs, stones and machetes. Several suffered serious wounds (for photo documentation, go to:
http://www.sarayacu.com
). These leaders were eventually released and transported to the local hospital in Puyo.
Despite the repressive measures to keep Sarayacu and their allies from marching, the next day some 1000 leaders from throughout the Ecuadorian Amazon joined them in the "March for Peace and in Defense of the Collective Rights of all Nationalities of the Amazon." "Nobody can impede us from defending our Mother Earth," said one community representative.
Against the backdrop of the landmark trial of ChevronTexaco in Ecuadorian courts for environmental crimes in the country's northern rainforest, the opposition of Sarayacu has become a flashpoint for the oil industry in Ecuador, as well as the Ecuadorian government, who plans to open the remaining pristine rainforests of the Southern Ecuadorian Amazon to oil companies. The sustained and adamant opposition of Sarayacu, combined with a new alliance of all five indigenous nationalities on the front lines of the country's expanding oil frontier reflects a powerful growing movement of indigenous resistance to resource extraction and towards a true indigenous autonomy and greater corporate accountability.
OUR RESPONSE IS CRITICAL! If we don't take a stand now, the atmosphere of impunity and violence will continue as the government and companies press forward with plans to restart oil activities in Sarayacu in January. Please take a moment to send the sample letter below to the Ecuadorian government and oil companies involved in this egregious rights abuse and let them know that the eyes of the international community are upon them.
Let Sarayacu know that concerned peoples all over the world are behind them and ready to support their valiant struggle for autonomy and the dwindling rainforests of Ecuador!
================
SAMPLE LETTER
Sr. Lucio Gutierrez
Presidente de la República
Palacio del Gobierno
Calle Garcia Moreno y Espejo
Quito
Ecuador
Fax: 593-2-2580-751
Fax: 593-2-2580-748
_________________________
[Date]
I am writing to condemn the serious rights abuses inflicted upon the indigenous community of Sarayacu, Dec. 4, 2003 in the Ecuadorian province of Pastaza and the climate of violence that has been created by the government and three foreign oil companies with holdings in Block 23.
Additionally, I feel that the announcement to militarize their ancestral land in order to facilitate oil exploration by CGC (Argentinean), Burlington Resources (North American), and Perenco (UK) in January 2004 has set the stage for future violence that can be avoided.
I strongly request that the Human Rights and Collective Rights of the Indigenous Peoples guaranteed under Ecuadorian and international law be respected. I ask that their right to exercise self-determination within their own territories be respected. I request that the ordinance dated November 29, 2002, issued by the properly qualified Tribunal of Puyo which ordered that all foreign activities in those territories be suspended, be observed.
I also strongly urge that the precautionary measures of the Inter-American Commission on Human Rights (IACHR) to respect the Sarayacu Peoples, and the cautionary advice expressed by the President of the Commission for Indigenous Affairs of the National Congress of Ecuador be followed.
I join the appeals against the militarization of the Sarayacu territory which were strongly expressed by the Confederation of Indigenous Nationalities (CONAIE) and by the alliance of the Achuar, Shiwiar, Shuar, Zapara and Kichwa indigenous populations for the total respect of human rights, collective rights and Sarayacu's freedom of
self-determination for the good of its own future.
[signed]
Send to the following Ecuador government agencies:
monica.iza [at] presidencia.gov.ec
despacho [at] turismo.gov.ec
informacion [at] mingobierno.gov.ec
mma [at] ambiente.gov.ec
nvalarezo [at] menergia.gov.ec
With copies to the companies:
diego_garzon [at] cgc.com.ar
ricardo_nicolas [at] cgc.com.ar
jbartlett [at] br-inc.com
bshackouls [at] br-inc.com
mcaro [at] fr.perenco.com
http://www.amazonwatch.org/view_news.php?id=745
Photo copyrighted by AmazonWatch.
=====================================
This site contains copyrighted material the use of which has not always been specifically authorized by the copyright owner. We are making such material available in our efforts to advance understanding of environmental, political, human rights, economic, democracy, scientific, and social justice issues, etc. We believe this constitutes a 'fair use' of any such copyrighted material as provided for in section 107 of the US Copyright Law. In accordance with Title 17 U.S.C. Section 107, the material on this site is distributed without profit to those who have expressed a prior interest in receiving the included information for research and educational purposes. For more information go to:
http://www.law.cornell.edu/uscode/17/107.shtml
. If you wish to use copyrighted material from this site for purposes of your own that go beyond 'fair use', you must obtain permission from the copyright owner.
We are 100% volunteer and depend on your participation to sustain our efforts!
Get Involved
If you'd like to help with maintaining or developing the website, contact us.