From the Open-Publishing Calendar
From the Open-Publishing Newswire
Indybay Feature
Related Categories:
Global Justice & Anti-Capitalism
Enron fathers Arnold in secret meeting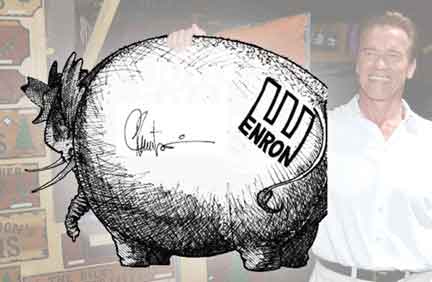 Energy is the gorilla which cast the shadow over Davis governorship. It is THE. issue. But it hardly spoken these days. Might be a smart for us to speak energy right now. To
look at the California so-called energy crisis which was and still is a blackmail. And to mull deeply what the following revelations mean for our future.
This energy blackmail was engineered by Republicans (Gov. Wilson and helpers who are now the chief Arnold advisors and the 2 Republican Bush presidencies) These
Republicans bowed to Enron and other energy companies who wanted deregulation and secret bookkeeping rules so they could quietly manipulate electricity prices whenever they were seized by another attack of greed. With their shams hidden from public view, they could blame high prices and phony electricity shortages they had purposely created on Davis and/or environmentalists.
At the time many of us headed unions shouted BLACKMAIL across the state with demonstrations and facts. San Francisco Chronicle called the energy "shortageÓ
more fiction than fact. See the fiction exposed in a 3 minute clip from the docu-poem video SunMt produced for the California Labor Federation 2 years ago.
http://www.sunmt.org/blackmailvideo.html
As the paper moon energy crisis faded, some Enron officials including the head crook Kenneth Ley fearing that Davis would take steps to re-regulate California's power market. To turn back utility regulation which Ley spent years lobbying California lawmakers to kill. He recruited Schwarzenegger, Riordan, Milken, and other powerful business leaders like Bruce Karatz, chief executive of home builder Kaufman & Broad; Ray Irani, chief executive of Occidental Petroleum; and Kevin Sharer, chief executive of biotech giant Amgen. They had a secret meeting:
http://www.utne.com/web_special/web_specials_2003-08/articles/10757-3.html
As the energy issue has lost it ÒnewsÓ value, the sordid details are seeping up from the corporate sewer. Hold your nose and check the stink:
http://www.sunmt.org/blackmailenron.html
We are 100% volunteer and depend on your participation to sustain our efforts!
Get Involved
If you'd like to help with maintaining or developing the website, contact us.