From the Open-Publishing Calendar
From the Open-Publishing Newswire
Indybay Feature
HOMECARE WORKERS IN FRESNO RALLY FOR A LIVING WAGE
Homecare workers rally with Dolores Huerta in Fresno.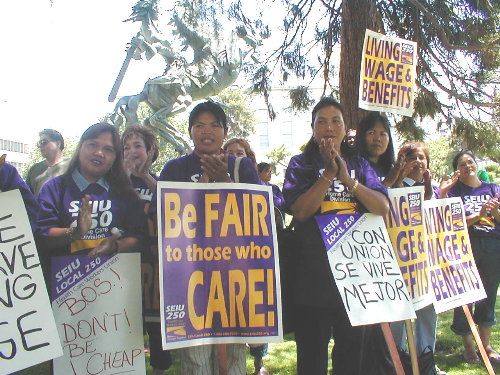 HOMECARE WORKERS RALLY FOR A LIVING WAGE
By Mike Rhodes

Homecare workers and their union, Service Employees International Union Local 250 (SEIU), are negotiating their first contract with the County of Fresno. There are over 10,000 homecare workers in this county, and they want a living wage with medical benefits. At a rally held in support of homecare workers on June 17, 2003 Dolores Huerta, co-founder of the United Farm Workers union said "if the minimum wage had kept up with inflation it would be over $13.00 today." She said that homecare workers are actually saving the County money because they keep their clients out of hospitals and other institutions. Huerta thanked the homecare workers for their hard work and led them into the Board of Supervisors chambers to press the demand for a living wage. The union is only asking $9 an hour with benefits.

At the rally numerous community leaders spoke in support of the homecare workers. Larry Trullinger, a spokesperson for the Community Alliance for a Fair Economy, said that the Supervisors were being short sited by not paying these workers a living wage. "Fresno County is 45th in the number of Counties receiving money back from the State. That means we are sending more money to Sacramento than we are getting back. Our Board of Supervisors has an opportunity to get back, for every 20 cents they spend, 80 cents in matching State and Federal funds." Trullinger said that increasing the wages of these workers will pump 35-58 million dollars into the local economy.

Former City Council member Les Kimber called on the Board of Supervisors to "do the right thing" and support homecare workers in their effort to earn a living wage. Mr. Kimber said that "I am amazed at some members of the Board of Supervisors inability to understand the positive impact on Fresno County's economy that a fair pay increase for homecare workers would have." Mr. Kimber then went on to commend the majority in the City Council who passed a resolution in support of homecare workers to earn an adequate wage for their work. He questioned why the Fresno Bee attacked the City Council for this support. He urged the City Council to "not be intimidated by a Bee Sting. Bee stings, while painful at first don't last very long and if you get stung often enough you will become immune to Bee stings altogether."

Parlier mayor Victor Lopez, Democratic Party activist Ray Ensher, Unitarian Universalist minister Bryan Jessup and many other community leaders spoke at this rally. The unifying theme was that the Board of Supervisors could find the money to pay homecare workers a living wage if they wanted to.

The Board of Supervisors can pull a rabbit out of a hat if they want to fund a project that is important to them. When they wanted to build a new juvenile justice facility they found the funds in a pool of money targeted for education about tobacco. When the City of Fresno wanted to buy a newer/faster helicopter for the police, they found the money somewhere. If they can't find 20 cents out of a dollar to leverage bringing more State and Federal money into this county, they are not doing their job. The money is in the budget and the community is demanding that homecare workers be paid a living wage, with benefits.

Many of the Board of Supervisors were elected to office because of the hard work of organized labor and the progressive community. Some of those Board members will be asking for support in the upcoming elections. As SEIU director of the homecare division Mary Ruth Gross said at the rally, "one thing about homecare workers and SEIU Local 250, we are here to stay and we never forget." The progressive community will not forget what Board members do in this important struggle to bring a living wage to homecare workers.

The Community Alliance encourages you to call your representative on the Board of Supervisors and ask them what they are doing to pay homecare workers a living wage. The number to call is: (559) 488-3529

Si Se Puede

###
Photos by Mike Rhodes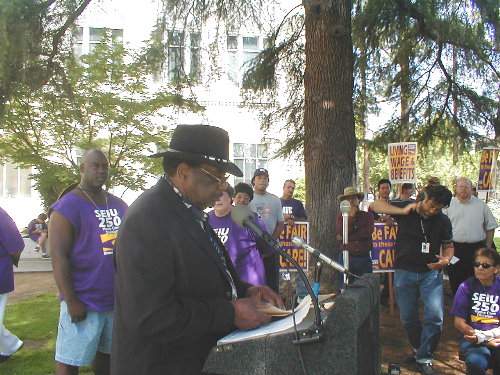 We are 100% volunteer and depend on your participation to sustain our efforts!
Get Involved
If you'd like to help with maintaining or developing the website, contact us.