From the Open-Publishing Calendar
From the Open-Publishing Newswire
Indybay Feature
Bechtel-ChevronTexaco execs at Int'l House Fundraiser
Bechtel and ChevronTexaco are listed at the top of the board of donors at the Int'l House dormitory in Berkeley. About ten students protested the presence of executives from this company at the annual fund raising dinner on May 7th.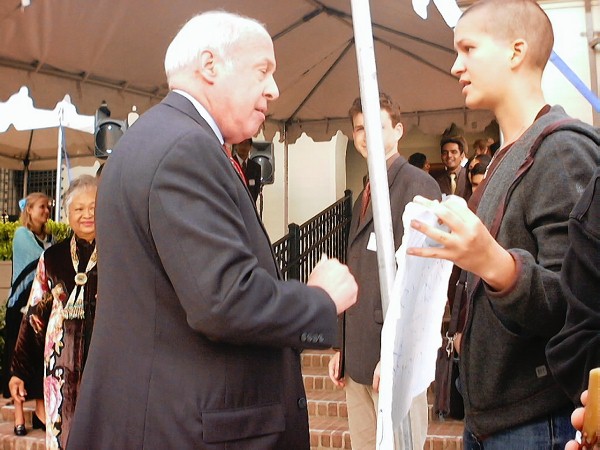 Most of the donors to the Int'l House seem to be moderate or liberal-minded wealthy people from Berkeley and the Bay Area who also might donate to the art museum and the symphony. There are no other corporations evident among the top of the list of big donors on a chart in the hallway by the cafe.
About 10 students passed out leaflets and held signs as attendees of the fundraising dinner arrived and chaufeurs parked their cars.
A man who spoke as though he was a top-level manager or executive at Chevron Texaco, but whose name could not be determined, seemed quite bothered by the presence of the low-key protesters as he mounted the steps into the building. He started reacting to and questioning the student pictured who is either a chemistry grad student or undergraduate. My impression is that he was not at all used to debating political issues relating to criticism of his company. He seemed to be stuttering for good words to say, and made statements like "it's a free world" when he seemed to really mean to say something about how we might have free speech but he will ignore us, and we said "no, it sure isn't free!". She said she doesn't want to work at a place like ChevronTexaco, and he said that this is fine "we are all free", and she added that it isn't so simple because residents of Richmond suffer from pollution and dioxin when they don't choose this, and he said "it's not our fault!" and we snorted in laughter. We commented later that this is akin to the idea in Germany where after the third reich fell, most common people, and most soldiers and many members of the party said "we couldn't do anything. If we spoke out, we would have been sent to a camp", and this is entirely true in the case of most working class people. However, responsibility must rise as one starts to possess power - even just being the part of the 22% of adults with a bachelor's degree. I encountered this attitude among some upper-class residents of I-house - a ex-class president of Beverly Hills High who decided to become a progressive kept telling me that he had no power, because all his old neighbors and attorney colleagues are miles away from his viewpoint and won't be simply influenced by him. In any case, this executive was not able to start spouting rhetoric like you might hear on right-wing talk radio at any time of the day, nor was he able to coherently voice any sort of reaction or retort to the signs of the protesters. He just seemed confused and bothered by it as though he was seeing it for the first time. Maybe a lot of corporate heads only get the Wall Street Journal's cartoon version of what antiwar and other protesters are saying.
Bechtel has done harm in lots of countries around the world. Frequently they will move in and privatize an already built water system and raise priced by several times, and cause riots. They were given the contract to rebuild Iraq after the destruction in a predetermined, unopen process.:
http://bolivia.indymedia.org/es/2002/08/237.shtml
http://www.corpwatch.org/issues/PID.jsp?articleid=6532
ChevronTexaco had $99 in revenue and $2billion in profits last year. As many people have pointed out, wouldn't the world be a lot better if the system weren't structured around maximization of shareholder profit, and minimization of wages and shifting 'negative externalities' such as the uncleaned pollution and oilspills in Ecuador, the Nigerian Delta, Columbia etc. on poor local populations. Donations by corporations to NPR and other charities don't make up for this. Wouldn't it be easier to leave the money in the pockets of the poor Bolivians so that they don't need anybody's charity?
http://www.sfgate.com/cgi-bin/article.cgi?file=/chronicle/archive/2003/05/03/BU61801.DTL
http://www.sfgate.com/cgi-bin/article.cgi?file=/news/archive/2003/05/06/state1704EDT0092.DTL
http://www.sfgate.com/cgi-bin/topco/chart/revenue
Around this point, Micki Weinberg, the 19 year old student who ran against councilmember Kriss Worthington for city office, walked by.
http://www.dailycal.org/article.asp?id=9818
He said that all the corporations are screwed up but that we are guilty of selective bias of only opposing corporations associated with the looting of Iraq because that is popular right now. But we aren't protesting the Sultan Foundation giving money to the Dept. of Middle Eastern studies, where Saudi Arabia gives money to the Sultan Foundation. Saudi Arabia indeed is a monarchy that permits slavery, extreme repression of women, noncitizens, and religious minorities. That has to go. They are also a big ally of the U.S. and are looked at in favor by President Bush (or he has never has a word against them). We should be sure to tell this to Bush next time he comes to California. Here is a prominent group of neo-conservative Bush supporters who number a significant percentage of U.S. society - Christian millenialists or dispensationalists, such as his friends at Bob Jones university. My relatives from Germany can confirm that there are antisemitics all over the place in the U.S. who constantly come out to them, assuming that all germans will match their beliefs:
http://www.graceonlinelibrary.org/full.asp?ID=178
International House is a semi-private dormitory at UC Berkeley that has about 55% international students and 45% U.S. citizens. As an ex-resident, I strongly support the idea of this type of residence for other colleges. At many universities, the international students clearly end up associated mainly with other international students because there are no easy mechanisms for getting to know americans who already have their set of friends from high school etc. I-house has a great structure where people are encouraged to get to meet and interact with hundreds of other members of the 600+ student residence.
International House has an impressive history in Berkeley, where it was threatened and boycotted by its hills neighbors before the 1950s when the city was integrated. Before this, non-european americans were prohibited by and large from purchasing houses east of Sacramento (or maybe Shattuck) street. The traditional fraternity and sorority row culture felt threatened by the creation of ihouse.
http://ias.berkeley.edu/ihouse/i/history.html
The fact that Elmwood is one of the whitest census districts in the state is a remnant effect of this time, even though no legal infrastructure of this remains. Int'l House also sheltered a few japanese and japanese american students during WWII.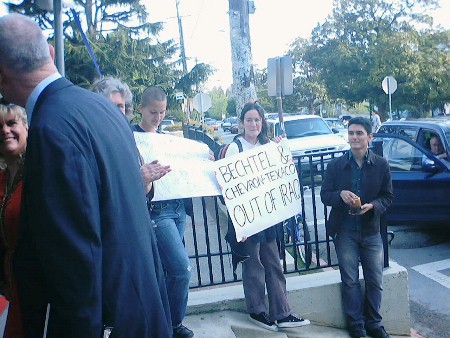 We are 100% volunteer and depend on your participation to sustain our efforts!
Get Involved
If you'd like to help with maintaining or developing the website, contact us.