From the Open-Publishing Calendar
From the Open-Publishing Newswire
Indybay Feature
Related Categories:
Stone-throwing Iraqi children put troops on edge
"It`s frustrating. They`re like little gnats that you can`t get away," said Captain James McGahey, a company commander of the 101st Airborne Division who says almost every one of the patrols he sends out in the northern city of Mosul gets stoned.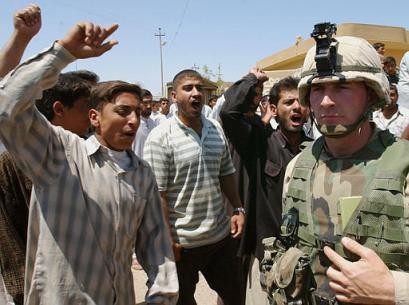 U.S. Army Shoots and Kills Iraqi Protesters Again

April 30, 2003

About 1,000 people marched down the city's main street Wednesday to protest the U.S. shooting of Iraqi demonstrators two days earlier, stopping in front of a battalion headquarters of the U.S. Army's 82nd Airborne Division — a former office of Saddam's Baath Party.

American officers at the scene, and U.S. Central Command in Qatar, said U.S soldiers in the compound and in a passing convoy opened fire in response to rock-throwing and gunfire.

U.S. Apache attack helicopters circled the site throughout the march and for hours afterward. U.S. officers met with the mayor and leading area sheiks in hopes of reducing the tensions, while several dozen demonstrators clustered angrily outside the town hall.

"Get out, get out!" one protester shouted at soldiers guarding the meeting.

"We will keep this up, we will keep them on edge," said another protester, 29-year-old Abdul Adim Mohammed Hussein.

The gunfire came less than 48 hours after a shooting during a demonstration Monday night that hospital officials said killed 13 Iraqis.

Dr. Ahmed Ghandim al-Ali, director of Fallujah's general hospital, said the clash Monday killed 13 Iraqis — including three young boys — and injured about 75. Some residents put the death toll higher, at 15.

---

Stone-throwing children put troops on edge

By Kieran Murray

Sat April 26, 2003 05:37 PM ET

MOSUL, Iraq (Reuters) - The love affair between U.S. troops and Iraqi children is turning sour.

As the invading troops pushed north towards Baghdad in the first weeks of the war, it was always the children in every town that came out first to smile, wave, give the thumbs-up and shout the same greeting: "Good, good, good!"

Happy to see a friendly face, the soldiers waved back and many handed out candies from their field rations.

But this correspondent, who has travelled with U.S. troops since the start of the war, has seen more and more of the encounters ending with some children, usually the older ones in their early teens, hurling stones at the soldiers.

It can be a Catch-22 situation for the troops. If they let the children swarm around them, they expose themselves to possible attack from adults who can use the cover to get close and throw in a hand grenade.

But if they push them back, it hurts their efforts to win over the civilian population, and can spark the stone throwing.

"It`s frustrating. They`re like little gnats that you can`t get away," said Captain James McGahey, a company commander of the 101st Airborne Division who says almost every one of the patrols he sends out in the northern city of Mosul gets stoned.

"Everybody loves kids but it`s impossible to love 300 of them when they all want to touch you, talk to you and grab you, especially when there are a few out there who want to chuck stones."

RAINING STONES

In one typical incident this weekend, a group of soldiers on foot patrol attracted an ever-increasing posse of children as they moved past a local fire station and on through a rough neighbourhood of Mosul.

By the time they reached a school building, at least 200 children and a small group of adults were around them, and the stones came raining in from about a dozen of the older kids.

"They were throwing them like they were pitching a baseball," said Sgt John McLean, who was hit on the helmet, in the back and on the heel.

The troops pulled away and took up a defensive position but even then the children and adults only dispersed when a warning shot was fired over their heads.

"Everyone tries to be as nice as we can with them but it does get difficult. They definitely impede the job we`re trying to do because you have to put half your guys on keeping the children away," McLean said.

ROCKS AND PUPPIES

The problem is not confined to Mosul.

Crowds of 250-300 Iraqi teenagers hurled stones at U.S. Marines patrolling the holy city of Najaf in southern Iraq on Thursday and Friday, officers said.

In Kerbala earlier this month, a group of children threw rocks and then kicked puppies over a wall and into a compound where U.S. troops were camped. When the soldiers handed the puppies back with a warning, it was only a few minutes before they were kicked back over the wall.

The problems arise once a crowd grows too large. When troops walk through quieter neighbourhoods, the mood is usually good and some soldiers still take pictures of their buddies posing with young children.

When the crowds get bigger, army-hired interpreters ask adults to keep the children at a distance for their own safety. If trouble starts, the soldiers try to pull out of the area by truck and resume foot patrols once the crowd disperses.

And there is much less sharing of sweets or pencils because it encourages more children to swarm in.

"We call them seagulls because if you give one seagull a piece of bread, the next minute you`ll have a whole flock of them," one soldier said.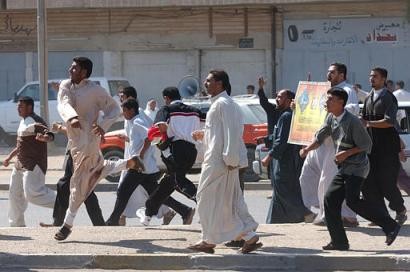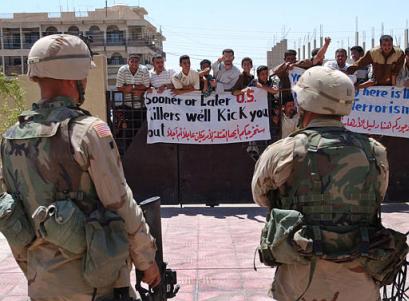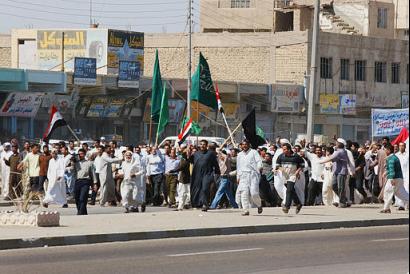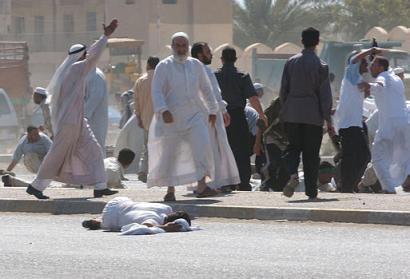 We are 100% volunteer and depend on your participation to sustain our efforts!
Get Involved
If you'd like to help with maintaining or developing the website, contact us.