From the Open-Publishing Calendar
From the Open-Publishing Newswire
Indybay Feature
BIKES NOT BOMBS EACH BUSINESS DAY! -photos, flyer
GENERAL CALL FOR RIDES EACH BUSINESS DAY DURING THE WAR. BICYCLES HAVE SPECIAL POWERS AT DEMONSTRATIONS, USE THEM!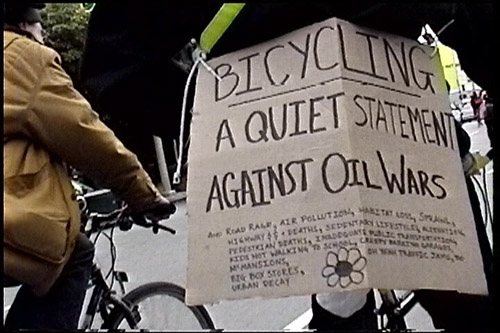 ******
CALLING ALL BICYCLISTS!

MORE ACTIONS PLANNED FOR FRIDAY EVENING
AND EACH BUSINESS DAY AS LONG AS THE WAR LASTS!!!

Meet at Justin Herman Plaza, near Embarcadero BART
Friday, March 21 and each business day until the war is stopped
5:00 pm
*****
Bring your bike downtown for a massive Bike Action that will continue to disrupt the functioning of the downtown area! This is not your father's Critical Mass! It's time to non-violently but determinedly
BRING TRAFFIC TO A STANDSTILL!!!
BRING YOUR BIKE!!!
BRING YOUR ANGER!!!
BRING YOUR HOPES FOR PEACE!!!

****
PLEASE PRINT AND DISTRIBUTE THE FLYER ATTACHED BELOW
****
A brief report on yesterday's Bike Actions:
Several hundred bicyclists played a major role in the disruption of "business as usual" in the downtown area all day on M20. Moving through the city in several clusters, we modified our tactics from our years of Critical Mass actions to INTENTIONALLY and NON-VIOLENTLY block and disrupt traffic.
A small number cyclists were arrested and released, including a group of about 15 after a much larger group chose to ride on the freeway briefly (and legally), but most survived un-scathed. In fact, with so much going on, we were mostly left alone by an overwhelmed police force.
Even a group of 10-20 cyclists can make an important statement, as was seen in countless examples on Thursday, M20. A group of 80-100 bicyclists decided on calling the daily demonstrations during the 5 PM regroup through a facilitated discussion. And with Critical Mass coming up next Friday, we're expecting an even larger than usual turn-out and more disruptive than usual tactics.

>Channel 5 did a 2-minute story on this yesterday at
>>around 6:00 and focused almost entirely on Critical>
>Mass as the seed, and perfect example of swarming. They
>>even aired a "well-schooled" protester who knew nothing
>>of "swarming" but talked all about the movement as
>>"leaderless" "individual" "unified in passion and goal."
>>
>>Good work.

STOP THE OIL WAR!
We are 100% volunteer and depend on your participation to sustain our efforts!
Get Involved
If you'd like to help with maintaining or developing the website, contact us.