From the Open-Publishing Calendar
From the Open-Publishing Newswire
Indybay Feature
SF's LIVE-WORK Development: An Impediment to Fair Housing
This study was done for the Mayor's Office of Housing as part of the Analysis of Impediments to Fair Housing for HUD. So-called "live-work" development is an obvious and major impediment to fair housing in San Francisco.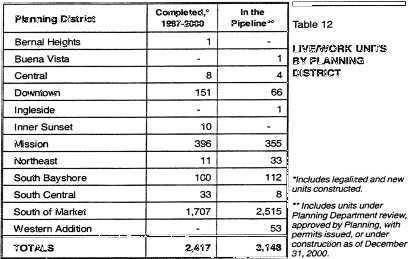 PUBLIC-SECTOR IMPEDIMENTS
Report by Gary W. Moody for the Analysis of Impediments to Fair Housing Committee of the Mayor's Office of Housing - January 6, 2003
Live-Work Lofts
The 1998 Analysis of Impediments to Fair Housing (AIFH) briefly touched upon a form of construction known as "live-work." The most common implementation of these units are called "live-work lofts." According to the San Francisco Urban Institute: "Conversions of old industrial buildings into live/work and loft projects were originally exempted from various zoning restrictions in the 1980s with the intention of promoting inexpensive housing for working artists in San Francisco."(1)
The subject of live-work units arises in the '98 AIFH in Section V, Part A, subsection 3: Linkage And Inclusionary Requirements: "A more serious difficulty is that the inclusionary requirement applied only to developments which required conditional use approval of the Planning Commission. The most significant type of housing not subject to this requirement was live-work units, an increasingly popular form of housing permitted as of right in many zoning classifications. From 1988 to 1993, such developments were sporadic and relatively small; since 1994, however, increasing numbers of such developments have been approved and they have become larger. The Mayor's Office of Housing has estimated that, if inclusionary requirements had been imposed on live-work units on applications made in 1996 and 1997 to date, 124 additional affordable units would have been required."
The reasons for the "of-right" permitting of this construction are legally vague. As explained above, the "need" for these units was originally as housing for artists, who in the 1980s were inhabiting various industrial and mixed-use areas of San Francisco, and who seemed to prefer and require non-standard housing which included work space. This need was cited in the preliminary draft of the 2000 Consolidated Plan dated February 8, 2000, which stated: "The 1990 Residence Element identified a special need for 7000 affordable live/work type housing to accommodate artists' needs for large wall and open spaces, high ceilings, access for large objects through elevators or entrances, and natural lighting. According to ArtHouse, the population of artists increased by 41% during the 1980's based on census data. ArtHouse emphasizes the need for affordable live/work units for artists, who tend to have very low incomes. An ArtHouse survey of 515 artists indicated that 69% were lower income households."
However, the members of the CHAS subcommittee, at least prior to the submitting the final document (it is unclear why the information was removed), felt that developers were not meeting the housing needs of artists in the construction of new live-work units: "None of this need is being met by the current market-driven development of loft units called 'live-work' in the City. Although according to the 1998 Housing Inventory 1,327 so-called 'live-work' units have been developed from 1987 to 1998, these units typically rent or sell at costs comparable to other new market-rate development (i.e. rents of $2000 per month or more, and sales prices of $300,000 and up). Clearly, low-income artists will not be occupying these units."
The SFUI document also points out the problems with new live-work construction; the paragraph above continues by stating: "However, as loft living has become more popular in recent years, many lofts are newly constructed projects, are quite expensive, and are presumably intended for white-collar professionals, earning them the label 'lawyer lofts.'" The article goes on to assert that these lofts have had a negative impact on housing affordability in at least one area in which they have been concentrated.
SFUI also commissioned a study by the Public Research Institute on live-work construction and their inhabitants.(2) It stated that "even under conditions of self-reporting (and with the obvious knowledge that the law intends that residents claim to be artists), only a third of respondents said they were artists."
Live-work construction has been widely reported on and debated in the San Francisco press. A 2001 article in the San Francisco Chronicle ran under the headline "Many S.F. lofts more work than live; Though construction booms, they don't fill city's housing needs."(3) The article goes on to state: "And while the city has told the federal and state governments that these controversial buildings are alleviating San Francisco's housing shortage, a random survey of 100 such lofts found more than half of them being used for purely business purposes. Furthermore, the developers of these buildings have been exempted from fees normally charged those who erect new housing -- because city law considers lofts to be a unique hybrid of housing and commercial space. This has cost the city millions of dollars."
The alleged "artist" intent of live-work construction allowed developers to escape various zoning restrictions, as mentioned above. Among these zoning restrictions is conditional use approval, and therefore, the inclusionary requirements which would otherwise apply to "normal" construction. Since the original intent was housing for low-income artists, as the CHAS subcommittee explains above, the thinking of the 1980s code authors was apparently that it would be illogical and counterproductive for live-work developments to be subject to inclusionary or in-lieu fee requirements. Part of the original considerations of applicable fees and codes was that the artist occupants of live/work would be making their living in these vast spaces (and sleeping on a futon in a nook, presumably), thus the space, or most of it, would be considered commercial. Not too far-fetched for an adapted industrial space. But in the current situation, it is baffling that City officials, particularly the Planning Department, insist on calling these structures both commercial spaces and housing. The only apparent functionality of those labels arises when developers and their allies counter arguments about the application of fees and codes, stating that the norm doesn't apply because they're commercial, but that they absolutely must be permitted because they're housing (actual quote: "How can anyone be against housing?"). And the housing designation does help to pad City figures on housing production, although the negative impact on affordable housing isn't mentioned, while at the same time those figures are padded by re-built public housing units.
Given the knowledge that the vast majority, apparently nearly all, of live-work construction since circa 1994 to date has been market-rate and profit-driven and not designed nor built for its original intent, it is (to reiterate) unclear as to the legal basis for the use of zoning and land use laws to encourage the proliferation of these units. These zoning and land use laws at the same time have prohibited affordable housing development in these largely industrial areas. It has at times, such as in public hearings, seemed to some observers as if city officials were intent on reserving vast tracts of the southeast sector of the city exclusively for live-work development, at the expense of affordable housing. This has been most apparent when developers have argued that affordable housing inclusion is "not permitted" in these developments because of zoning restrictions.
It should be clear that, just as inclusionary requirements have not been applied to live-work developments, developers have also been allowed to escape paying in-lieu fees for affordable housing. This fact has not been explained to state and federal agencies in applications for housing assistance or other previous reports, other than the brief reference from the 1998 AIFH cited above. Up-to-date figures on the resulting loss of affordable housing were not available as of this writing. Since the 1998 AIFH cites a loss of 124 units in 1996 and part of 1997, based on live-work applications during that period, the total amount during the Brown administration must be several times that, given the length of time and the fact that applications increased dramatically in 1998 through 2000 until the Board of Supervisors stopped the permitting process in February of 2001.
The San Francisco Examiner in a 1999 article stated that: "Since 1987, 1,327 lofts have been built and 3,349 more are under construction or awaiting city permits, according to the Planning Department's 1998 housing inventory released last month. Under the present ordinance, The City is not eligible to collect an estimated $5.5 million in fees for school construction and renovation and $2.6 million in fees for the Planning Department. The City also missed out on 207 affordable housing units that would have been required under residential rules."(4)
This figure obviously includes a relatively small number of live-work units which were actually designed for artists in the early years of the ordinances. (See Chart in 2000 Housing Inventory excerpt, attached.)
A Chronicle article in July of 2000 stated that: To date, 1,918 units have been built -- 1,165 of them since Willie Brown became mayor in 1996. Another 1,400 have been approved but are not yet completed, and applications for more than 2,200 are pending."(5)
The Wallace article of 5/27/01 stated: "With another 3,500 live-work lofts approved for construction or in the permit pipeline, the Board of Supervisors last February called a timeout..." It is important to note that while official policy on live-work development has changed, hundreds of units are now under construction, with a large number permitted but upon which construction hasn't yet started. And, of course, thousands are completed, while there is at present no movement to re-examine the issue of whether or not fees and other requirements were legally avoided.
The Planning Department's 2000 Housing Inventory gives figures through Dec. 31, 2000, which do not include permits issued in early 2001 before the legislated cut-off. It states: "Over 2,400 live/work units have been created in San Francisco between 1987 and 2000. In 2000, 464 live/work units were completed.." The latter apparently in addition to the previous number. The document goes on to state that "3,148 live/work units are in the pipeline (under review by the Planning Department, approved by Planning, authorized for construction, or under construction) as of December 31, 2000." (See attachment below.)
The fact that live-work developers have vehemently resisted, and succeeded in, avoiding affordable housing requirements in a city with severe housing problems (and massive taxpayer subsidies) is disturbing. The crisis of housing affordability in San Francisco is notorious and well-documented. Recent headlines tell the tale: "HUD tells us what we all know: SF rents absurd;" "5,700 pursue 55 apartments;" "Blacks, Hit by Housing Costs, Leave San Francisco Behind;" "Family of 6 has paid $550 to live in squalor;" "No room to spare; 450 SF families found living in cramped quarters."(6)
As the 1998 AIFH stated, "affordability plays a bigger role than discrimination in limiting access to affordable housing in the private sector..." Amit Ghosh of the Planning Department wrote in the SFUI Quarterly that "the supply of housing in San Francisco is woefully inadequate." Also, "the City has consistently demonstrated that the housing needs of a substantial portion of its population are not being met." And: "If San Francisco cannot house people of all income levels, then the City could become a place limited to the very poor, very rich, and visitors."(7)
When we speak of "affordable housing," we are of course speaking of a mix of types of housing, designed for residents of low to middle income, and including protected classes such as families, seniors, the disabled, ethnic minorities, etc. The fact that live-work development has impeded the development of affordable housing, through zoning and land use and the avoidance of inclusion and in-lieu fees, means that live-work development has also been an impediment to fair housing. Had those hundreds, however many, of affordable units, mentioned in the above paragraphs, been built, they would have included the mix of uses and residents defined above.
The common practice of building live-work developments in close proximity to public housing is a graphic example, apparently unnoticed by HUD officials, of impediments imposed by public policy, and of the barriers facing very low income San Franciscans seeking affordable housing. And this development displays, in particular, the barriers facing those who seek to transition from public housing into the general community.
Furthermore, developers and other proponents of live-work construction have touted them as "lifestyle" housing for a very narrow range of occupants. The 1999 SFUI survey found that "'the residents of Live/Work represent a relatively narrow 'demographic.' They are overwhelmingly White, more male than female, younger than the county median, well-educated... and well paid'." Developers have been quite outspoken in their arguments for special treatment, particularly exemptions from fees. "'How many babies have been born in the South of Market lofts?' O'Donoghue asked. 'You're going to have children living in the South of Market? You can't be serious. I wouldn't live South of Market. But there's a generation of young people who like it because of the high ceilings.'" (Examiner 8/4/99, above) "'Sure, live-work units pay lower fees for schools than family-style housing does, but residential owners have kids,' said Lyons, of RAM Development. 'Live-work owners . . . are singles or married couples who have no kids.'" And last but not least: Because of exemptions from certain building codes (because of artists, remember), live-work lofts are generally not accessible to the physically handicapped.
Statements regarding the non-family intent of live-work construction are particularly troubling. Live-work lofts are generally unsuitable for housing families due to their design. And, again because of the supposed "artist" use, plus whatever other reasons such as the statements above (without regard to validity), live-work developments are assessed about half the normal amount in school construction & facilities fees. These facts should be reviewed in the context of the particular problems that families have in San Francisco: the lack of family housing, particularly for low-income families; the dramatic drop in public school enrollment; and, incidentally, San Francisco's deteriorating school facilities. These factors combine to form a negative environment for families in San Francisco.
2000 census figures reported that San Francisco ranks last among California counties in the percentage of households containing families with children. According to the SF Chronicle, single-parent families have been hardest hit, with an 11.8 percent decline in the previous decade to 3.4 percent. The article stated: "Single-parent families - statistically more likely than other families to live at or below the poverty line - have been battered by soaring rents and housing costs."(8) SFUSD enrollment figures showed a 1,500 student decline between the 1999 and 2000 school years. "The housing market may be a factor. Families may not be able to afford to buy in San Francisco," Superintendent Arlene Ackerman was quoted in an article.(9)
And in announcing the recent firing of 22 teachers, the superintendent, according to the Chronicle, "said high housing costs have driven many families with young children out of the city, resulting in another slide in enrollment this year."(10)
The blunt fact of the matter of live-work development during the Brown administration is that this development is controlled almost exclusively by a single organized group of developers and contractors. This group has gone to extraordinary means to build political allegiances through massive amounts of campaign donations and other political activities, as well as regular use of more questionable tactics. In one infamous incident on August 9, 1999, neighborhood activists were confronted inside City Hall by a violent mob of hundreds of members of this "group."
It is evident that both San Francisco officials and citizens have made serious mistakes with regard to live-work development. Officials have not been forthcoming with detailed information about how this development affects affordable housing and protected classes. Nor have community activists and watchdogs been effective in using legal and administrative means to correct these problems. Immediate steps should be taken including:
1. Review of the situation by the City Attorney and District Attorney, as well as by funding and regulatory agencies including HUD and State of California HCD.
2. An open and transparent audit of live-work developments in recent years by such departments as Planning and Building.
3. The raising of the city's Fair Housing Implementation Ordinance (Sec. 87) to be the primary and inviolable guideline in ALL development decisions. The City Attorney should implement a procedure, with executive oversight, to train City employees in key positions to ensure that Section 87 is followed to the letter by Planning, DBI, MOH, etc. Section 87 must also guide hearings and meetings concerning housing development.
Attachments:
1. "Loft Hearing Dissolves Into Real Sound-Off; 2 angry commissioners, 1 broken microphone" Dan Levy, Chronicle Staff Writer; May 26, 2000
2. Live/Work Projects; 2000 Housing Inventory, San Francisco Planning Dept., July '01
Loft Hearing Dissolves Into Real Sound-Off; 2 angry commissioners, 1 broken
microphone. Dan Levy, Chronicle Staff Writer; Friday, May 26, 2000
SF -- In an extraordinary display of the passions that have increasingly marked the debate over live-work lofts, the San Francisco Planning Commission president abruptly snapped off a colleague's microphone, cussed and stopped the meeting to let tempers cool down.
Ostensibly at issue at the City Hall hearing last night was whether developers could demolish a humble house in South of Market on 10th Street between Folsom and Harrison streets and replace it with six upscale live-work units.
But the main event was clearly the explosive confrontation between commission President Anita Theoharis and Commissioner Dennis Antenore, which had even veteran planning observers shaking their heads in disbelief.
The blowup began when Antenore took exception to remarks made during the public comment period by Joe O'Donoghue, the powerful head of the Residential Builders Association, in support of the live-work lofts.
Antenore appealed to Theoharis for a point of order and said that O'Donoghue's derisive statements about ``nonprofit fat cats'' and the Rev. Kelly Cullen, a Franciscan clergyman involved in the housing business, were unnecessarily personal.
The commissioner added that O'Donoghue's remarks were especially unfair because Theoharis had earlier cut off remarks made by John Elberling, a not-for-profit developer who opposed demolition of the abandoned 10th Street house.
Antenore said that this amounted to a ``double standard.''
A visibly irritated Theoharis then abruptly announced a short recess, left her chair on the podium, walked across the floor to Antenore's desk and snapped off his microphone as the stunned commissioner looked on.
When someone on the floor suggested that her action might have been inappropriate, Theoharis replied, ``I don't give a s--.''
The meeting broke for 10 minutes, but the hearing room was abuzz as tempers cooled. Theoharis disappeared into a back room while Antenore retreated to a hallway, repeating over and over, ``My microphone was shut off by the commission president.''
Attorney Sue Hestor, a development critic who argued against the 10th Street lofts, was in disbelief.
``That was way out of the bounds of commission dialogue,'' Hestor said. ``That was taking the power of the chair to an extreme level.''
When the meeting reconvened, the four commissioners in attendance could not come to a decision regarding the 10th Street project. The panel needs four affirmative votes to pass a project. The matter was continued until July 13 when the full seven-member panel will be present.
Loft opponents such as Hestor argued that the city would violate a long-standing ban on demolition of sound housing if it allowed the 10th Street project to go forward.
In any case, opponents said, the developer should be required to pay into the city's affordable housing fund. They noted a May 5 memo from the Planning Department stating that developers should contribute $225,000 to the fund.
But Planning Director Gerald Green testified that a later memo superseded the earlier one and that the level of payment, if any, would have to be determined by the commission and not by the planning staff.
Commissioner Hector Chinchilla, however, declared that the 10th Street building was unsound and that demolition should proceed.
``This is a no-brainer,'' Chinchilla said, referring to an engineer's report saying the building was seismically weak.
But Antenore, often the only dissenting voice during the commission's two-year streak of office and live-work loft approvals, disputed the engineer's finding and asked for a second opinion from the mayor's office of housing.
``The issue of affordable housing is being swept under the carpet,'' he said. ``There are a lot of people hurting in this city, and this project is not going to help them.''
(Text below is OCR-scanned; charts are scanned images)
LIVE/WORK PROJECTS
This section provides a brief summary of live/work construction in response to the Planning Commission's request for and the general public's interest in this information.
Live/work units combine an open area for working with an area for cooking and living and sometimes a loft space for sleeping. Because live/work units also serve as housing units, the Housing Inventory includes them in the overall housing unit totals even though under the Planning Code live/work units are a commercial use. Live/ work units are also included in housing counts done by the Bureau of the Census and the California State Department of Finance. However, over the last two years, some live/work units in the South of Market and the Mission Districts have reportedly been converted to exclusive office use. The recent decline in office demand, and the consequent glut of office space in these areas, point to the likelihood of these units returning to residential use.
Over 2,400 live/work units have been created in San Francisco between 1987 and 2000. In 2000, 464 live/work units were completed, accounting for 30% of the housing construction net gain. This number includes 45 units gained through alterations and conversions. Most of these units are market-rate. Fewer live/work units, a decrease of 29%, were completed in 2000 than in 1999. Interim zoning controls enforced in 1999 to protect the City's industrial lands has since reduced live/work construction. This, coupled with a weakening economy, has slowed down proposals for live/work development. Only 20 projects with 650 live/work units were submitted for Department consideration in 2000, compared with 54 projects with 953 live/work units in 1999.
Live/work production, however, will continue to be a major source of housing in the next few years as 3,148 live/work units are in the pipeline (under review by the Planning Department, approved by Planning, authorized for construction, or under construction) as of December 31, 2000.
Most of the early live/work projects were conversions from industrial/commercial buildings, but in recent years construction of new live/work units has surged. As much as 90% of all live/work projects involve new construction. Project size varies from single accessory live/work units to large projects with 40 or more units. Most of the new live/work projects are wood-frame construction on in-fill sites in the South of Market planning district (which includes Potrero Hill, see map on page 28) and in the Mission planning district which includes the Northeast Mission Industrial Zone (see Table 12).
To illustrate live/work's role in the provision of housing in the City, units in live/ work and non-live/work projects were evaluated using three indicators: density (or numbers of units per acre), sales price and overall adaptability of use. The density data are from construction between 1990 and 2000. A total of 167 live/work projects containing 2,309 units and 485 non-live/work projects with 7,136 housing units were compared. Sales prices and unit size information were derived from available data from the Assessors' Office.
Density: The average density of live/work projects was 68 units per acre, while non-live/work, multifamily projects averaged 95 units per acre. Over half of the live/work projects examined were small, comprising one to nine units. A typical small live/work project contained four units. These smaller projects averaged 26 dwelling units per acre, compared to 41 dwelling units per acre for similarly small, non-live/ work, multi-family housing projects.
Sales Price and Unit Size: An average live/work unit is 1,278 square feet compared to 1,068 square feet for non-live/work units. The average initial sales price for live/work is $353,100, or 32% more than the average initial sales price of $266,900 for non-live/work housing. The average initial sale price of a live/work unit places it well out of reach of a three-person moderate income household (earning $80,900 or 120% of the median income as defined by HUD), which in 2000 could afford a maximum sales price of $267,860.
Adaptability: Live/work units usually have open floor plans with lofts for sleeping. A limited number of live/work units have a bedroom or two, according to Assessors records. Non-live/work housing unit types range from studios to multiple bedroom units which allow greater flexibility in accommodating larger family households or households of unrelated individuals.
These indicators point to live/work housing as a lower density housing resource that meets the needs of small households earning substantially higher than the area's median income.
The data base for live/work projects has been revised and updated using records from both the Planning Department and Department of Building Inspection. Therefore, the numbers from previous Housing Inventories are now superseded by these updated data. Completed live/work projects with four or more units (1987-2000) are in List 5A on pages 60-62; projects in the pipeline (under review by the Planning Department, approved by Planning, with permits issued, or under construction) are in List 5B, pages 63-65.
Graph 6 below shows the number of live/work units certified complete by DBI between 1987 and 2000. Table 12 above indicates that 71% (1,707) of completed live/work units are located in the South of Market planning district (see Map1 on page 28). The Mission planning district follows with 16% or 396 live/work units. Of the proposed or under construction live/work units, 80% are to be located in the South of Market district and 11 % in the Mission. In terms of zoning, as shown in Table 13 below, most completed live/work units are located in industrial zones M-1 and M-2, and the South of Market mixed use districts SLI, SLR, and SSO. Projects in the pipeline are concentrated in the SLI, M-1, M-2, and SLR zoning districts.
1. Once Affordable Neighborhoods: San Francisco's Transforming Industrial Districts. By Peter Cohen. SFUI Quarterly Summer 99.
2. LIVE/WORK: a Neighborhood Study. SFUI Quarterly Summer 99
3. By Bill Wallace, May 27 2001
4. S.F. loses millions in city, school fees by labeling projects lofts. Tyche Hendricks, SF Examiner, Aug. 4 1999
5. The House That Joe Built: How belligerent construction titan has reshaped S.F. Susan Sward, SF Chronicle, July 17 2000
6. Examiner 6/13/00; Examiner 6/14/00; New York Times 8/2/01; Chronicle 3/21/01; Chronicle 10/24/01
7. Housing in San Francisco. SFUI Quarterly Summer 99
8. Children in exodus. Katherine Seligman, SF Chronicle May 26 2001
9. Enrollment Drop in S.F. Schools Bucks Trend. Lori Olszewski, SF Chronicle Sept. 16 2000
10. District fires 22 teachers at child development centers. SF Chronicle, Nov. 22 2002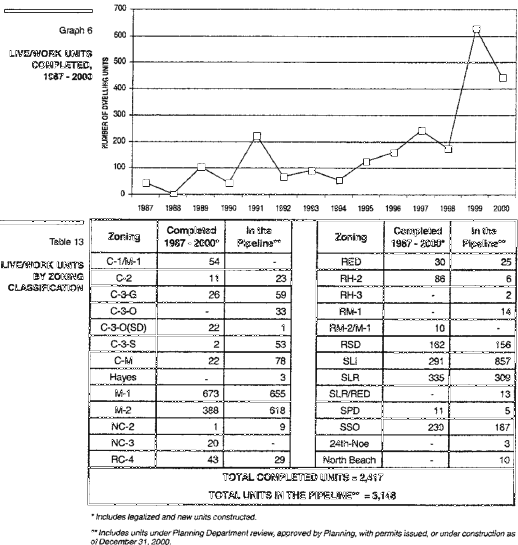 We are 100% volunteer and depend on your participation to sustain our efforts!
Get Involved
If you'd like to help with maintaining or developing the website, contact us.