From the Open-Publishing Calendar
From the Open-Publishing Newswire
Indybay Feature
Local Industrial Unionizing
An open discussion on Industrial Labor Organizing as practiced by the Industrial Workers of the World (IWW) Labor Union.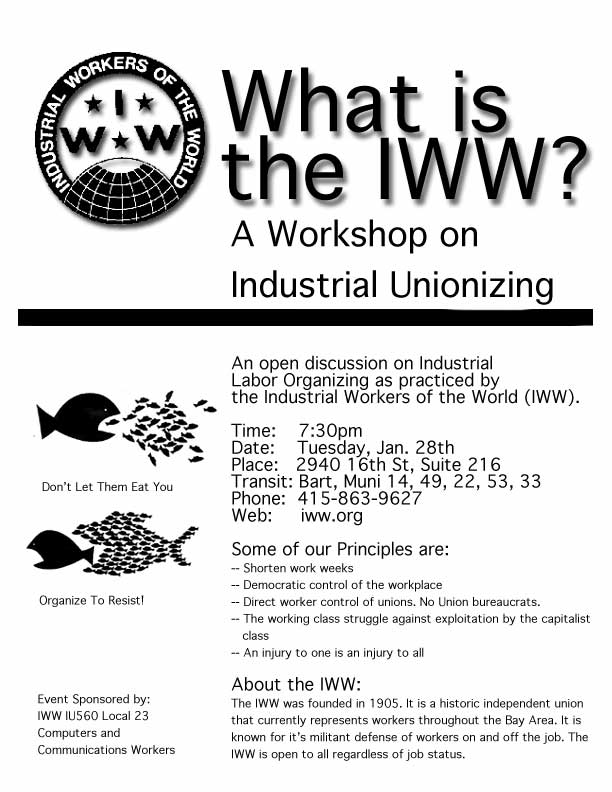 The IWW will be hosting a special workshop open to all on the topic of labor organizing by Industries. The IWW is a militant labor organization dedicated to the emancipation of the working class.
Some of our Principles are:
-- Calling for the Shortening of the Work Week
-- Democratic control of the workplace,
-- Direct worker control of unions, no union bureaucrats.
-- The working class struggle against exploitation by the capitalist class
-- an injury to one is an injury to all.
The IWW currently has organizing drives in several shops in the San Francisco Bay Area. The IWW represents workers on the job and stands up for workers on and off the job. We are an open union that anyone that believes in our principles can join regardless of employment status or trade. Come find out what militant labor organizing can do for you and form solidarity networks with other workers.
Industrial Unionizing Workshop:
"What is the IWW?"
Tuesday, Jan. 28th 2940 16th St, Suite 216
San Francisco, CA 94103
Near Bart 16th St Station, Muni lines 14, 49, 22, 53, 33
Phone us for Information: 415-863-9627
on the Web at
http://www.iww.org