From the Open-Publishing Calendar
From the Open-Publishing Newswire
Indybay Feature
Documentary Skull and Bones, Brotherhood of death!
Real Media Video about Bush's secret society Skull and Bones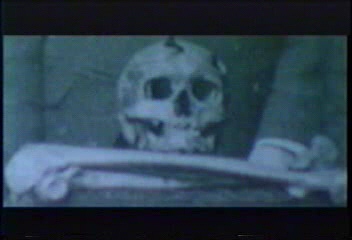 Documentary about president Bush's secret society the Brotherhood of death (AKA Skull and Bones)
Inside a cold, foreboding structure of brown sandstone in New Haven, Conn., lives one of the most heavily shrouded secret societies in American history. Yale's super-elite Skull and Bones, a 200-year-old organization whose roster is stocked with some of the country's most prominent families: Bush, Harriman, Phelps, Rockefeller, Taft, and Whitney.
THE LEGEND OF SKULL AND BONES
Sometime in the early 1830s, a Yale student named William H. Russell—the future valedictorian of the class of 1833- traveled to Germany to study for a year. Russell came from an inordinately wealthy family that ran one of America's most despicable business organizations of the nineteenth century: Russell and Company, an opium empire. Russell would later become a member of the Connecticut state legislature, a general in the Connecticut National Guard, and the founder of the Collegiate and Commercial Institute in New Haven. While in Germany, Russell befriended the leader of an insidious German secret society that hailed the death's head as its logo. Russell soon became caught up in this group, itself a sinister outgrowth of the notorious eighteenth-century society the Illuminati.
Also for more info do a search of Skull and Bones in a search engine. or try here
http://www.jeremiahproject.com/prophecy/nworder03.html
http://www.geocities.com/CapitolHill/8425/BONES.HTM
http://www.freepressinternational.com/tomb.htm