From the Open-Publishing Calendar
From the Open-Publishing Newswire
Indybay Feature
No witnesses (cartoon by Latuff)
Mr. Dan Rozett , from United Jewish Federation of Stamford, Connecticut, sent me a very inspirational message (reproduced here). So, I decided to honour his kindness with a cartoon. Mr. Rozett can be reached at 203-321-1373 ext. 115 or
dan [at] ujf.org
.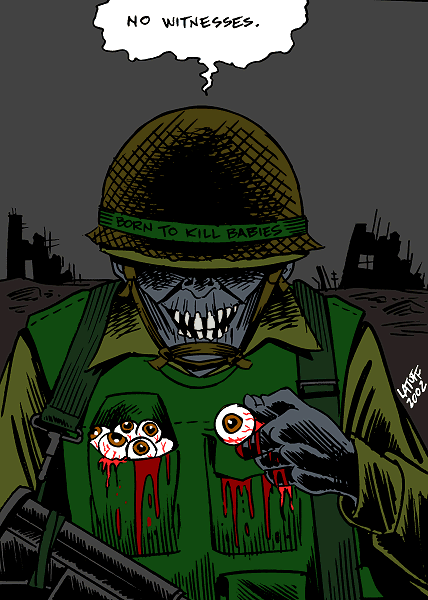 Message-ID: <
01C1FC2D.92C20040.dan [at] ujf.org
>
From: Dan Rozett <
dan [at] ujf.org
>
To: "'
latuff [at] uninet.com.br
'" <
latuff [at] uninet.com.br
>
Subject: saw your cartoon about palestinians
Date: Wed, 15 May 2002 16:28:39 -0400
Organization: UJF
X-Mailer: Microsoft Internet E-mail/MAPI - 8.0.0.4211
MIME-Version: 1.0
Content-Type: text/plain; charset="us-ascii"
Content-Transfer-Encoding: 7bit
X-UIDL: Sjn!!>-&!!+$L!!_Q/"!
Thought you could use a little history lesson.
In 1967 after Israel was surrounded by five Arab armies threatening to destroy her, she launched a preemptive strike to defend herself. Immediately following the war Israel offered to return all the land
captured (except East Jerusalem) in exchange for peace.
The Arab League convened in Khartoum, Sudan and came up with the following response on September 1st, 1967. "No Peace, No Negotiations, No Israel." It was at this point when the world decided that the Palestinians began their struggle. But why don't you ask yourself why Egypt and Jordan did not offer the Palestinians a state before the 1967 War? They had occupied the same lands that Israel does now.
Let's skip to 1993 in which by that time Israel has fought three more wars of survival. The Oslo Accords gave Arafat and his people autonomy. Ask yourself the following: What did Arafat do with all the billions of dollars he received since 1993? Why are there still refugee camps, instead of prospering Palestinian cities? The reason...all the money given to the PA has been used to buy weapons and to pay Arafat's salary.
1999- After six years of promises by the PA to stop the terror at which they had failed to do, Israel still offers Arafat 98% of the West Bank and some autonomy in East Jerusalem. Did Arafat accept this offer in exchange for peace? NO!!!
Israel is not perfect, and we have made mistakes. But I cannot allow you to publish such hate without making sure you know the truth. What is the truth? Israel is a peace loving nation, that has known war and death for
over 2000 years. Only in this century we have lost 6 million of our people.
Ask yourself, why would a nation that has suffered for so long want to cause suffering to others and to continue to fight on and on. We have made
peace offers to the Palestinians and the Arabs since the start of the conflict and we have always received negative responses. I suggest that you take responsibility and know the facts before you
publish such garbage.
I recommend that you read a book called Myths and Facts: A Guide to the Arab Israeli Conflicts by Mitchell G. Bard. You might learn something, and you might stop being so ignorant. What you say is legitimate. It is easy to make a suicide bomber, but do not make
them into brave Palestinians. They are ignorant and brainwashed and all they do is murder innocent people. The suicide bombers should be directing
their anger not at Israel but at Arafat and his government.
All this time could have been used to improve living conditions, education and the economy of the Palestinians, instead of making murderers of young
Palestinians. Palestinians could have had their independence long ago, if they wanted peace. But they don't: Former Israeli Prime Minister Golda Meir said that "there will be peace when the Arabs love their children more than they hate the Jews."
As of now, Arabs hate the Jews and that is the only reason they will not make peace. They want to see us destroyed. Value life not death. All the historical facts that have been mentioned here can be easily verified. I would be more than happy to provide verification to you if you desire.
Stop publishing hate, and use your talent to publish peace.
We are 100% volunteer and depend on your participation to sustain our efforts!
Get Involved
If you'd like to help with maintaining or developing the website, contact us.