From the Open-Publishing Calendar
From the Open-Publishing Newswire
Indybay Feature
Motorist Attacks Bicycle Demonstration in Sacramento
One rider injured, one bicycle destroyed at first anniversary Critical Mass in Sacramento.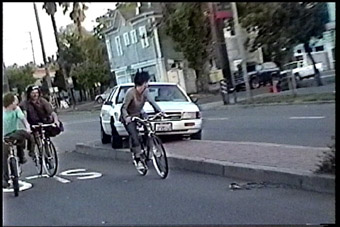 FOR IMMEDIATE RELEASE
MAY 7, 2002
Motorist Attacks Bicycle Demonstration
Quality Hi-8 Footage available
Friday, May 3, the Sacramento Critical Mass bicycle demonstration celebrated it first anniversary ride. Approximately 25-35 bicyclists gathered at the Capitol North Steps to emphasize the need for California to reduce automobile dependence and all its harms. Celebrants brought two rolling sound systems playing music; two original creation "art bikes" including a towering triple-tall tricycle with two riders; a couch on wheels carrying a person who couldn't ride due to surgery; and a piñata which was smashed at the side of the road halfway through the ride. Along the way, passersby joined in - not just bicyclists, but some punk rockers with a pogo stick and skateboard, and one kid who ran to jump on the couch for a ride. Many motorists cheered and honked support.
What they did not bargain for was a moment of violence which was to change everything about the day. A woman in a white Chevrolet 4-door was stricken with road rage. After nearly bottoming-out her car barreling over the median, she proceeded to strike one rider, cutting and bruising his knee, and then when he stood up, she ran over his foot. She shouted at him as she ran over his foot and others came to help. Two cyclists stood in her way to keep her from fleeing the crime scene. She proceeded to strike one of them and dramatically crush his bicycle, before fleeing through the crowd to escape - narrowly missing the crowd of shocked and horrified bicyclists. Witnesses say her daughter, in the passenger seat, was pleading "Stop Mom, stop!"
Still captures from the sequence can be seen on the web. Visit
http://www.bclu.org/sactocm/
to view them - they are linked from the second paragraph which begins, "Update May 5, 2002".
Although police were monitoring the ride with a helicopter and unknown numbers of squad cars, and were notified of the incident, they did not help at the scene. "I don't want her to go to jail, but her driving privilege needs to be revoked", said victim Josh Nichols whose bicycle was destroyed. "Then that's exactly what we are going to do," said BCLU attorney Lawrence Hildes. Hildes is working on a BCLU lawsuit regarding police abuses at Sacramento Critical Mass. Police have forced the ride to shut down through illegal tactics twice in the past, and without BCLU help, likely would have done so again. See details on the listed website.
The ride gathers on the North Capitol Steps every first Friday (June 7) to ride after 6 PM.
CONTACT:
Josh Nichols, victim: (916) 441-4812
Lawrence Hildes, BCLU attorney: (510) 845-9788
Jason Meggs, Director of BCLU: (510) 720-2818 pager - has Hi-8 video.
We are 100% volunteer and depend on your participation to sustain our efforts!
Get Involved
If you'd like to help with maintaining or developing the website, contact us.