MindfulVotes Kicks Off - Send Mindful Leaders of Color to the Republican and Democratic National Conventions

We're going into the belly of the political beast to help people reconnect to their fundamental sanity in an election year that has felt insane.

MindfulVotes is a dynamic campaign to galvanize ALL people that aspire to bring mindfulness into every aspect of their lives - and the resulting values of love, compassion and  inclusivity - to the fore of American politics. No matter where we stand on the political spectrum, HOW we vote and engage matters.

Where?

To kickoff this different kind of campaign, Transformative Change,* with the support of all who value mindfulness, is sending a team of four leaders of color to the Democratic and Republican Party National Conventions in just two weeks, to teach meditation, yoga, tai chi and other mindfulness practices at the conventions. 

In an effort to lift up the importance of bringing consciousness to the political process, Arianna Huffington and Huffington Post is sponsoring an "Oasis" at the conventions. It will be a space to unplug and recharge featuring meditation, yoga, spa services and healthy refreshments to give the delegates a rejuvenating place to reconnect to their bodies and minds so they can bring their hearts in a powerful way during the supercharged political conventions. The MindfulVotes crew will be teaching mindfulness practices and raising consciousness about the importance of mindfulness in the voting process at the Oasis - signing people up to pledge to vote mindfully on Election Day.

*Transformative Change, in an alliance with the team behind YogaVotes, is anchoring the MindfulVotes campaign.

Why Does This Matter?

It's time to liberate our politics from negativity and closed-heartedness. The widely-held mindfulness values of love, compassion and inclusivity can return us, as Americans, back to our center of goodness.

And, by bringing an anchor team of people of color, we will change the way practices mindfulness and embodiment are represented in this important and highly visible venue. The team will coordinate efforts to assure locally-based leaders of color are supported to show up, as well.

Meet the MindfulVotes Crew



Rev. angel Kyodo, Muki, chandra, Zochi

A team of four committed individuals that are trained in leading meditation, yoga and tai chi. This same team of people anchored the Transformative Social Change Track at the 2010 US Social Forum in Detroit, an effort that helped literally define the field. 

Read their bios here.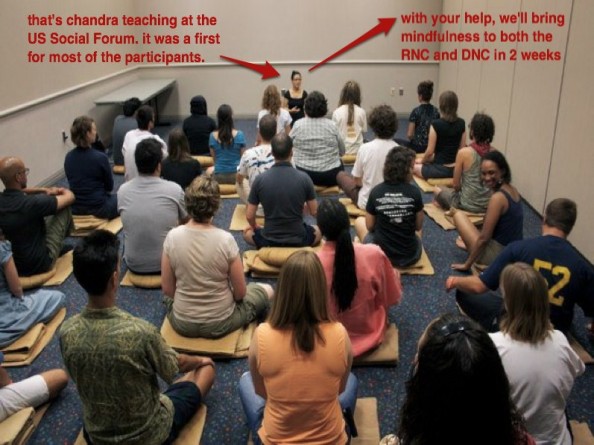 How Can I Get Involved?

Keep in Touch
There's much more coming. To stay informed, be the first to view the new MindfulVotes website when it is live, participate in small group circles near you or teleconferences wherever you are and more, get on our low volume email list by emailing us at mv[at]transformativechange[dot]org. Let us know you think about the MindfulVotes campaign and mindfulness in your life.

Come
If you're an instructor/teacher and can be in Tampa or Charlotte, come with us.

Volunteer
The MindfulVotes campaign needs help. Tell us what you want to do.

Give
If 100 people give $50, we'll make our goal. The MindfulVotes crew can't do this without your support. Literally ever dollar helps and airfares are quickly rising. Your $5.00, $50, or $500 means a lot. Donate here. Remember, the hardest part is already done: the opportunity of the Oasis already exists for us to bring mindfulness to politics in a big way. Your contribution will make it happen for people that wouldn't make it. Let's meet the opportunity together. 

Invest
If you have access to discretionary funds, invest in planting this seed of consciousness in the very heart of our political process. Grant this project.

Can't Donate?
This campaign is just getting off the ground and it depends on word of mouth. Learn more about getting MindfulVotes at the RNC / DNC here and copy and paste this link http://www.gofundme.com/11jcn8 into Facebook and anywhere you'd like and help spread the word!

Whatever you do, please continue your good work to support consciousness & mindfulness in all of our lives. Thank you!










Added to the calendar on Saturday Aug 18th, 2012 11:25 AM