Search Results
Womyn Events
Occuring Between 7/1/2022 and 7/1/2023
(sorted by event date in chronological order)
Abortion Rights Parade: "This is What America looks Like" Call for Nationwide Legal Abortion Now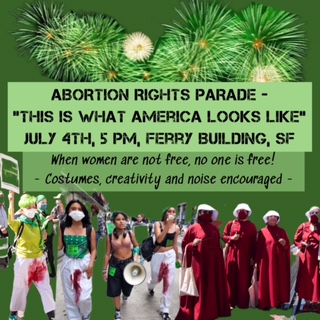 Ferry Building 1 Ferry Building San Francisco, CA 94105...
Event Date: Mon, Jul 4, 2022 5:00pm PDT
Posted: Thu, Jun 30, 2022 9:12am PDT
Graphic History Book on How Women Took on Housing, Water and Education in Apartheid South
1680 Market Street San Francisco, CA 94102...
Event Date: Wed, Jul 13, 2022 6:30pm PDT
Posted: Mon, Jun 27, 2022 10:53pm PDT
Defending Choice: Roe vs. Wade and the Battle to Preserve Women's Rights
Online event - FREE...
Event Date: Tue, Aug 9, 2022 6:00pm PDT
Posted: Sat, Jun 11, 2022 2:57pm PDT