Search Results
Anti-War Events
Occuring Between 5/15/2021 and 5/15/2022
(sorted by event date in chronological order)
Nakba 73 – We Will Return to Palestine
24th and Mission, 24th St BART and Valencia and Liberty between 20th and 21st Streets, San Francisco...
Event Date: Sat May 15, 2021 1:00PM
Posted: Wed May 12, 2021 9:06AM
Protest Israel's USA funded human rights abuses of Palestinians
Corner of Ocean and Water Streets, Santa Cruz. Sponsored by Palestine Justice Coalition....
Event Date: Sun May 16, 2021 11:00AM
Posted: Sat May 15, 2021 6:02PM
Monterey: Stand in Solidarity with Palestine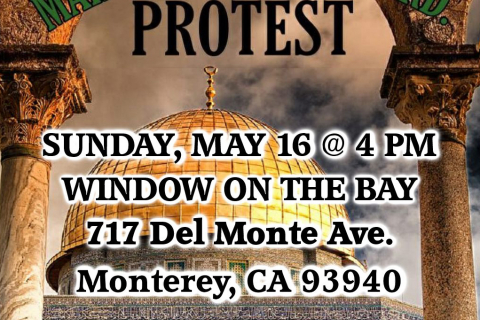 Window on the Bay, 717 Del Monte Ave., Monterey, CA...
Event Date: Sun May 16, 2021 4:00PM
Posted: Fri May 14, 2021 4:49AM