Search Results
Anti-War Events
Occuring Between 7/3/2020 and 7/3/2021
(sorted by event date in chronological order)
Free Julian Assange Global Birthday Vigil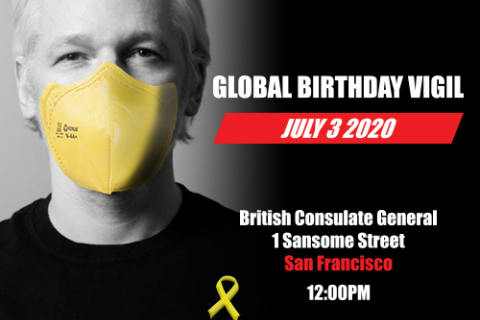 BayAction2FreeAssange.org joins #Candles4Assange for Julian Assange's Global Birthday Vigil Friday, July 3ʳᵈ, Noon-1PM British Consulate, 1 Sansome St., San Francisco *Masks & social distancing please For those w medical conditions/unable to attend : Please follow @Action4assange livestream noted in details...
Event Date: Fri Jul 3, 2020 12:00PM
Posted: Fri Jun 26, 2020 2:52PM
Demilitarize Banner Drop
Highland Avenue Bridge over the San Jose exit/entrance to Interstate 280, in the Bernal/Mission/Noe/Glen Park vicinity....
Event Date: Sat Jul 4, 2020 10:00AM
Posted: Sat Jun 27, 2020 12:48PM
July 4th: Independence from War! Banner Drops
I-80 Pedestrian Bridge, just south of University Ave. Meet up in parking lot in southwest corner of I-80 & University Ave. at 9:50am....
Event Date: Sat Jul 4, 2020 10:00AM
Posted: Sat Jun 27, 2020 2:13PM