Search Results
California Events
Occuring Between 11/14/2019 and 11/13/2020
(sorted by event date in chronological order)

Letter-Writing Session for Leonard Peltier; Demand an End to the Elder Unit Lockdown!
San Jose Peace & Justice Center 48 S Seventh St., San Jose, CA 95112...
Event Date: Thu Nov 14, 2019 7:00PM
Posted: Wed Nov 13, 2019 9:16AM

Rev. Dr. William J. Barber, II and Rev. Dr. Liz Theoharis, in San Francisco, CA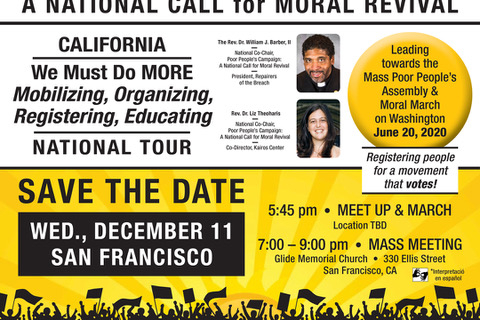 Glide Memorial United Methodist Church, 330 Ellis St (At Taylor), San Francisco, California 94102...
Event Date: Wed Dec 11, 2019 7:00PM
Posted: Tue Nov 5, 2019 11:40AM