From the Open-Publishing Calendar
From the Open-Publishing Newswire
Indybay Feature
Arms stretched out to Durban, to RETUSA, to dockers internationally...
South African dockers from Durban gave solidarity greetings to ILWU Local 10 longshore workers and the community against the privatization and destruction of the Howard Terminal in the Port Of Oakland. In response ILWU Local 10 past president Trent Willis and ILWU Local 10 member Aaron Wright thanked Duban dockers.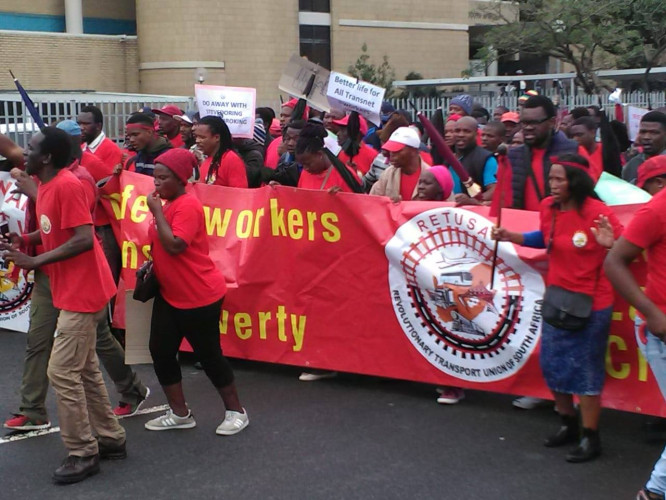 Arms stretched out to Durban, to RETUSA, to dockers internationally...
OAKLAND-DURBAN-THE WORLD: ORGANIZE TO STOP DOCK PRIVATIZATION!
Workers in Oakland salute the statement of support in the struggle against privatization by JV Dube of RETUSA, the dockers union in Durban!
At the hearings on the issue longshoremen/dockers gave their warm appreciation and called for an international campaign of dock unions against the selling off of public land and resources to billionaires; a process happening in Oakland, Barcelona, Durban, Sri Lanka and in every major port of the world.
United we stand against the get-rich-quick looters and plunderers and the established billionaires wanting to wreck our jobs and take our real estate.
HEAR TRENT WILLIS, PAST PRESIDENT, ILWU LOCAL 10:
We thank them very much for sending us solidarity here; that is spectacular! We need all of the help we can get facing insurmountable pressure from billionaires and corporations to take over public resources. This is not a local issue, it's going on all over the world.
And here in the United States, the system of capitalism makes a takeover like this possible. You have commissions like this one right here to bypass the wishes of the people and to let the minority run business. The minority is billionaires and corporations. They want to run business they want to make all of the money they want a poor and rich class. Working people have to stand up and unite against attempts like this to access public resources, in particular without the people's permission.
I'm proud to be a member of the International Longshore and Warehouse Union. There has to be a national resurgence of the working people. Working people working together can stop this privatization. Independent of all the divisive issues, like racism, being one of the main ones. Divisions of any kind, working together for common cause. The only thing that can stop the billionaires is an organized working campaign for working people in this country, period.
AND HEAR AARON WRIGHT, ILWU LOCAL 10 MEMBER:
I've just heard that the South African port workers have sent their support for our fight against privatization in the Port of Oakland.
My father was a big part of the fight against apartheid by stopping the working of cargo that was from South Africa in the 1980s. I remember that clearly.
We were thanked by Nelson Mandela when he came here after the ANC had took over. So there is a long history with South Africa in the fight for liberation there and we appreciate their support now, in our fight to keep our valuable natural and public resources from being privatized and financialized.
It seems like privatization of ports is a very profitable business going on all over the world in Durban, everywhere, we need an international campaign to say we need the ports as transportation centers.
Our port land, you know, seashore land is extremely valuable.
They've looting our country; it's a great smash and grab and they'll continue to do it as long as we don't put up any resistance. It seems like the same as going on in South Africa, the corruption, the looting, the privatization.
It's a worldwide thing, a globalization thing. And, you know, that will happen unless we work together and now!
RETUSA Statement To Our Brothers and Sisters of ILWU Local 10 fighting Privatization Of Port Of Oakland
https://www.facebook.com/UNIONRETUSA/
We, the dock workers of Durban, stand with the ILWU, maritime workers and the Oakland community who are against selling public dock land to private developers.
We support your stand and that of working people in the Bay Area and throughout the world where our dock lands are being turned into condos, yacht basins and playgrounds for the rich. This has happened in Durban.
We remember well that ILWU Local 10 stood with us against the apartheid regime in 1984 to stop cargo from the apartheid regime. Today we stand with you for a united action throughout the world for dockers, maritime workers, pubic educators and our communities.
An Injury To One Is An Injury To All!
JV Dube, General Secretary, RETUSA, Revolutionary Transport Union of South Africa, representing dock workers of Durban
http://www.retusa.co.za/
Additional media:
Shut It Down! OEA Strikes & ILWU Shuts Docks In Fight Against Privatization & Union Busting
https://youtu.be/a4ozf6qiQSw
East Bay Trade Unionists Oppose Port Privatization of Howard Terminal For Billionaire GAP A's Stadium
ILWU 10 Members 1984 Solidarity Boycott of South African Cargo In SF In Action Against Apartheid
https://youtu.be/hzPSaua4ovo
ILWU Struggles 1984-2010, The Struggle Continues
https://youtu.be/ABosvjawnj4
Workers Stand Against Israeli Apartheid-ILWU Members Refuse To Cross Picket LInes On Zim Ship
http://www.youtube.com/watch?v=RZch1ydvXvc
Oakland ILWU & OEA, Students & Community Rally To Stop Privatization & Union Busting From The Port To The Schools!
https://youtu.be/-s2iGYDfUAs
NO Public Money To A's Billionaire Owner John Fisher For Stadium In Port Of Oakland
https://youtu.be/7L3detM583c
We are 100% volunteer and depend on your participation to sustain our efforts!
Get Involved
If you'd like to help with maintaining or developing the website, contact us.