From the Open-Publishing Calendar
From the Open-Publishing Newswire
Indybay Feature
San Francisco Will Spend $600,000 to Erase History
San Francisco Will Spend $600,000 to Erase History
The school board has voted to destroy public murals by a New Deal-era Communist.
San Francisco Will Spend $600,000 to Erase History
The school board has voted to destroy public murals by a New Deal-era Communist.
By Bari Weiss
Ms. Weiss is a writer and editor for the Opinion section.
June 28, 2019
A section of the mural at George Washington High School in San Francisco, painted by the Russian-American artist Victor Arnautoff, shows a dead Native American.
Credit
Jim Wilson/The New York Times
A section of the mural at George Washington High School in San Francisco, painted by the Russian-American artist Victor Arnautoff, shows a dead Native American.
A section of the mural at George Washington High School in San Francisco, painted by the Russian-American artist Victor Arnautoff, shows a dead Native
American.CreditCreditJim Wilson/The New York Times
SAN FRANCISCO — More than $8,000. That was the amount John Ashcroft's Justice Department spent on blue curtains to cover up the busty Spirit of Justice statue and her bare-chested male equivalent, the Majesty of Law, in the department's Great Hall in 2002. The Victorian move against the Art Deco sculptures spurred a thousand lampoons. "A blue burqa for justice," my colleague Maureen Dowd memorably called it. In The Harvard Crimson, a young Pete Buttigieg wrote, "It seems odd that an infant is supposed to feed on them, and a grown man is expected at some point to behold them, but for a period in between we feel the need to see to it that no child ever sees a breast."
I wonder, then, what Mr. Buttigieg, now on the presidential campaign trail, would make of the San Francisco school board's unanimous decision on Tuesday night to spend at least $600,000 of taxpayer money not just to shroud a historic work of art but to destroy it.
By now stories of progressive Puritanism (or perhaps the better word is Philistinism) are so commonplace — snowflakes seek safe space! — that it can feel tedious to track the details of the latest outrage. But this case is so absurd that it's worth reviewing the specifics.
Victor Arnautoff, the Russian immigrant who made the paintings in question, was perhaps the most important muralist in the Bay Area during the Depression. Thanks to President Franklin Roosevelt's Works Progress Administration, he had the opportunity to make some enduring public artworks. Among them is "City Life" in Coit Tower, in which the artist painted himself standing in front of a newspaper rack conspicuously missing the mainstream San Francisco Chronicle and packed with publications like The Daily Worker.
Arnautoff, who had assisted Diego Rivera in Mexico, was a committed Communist. "'Art for art's sake' or art as perfume have never appealed to me," he said in 1935. "The artist is a critic of society."
This is why his freshly banned work, "Life of Washington," does not show the clichéd image of our first president kneeling in prayer at Valley Forge. Instead, the 13-panel, 1,600-square-foot mural, which was painted in 1936 in the just-built George Washington High School, depicts his slaves picking cotton in the fields of Mount Vernon and a group of colonizers walking past the corpse of a Native American.
"At the time, high school history classes typically ignored the incongruity that Washington and others among the nation's founders subscribed to the declaration that 'all men are created equal' and yet owned other human beings as chattel," Robert W. Cherny writes in "Victor Arnautoff and the Politics of Art."
In other words, Arnautoff's purpose was to unsettle the viewer, to provoke young people into looking at American history from a different, darker perspective. Over the past months, art historians, New Deal scholars and even a group called the Congress of Russian Americans have tried to make exactly that point.
"This is a radical and critical work of art," the school's alumni association argued. "There are many New Deal murals depicting the founding of our country; very few even acknowledge slavery or the Native genocide. The Arnautoff murals should be preserved for their artistic, historical and educational value. Whitewashing them will simply result in another 'whitewash' of the full truth about American history."
Such appeals to reason and history failed to sway the school board. On Tuesday, it dismissed the option to pull an Ashcroft and simply cover the murals, instead voting unanimously to paint them over.
One of the commissioners, Faauuga Moliga, said before the vote on Tuesday that his chief concern was that "kids are mentally and emotionally feeling safe at their schools." Thus he wanted "the murals to be painted down."
Mark Sanchez, the school board's vice president, later told me that simply concealing the murals wasn't an option because it would "allow for the possibility of them being uncovered in the future." Destroying them was worth it regardless of the cost, he argued at the hearing, saying, "This is reparations."
These and other explanations from the board's members reflected the logic of the Reflection and Action Working Group, a committee of activists, students, artists and others put together last year by the district. Arnautoff's work, the group concluded in February, "glorifies slavery, genocide, colonization, Manifest Destiny, white supremacy, oppression, etc." The art does not reflect "social justice," the group said, and it "is not student-centered if it's focused on the legacy of artists, rather than the experience of the students."
And yet many of the school's actual students seemed to disagree. Of 49 freshmen asked to write about the murals, according to The Times, only four supported their removal. John M. Strain, an English teacher, told The Times's Carol Pogash that his students "feel bad about offending people but they almost universally don't think the answer is to erase it."
Which makes one wonder who these bureaucrats actually seek to protect. Is it the students? Or could it also be their reputations, given that those in favor of preserving the murals are being smeared as racists?
"In my entire life, no one has ever, ever accused me of being a 'white supremacist,'" Lope Yap Jr., a filmmaker and the vice president of the alumni association, told me. But if you buy into the expansive notion of "white supremacy" put forward by Alison Collins, one of the board commissioners, that is exactly what Mr. Yap, who is Filipino, is. "One of the earmarks of white supremacy culture is valuing (white) property over (Black & Brown) ppl," Ms. Collins recently wrote on Twitter. "I think about this when I read comments from folks arguing to 'protect' the 'Life of Washington' murals."
Mr. Sanchez, the board vice president, told me: "A grave mistake was made 80 years ago to paint a mural at a school without Native American or African-American input. For impressionable young people who attend school to have any representation that diminishes people, specifically students from communities that have already been diminished, it's an aggressive thing. It's hurtful and I don't think our students need to bear that burden."
The implications of this logic are chilling. What happens when a student suggests that looking at photographs of the My Lai massacre in history class is too traumatic? Should newspapers avoid printing upsetting images that illuminate the crisis at the border, like the unforgettable one of Óscar Alberto Martínez Ramírez and his 23-month-old daughter, Valeria, facedown, drowned in the Rio Grande?
All are fair game for censorship in a worldview that insists that words and images are to be judged based on how "safe" they make people feel.
"If K-12 schools start to provide top-down total protection from the emotional pain of confronting uncomfortable ideas — like what actually happened in real American history — we should not be at all surprised when these people go on to college campuses and then, into the work force, and demand the same sort of comforts: safe spaces, trigger warnings, microaggression prevention, and so on," said Robby Soave, the author of "Panic Attack: Young Radicals in the Age of Trump." He added: "That's not on them. That's on us."
The notion of erasing art has an American pedigree. Arnautoff was intimately familiar with it, having been interrogated in 1956 by the House Un-American Activities Committee for drawing a caricature of Vice President Richard Nixon. But I suspect he would have been surprised to learn that more than 60 years later, progressives in charge of educating San Francisco's children are merrily followingthis un-American playbook.
Bari Weiss (@bariweiss), a staff writer and editor for the Opinion section, is the author of the forthcoming "How to Fight Anti-Semitism."
Bari Weiss is a staff editor and writer for the Opinion section.
Destroying Arnautoff Murals As Payment For "Reparations"? SFUSD Bd Votes To Paint Over Historic Murals
https://youtu.be/fPpm8FUPC2c
The San Francisco Unified Schood District Board on June 25 voted unaimously to paint over and destroy the famed Victor Arnautoff murals on the the life of George Washington. United Public For Workers UPWA had a press conference before the vote about how this was attacking an artist actually exposed the role of George Washington in supporting slavery and the US's expansion which meant genocide against Native Americans.
The Superintendent Matthews had set up a hand picked committee that ended up only recommending the destruction or covering of the murals.
The same Superintendent and Board of Education have supported a racist union busting reactionary program called PAR Peer Assisted Review which has been used to bully and coerce African American, Latino and senior teachers to quit the district. Board Vice Chair and SFUSD school principal Mark Sanchez supports the PAR discipline program which is also supported by the UESF union leadership and he made an amendment motion to destroy the murals. He also said that the cost of destroying the murals was part of the cost of "reparations" to Native American people for the genocide against them.
For additional media:
SF Debates Removal Of Victor Arnautoff Murals At GWH
https://youtu.be/rG6x4JS76j0
"Erasing History" SF Washington High & The Victor Arnautoff Murals
https://youtu.be/sxHijlewzoQ
Victor Arnautoff: San Francisco's Master Muralist of the 1930's
https://www.youtube.com/watch?v=p5aYXYqcDNg&t=7s
When conservatives went to war over SF post office murals
https://www.sfchronicle.com/chronicle_vault/article/When-conservatives-went-to-war-over-SF-post-13912445.php
These High School Murals Depict an Ugly History. Should They Go?
https://www.nytimes.com/2019/04/11/arts/design/george-washington-murals-ugly-history-debated.html
Murals at Washington High School Stoke Debate: Board to Decide Their Fate
https://sfrichmondreview.com/2019/04/30/murals-at-washington-high-school-stoke-debate-board-to-decide-their-fate/
Murals at Washington High School Stoke Debate: Board to Decide Their Fate
https://sfrichmondreview.com/2019/04/30/murals-at-washington-high-school-stoke-debate-board-to-decide-their-fate/
Production of Labor Video Project
http://www.laborvideo.org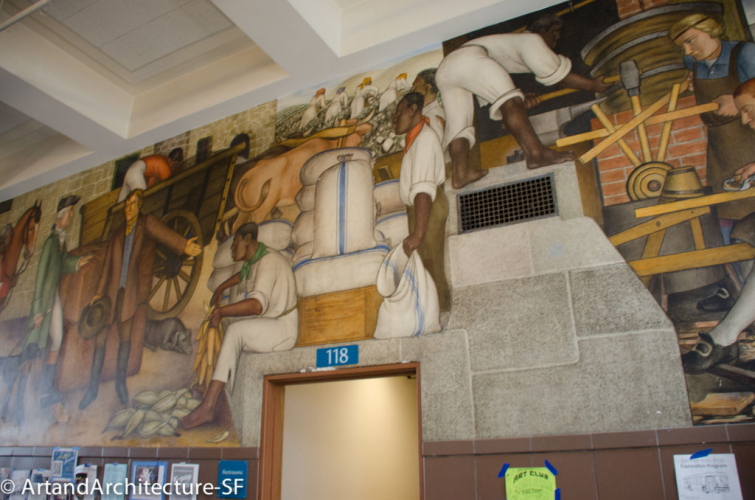 The destruction of the Victor Arnautoff murals at GWH will remove the only art pieces in a public place in the United States that show that George Washington was a slave owner.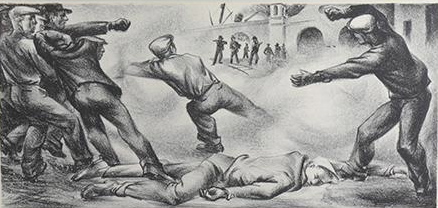 Victor Arnaugtoff used his artistic talents to show the struggle of the 1934 general strike in support of the workers. Now the SFUSD Superintendent and School Board want to spend $600,000 or more to destroy his WPA murals at George Washington High.
Before the school board vote Professor George Wright spoke at a press conference to defend the murals. The press conference was sponsored by UPWA.info
We are 100% volunteer and depend on your participation to sustain our efforts!
Get Involved
If you'd like to help with maintaining or developing the website, contact us.