From the Open-Publishing Calendar
From the Open-Publishing Newswire
Indybay Feature
ENLACES de Red Latina sin fronteras 06.05.2019
ENLACES de Red Latina sin fronteras 06.05.2019
comunicaciones e información para la liberación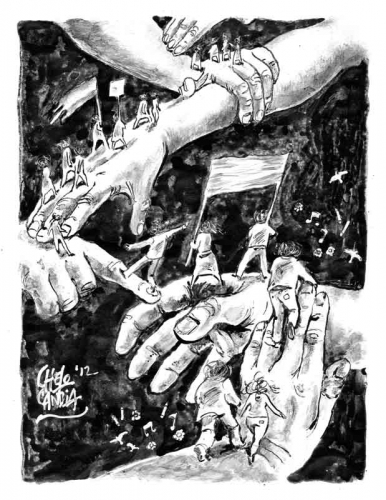 ENLACES de Red Latina sin fronteras 06.05.2019
comunicaciones e información para la liberación
redlatinasinfronteras.sur [at] gmail.com
https://twitter.com/#!/RedLatinaSinFro
http://redlatinasinfronteras.over-blog.es/
y por ùltimo –que dure lo que dure–
https://www.facebook.com/enred.sinfronteras.5
enlace a ediciòn completa:
https://redlatinasinfronteras.wordpress.com/2019/05/06/39561/
SUMARIO
Argentina:
-Sin pan y sin trabajo
-Solidaridad frente al procesamiento del Perro Santillán e integrantes de la Comisión Directiva del SEOM Jujuy
-Plan nuclear fuera de control
-Garabato y la continuidad de La Forestal
-Ni esenciales ni 64
-"Goberneitor"
-Mucho para recordar
-Feminismo campesino y popular: el reconocimiento a Ramona Bustamante
Chile:
-Editorial Quimantù
€$pania:
-Radiografía de Vox
-Husein Bachir Brahim, activista saharaui deportado y entregado a la represiòn marroquì
-Elecciones en España: PSOE y Sáhara Occidental
Guatemala:
-Un plan macabro
Mèxico:
-Debate sobre el proyecto neoliberal y extractivista mal llamado Tren "Maya"
-Las mujeres de fuego de Cherán
-Plaguicidas
-Tortura Ejército hasta 86% de detenidos
-Libros de la Escuelita Zapatista: Participación de las mujeres en el gobierno autónomo
-Guerrero: Comunicado del CIPOG-EZ por los asesinatos de José Lució Bartolo y Modesto Verales
-El tren que no es maya
Paìs Vasco:
-Pensionistas y estudiantes: ¿y si aprendemos de Nicaragua?
Perù:
-Alan García y la deuda con los pueblos indígenas
Uruguay:
- 30 de abril de 2019, un día poco feliz para el trabajador rural
Uruguay:
- 28 de Abril: Convocatoria a 30 años de la muerte de Raùl Bebe Sendic
-Homenaje a Raul Bebe Sendic: Hay actos y actos…
-Movimiento Por la Tierra: Vigencia de Raùl Bebe Sendic
-Movilización a 30 años de la partida del líder revolucionario Raul Bebe Sendic
-Raúl Sendic en su juventud
-Hasta Siempre Saracho!!!
-Ronald Scarzella asesinado el 23 de abril de 1993… La impunidad continùa
-A 45 años de la masacre de "Las muchachas de abril"
-A 30 años de su muerte, Raúl "Bebe" Sendic y su mensaje viven en la lucha
-Feminismo: Entrevista a Raquel Gutiérrez Aguilar
Venezuela:
-Televisora campesina Terra TV: Documental "Ventea"
-Anàlisis de la Coordinadora Simón Bolívar y el Movimiento Guevarista Revolucionario
Wallmapu:
-Líder mapuche es condecorado con el "Premio Nobel Verde" 2019
-Comunidad Peñeipil, Lof Penchulef denuncia detención de autoridades del lof
Otras notas:
-Commodities, de alimento a la especulación financiera
-Movimiento Mundial por los Bosques Tropicales: Boletín Nº 241
-"Todos los saharauis son héroes"
-Brotes de rebelión. Mujeres y tierra
-Banco Mundial: el nuevo plan para privatizar tierras en el sur global
-Dadaìsmo Berlìn 1919: Hannah Höch
-Fascismo millenial o populismo fascistoide
-Rosa Luxemburg: Consejos al movimiento socialista
-28 Abril de 1960: Fallecimiento de Anton Pannekoek
-Biodiversidad, sustento y culturas: Honor a quien honor merece
-Agricultura del bien común
-Contrapsicología
-Libro para descargar: Pensar las autonomías
-Raúl Zibechi: "La derecha gana porque la izquierda abandonó el campo de batalla"
-KeTeKalles -Fusión feminista- : tema "Pa' Volver"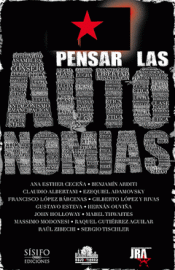 We are 100% volunteer and depend on your participation to sustain our efforts!
Get Involved
If you'd like to help with maintaining or developing the website, contact us.