From the Open-Publishing Calendar
From the Open-Publishing Newswire
Indybay Feature
A3 Newsletter: Albert Woodfox Book Tour, Celebrating Anniversaries
Today marks the third anniversary of Albert Woodfox's release, and February 8 marked the eighteenth anniversary of Robert King's release. Albert Woodfox's new book will be released by Grove Press on March 5, and Albert will begin a book tour around the country. Albert will be in Berkeley on May 4 for the Bay Area Book Festival. Read more below.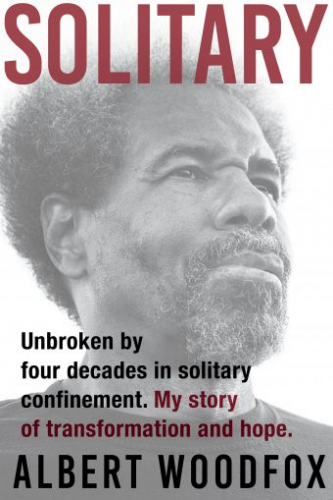 (PHOTO: Guests of King and Kenyatta's home-warming last month. From left to right, General Rico, Deidre, Donna, Robert, Angela, Albert, Gwendolyn and Malik.)
A3 Newsletter: So Much to Celebrate
Happy Anniversary!
At long, long, long last...
From 1998 to 2016, we sent a newsletter annually commemorating another year that King, Herman and Albert remained in prison. It is such a great joy to be able to commemorate their freedom.
Today is the anniversary of Albert's 2016 release (shown in the photo above as he drove away from the prison gates). This is Albert's third year out here in the so called free world...the third year he can see the sky, go where he wants to go and do what he wants to do. After 44 years it seems like a miracle every time we talk on the phone or we book another trip to Europe or elsewhere for him to give a presentation. We're so excited to share the news of Albert's long awaited book, Solitary, which will be released on March 5 by Grove Atlantic Press. The book tour schedule is featured below and you can
visit the Grove Atlantic website for more information
. 
This month also marked the 18th anniversary of Robert King's Feb. 8, 2001 release from Angola (shown in the photo above). True to his word when he was released, King has been free of Angola, but Angola and all prisons will never be free of his critical efforts. King and his partner Kenyatta presided over a rousing home-warming last month. See the photo at the top of the page!
To cap all this off, Malik Rahim's special awards evening occurred last month as well and we're happy to share some of the accolades and images from this memorable event that honored one of the founders of the Angola 3 effort.
--For more on the three year anniversary of Albert's release, visit the compilation of news articles from three years ago today, as well as the many interviews with Albert in the days that followed. If you have not yet done so, also be sure to watch our interview with Albert conducted in May, 2016, just a few months after his release.
Book Excerpt Reflects on Three Years Ago
February 19, 2016.

I woke in the dark. Everything I owned fit into two plastic garbage bags in the corner of my cell. "When are these folks gonna let you out," my mom used to ask me. Today, mom, I thought. The first thing I'd do is go to her grave. For years I lived with the burden of not saying goodbye to her. That was a heavy weight I'd been carrying.

I rose and made my bed, swept and mopped the floor. I took off my sweatpants and folded them, placing them in one of the bags. I put on an orange prison jumpsuit required for my court appearance that morning. A friend had given me street clothes to wear, for later. I laid them out on my bed.

Many people wrote me in prison over the years, asking me how I survived four decades in a single cell, locked down 23 hours a day. I turned my cell into a university, I wrote them, a hall of debate, a law school. By taking a stand and not backing down, I told them. I believed in humanity, I said. I loved myself. The hopelessness, the claustrophobia, the brutality, the fear, I didn't say. I looked out the window. A news van was parked down the road outside the jail, headlights still on, though it was getting light now. I'll be able to go anywhere. To see the night sky. I sat back on my bunk and waited.
(
PHOTO:
Albert enjoys a canoe ride in the Spring of 2016
.)
Albert's Book Tour Begins
Tucson, Arizona: March 2, 10:00 AM
Tucson Festival of Books
Panel Discussion with Shane Bauer & Lara Bazelon
Moderated by Margaret Regan
Tucson, Arizona: March 3, 10:00 AM
Tucson Festival of Books
Panel Discussion with Lara Bazelon & Edward Humes
Moderated by Grace Gamez
New Orleans, Louisiana: March 20, 6:00 PM
New Orleans Public Library, 219 Loyola Avenue
Book sales provided by Octavia Books
In conversation with Emily Maw
Washington DC: March 25, 7:00 PM
Politics and Prose, 5015 Connecticut Ave NW
(More details to be announced)

Philadelphia, Pennsylvania: March 26, 7:30 PM
Free Library of Philadelphia, 1901 Vine Street
In conversation with Tracey Matisak
Brooklyn, New York: March 27, 7:30 PM
Brooklyn Public Library, 431 Sixth Avenue
In conversation with Jelani Cobb
Long Island City, New York: March 28, 10:30 AM
Fortune Society, 2976 Northern Blvd.
In conversation with Vinnie Schiraldi
Princeton, New Jersey: April 17
Princeton University
(More details to be announced)
Los Angeles, California: May 2, 6:00 PM
Eso Won Books, 4327 Degnan Blvd
(More details to be announced)
Berkeley, California: May 4
Bay Area Book Festival
(More details to be announced)
--Visit the Grove Press website (scroll to the bottom of the page) for the latest information about Albert's book tour, here.
'Living legend' Malik Rahim honored for decades as civil rights activist in New Orleans
(All photos courtesy of SULC Prof. Angela A. Allen-Bell)
On January 18, community activist and longtime A3 supporter Malik Rahim's life was celebrated at a powerful event held at the Southern University campus in New Orleans.
The New Orleans Advocate
reported on the night:
Finally, about 11 p.m. Friday, it was time for Malik Rahim to speak.

The 71-year-old community activist had just been honored with a four-hour "Living Legend" ceremony at the Southern University at New Orleans campus that included more than two dozen speakers, artistic performances and short films, all focused on Rahim and his life's accomplishments.

At the event, which kicked off the weekend before the annual Martin Luther King Jr. Day holiday, Rahim was heralded, again and again.

"You, sir, are the dean of social struggle and the godfather of the revolutionary change. And you are a living legend who is happiest when you are fighting for your people," said Angela Allen-Bell, the director of the Louis A. Berry Institute for Civil Rights and Justice at the Southern University Law Center.

Midway through the celebration, a group of young children ran in, carrying stacks of newspapers and yelling, "Read all about it." They distributed an eight-page edition of the Black Panther newspaper devoted entirely to Rahim.

Monique Moss and her Third Eye Theater honored Rahim with dancing and drumming featuring Titos Sompa, a legendary performer from the Republic of Congo. The Spirit of Fi Yi Yi Mardi Gras Indians danced and sang. Poets Black Pearl and Sunni Patterson offered odes to New Orleans and rebellion.

Finally, Rahim was presented with a pile of official proclamations, from the Louisiana Legislative Black Caucus, the New Orleans City Council and U.S. Rep. Cedric Richmond.

As he held the proclamations and looked down at the microphone in his hand, he said, "I'm at a loss for words," noting that he is rarely tongue-tied.

"You got that right," shouted a man with a tall shock of gray hair.

Even the catcall added depth to Rahim's story. The man with the gray hair, Albert Woodfox, 71, helped to found the Black Panther Party chapter at the Louisiana State Penitentiary at Angola. He spent nearly 44 years in solitary confinement at Angola but was released three years ago, thanks to a coalition that Rahim helped to form nearly 20 years ago that worked to free him and the two other members of the Angola Three, Robert King and the late Herman Wallace...
--Read the full article
here
.
--See photos from the event, taken by Prof. Angela A. Allen-Bell, below:

Albert and Robert in 2017
We are 100% volunteer and depend on your participation to sustain our efforts!
Get Involved
If you'd like to help with maintaining or developing the website, contact us.