From the Open-Publishing Calendar
From the Open-Publishing Newswire
Indybay Feature
Santa Cruz City Council Considers Garage-Library
The mayor confirmed that the Council will hear the City proposal for the garage-library on Tuesday at the 7pm session. Let's plan to meet at 6:30pm outside the Council chambers with signs, etc.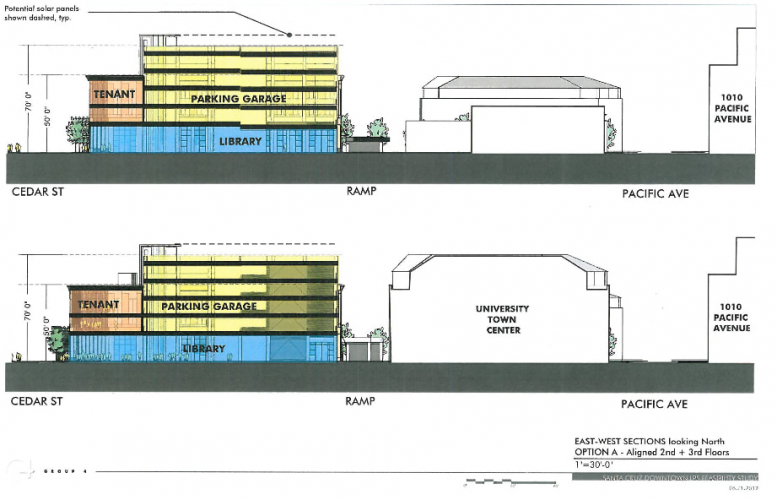 Here's a letter I just sent to the Council. Get your letters in to
CityCouncil [at] cityofsantacruz.com
. It will make a difference if we get lots of emails in.
Dear City Council Members,
If you have already read the Good Times article you know that there has been a charge made about City staff mis-using a model for estimating future parking demand. Transportation consultant Patrick Siegman is the person making the charge. He developed the parking model in his job with Nelson\Nygaard where he worked for fifteen years until leaving in March of this year. The City signed a contract with Nelson\Nygaard in May of 2016 to develop a Downtown Parking Strategic Plan. Mr. Siegman was the person in charge of the contract until his departure.
Siegman has written scholarly articles on transportation issues. He is known in transportation circles as "The First Shoupista" for being an early advocate of the parking planning ideas of UCLA Professor Donald Shoup.
I urge you to investigate Siegman's critique of the staff's projections of future parking demand before any further action is taken on the staff proposal for a new garage-library. There is no way to fulfill your oversight of City spending without thoroughly understanding the Siegman critique.
I am disturbed that the Good Times reports that the City Manager and Public Works Director "are standing by the City's calculations" of future parking demand. I hope this is a case of City leaders giving an initial reaction to the Siegman charges, without the benefit of time to reflect. The initial reaction of the City's top officials is to repudiate expert opinion, with consequences that could be serious. Siegman makes the point that the doubling of parking rates that City staff are recommending in order to pay for the garage are likely to result in a 30% drop in parking demand. With demand dropping due to increased prices and increased use of ride sharing and ultimately driverless vehicles, the new garage could be a white elephant with a 30 year debt. According to staff, the debt on the garage would be $2.9 million per year.
Unfortunately, this is not the first time that City officials have repudiated expert opinion on parking. On October 15, 2015, three consultants told a joint meeting of the City Planning Commission and Downtown Commission that before the City considers building new parking it should implement parking price reform and Transportation Demand Management incentives to motivate drive-alone commuters to switch modes. The three consultants were Ria Hutabarat Lo from Nelson\Nygaard, Frederik Ventner from Kimley-Horn and Janis Rhodes from JR Parking Assoc. Three years after that meeting the City has yet to implement any incentives for downtown workers to switch modes.
When asked why our city should not follow the recommendations of these consultants, staff respond that another garage is needed because of future growth, including the loss of existing surface parking to development. However, the three consultants were well aware that they were being asked about parking policy in light of plans for future City growth. The City's growth plans don't make it exceptional among cities, justifying staff to disregard the consensus of parking experts.
Please act to prevent a loss of public trust in our City staff and government. I recommend that you:
* invite Mr. Siegman to speak to the Council
* accept the METRO offer of a one-year pilot program to issue bus passes to all workers in the Downtown Parking District. This pilot will give valuable data for considering a long-term program.
* hire a consultant, rather than City staff, to design the TDM program to reward commuters who carpool, bike, bus and walk to work.
* hire an outside agency such as the Downtown Association or Ecology Action to administer the TDM program.
* defer any consideration of a new garage until the incentive programs have a chance to work.
Thank you!
-Rick
We are 100% volunteer and depend on your participation to sustain our efforts!
Get Involved
If you'd like to help with maintaining or developing the website, contact us.