From the Open-Publishing Calendar
From the Open-Publishing Newswire
Indybay Feature
Hearst SF Chronicle Endorses Senator Feinstein & Then Complains About Falsified Testing
The Hearst owned SF Chronicle now calls for transparency of the corrupt testing at Hunters Point shipyard and then endorses corrupt Diane Feinstein who is silent about the corruption and personally involved in the $1 billion fraud cover-up at the shipyard.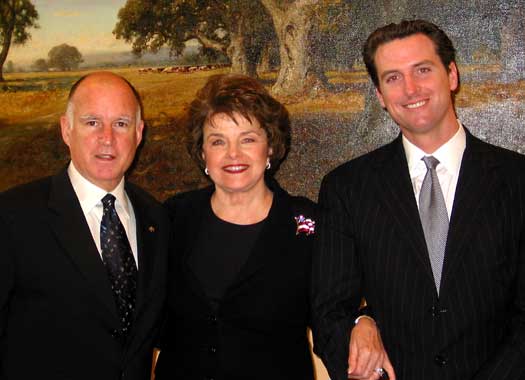 Hearst SF Chronicle Endorses Criminal Senator Feinstein and Then Complains About Falsified Cleanup at Hunters Point Shipyard
Editorial: SF deserves answers about falsified cleanup at Hunters Point Shipyard
https://www.sfchronicle.com/opinion/editorials/article/Editorial-SF-deserves-answers-about-falsified-12833157.php
Chronicle Editorial BoardApril 13, 2018 Updated: April 13, 2018 10:29pm
<920x1240.jpg>Photo: Noah Berger / Special To The ChronicleA worker crosses soil at the former Hunters Point Naval Shipyard on Tuesday, Jan. 30, 2018, in San Francisco. The EPA says the U.S. Navy has drastically understated the severity of the failed cleanup at the shipyard, which is the biggest redevelopment site in San Francisco.
According to newly released documents from the U.S. Environmental Protection Agency, the federal cleanup of radioactive soil at the Hunters Point Shipyard, San Francisco's largest redevelopment site, isn't just a failure.
It may be a complete fraud.
"The data analyzed demonstrate a widespread pattern of practices that appear to show deliberate falsification, failure to perform the work in a manner required to ensure ... requirements were met, or both," wrote John Chesnutt, manager of the EPA's local Superfund Division, in a Dec. 27, 2017, letter to the U.S. Department of the Navy.
The Hunters Point Shipyard project is a linchpin of San Francisco's plan to increase the amount of housing development, including affordable housing, during a time of crisis-level housing affordability.
The project to build about 12,000 housing units, along with millions of square feet of office and retail space, has already cost many years and many billions of dollars. Because the project sits on a former warship repair base and is contaminated with industrial and radioactive pollution, the U.S. Navy needs to complete an extensive cleanup.
Questions about the cleanup effort go back as far as 2012. Last year, other contractors hired by the U.S. Navy reviewed soil samples from two parcels and found as much as 49 percent of the cleanup work couldn't be trusted.
That was bad enough. But the EPA's independent review is a revelation. It found that as much as 97 percent of Tetra Tech's cleanup data for the two parcels is suspect.
So much is at stake with the shipyard project. There's the whopping $1 billion in taxpayer money that's already been spent on cleanup efforts. Then there's the fact that the success of this cleanup will determine the future of an entire neighborhood.
In a statement, Derek Robinson, the navy's cleanup coordinator for the shipyard said, "The Navy and regulatory agencies agree that all Tetra Tech radiological work areas need to be retested."
EPA spokeswoman Michele Huitric said in a statement that it wasn't yet possible to predict how long the cleanup will take.
It's shocking that San Franciscans have yet to receive the serious response they deserve about what happened at the shipyard — either from the U.S. Navy or from their local officials. There must be immediate accountability, transparency, and action to correct this expanding failure.
This commentary is from The Chronicle's editorial board. We invite you to express your views in a letter to the editor. Please submit your letter via our online form: SFChronicle.com/letters.
Editorial: Chronicle Recommends Corrupt Dianne Feinstein for U.S. Senate
https://www.sfchronicle.com/opinion/editorials/article/Editorial-Chronicle-Recommends-Dianne-Feinstein-12833238.php
Chronicle Editorial BoardApril 13, 2018 Updated: April 13, 2018 10:44pm
The case against U.S. Sen. Dianne Feinstein, as vigorously prosecuted by fellow Democrat and former state Senate leader Kevin de León, is that she is out of step with today's more liberal and diverse California Democrats. It's a way of making Feinstein's age and her politics part of the same complaint.
At 84, Feinstein is the oldest person in the U.S. Senate, which is saying a lot. That has allowed de León, at 51, to play the young Turk. It has also raised the question of whether Feinstein would stop short of finishing another term, clearing the way for a successor handpicked by the next governor. The senator says she is committed to serving all six years.
Feinstein's relative moderation, however, is not a function of her years. It dates to the tumultuous beginning of her political career in City Hall, where she became mayor in the wake of the assassinations of George Moscone and Harvey Milk, and has persisted despite its political disadvantages in California under President Trump. The veteran senator's now infamous expression of hope that Trump could learn, change, and "be a good president" was a gift to de León and other critics, for whom it proved her hopelessly outdated commitment to civility and compromise with a man who has no regard for either.
But Feinstein has a persuasive answer. "People want me to be effective for California," she told The Chronicle's editorial board. If she could steer a version of her landmark assault weapons ban through Congress again, for example, "I need a president to sign it. I can't get there by calling him names."
Indeed, if moderation is now a relic, as de León and other Feinstein critics are suggesting, the country has bigger problems than electing California's next senator. Feinstein's pragmatic, centrist approach may not be in fashion, but it is still better for the state and the country than separating into mutually hostile tribes with no interest in common ground or facts.
Not that de León doesn't make a fine Feinstein foil. A San Diego native who represents downtown and East Los Angeles in Sacramento, de León exudes a hungry energy and, as the son of an immigrant single mother, a personal story that contrasts sharply with his rival's "mansion surrounded by a wall," as he put it. And he consistently offers the progressive counterpoint to the Feinsteinian centrism that so exasperates the left.
Two decades ago, while Feinstein was preaching border security and carefully framing her opposition to the popular anti-immigrant measure Proposition 187, de León was organizing a massive protest against it. While Feinstein voted to authorize the use of force in Iraq, an issue that divided Democrats at the time, de León maintains that he would have opposed not only that but also the post-9/11 measure authorizing the Afghanistan invasion — which all but one member of Congress, Oakland's Barbara Lee, supported. While Feinstein and other lawmakers have engaged in a fruitless back-and-forth with Trump over protecting young immigrants brought to the country illegally as children, de León aimed a legislative finger at the administration's eye, spearheading the so-called sanctuary-state bill limiting law enforcement cooperation with immigration authorities.
Feinstein in recent years has toiled within the severe limitations of the U.S. Senate's Democratic minority, even as de León's Democratic supermajority helped pass landmark legislation on climate change, infrastructure funding, and housing. Feinstein has supported the Affordable Care Act and doubted the wisdom of a "complete takeover by government of all health care," while de León's state Senate passed universal health care without bothering to explain how the state would pay for it, leaving the Assembly to kill the bill.
Feinstein leaves so much room to her left that de León isn't her only more liberal challenger. Another, Los Angeles attorney Pat Harris, shares the legislator's dissatisfaction with Feinstein and claims to be the true progressive in the race. He distinguishes himself from de León partly by eschewing corporate campaign support.
With no prominent Republicans in the running, the June top-two primary is most likely to yield a November contest between Feinstein and de León — and an invigorating debate between two very different facets of the same party. Speaking of which, Feinstein has yet to debate de León but has promised to by November if he remains her opponent. She should: No senator, even one as accomplished as Feinstein, should get a free ride in a democracy.
She is, however, our choice in the June 5 primary.
This commentary is from The Chronicle's editorial board. We invite you to express your views in a letter to the editor. Please submit your letter via our online form: SFChronicle.com/letters.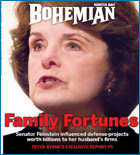 Feinstein and your crooked husband Richard Blum who is also a regent at UC has engaged in corruption of UC funds, selling off US post offices, steering Federal military contracts to Feinstein and covering up the corruption at Hunters Point shipyard and Treasure Island
Feinstein has supported every US war around the world and supports the Israeli apartheid terror against the Palestinians. She also supports the bombing of Syria. Her husband who owns Perini Construction makes hundreds of millions off construction of military bases and facilities around the world.
We are 100% volunteer and depend on your participation to sustain our efforts!
Get Involved
If you'd like to help with maintaining or developing the website, contact us.