From the Open-Publishing Calendar
From the Open-Publishing Newswire
Indybay Feature
Related Categories:

California | Santa Cruz Indymedia | Environment & Forest Defense
Ventura County Put Water Supply at Risk of Oilfield Contamination
County Failed to Require Pipeline Shutdown Following Flood Warnings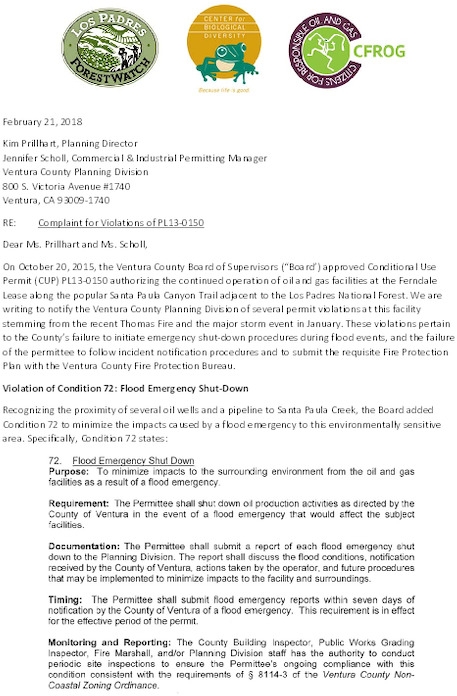 Download PDF (457.1kb)
SANTA PAULA, Calif., February 22, 2018 ― Three conservation organizations filed a formal complaint today against the Ventura County Planning Division for failing to enforce its own requirement to safeguard municipal water supplies and downstream communities from oilfield failures during floods.
The Ventura County Planning Division failed to issue a required shut-down order for the Santa Paula Canyon oilfield following flash flood warnings issued for the area last month. The complaint follows new warnings from the U.S. Forest Service of increased flooding risk over the next several years following December's Thomas Fire, which burned about 440 square miles, including parts of the Los Padres National Forest immediately adjacent to the oilfield.
"We're shocked and disappointed that Ventura County officials and the oil company failed to temporarily shut down this oilfield when the surrounding hills were barren from a recent wildfire and flash flooding was predicted," said Rebecca August, Los Padres ForestWatch public lands advocate. "We hope the county takes our complaint seriously and uses an abundance of caution when rain is predicted in the area. The health of our environment and communities is at stake."
In approving the permit in 2015, the Ventura County Board of Supervisors required the operator of the field, at that time California Resources Corp., to temporarily shut down its 200-foot oil pipeline across Santa Paula Creek when flood warnings are issued. ​
​
The current operator, Carbon California, took over the field last year and failed to comply with this permit requirement. The creek is a municipal and agricultural water supply for Ventura County, as well as critical habitat for endangered southern steelhead. The company also is required to submit a report identifying any structural damage from flooding and corrective measures taken. These are among several conditions the board approved in response to public concerns about safety when it granted the permit in 2015.
In a recent report, the Forest Service said areas burned by the Thomas Fire, including the Carbon California oil-and-gas field, are at high risk of increased flooding and debris flow until vegetation in the upper watershed is reestablished over the next decade.
"Modeling has estimated flows to increase 2.2 times that of normal flows," the Forest Service recently concluded in its Burned Area Emergency Response report summarizing the hydrologic conditions in the Thomas Fire burn area. "Overall, Santa Paula Creek will likely experience a pronounced increase in sediment and higher peak flows. Houses, roads and other infrastructure in and near the creek are at increased risk and should be assessed in detail for post-fire risks."
Today's complaint points out that Ventura County officials put public health and environmental safety at risk by failing to require Carbon California to follow basic safety procedures. The complaint also notes that the oil company failed to submit a required fire protection plan to the Ventura County Fire Protection Bureau. With no plan in place, it is unclear what actions the company took after the Thomas Fire burned through the facility on Dec. 7, 2017.
In addition, the complaint points out that the oil company failed to submit an incident report to the Ventura County Planning Division following the fire and the storms that followed in January.
"Ventura County is responsible for protecting Santa Paula Creek and communities downstream from these oilfields," said Ileene Anderson, a biologist at the Center for Biological Diversity. "The county needs to enforce its own safety requirements. Officials dropped the ball after the Thomas Fire by failing to initiate safety measures to protect people and wildlife in harm's way."
"The evidence available with this complaint demonstrates gaps in enforcement of permit conditions when it comes to oil and gas activities in Ventura County, not all operators always comply. The public relies on the county to provide vigorous oversight," said Kimberly Rivers, executive director of Citizens For Responsible Oil & Gas. "The Planning Division must do a better job of holding the oil industry accountable and enforcing the terms of their permits."
Los Padres ForestWatch is a local nonprofit organization dedicated to protecting wildlife, wilderness landscapes, watersheds, and outdoor recreation opportunities throughout the Los Padres National Forest.
The Center for Biological Diversity is a national, nonprofit conservation organization with more than 1.6 million members and online activists dedicated to the protection of endangered species and wild places.
Citizens For Responsible Oil and Gas — CFROG — is a Ventura County-based nonprofit watchdog organization that defends local communities and wild places from the impacts of oil and gas extraction.
http://www.biologicaldiversity.org/news/press_releases/2018/ventura-county-oilfields-02-22-2018.php
We are 100% volunteer and depend on your participation to sustain our efforts!
Get Involved
If you'd like to help with maintaining or developing the website, contact us.