From the Open-Publishing Calendar
From the Open-Publishing Newswire
Indybay Feature
Costco Pies Are Cheap; And Contain Palm Oil and Palm Kernel Oil
Costco, RSPO, Wilmar, Cargill, IOI, does it matter? It's overwhelmingly the big companies that are destroying forest to create oil palm plantations and causing dangerous climate change. Studies not only show that the narrative about who's causing deforestation is incorrect. They also reflect broader, global issues about the unequal distribution of land. A recent background paper for the 2014 issue of the FAO's State of Food and Agriculture report estimated that the world has somewhat over 570 million farms, and the vast majority of these are very small. In fact, more than 475 million of them are less than 2 hectares (5 acres) in size, and more than 410 million are less than 1 hectare. But while 84% of farms are under 2 hectares, they control only 12% of global farmland!"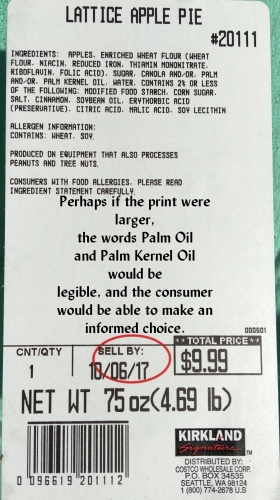 Costco Pies Are Cheap;
And Contain Palm Oil and Palm Kernel Oil
Costco pies are cheap, with a taste like the burnt forests and threatened and endangered species inherent in the ingredient Palm Oil. The Costco Wholesale Corporate Palm Oil Policy, adopted in September 2015 – and posted on the company website in the section, under the heading Corporate Sustainability and Animal Welfare – is just worn out corporate dissociate derivative dribble.
Saying No To Palm Oil In The U.S.
https://www.indybay.org/newsitems/2016/06/12/18787467.php
This is a 12 page document with graphics; highly detailed in presentation, everything is referenced, cited, or source linked. Most data is current 2014, 2015, through to January, June 2016 in an attempt to depict trends, patterns, and practices. Because of the complexity of labeling and lack of true company transparency, I personally will continue to boycott products that contain palm oil, and that are not fully organic, or Fair Trade where applicable.
Costco is a member of the Roundfable on Sustainable Palm Oil (RSPO)
Start with the Costco disclaimer-
DISCLAIMER
"This material and accompanying data is based on submissions from RSPO members which has not been independently verified and is provided by the RSPO and authors without warranty of any kind, either expressed or implied. By making use of this material you do so at your own risk and you accept that the author shall not be liable for any claims, liabilities, losses, damages, costs or expenses of any kind arising."
http://www.rspo.org/members/4599/Costco-Wholesale-Corporation
(I wonder if they mean losses to forest habitats, losses to Threatened and Endangered Species, losses to biodiversity. Claims... well, 8 Orangutans die each day due to expansion of Palm Oil plantations, palm oil deforestation continues to encroach on the Leuser Ecosystem. Damages, like the burning of peatlands and burning of forests. Cost and expenses might include the public health impacts due to the yearly haze of smoke that drifts from the clearing and burning of landscapes - the health costs of citizens from Singapore to China, residents of Borneo, Sumatra, Malaysia, Vietnam, Africa, and many more countries.
"Costco is working with its Kirkland Signature suppliers to source palm oil based upon the following principles by 2021 or sooner: (1) compliance with RSPO principles (or equivalent); (2) protection of HCV and HCS forests; (3) no new development on peatlands and the use of Best Management Practices for existing plantations on peatlands; (4) Commitment to no-burn policies; (5) Commitment to traceable and transparent palm oil supply chains; blah, blah, blah; and (8) compliance with Costco's Supplier Code of Conduct and applicable international, national and local laws and regulations."
And it follows then...
"Any other information that would support the application such as what your organization hopes to gain from joining RSPO and how it would support RSPO?
Costco supports practices to help achieve zero net deforestation. Costco intends to engage with other RSPO members to address smallholder engagement into sustainable supply chains."
It's all bullshit. If you know about the Environmental and Indigenous People's crisis that is palm oil, you can read between the lines.
1) "Applicable international, national and local laws and regulations."
2) "Costco supports practices to help achieve zero net deforestation."
3) "Compliance with RSPO principles..."
All by 2021.... well golly gee.
Hey Costco, please consider removing all palm oil products that are not certified through comparable systems to Identity Preserved full traceability, or Fair Trade and Fair For Life equivalent – understandably 'certified organic'.
Corporate or Small Land Holders
Dialogue, Dialogue, Dialogue… Forests Die As Logs
"In 2014, an important paper on the subject was published in Conservation Letters by Janice Lee and colleagues that looked at just this question. Using data from Sumatra covering the period 2000-2010, they found that smallholders were responsible for just 11% of the deforestation, even though their farms covered about 40% of the land in oil palm. Large private enterprises, on the other hand, caused 88% of the deforestation. In terms of greenhouse gas emissions, the figures were almost identical: 9% and 90%. So it's overwhelmingly the big companies that are destroying forest to create oil palm plantations and causing dangerous climate change."
http://blog.ucsusa.org/doug-boucher/whos-responsible-for-palm-oil-deforestation-small-farmers-or-big-companies-951
"These studies not only show that the narrative about who's causing deforestation is incorrect. They also reflect broader, global issues about the unequal distribution of land. A recent background paper for the 2014 issue of the FAO's State of Food and Agriculture report estimated that the world has somewhat over 570 million farms, and the vast majority of these are very small. In fact, more than 475 million of them are less than 2 hectares (5 acres) in size, and more than 410 million are less than 1 hectare. But while 84% of farms are under 2 hectares, they control only 12% of global farmland!"
Union Of Concerned Scientists blog, November 2015
By invoking the 'Copyright Disclaimer' Under Section 107 of the Copyright Act 1976, allowance is made for "fair use" for purposes such as criticism, comment, news reporting, teaching, scholarship, and research. Fair use is a use permitted by copyright statute that might otherwise be infringing. Non-profit, educational or personal use tips the balance in favor of fair use."
§ 107. Limitations on exclusive rights- Fair use: Notwithstanding the provisions of sections 106 and 106A, the fair use of a copyrighted work, including such use by reproduction in copies or phonorecords or by any other means specified by that section, for purposes such as criticism, comment, news reporting, teaching (including multiple copies for classroom use), scholarship, or research, is not an infringement of copyright. In determining whether the use made of a work in any particular case is a fair use the factors to be considered shall include (1) the purpose and character of the use, including whether such use is of a commercial nature or is for nonprofit educational purposes; (2) the nature of the copyrighted work; (3) the amount and substantiality of the portion used in relation to the copyrighted work as a whole; and (4) the effect of the use upon the potential market for or value of the copyrighted work.
If you or anyone wish to use copyrighted material from this article for purposes of your own that go beyond 'fair use', you must obtain permission from the copyright owner.
Tomas DiFiore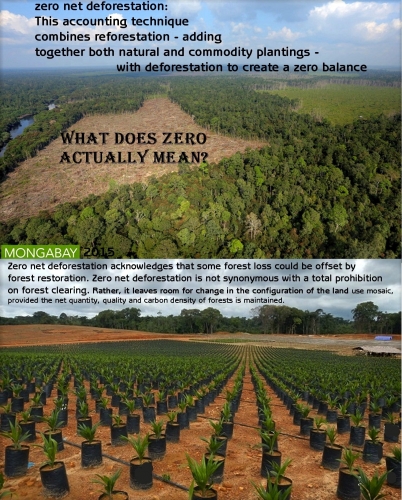 We are 100% volunteer and depend on your participation to sustain our efforts!
Get Involved
If you'd like to help with maintaining or developing the website, contact us.