From the Open-Publishing Calendar
From the Open-Publishing Newswire
Indybay Feature
The Obama-Clinton Inside Job & Tom Perez OSHA/DOL: Corruption Galore
Dr. Darrell Whitman who was a lawyer and investigator at the Department of Labor OSHA Whistleblower Protection Program examines the role of the Obama administration and former Secretary of Labor Tom Perez in covering up systemic corruption and the capture of government agencies by the corporations that they are supposed to regulate. He also discusses the obstruction of Justice by the Office of Special Counsel to investigate the government corruption and retaliation of whistleblowers who were trying to do their job.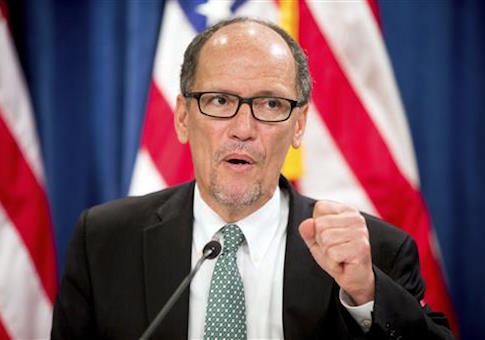 The Obama-Clinton Inside Job & Tom Perez OSHA/DOL: Corruption Galore-Analysis Of White House Involvement
by Dr. Darrell Whitman, Whistleblower At DOL/OSHA Whistleblower Protection Program
5/22/17
There are two coincidental analyses, which imply White House involvement in both the 2014 OSHA-led retaliatory investigation/obstruction of justice that led to my removal and the purge of all attorney/investigators in OSHA Region IX, and the continuing foot-dragging by the OSC in its investigation of my complaint. The first analysis below offers a context strongly pointing to the White House as acting to preserve the WBPP as a dysfunction program. Connecting the dots which follows shows how named individuals played roles in planning and executing the 2014 OSHA investigation. When read together, the two offer a strong case the Obama Administration acted with an intent to prevent any credible audit, and block any investigation into the WBPP that might threaten its relationships with major corporate donors many, if not most, of which had business before the DOL, OSHA and the WBPP.
The overall analysis refers back to the companion Timeline of Events. While the Timeline is much broader, the meaning of individual events becomes more apparent through connecting the dots between the events and the people involved. When I authored my May 2014 "culture of corruption" letter to Secretary of Labor Thomas Perez, I assumed that it would prompt a review of the issues I raised. It was only as the implications, which followed from the faux investigation it prompted that I began to see the deeper corruption that now appears from the evidence. In the broadest sense, it reveals how control of perceptions by a politically sophisticated governing coalition concealed the deeper project of providing privileged services to important corporate supporters, which ultimate led not only to wide-spread corruption within the federal government, but generated risks and damage to the nation's safety, health, an financial security.
Context: The White House and OSHA/DOL management
Beginning with the nomination of David Michaels as Director of OSHA, and Hilda Solis as Secretary of Labor, the agenda of the Obama White House showed a strong tilt favoring the appointment of "loyalist" who responded more to political pressure than an interest in good government. Prior to his appointment as Director of OSHA, David Michaels was a Democratic Party loyalist who served as the Assistant Secretary in the Clinton Administration's Department of Energy. In that role, Michael's steered the Energy Employees Occupational Illness Compensation Program Act toward an outcome that low-balled employee injury claims, created a web of regulations that made it sometimes impossible to file claims, and ultimately shifted the costs associated with nuclear work from the nuclear industry to government to the tune of some $14 billion dollars between 2000 and 2014.
Michaels' "achievement" with the EEOICPA served business by lowering costs, which the Clinton Administration favored, even as it shifted those costs to the federal government and injured nuclear workers. In retrospect, we now know Michaels fit neatly into the Clinton Administration's pro-business, collaborative, anti-regulatory bias. Thus, it should not have been a surprise that Michaels would similarly subordinate his OSHA role to serving similar interests pursued by the Obama Administration. However, Michaels political service to the Obama Administration as the Director of OSHA was reinforced and supplemented by pre-existing corrupt relationships between OSHA and the powerful corporate interests it was tasked to regulate that extended back to the early 1990s, if not before. As repeated audits and outside studies of OSHA and its management of the Whistleblower Protection Program (WBPP) have shown, despite serious Congressional efforts to protect whistleblowers, and multiple GAO audits, the WBPP made little progress in meeting that Congressional intent.
Hilda Solis was appointed as Secretary of Labor by the Obama Administration, not for her administrative skills (she had no background as a manager), but for her political connections to organized labor. As noted in the Timeline, Solis was eventually forced to resign when it was discovered she was abusing her office to conduct fund-raising for the 2012 Obama Presidential campaign, and receiving unreported "free rides" on union- owned aircraft. Less well known, however, was that during her tenure as Secretary, the DOL dropped to near the bottom in federal reviews of labor-management relations. This included widespread abuse of authority by DOL managers, including attacks on disabled workers and gender and racial discrimination. When Solis was replaced by Thomas Perez in 2013, the management abuses continued, rather than stopped, as the Secretary's office had aggressively active to suppress employee complaints about corruption in the DOL. For his part, Perez's appointment was approved only by a straight party-line vote after serious questions were raised about his role in leading the Civil Rights Division of the Department of Justice, and his arrogant disregard to the law and for Congress.
Evidence of White House's interest in maintaining the corruption in the WBPP came early in 2010. With Micheal's confirmation delayed until early December 2009, the White House would have been directly involved in planning an OSHA response to the GAO audit that was scheduled for release later in 2010. Criticisms of OSHA's management of the WBPP were widespread at that time, as reported by the Washington Post and other media. Ordinarily, it would be expected that a new OSHA Director would want to wait for the GAO audit, and then respond by initiating changes prompted by the GAO's findings. But, in this case, soon after his appointment Michaels organized a "top to bottom" Management Review shortly after he took office, which only could have happened with the knowledge, and likely approval if not direction, of the White House. Rather than responding to the ongoing critique of the WBPP, the Review at best obfuscated the criticism, and at worst acted to cover up the ongoing corruption in the WBPP.
Subsequent choices by Michaels and the OSHA Directorate, all of whom were either direct political appointments or Senior Executive Service appointments who were also political appointments, similarly reflect a political agenda to block any substantive reform of the WBPP. Seven months after releasing their "Management Review" in December 2010, the OSHA Directorate forced out then WBPP Director Nilgun Tolek in July 2011. Tolek's departure came after her persistent efforts to bring the WBPP into conformity with legislative intent. Tolek's departure also left the WBPP without effective leadership for more than a year, which seemed not to concern the OSHA Directorate. When Beth Slavet was finally appointed as WBPP Director in late November 2012, she, like Tolek, began to closely examine why the WBPP was continuing to fail its critical role in protecting whistleblowers. Slavet, who was a highly- regarded expert with deep experience in whistleblower law as the leader of the Merit System Protection Board in the 1990s, began a push to find answers to the WBPP's dysfunction soon after her appointment. However, also like Tolek when she began to push beyond their acceptable limits, the Directorate also drove Slavet from the WBPP in early 2014, a mere 15 months into her term. Because of their sensitivity, neither of these personnel actions could have been taken without the knowledge and approval of the White House, which according to media reports took a very "hands on" approach to federal management.
The ongoing drama of mismanagement and abuse of authority in DOL and OSHA also could not have gone unnoticed by the White House. However, rather than proactively address these issues, the White House chose instead to conceal them, and then obfuscate them when they emerged into full view in the media. For example, the actions taken against Tolek and Slavet were tolerated, rather than opposed, and the ongoing corruption within the DOL and OSHA prompted only a media offense rather than corrective action, against managers who were well-known scoff-laws. Further, as reported in a 2016 article in Politico, the ethos of the Obama administration was "discipline, loyalty, dogged efficiency and obsession over process", as personified by Obama's Chief of Staff, Denis McDonough. Politico further described McDonough himself as seeing "his primary role as carrying out, not challenging, the boss's decisions—and a first-class control freak." Couple with the Obama Administrations open contempt for federal whistleblower, it gives deeper meaning to McDonough's recent claim he is most proud the Obama Administration avoided any scandals during his term as Chief of Staff.
Connecting the Dots
The important dots connecting the 2014 retaliatory investigation/obstruction of justice to the White house are as follows:
Beth Slavet. Less than a month after she became Director of the WBPP, I forwarded an email to Slavet reflecting my on-going debate with Blake Wu, then acting RSI in Region IX. The debate was a high-level legal discussion about the Agency's practice of concealing evidence developed during an investigation from the parties. It generally followed the discussion of law and WBPP policy in the Whistleblower Investigations Manual, which clearly directed evidence, should be shared with the parties in the interest of achieving an early resolution. When the debate bogged down, I forwarded the email chain that reflected the debate to Region IX Regional Administrator Ken Atha and Ms. Slavet. When Slavet asked Atha about my email, he responded by telling her and Richard Fairfax, a member of the OSHA Directorate, the agency was "organizing discipline for me".
Although I don't have the conversations that followed from my disclosure, I would guess Slavet's experience and knowledge must have informed her of that Atha's comment was a potential violation of the federal Whistleblower Protection Act. This assumption is reinforced by a second email between Atha and Slavet about two months later, where Atha asks Slavet for clarification about WBPP disclosure policies. Whether or not my question triggered or enhanced Slavet's concerns about OSHA management of the WBPP, Slavet is shown the door a year later when she began an effort to organize a credible audit of the WBPP.
Tom Devine and Emily Spieler: On April 29, 2014, shortly after Slavet was forced out, Tom Devine and Ms. Spieler testified to Congress that the WBPP was continuing in a pattern of failure to protect whistleblowers, in spite of repeated audits. Tom Devine also expressed his concern that Slavet's removal was prompted by her efforts to audit the WBPP, which would have constituted a violation of the WPA. Devine, as the Legal Director of the Government Accountability Project, and Spieler, Dean of the Northeastern University School of law and Chair of OSHA's Whistleblower Protection Advisory Committee, were prominent external critics of the WBPP, and it is highly likely that what they said prompted alarms at OSHA, with Secretary Perez, and at the White House, particularly in the context of the 2014 Congressional elections.
Less than three weeks later, I sent my "culture of corruption" letter to Perez, and copied it to the White House. It substantially echoed the testimony of Devine and Spieler, except it put a finer point on how the WBPP was submerged in a "culture of corruption". At the time, I wasn't aware of the Congressional hearings and Devine and Spieler's testimony. But as event unfolded, it was clear my letter had been received with alarm. My expectations were low, but protocols directed that Perez would at least acknowledge my letter, and then direct me to file disclosures with the OSC. I would later learn that the Whistleblower Enhancement Act, which had come into law five months earlier, required the DOL and OSHA to both provide information employees about such disclosure, and the appointment of an Ombudsman who could assist in improving disclosures. To the best of my knowledge, and reflecting on my experience with Perez, neither the DOL, nor OSHA made any attempt to honor the WEA.
Although neither Perez, nor anyone else, acknowledged my letter, Perez did acknowledge knowing of it when AP reporter Justin Pritchard asked him about it in early July. I had copied the letter to Pritchard as part of an ongoing discussion we were having about the failure of the WBPP to protect whistleblowers at the FedEx facility in Los Angeles. When he asked Perez about the letter, Perez not only acknowledged knowing about it, but also offered that DOL was "responding" to it. Then, two weeks later, Pritchard's editors stopped his AP OSHA investigation.
Kirk Sanders: Kirk Sanders was the White House staff member who vetted the Perez nomination as DOL Secretary. However, according to his bio, Sanders also was a political operative for the Democratic Party who specialized in "communications". As the person vetting Perez, Sanders would have developed a deep knowledge about Perez's background and gained a personal relationship with Perez. This would have put him in the position of a conduit for conversations between Perez and the White House, and qualified him to assume a role in conducting damage control with regard to the Slavet situation and my letter to Perez.
In 2014, at the time of the Slavet crisis and my letter, Sanders worked under Denis McDonough, the White House Chief of Staff who was known for his micromanagement of White House affairs and close collaboration with President Obama. Although, I don't as yet have confirming evidence, it's likely Slavet's removal and my letter became a topic of conversation between Perez and the White House. My suspicions are supported by Sanders sudden appointment as OSHA Chief of Staff at the end of July 2014. The position had been vacant for a long time, but it offered an opportunity to manage "crises" involving OSHA. Plus, Sanders assignment to the position could not be characterized as a promotion, and Sanders had no prior experience with acting as a Chief of Staff. Rather, the timing and context argue he was sent by the White House to OSHA as part of a plan for damage control.
Dorothy Dougherty: Dougherty was a career Senior Executive Service OSHA bureaucrat whose daughter is a high-level manager in OSHA Region V. She had no experience in high-level policy management before her appointment, and little or no experience with WBPP policy and practice. Also, because of the reorganization of the OSHA Directorate in 2012, Dougherty's appointment gave her authority only over OSHA Regional management, not over the WBPP. Yet, it was Dougherty, rather than Directorate member Jordan Barab, who was tasked with supervising the retaliatory investigation in 2014. Barab was the designated supervisor of the WBPP, and its odd that Barab never appears to have touched an investigation, which at its heart involved the WBPP. Curiously, when tasked with the conduct of the 2014 investigation, Dougherty appointed Rita Lucero, an ARA in OSHA Region VII who led the 2010 OSHA "Management Review", and Sabina Khadka, a liaison with DOL OIG, as the principal investigators.
Rita Lucero: Lucero was not only an insider in the ongoing cover-up of corruption in the WBPP that begin in 2010, if not earlier, she also was a close associate and friend of two of the targets of my "culture of corruption" letter to Perez – Joshua Paul and James Wulff, both of whom had also worked on the 2010 OSHA "Management Review". As such, she had a strong conflict of interest, and her appointment to this role points to how it was from the beginning envision as another cover up.
Sabina Khadka: I had a hard time finding Sabina Khadka on the OSHA staff directory. When I did find her, it was by looking at the DOL OIG website, where she appear as the OSHA-OIG liaison. As such, her appointment appears to reflect an effort to preclude any potential subsequent investigation by the DOL OIG of the issues I raised. This was confirmed in November 2014, when the DOL OIG refused to conduct an investigation, based on its reading of the 2014 OSHA report of investigation – a report I was subsequently denied, based on OSHA claim it was a protected internal document.
The important dots connecting the OSC and its treatment of my complaint to the White house are as follows:
Carolyn Lerner: Ms. Lerner's 2011 appointment by Obama to be OSC Director was designed primarily to cement political relationships with Obama political constituency, but without enhancing whistleblower protection. One of Lerner primary qualifications of interest to the Obama Administration was her experience with and commitment to mediation, which as a form of dispute resolution obviates investigations and thus protects wrongdoing from accountability. Lerner quickly acted to appoint the Executive Director of the Government Accountability Project as her second in command, thus shoring up support for her mediation initiative.
In February 2016, a year after I filed my disclosures and eight months after I noticed the OSC GAP would be filing an OSC complaint, Lerner asks John Podesta, a personal friend, Hillary Clinton's campaign manager and friend and political ally of Thomas Perez, for help in gaining her reappointment as OSC Director. The request is legally problematic, but two months later a Senate committee hastily approves here reappointment, coincidentally with Senators questioning OSC practices and whether they are actually hurting rather than helping federal whistleblowers.
In April 2016, GAP filed a PPP complaint with the OSC, supported by a 215-page affidavit and more than 340 exhibits. The OSC delayed almost 4 weeks in assigning an investigator, never acknowledging that the same investigator had been assigned to my complaint in 2015, yet conducted no investigation. The OSC subsequently denied me interim relief in the form of a stay of my removal, notwithstanding strong evidence supporting that relief. Investigation dragged on through September 2016, at which time the review was complete. However the OSC refused to issue a "Substantial Likelihood" letter and order an investigation, in spite of additional support for the complaint in the form of multiple affidavits from complainants and OSHA whistleblower investigators with specific knowledge about the complaint.
Thomas Perez: As DOL Secretary, Perez had concomitant duties related to OSHA management. This included appointments to the OSHA Whistleblower Advisory Group. In 2015, following the 2014 retaliatory OSHA investigation in which Perez was involved, and following my disclosures to the OSC and my removal, Perez chose to nominate Eric K. Bachman, Deputy Special Counsel for Litigation and Legal Affairs, U.S. Office of Special Counsel, as the Federal Representative to the Whistleblower Advisory Group. The appointment, which was for two years, created an ongoing relationship between Perez and Bachman, and by extension the OSC, which was maintained as Bachman continued to be involved in managing OSC complaints. Whether or not in fact, the relationship between Perez and Bachman represented an inherent conflict of interest where Bachman benefitted from his association with Perez, who was the subject of an OSC investigation.
Further, Perez had and has a very close connection to the White House and the power brokers in the Democratic Party. It begins with his promotion by the Obama Administration to ever-higher posts, notwithstanding his known lack of integrity and willingness to attack whistleblowers. It continues with his close personal as well as political relationships to the Clintons and John Podesta, who played a key role in supporting Carolyn Lerner's interest in a reappointment as OSC Director. And not it ends with Perez appointment as DNC Chair, where his primary role is to promote fundraising from among major corporate contributors, most, if not all of whom, had business related to the DOL, OSHA the WBPP.
Dr. Darrell Whitman
publicsafety4america [at] gmail.com
Additional media:
https://youtu.be/ibn3ie29pA4
https://www.youtube.com/watch?v=lfr7rtfqeFc
https://www.youtube.com/watch?v=WA0nLj6sZ5Y
https://www.youtube.com/watch?v=3gotQhC1lHE
https://www.youtube.com/watch?v=x3PTf6F887Q
https://issuu.com/injuredworkersnationalnetwork/docs/10.25.2014_six.investigations
https://issuu.com/injuredworkersnationalnetwork/docs/whitman.letter.secretary.perez5.18
.
https://soundcloud.com/workweek-radio/ww11-29-16-whitman-on-jp-morgan-chase-osha-and-burris-retaliation
https://www.youtube.com/watch?v=kQ3zii0T3z4
https://www.americanbanker.com/news/whistleblower-after-retaliation-by-jpmorgan-pays-finra-price-too
http://www.brokeandbroker.com/3393/sharemaster-finra-sec/
http://thehill.com/policy/finance/316468-warren-why-did-the-labor-department-kill-a-resource-for-wells-fargo-workers
http://www.financial-planning.com/news/secret-recording-a-cfp-at-jp-morgan-pushed-high-priced-products
http://www.financial-planning.com/news/inside-story-whistleblower-raised-concerns-before-307m-jpmorgan-regulatory-settlement
http://www.nytimes.com/2015/12/04/business/dealbook/bank-wrote-grievances-after-firing-a-broker.html?_r=0
https://soundcloud.com/workweek-radio/yesenia-guitron-wells-fargo-whistle-blower
http://www.sfchronicle.com/business/article/Suit-Wells-Fargo-targeted-undocumented-11101574.php
http://www.nj.com/middlesex/index.ssf/2017/04/wells_fargo_banker_was_fired_for_not_scamming_nj_c.html#incart_2box_nj-homepage-featured
http://jordanbarab.com/confinedspace/2017/04/03/5-4-million-decision-osha-orders-wells-fargo-reinstate-compensate-employee/
http://www.sfchronicle.com/business/article/Wells-Fargo-whistleblower-finds-vindication-10941030.php
https://soundcloud.com/workweek-radio/ww-10-4-16-wells-fargo-workers-and-osha-and-seiu-1021-contra-costa-social-workers-strike
http://www.reuters.com/article/us-wells-fargo-accounts-whistleblower-idUSKCN11Z1RE
http://fortune.com/2016/09/29/wells-fargo-employees-sue/
http://www.sfexaminer.com/wells-fargo-faces-labor-department-review-possible-workplace-violations/
https://www.youtube.com/watch?v=gJTh_yPNFh0&app=desktop
http://www.nbcbayarea.com/news/local/Former-Federal-Investigator-Says-Government-Didnt-Investigate-Wells-Fargo-Whistleblower-Cases-397518261.html
http://www.reuters.com/article/us-wells-fargo-accounts-whistleblower-idUSKCN12D2M0
http://cnnfn.cnn.com/2016/10/18/investing/wells-fargo-warned-fake-accounts-2007/index.html?iid=EL
http://money.cnn.com/2016/09/08/investing/wells-fargo-created-phony-accounts-bank-fees/
http://www.msn.com/en-us/news/other/at-wells-fargo-bank-branches-were-tipped-off-to-inspections/ar-AAmaxm8
https://soundcloud.com/workweek-radio/ww8-9-16-fed-and-state-whistleblowers-ctc-carroll-and-osha-whitman
https://www.bloomberg.com/news/articles/2017-01-11/jpmorgan-found-in-probe-to-have-retaliated-against-adviser
https://soundcloud.com/workweek-radio/ww8-7-16-osha-wpp-investigator-whitman-on-cover-up-and-corruption
http://money.cnn.com/2017/04/19/investing/wells-fargo-regulator-whistleblower-2010-occ/index.html
https://www.financial-planning.com/news/ex-federal-investigators-supported-rias-whistleblower-claim-against-jpmorgan
https://www.americanbanker.com/news/whistleblower-after-retaliation-by-jpmorgan-pays-finra-price-too
http://www.brokeandbroker.com/3393/sharemaster-finra-sec/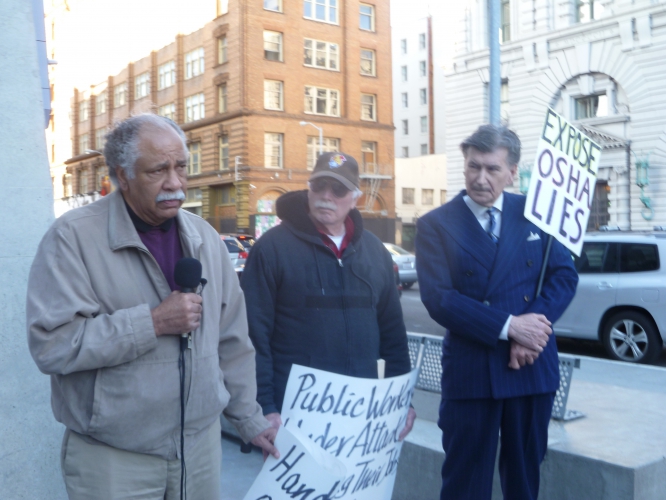 On 2/27/15 a press conference was held at the San Francisco Federal Building to protest the workplace bullying and harassment against Federal DOL OSHA Whistleblower Protection Program investigator and lawyer Darrell Whitman.
Whitman had been involved in investigating the retaliation against Test America Quality Assurance Manager Michael Madry who was retaliated against for exposing fraudulent testing at Hunters Point Shipyard and Treasure Island. The company then owned by H.I.G. Capital had manipulated the tests with a game pad to increase profits. This threatened the residents and public at the Hunters Point Shipyard and Treasure Island.
Whitman's boss Josh Paul ordered Whitman to illegally change his report on the case. Paul also has a record of personally colluding with companies to limit liability and shut down whistleblowers at FedEx, Lockheed Martin, PG&E and Wells Fargo Bank.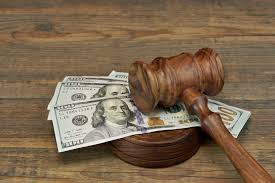 OSHA health and safety whistleblowers have not been protected by the OSHA DOL management which has been working to limit liability for the companies that they are supposed to regulate. This systemic corruption was reported to OSHA Chief David Michaels and former Department of Labor Secretary and now chair of the Democratic party Tom Perez.
Tom Perez who was personally involved in covering up corruption at the Department of Labor and OSHA was picked by Obama and Clinton to head the Democratic Party where he is now chair.
We are 100% volunteer and depend on your participation to sustain our efforts!
Get Involved
If you'd like to help with maintaining or developing the website, contact us.