From the Open-Publishing Calendar
From the Open-Publishing Newswire
Indybay Feature
Related Categories:

International | San Francisco | Labor & Workers
Defend The Spanish Wharfies-Solidarity Rally At Spanish Consulate in SF
A solidarity rally was held in San Francisco in solidarity with the Spanish dockers who face a union busting deregulation attack by the EC, EU and Spanish government. It was part of an international day of action.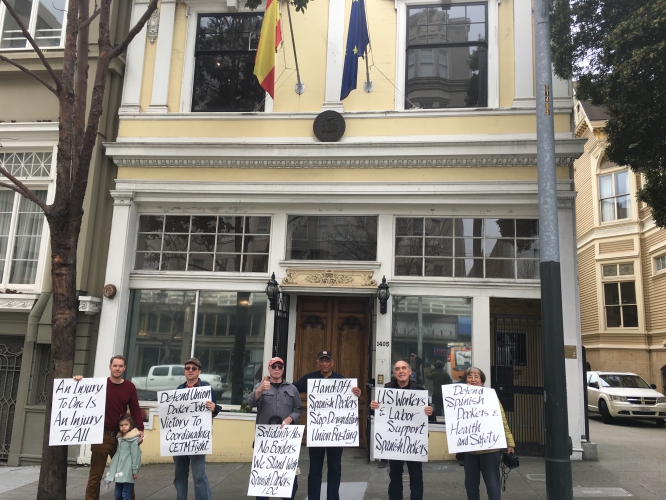 As part of an international day of action for the Spanish wharfies/dockers on March 10, 2017, a solidarity rally was held at the Spanish consulate in San Francisco. Joining the rally was San Francisco poet laureate Jack Hirschman. The EC and EU along with the Spanish courts are seeking to destroy the union through deregulation. This will lead to the destruction of 7,000 docker's jobs and destroy the health and safety conditions and worker rights for the maritime workers. The dockers are the strongest union in Spain.
The action was supported by the United Public Workers For Action
http://www.upwa.info
and Labor Rising
https://laborrisingagainsttrump.wordpress.com
Additional media:
https://www.youtube.com/watch?v=5LbMYXeRElM
https://www.youtube.com/watch?v=f06zkLiDTOo
https://www.youtube.com/watch?v=7fck2nERAXc
https://www.youtube.com/watch?v=jdKaSQMkrjg
https://www.youtube.com/watch?v=F3Wva4XbMVs
https://www.youtube.com/watch?v=98_aMsQxtvI
https://www.youtube.com/watch?v=QYbZuEd9hoU
https://www.transportworkers.org/node/2751
http://www.naucher.com/es/actualidad/guerra-total-en-los-puertos-espanoles/_n:5931
http://www.joc.com/port-news/longshoreman-labor/spanish-dockers-delay-strike-europe-wide-walkout-planned_20170303.html
For more information on the IDC and dockers:
https://www.facebook.com/search/top/q=idc%20international%20dockworkers%20council
Production of Labor Video Project
http://www.laborvideo.org
Spanish dockers delay strike, but Europe-wide walkout planned
http://www.joc.com/port-news/longshoreman-labor/spanish-dockers-delay-strike-europe-wide-walkout-planned_20170303.html
Bruce Barnard, Special Correspondent | Mar 03, 2017 11:38AM EST
Spanish ports such as Las Palmas may yet avoid days of strikes.
Spanish dockers have canceled two of nine days of strikes set to start on March 6, but the threat of labor disruption has expanded to include all of Europe's ports
The International Dockworkers Council has called for an international day of strike action in solidarity with Spanish dockers on March 10, and has met with leaders of the International Transport Workers Federation to coordinate the sympathy action, which will see ports in Europe stop work for three hours and those in the rest of the world for one hour.
The strike by Spanish dockers is meant to pressure the Madrid government to modify its planned reform of the nation's dock labor scheme.
The dockers' unions have called for negotiations with the government and port employers to reach a compromise over the reforms, failing which their members will walk off the job on March 10.
"With this decision to suspend the strike by two days, workers showed their willingness for dialogue and we hope that it is reciprocated by the ministry and by Anesco [the employer's organization]," said Antolin Goya, head of the unions' coordinating committee.
The union previously called off three days of industrial action in the third week of February to hold negotiations with employers over job guarantees under the reformed system but was unable to reach agreement.
Shippers looking to work around Spain in the coming month may be stymied, as the IDC said it will ensure that ports in neighboring countries will not handle cargo destined for Spain while the country's dockers are on strike. This includes Marseille-Fos, the Portuguese ports of Lisbon and Sines, and the Tangier transshipment hub in Morocco.
The Spanish government unveiled the controversial reforms in a royal decree on Friday in response to a European Court ruling in December 2014 that the country's dock labor system breaches EU rules on the freedom of establishment.
Spain was fined 15.6 million euros [$16.4 million] last July for failing to comply with the European Court's ruling and has faced a daily penalty of 134,000 euros until it changes the dock labor system.
The new law, which must be approved by parliament within 30 days, frees terminal operators, stevedores, and other port employers to hire non-union labor. It also removes the current obligation to be members of, and finance, local dock pools, which currently have a monopoly on employment in Spanish ports.
The minority Popular Party administration has proposed a three-year transition period for the new system in a bid to overcome opposition from left-wing parties in parliament.
The dockers' union claims the reform will result in almost 7,000 job losses across the Spanish waterfront.
The strikes, which will take place every other hour, starting at 8 a.m., are currently scheduled for March 10, 13, 15, 17, 20, 22, and 24.
Maersk Line has said the strikes will have a "serious impact" on its international operations and has drawn up a contingency plan that includes a greatly reduced used of its key transshipment hub in the port of Algeciras in southern Spain, which handles containers to and from Europe and Africa "and many other destinations."
Contact Bruce Barnard at
brucebarnard47 [at] hotmail.com
.
Spanish dockers who face a frontal attack have joined striking students in Barcelona who marched through the city.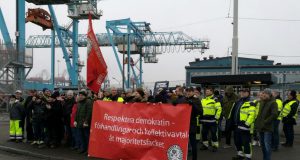 Spanish and European dockworkers are fighting deregulation and union busting from the European Union and the courts who are imposing attacks on workers and labor rights.
We are 100% volunteer and depend on your participation to sustain our efforts!
Get Involved
If you'd like to help with maintaining or developing the website, contact us.