From the Open-Publishing Calendar
From the Open-Publishing Newswire
Indybay Feature
Third Jaguar Detected in Arizona
TUCSON, Ariz., March 2, 2017 — Another new jaguar has been photographed in southeast Arizona, the third detected in the state in the past year and a half. The animal was captured on a Bureau of Land Management trail camera in the Dos Cabezas Mountains, about 60 miles north of the U.S.-Mexico border.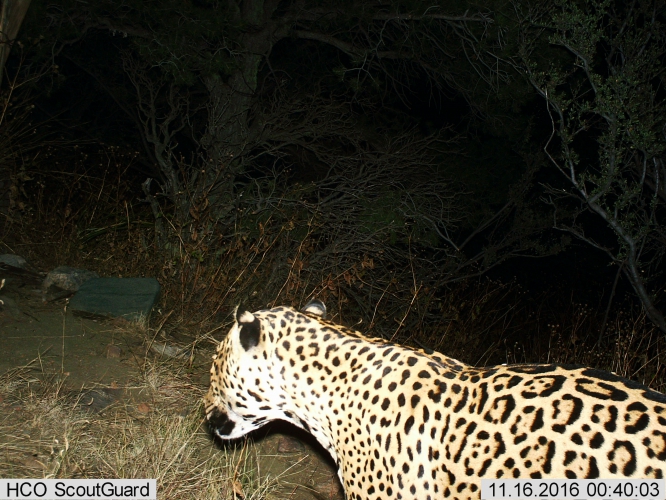 "Jaguars are clearly trying hard to re-establish a population in the United States," said Randy Serraglio, a conservation advocate with the Center for Biological Diversity. "They've now traveled here through every large mountain range connecting Arizona and Sonora. The only thing that can stop the triumphant return of America's largest wildcat is Trump's $20 billion border wall. It's bad for people and the economy, and it's devastating for wildlife."
A young male jaguar was photographed on the Fort Huachuca military reservation last November, and a large male jaguar named "El Jefe" by Tucson schoolchildren became an internet sensation last year after living in the Santa Rita Mountains right outside of Tucson for more than three years. The gender of the latest cat has not yet been determined.
"We can expect more jaguars to show up and establish territories here in the U.S., unless they're cut off from Mexico by the border wall," said Serraglio. "As long as we protect the places they live and the corridors they need to move across the landscape, they'll keep coming, and they'll thrive here."
"This latest cat was photographed a long way from the border, in the heart of a major movement corridor for jaguars and other wildlife," said Serraglio. "There are millions of acres of wild places on public lands in the United States that can provide homes for these beautiful animals. Americans need to speak up to protect those places and give jaguars a chance to call them home once again."
Background
The Tucson-based Center for Biological Diversity has been working for decades to save jaguars in the United States. In 2014 the Center secured more than 750,000 acres of federally protected critical habitat for U.S. jaguar recovery.
Jaguars — the third-largest cats in the world after tigers and lions — once lived throughout the American Southwest, with historical reports on the South Rim of the Grand Canyon, the mountains of Southern California and as far east as Louisiana. Jaguars disappeared from their U.S. range over the past 150 years, primarily due to habitat loss and historic government predator control programs intended to protect the livestock industry. The last verified female jaguar in the country was shot by a hunter in 1963 in Arizona's Mogollon Rim.
Photo: Jaguar photographed by motion-detection cameras in the Dos Cabezas Mountains on November 16, 2016. (Camera data retrieved 2/22/17.) This is the first documentation of this animal in the US. Sex of the animal can not be determined from this photo. (Credit: Bureau of Land Management)
The Center for Biological Diversity is a national, nonprofit conservation organization with more than 1.2 million members and online activists dedicated to the protection of endangered species and wild places.
http://www.biologicaldiversity.org/news/press_releases/2017/jaguar-03-02-2017.php
Center for Biological Diversity
http://www.biologicaldiversity.org/news/press_releases/2017/jaguar-03-02-2017.php
We are 100% volunteer and depend on your participation to sustain our efforts!
Get Involved
If you'd like to help with maintaining or developing the website, contact us.