From the Open-Publishing Calendar
From the Open-Publishing Newswire
Indybay Feature
TWENTY ONE YEARS of Food Not Bombing on Saturdays at Roeding Park!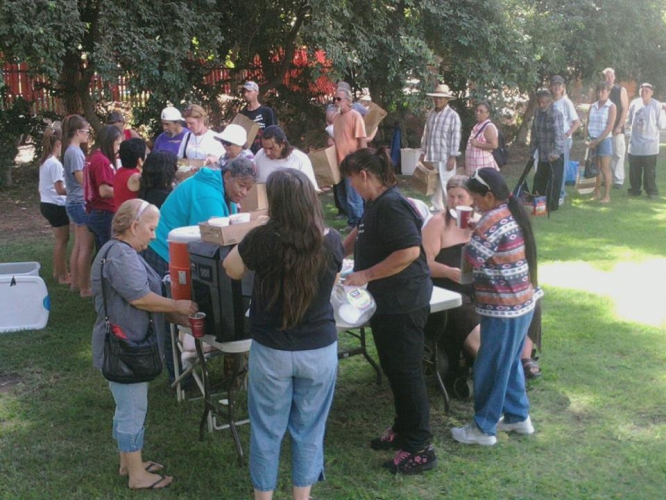 Predawn, America' breadbasket. Some of the hardest working, least remunerated segments of our population are out seeking a living gathering recyclables by foot. Late sleepers on the day shift claim their niche on corners and solicit donations. Much like some non-profitable volunteer organizations who prepare meals, or deliver useful items to people living on the streets of Fresno California.

Utilizing resources that would otherwise be wasted or neglected, passing blankets, coats and other useful items donated in turn by conscientious, motivated local souls. At the very heart of this is an act of giving, a bucket brigade and chain reaction, hoping to achieve a concerted effect. These activities cut across numerous churches and civic organizations around Fresno who carry out various drives delivering some relief for those suffering. A burgeoning industry, with a bleak future. As bad as things have been, better times are not likely. To our particular annoyance, Fresno and poverty go together so well, they just may replace steak and eggs as yesterday's warning signs turn into contemporary murals of indelible poverty and discouraging prospects.

One of the local lights within gathering gloom for the last 21 years, Food Not Bombs has yet to give up the fight against unneeded hunger and waste. Two reasons the Saturday chapter has remained steadfast and dedicated to quality are Gail McCabe and Robin Landseadell. Both so firmly committed to Food Not Bombs, they could pass for scenery or landscaping, doing all the hard stuff when it needs to be done (like the cleanup!), taking care of the critical supply details, not to mention quality control at the Wesley kitchen. Unfair not to lump them together, even if married. Gail McCabe is so particularly wonderful, there would be no ink left to describe the wicked frosting on Saturday Food Not Bombs's cake. Just as well. Robin defies earthly expression, yet deserves to hear the million "thank you"s, from Earthlings he almost never meets. Get them he does, when people taste the best beans yet, they let us know in chorus. Robin's praises are truly sung en masse. Muted only by thunderous applause lauding Gail's superlative salad dressing.

There have been times when a green salad was not possible. Giant fruit salad, soup(s!), rice and beans, but no green salad that particular week. They didn't turn violent, but the complaints are numerous enough that a riot isn't inconceivable.
Those salads are exquisite. Gail typically handle the dressing and QA, without which things are dicey to say the least.

Speaking of which, Heather Balcom and Mary Ann Quann do more than their fair share of that. Where did you think salads came from, a cabbage patch? These are the produce specialists that make it happen.
Much like the other Feebler elves and fantastical unicorns that do the necessary magic to make food appear.
People like Tina Baskins, provider of substantial logistical support, backup to all contingencies, and a backbone of emergency provisioning and Saturday meal delivery.

also speaking of which-

These meals typically arrive at Roeding Park (near the Tennis Courts) at 12:45 to unload and begin serving by 1:00 PM. A staunch crew of servers rarely miss a beat when the line forms. In the wake of Lynn Graham's departure,
her friend and MVP, Golden serving Gloves knockoutstanding Food Not Bomber Victoria Molina serves from as many containers as any octopus could, faster than your average assembly line and with more taste and grace than most any drum solo. She is a cyclone of action and does more for the park serving and meal distribution than most people put together. An utterly undisguised blessing and we appreciate the good fortune she represents

Another fraction of Lynn Graham's vacuum is filled by Patricia Haun of 100 M St. When not gleaning from the nearby Salvation Army, she supplies sugar and spice to FNB's arsenal, and operates the bread and pastry dispensary with a healthy fraction of Lynn's bark. Incalculable contribution and way too much silent gratitude for same. Incalculable.
On the other side of the ledger, there do seem to be some strict limitations, high demands and substantial obstacles in some of these programs and their potential for the most part is unexplored. In other words, there is plenty of room for improvement. There is room for you, or someone you know to contribute in very large ways with a little time and effort.
Working around just a few gleaning opportunities, and seeing larger scale efforts like those of the Food Recovery Network, there is clearly a wealth of very high quality food resources available. vast, short term wealth,
but there is a bottleneck or two, in the distribution logistics, limiting the possibilities, and much is squandered.
We should be trying to change this, as a community, for the benefit of all who know the pangs of long term hunger,
and the health consequences of poor nutrition.

While volunteerism may rise and fall in popularity to some degree, and feeding the homeless becomes a necessary cliche, addressed by faith based groups and civic organizations who can neither ignore nor abate the tide of hunger, (even while being termed a nuisance by the local media and regular providers of emergency meals objecting to competition and trash leavings in their vicinity) even Tommy could see, hear and feel the suffering and hunger out there.

Not just in the makeshift campgrounds and hidden grottos where people sleep. ALL OVER in areas of low and no income people. Every corner reveals people who have nothing and nowhere to go. Given a chance or hope for just some bread brought unmanageable numbers to our kitchen before we left for the park. Several dozen Syrian refugees are living in the area and have come to us for food we sometimes have in excess of our ability to transport. We were able to provide quite a lot of milk and other items to the families in need, but this brought more from the neighborhood hoping for something we really cannot provide. At that point, you can feel the tidal wave of desperation and need, which we could not truly address, even on our best day.
The bottom line is we could do more, if we had a little more help to do it with. We are at a point where
we will lose some of our resources because we cannot easily attract new volunteers with the time and desire to pitch in, if only to fill in when others cannot be there.
If there were some newer intrepid souls interested in being a part of FNB, we could possibly step into a larger role with more food made available in the same day but shared separately at two locations. we could expand food pickups to move these resources into neighborhoods that need them. We could do a little more.
No coincidence those sloppy sentences begin with "we".
but they should read "you" and that is what "we" mean by it.
You. Or someone you know, might be able to make a bigger, real difference, in this world, this week, and many weeks after, IF you have the means and the wherewithal to move food, produce, tables, objects of some weight, and do it safely, reliably, over the space of an hour or two, Saturday's between 12 and 2 PM, or Wednesday's around 6 PM.
Small tasks in the grand scheme of a long week, but monumental accomplishments when done right, every time, for years and decades.
if this is something you might find rewarding, and you have a suitable vehicle for transport,
RIGHT AWAY-
we need someone to handle our Farmer's Market produce commitment on Wednesday afternoons
from 5:40 to 6:00 PM with produce dropped off to a nearby church closet. This task has been a pleasure to fulfill,
but work schedules are shifting in such a way that no one is able to continue picking up donated produce.

we also need someone who is able to haul food and materials from the church to Roeding Park on occasion.
If we can find people to transport food to the park, we can consider having a separate serving, and opening up
new avenues of collection and distribution. Food is not the limitation, logistics are. If we can increase local participation
we can greatly increase our output.

the programs and activities local volunteers support, face an increasingly high demand against uncertain supply.
We can change that, but only in concert with increased volunteer participation at every level of the surplus supply chain.
When circumstances change, without a renewed commitment from the volunteer segment, things will deteriorate instead of improving. We don't want to see that happen.
We want to see bigger and better results from everything we do. People expect it, but they don't realize
how few new participants have become involved over the last few years. While need increases, and opportunities for greater food recovery exist, it simply cannot be addressed without more involvement
from people who may not realize what they can achieve by being a cog or a wheel in Food Not Bombs.

February 12, 2017 at the Full Circle Brewery Blake Jones and the Trike Shop will be hosting another
outstanding fundraiser concert with loads of amazing food and desserts to feed attendees.
While Full Circle has gone through many changes lately, they have not stopped supporting us with this
wonderful opportunity and splendid event.
When the music starts @ 6:30 PM!), you should be there (620 F St!), this is an event that will be remembered for a long time.
Memories like these are the real reward for our efforts feeding people and working together.
Just remember-
WE CAN WORK FOR FOOD!
We are 100% volunteer and depend on your participation to sustain our efforts!
Get Involved
If you'd like to help with maintaining or developing the website, contact us.