From the Open-Publishing Calendar
From the Open-Publishing Newswire
Indybay Feature
2016 Presidential Party Debates Halloween Costumes
"Our Green Campaign is on the ballot for 85 percent of voters - in 48 States. 85% of voters deserve to know who their choices are! The Commission on Presidential Debates makes a mockery of Democracy. If Democracy truly prevailed there would be no commission. The Debates would still be run by the League of Women Voters - the Debates would be open, with the criteria that the League of Women Voters had always used. If you have done the work to get on the ballot, and if you are on the ballot in enough states, that you deserve to be in the Election, and deserve to be heard. And the American people deserve to hear choices, that are not bought and paid for by transnational corporations and Wall Street." Dr Jill Stein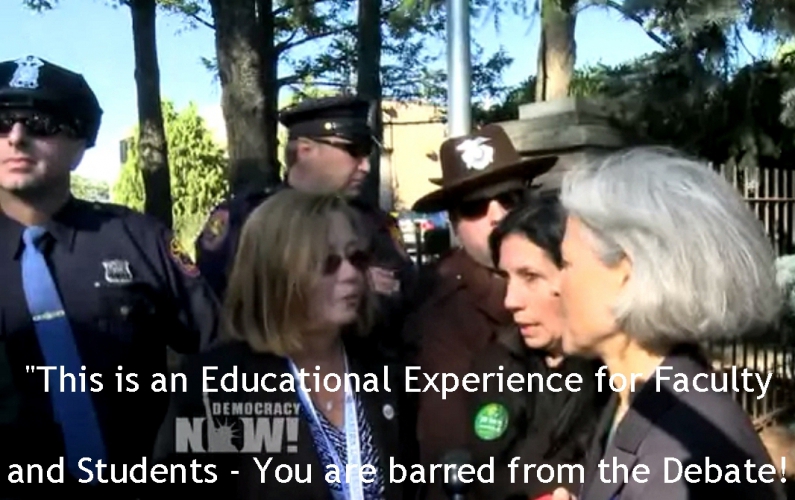 2016 Presidential Party Debates Halloween Costumes
Are you tired of listening day after day to the Don and Hillary Show, and the daily pundits dismal intellectual forment of a dumbed-down American prejudice toward choices, solutions, and change; then do yourself a favor, and it will be like a cleansing for the brain. Dr Jill Stein is solid, steadfast, and never seems to break stride in her temperament or talking points.
This is a simple post, a plea, to the hit the restart button, and refresh the political memes and language employed when discussing the future of our American Democracy.
We begin with events at the 'Hofstra U Debate'
1) Green Party's Jill Stein and Cheri Honkala Arrested at Hofstra Debate
https://www.youtube.com/watch?v=yGc9LzOySJs&nohtml5=False
At the barred gates of American Democracy. "Our Green Campaign is on the ballot for 85 percent of voters. 85% of voters deserve to know who their choices are!" "The Commission on Presidential Debates makes a mockery of Democracy."
At the arrest scene it was stated that "This is an event that Hofstra University sponsored...This is an educational experience for faculty and students."
I just love that! Higher institutions of learning supporting election fraud, 2Party fascism, and the apparatus of the police state to arrest democratic change.
"If Democracy truly prevailed there would be no commission. The debates would still be run by the League of Women Voters - the Debates would be open, with the criteria that the League of Women Voters had always used. If you have done the work to get on the ballot, and if you are on the ballot in enough states, that you deserve to be in the Election, and deserve to be heard. And the American people deserve to hear choices, that are not bought and paid for by transnational corporations and Wall Street." Dr Jill Stein
Also see:
2) Jill Stein and Ajamu Baraka take questions from the press.
https://www.youtube.com/watch?v=Vjo5YTYU-yM&nohtml5=False
Published on Sep 29, 2016
3) Ajamu Baraka Talks Obama, Bernie Sanders and Why You Should Go Green Party
Human Rights Activist and Vice-Presidential Running Mate for the Green Party, Ajamu Baraka gets as real as it comes in this nearly hour long conversation. Tough questions were asked and answered from the charges of being too "Radical" to what some label as harsh criticism of Bernie Sanders and President Barack Obama. Whatever your feelings are after viewing this clip I'm certain you will agree the combination of Jill Stein and Ajamu Baraka are a sharp contrast from the other Presidential and Vice Presidential Candidates.
https://www.youtube.com/watch?v=SIyCiyB1xVo&nohtml5=False
Published on Aug 31, 2016
4) "The Green Party's vice-presidential nominee Ajamu Baraka is a longtime human rights activist. He is the founding executive director of the U.S. Human Rights Network and coordinator of the U.S.-based Black Left Unity Network's Committee on International Affairs. For years, Baraka has led efforts by the U.S. Human Rights Network to challenge police brutality and racism in the United States by bringing these issues to the United Nations."
https://www.youtube.com/watch?v=1buaFxFGD2I&nohtml5=False
Published on Aug 18, 2016
5) Jill Stein - The Clock is Ticking
https://www.youtube.com/watch?v=sPvE7NmLYcc&nohtml5=False
(Published on Oct 3, 2016)
6) Ron PAUL : The 'GREAT DEBATE' Who Won !
https://www.youtube.com/watch?v=cn-b4JCnLcc&nohtml5=False
Published on Sep 30, 2016
7) Ron Paul expresses admiration for Green Party's Jill Stein
https://www.youtube.com/watch?v=jYfds9OMeSM&nohtml5=False
Ron Paul (Libertarian) says Jill Stein is 'the best on foreign policy'.
Published on Oct 3, 2016
No, Ron Paul has not endorsed Jill Stein, despite what some are saying. He did give Jill Stein praise for her foreign policy position as being the best (from the four candidates). But, he has yet to endorse anyone.
Help Support Jill Stein's people-powered campaign:
https://jillstein.nationbuilder.com/d
...
For more information on Jill Stein for President 2016 and the Green Party's grassroots 2016 Presidential campaign see:
Website
http://www.jill2016.com/
Twitter
https://twitter.com/DrJillStein
Reddit
https://www.reddit.com/r/jillstein/
Bookface
https://www.facebook.com/drjillstein/
And last but not least… the Presidential Debate of 2016; or how it might have looked!
Dr Jill Stein "The Open Debate" Response (2 hours 15 minutes)
Published on September 27, 2016 (Twitter and Periscope)
Jill Stein responds to the first Presidential debate 9/26/16
https://www.youtube.com/watch?v=Gu1I-adyxWk&nohtml5=False
(Same) Presidential Election Debate 2016 with presidential candidate Dr. Jill Stein
https://www.youtube.com/watch?v=2kP0jQcgjzk&nohtml5=False
Green Party Presidential Candidate Jill Stein Occupied the first round of Debates via Livestream! The first of the two videos above, focuses the camera full screen on Jill Stein, with the 'Hofstra U Debate' audio. In the second, a smaller live image capture of Jill Stein occupies the lower left screen of the mainstream debate.
And thank you Amy Goodman!
Jill Stein ''Debate'' With Clinton & Trump in Democracy Now! Special
Published on September 27, 2016 - 3 hours total with the last 2 hours dedicated to the debate with responses from Dr Jill Stein at the DemocracyNow! Studios. Dr Jill Stein is candid.
(Excerpts from the Don and Hillary show provide context)
https://www.youtube.com/watch?v=GeXT9ifUYG8&nohtml5=False
That's American Presidential Politics!
Of course you can just continue to watch shows like Morning Jo, and hear about how Trump is a genius for avoiding paying taxes - legally - or the Clinton campaign pointing fingers. They strain their own credibility. A curious question remains:
Why do folks watch this stuff day after day, and be all upset then seek out more in the afternoon. By nightfall, to retire from the dumbed-down zone, everyone takes in a movie, or the next episode of a season series. That answer resides in books on Toxic Relationships.
Addicted To Stress? An individual's reactions are often learned responses that become addictive. The brain now requires that stimulus. And that's American Presidential politics!
Dr Jill Stein is the only real choice for President of the United States.
Tomas DiFiore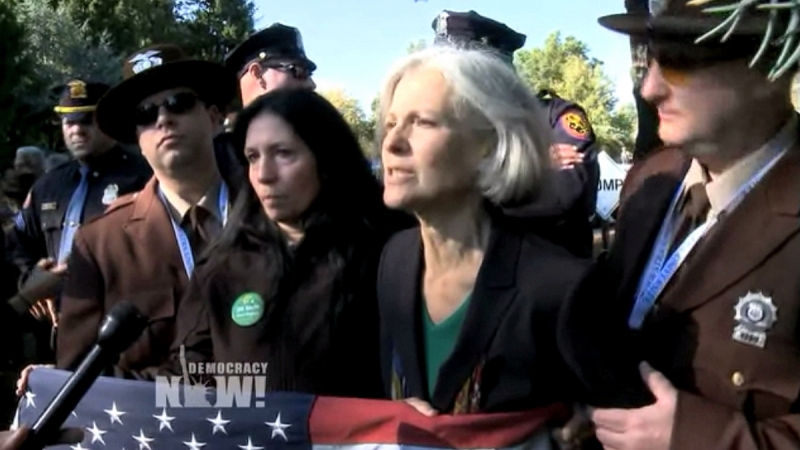 We are 100% volunteer and depend on your participation to sustain our efforts!
Get Involved
If you'd like to help with maintaining or developing the website, contact us.