From the Open-Publishing Calendar
From the Open-Publishing Newswire
Indybay Feature
Orangutans Fleeing Palm Oil Deforestation
As palm oil plantings expand to new frontiers, the same set of environmental impacts are spreading as in the case of the Great Apes of Africa. The Orangutan films presented here are painfully moving and joyous at times. The hope and caring love attended to the rescues of gorillas, elephants, and orangutans, are reciprocated in unique ways and obvious in these films. Rescue centers need help, volunteers, money, and protected forest habitat to return the animals to the wild. At the end of the article are links to information on how to avoid palm oil in products. Some are lists, some are US and International sites, some are on Facebook.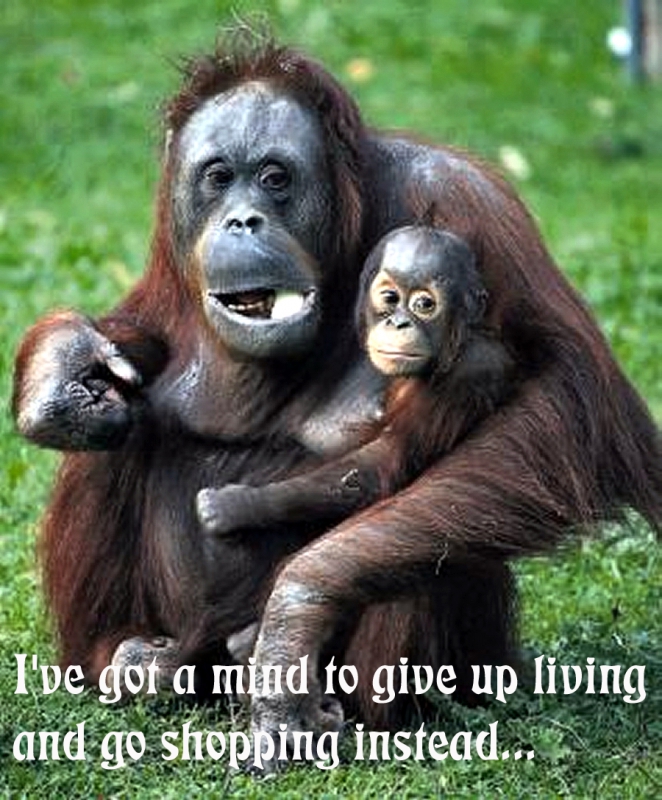 Orangutans Fleeing Palm Oil Deforestation
The Real King Of The Jungle - Orangutan Documentary
https://www.youtube.com/watch?v=GeWc-hKxWu0
Published on Jan 3, 2016
"The orangutans are the two exclusively Asian types of extant great apes. Belonging to Indonesia and Malaysia, orangutans are presently found in only the jungles of Borneo and also Sumatra. Identified in the category Pongo, orangutans were considered to be one species. Nonetheless, given that 1996, they have actually been divided into two types: the Bornean orangutan (P. pygmaeus) and also the Sumatran orangutan (P. abelii). On top of that, the Bornean species is split into 3 subspecies. Based upon genome sequencing, the two extant orangutan varieties obviously diverged around 400,000 years ago. The orangutans are also the only enduring types of the subfamily Ponginae, which additionally included numerous other species, such as the 3 vanished types of the category Gigantopithecus, liking the largest recognized primate Gigantopithecus blacki. The forefathers of the Ponginae subfamily split from the major ape line in Africa 16 to 19 million years back (mya) as well as spread out into Asia."
"Orangutans are one of the most arboreal of the great apes as well as spend a lot of their time in trees. Their hair is usually reddish-brown, instead of the brown or black hair normal of chimpanzees as well as gorillas. Males as well as females differ in dimension and also appearance. Leading men have distinctive cheek pads and create lengthy phone calls that attract women and daunt rivals. More youthful men do not have these attributes and look like adult ladies. Orangutans are one of the most solitary of the great apes, with social bonds happening mostly in between mothers and also their reliant offspring, that stay together for the first 2 years. Fruit is the most essential component of an orangutan's diet; however, the apes will certainly also consume plants, bark, honey, bugs or even bird eggs. They could live over three decades in both the wild as well as in bondage."
"Orangutans are amongst the most smart primates; they make use of a selection of sophisticated tools as well as construct elaborate resting nests each night from branches and foliage. The apes have actually been thoroughly studied for their learning abilities. There might also be distinct cultures within populaces. Area research studies of the apes were originated by primatologist Birutė Galdikas. Both orangutan species are considered to be Endangered, with the Sumatran orangutan being Critically Endangered. Human tasks have actually created serious decreases in the populations and also varieties of both varieties. Hazards to wild orangutan populaces like poaching, habitat damage, as well as the illegal pet dog profession. A number of conservation and also rehabilitation organizations are devoted to the survival of orangutans in the wild."
"The name orangutan (additionally composed orang-utan, orang utan, orangutang, and ourang-outang) is originated from the Malay and also Indonesian words: Orang meaning individual and also hutan suggesting forest, therefore individual of the woodland. Orang Hutan was originally not used to refer to apes, but to forest-dwelling human beings."
BBC Natural World Orangutans The Great Ape Escape National Geographic Wild
https://www.youtube.com/watch?v=YSZsfLRDj54
Published on Jan 30, 2016
"Leonora is no ordinary orangutan, she is a pioneer. With her three year old son in her arms, she is about to set off on an epic journey back to the wild - the great ape escape. It is a long way from what she is used to. After being orphaned as a baby, she has spent the majority of her life in a rescue center. She is leaving behind 600 other orangutans, all of whom are relying on her for their chance at freedom. If Leonora can make it, they could too."
Orangutan Orphans of the Forest - Narrated by Peter Ustinov
https://www.youtube.com/watch?v=xIEK5MY9RH8
Published on Dec 2, 2015
"This Survival Special is a detailed and intimate study of the orangutan."
The Last Orangutan Eden. National Geographic Animals - Orangutan Documentary 2015
https://www.youtube.com/watch?v=EqC2NDEUwu0
Published on Nov 1, 2015
A beautiful documentary, directed, shot, and edited by:
Mark Samuels
Voice of the Orangutans – Lone Droscher Neilsen
https://www.youtube.com/watch?v=7ExPZl9hEow
Published on Mar 12, 2014
"For decades, the palm oil industry and logging have been devastating the forests of Borneo. Twenty years ago, a former Danish air hostess decided to dedicate her life to saving homeless and orphaned orangutans hit by the deforestation. Her name is Lone Droscher Neilsen and in Indonesia's Central Kalimantan, she's created the largest orangutan rescue and rehabilitation facility in the world."
Borneo Orangutan Survival Australia
http://www.orangutans.com.au/
Footage - Wild Male Orangutan Being Relocated Into Gunung Leuser National Park.
https://www.youtube.com/watch?v=IjcvC3e1_co
Published on Oct 19, 2012
"Sumatran Orangutan Society (SOS) and Orangutan Information Centre (OIC): On 29th May 2012, an orangutan was spotted in a 3000 hectare oil palm plantation next to the Gunung Leuser National Park. The Human Orangutan Conflict Response Unit (HOCRU) pushed the big male back to the safety of the forests using a noise cannon."
"Also includes footage of the OIC's latest project to regenerate illegally cleared forest land in the Besitang region of the Gunung Leuser National Park (GLNP). The program is the first of its kind in Sumatra, with OIC being the first and only NGO granted permission to conduct restoration work within the national park. Working in close collaboration with the national park government authorities and local communities, the project aims to undo damage caused through illegal large-scale conversion of forest into oil palm plantation agriculture." Filmed and edited by James Cornwell.
Find out how to help create a brighter future for orangutans and their forests:
http://www.orangutans-sos.org/
and
http://www.orangutancentre.org/
Orangutans In Wild Sumatra
https://www.youtube.com/watch?v=0I-If2p0XXA
Published on Jan 20, 2013
"The Gayo Highlands in the Aceh region of Sumatra is one of the last remaining habitats for wild Orangutans. This is a personal film about my February 2011 trip to this remote area. The first 10 days I spent along the west coast of Sumatra near Banda Aceh. The province of Aceh has the highest proportion of Muslims in Indonesia, mainly living according to Sharia customs and laws. Aceh was the closest point of land to the epicenter of the massive 2004 Indian Ocean earthquake, which triggered a tsunami that devastated much of the western coast of the province, including part of the capital of Banda Aceh. In the village of Lokna, where 4 out of 5 people died when the huge tsunami wave hit land I did an interview with Alex Dery, who was one of the lucky survivors."
"Right in the center of the Gayo Highlands in the Gunung Leuser Eco System, we stayed one week with Mr. Jaly, looking for Orangutans from dawn till dusk."
http://www.gunung-leuser-trek.net
Thinkers of the Jungle - The Orangutan Report - Part 1/2
https://www.youtube.com/watch?v=xTOEWnHf18U
Published on Nov 16, 2012
"We all recognize these highly intelligent and impressive animals --orangutans. But very few people know anything about how they live and their habits. Around 3,000 of these animals die every year; they are among the world's most endangered species!"
"This video, as a special production, is a live-action documentary to accompany the Orangutan Report: A unique documentary on the lives of an extraordinary endangered species under a tragic threat of extinction highlighted by the results of the latest research. The breathtaking and moving photographs cannot fail to trigger a strong emotional reaction on the part of the reader."
For more information about the book 'Thinkers of the jungle', please visit our website:
http://www.ullmann-publishing.com/en/books/themes/reference/349-thinkers-of-the-jungle/
Part two:
https://www.youtube.com/watch?v=KwV8zIU21BA
Orangutan Dying As Demand For Palm Oil Soars - NBC Rock Center
https://www.youtube.com/watch?v=t-kLbqahpjM
Published on Oct 19, 2012
"From instant noodles to ice cream, palm oil is found in roughly half of all packaged supermarket products. Demand for the product has led to the destruction of Indonesian jungles which are home to a large number of wild orangutans. NBC News Correspondent Ian Williams travels to Indonesia and follows a man fighting to save one of our closest relatives."
Orangutan On Fire
https://www.youtube.com/watch?v=s-pZjj9Wax8
Published on Aug 29, 2012
http://www.internationalanimalrescue.org/
"BBC South East News covers the rescue by International Animal Rescue of an orangutan that was set on fire in West Kalimantan, Borneo, Indonesia. Following intensive treatment by the specialist veterinary team at International Animal Rescue; we are very sad to report that the orangutan did not make it. Presumably, the shock of the awful experience was just too much. This case really high-lights the plight of the orangutans in Borneo."
International Animal Rescue Film Shocking Scenes Of Deforestation And Starving Orangutans
https://www.youtube.com/watch?v=d_BV7lKV0wM
Published on Apr 5, 2013
"The International Animal Rescue team have rescued several female orangutans from the ravaged forests of Indonesian Borneo. One female was half starved, her frightened baby clinging to her back, while another was lactating, but her baby was missing, presumed dead or stolen after a desperate search."
"The footage shows the IAR team and members of the local forestry department (BKSDA) capturing the starving orangutans and translocating them to areas where there is sufficient food for their survival."
"Please show your support for the vital work we are doing every day out in the field. Make a donation. Without your support, these orangutans simply don't stand a chance.
http://www.internationalanimalrescue.org/donate.php
Save the Orangutan - Stop Palm Oil
https://www.youtube.com/watch?v=L4PM97TmTJI
Uploaded on Aug 20, 2010
"Animals all over Borneo, Indonesia and Sumatran are suffering unimaginably in the name of palm oil. This ingredient is used in countless products under 'scientific' names. Orangutan parents are shot and their young torn away from them. We must stop such cruelty. What would you do in such a situation?" Created by Abbie Barnes
Baby Orangutan Budi Meets Another Orangutan For The First Time
https://www.youtube.com/watch?v=gn_BeX90Kic
Published on Mar 19, 2015
"Budi and Jemmi are both rescued orphan orangutans being cared for at our orangutan rescue and rehabilitation centre. Neither of them has met another orangutan since they were taken from their mothers at a very young age .... This video shows them meeting for the very first time and their reaction is amazing. This introduction is a huge milestone from both Budi and Jemmi but it will take years of preparation before they are ready to be released back into the wild."
Please make a donation towards the care and rehabilitation of these precious orphans and others like them:
http://www.internationalanimalrescue.org/donate
Mother And Baby Orangutan Rescued After Being Stoned By Humans
https://www.youtube.com/watch?v=v6pHRrjAVzk&nohtml5=False
Published on Nov 11, 2015
A Bornean orangutan and her small child found their way out of the flames of Indonesia's wildfires and into a village, only to be pummeled with stones by humans.
Indonesia's wildfires have forced many animals to flee from their homes, but even among those who make it out alive, the challenges can be far from over. A Bornean orangutan and her young baby found their way out of the flames and into a village. Locals didn't take to the pair kindly, casting stones at the two endangered animals and attempting to tie a rope onto the mother. A person who witnessed the attack grew concerned and notified the International Animal Rescue. Members of that group arrived at the scene in time to help. The mother was severely malnourished and underweight. Experts estimated it had been about a month since she had eaten. Somehow, she was still able to produce enough milk to feed her baby. Rescuers also noted that upon their arrival, the mother and child were frightened and huddled together. The adult orangutan received treatment for wounds she had sustained and the two were then transported to a protected environment. International Animal Rescue shared a video on Facebook of the duo being released into their new, safe home. They also report the mother and baby are being monitored to ensure their recovery continues to be successful.
Dying Orangutans Rescued From Starvation
https://www.youtube.com/watch?v=IzzvTwORtNY
"Watch this heartwarming footage showing the dramatic rescue of a starving Orangutans family in West Borneo, Indonesia. The adorable clan were left stranded in an isolated patch of woodland after agricultural plantations and illegal gold mines invaded their forest home."
"The gruelling journey from near death to their release back into their natural habitat sees the orangutans beat the odds and make the mammoth journey back home by truck and by boat, before being carried deep into the safety of the remote forest by a team on foot."
"The trapped chimps were rescued and rehabilitated by the Human Orangutan Conflict team, from International Animal Rescue (IAR)."
"All the monkeys were severely emaciated and suffering from extreme starvation – they had even begun to stray into the nearby town in a desperate search for food – and it took several weeks for them to put on weight and regain their strength."
"Chief executive of International Animal Rescue Alan Knight OBE said: This footage illustrates just how desperate the situation is for orangutans in West Borneo."
And finally, from abandonment in a cardboard box, to rescue and recovery; a baby orangutan at International Animal Rescue.
Adorable Orangutan Rescued After Being Abandoned
https://www.youtube.com/watch?v=RFFqwAPIKDM&nohtml5=False
Published on Nov 9, 2015
"This footage of a baby orangutan being nursed back to health after he was left for dead in a cardboard box will melt your heart."
Support those who do the work to rescue and rehabilitate orangutans in Borneo and Sumatra.
As palm oil plantings expand to new frontiers, the same set of environmental impacts are spreading as in the case of the Great Apes of Africa.
"Abutting the southern boundary of Cameroon's 500,000-hectare Dja Biosphere Reserve, a World Heritage Site, is a 45,000-hectare (174-square mile) rubber concession, present since 2010. Plans are afoot to plant oil palm here, Christian Azenui Asanga, of the Zoological Society of London (ZSL) told Mongabay, saying that the threat the concession poses has been identified by UNESCO as a major concern for the status of the reserve."
"Cameroon is an important home to four great ape taxa, with six priority landscapes for ape conservation identified by the IUCN (International Union for Conservation of Nature). The central chimpanzee, and the Nigeria-Cameroon chimpanzee - the most threatened chimp of all, numbering fewer than 6,500 individuals are both classified as Endangered by the IUCN. The western lowland gorilla, and Cross River gorilla - with just 300 remaining, are both Critically Endangered. Current great ape distribution in Africa substantially overlaps with current oil palm concessions (by 58.7 percent) and areas suitable for oil palm production (by 42.3 percent)."
This excerpt hardly gives justice to the Series on Global Palm Oil (now of 2 parts) – contributing authors have presented a long articulate and detailed piece with astonishing graphics, research data and interviews.
In honor of the work of Dr. Jane Goodall Part Two is presented first.
Palm Oil's New Frontier: Averting A Great Ape Catastrophe In Cameroon
By Claire Salisbury Pub April 1, 2016
http://ow.ly/10kA5b
Part One was published just days before.
This Is Not Empty Forest - Africa's Palm Oil Surge Builds In Cameroon
By John C. Cannon Pub March 30, 2016
http://news.mongabay.com/2016/03/this-is-not-empty-forest-africas-palm-oil-surge-builds-in-cameroon/
Orangutan Videos - This is a recent selection of Orangutan videos and the impacts on their habitats by the over consumption of palm oil. Equally important is the over production of palm oil forcing it's use in products as the cheapest vegetable oil on the market. Europe has Palm Oil labeling laws in place.
http://www.dw.com/en/new-eu-label-calls-palm-oil-what-it-is/a-18134682
There is a growing presence of palm oil in products and processed foods in the US. If labeled at all, it may be located under nutrition. The label on the front won't mention it.
Support Palm Oil Free Product Manufacturers!
Visit:
'Saying No To Palm Oil' on Facebook because there are so many products without palm oil.
https://www.facebook.com/groups/1662744317327261/
'Saying No To Palm Oil' on Facebook is light on the politics. It's more about orangutans and truth in labeling and how to avoid palm oil. Palm oil free is the theme. There are petitions and educational materials for all ages.
'Saying No To Palm Oil' blog is devoted to a deeper understanding. There are articles on the financing of palm oil plantings and human rights abuses and land grabs, Indigenous loss of access to ancestral and community use lands, NGOs, countries and continents, economics, etc.
http://sayingnotopalmoil.blogspot.com/
Visit 'Saying No To Palm Oil Deforestation' on Facebook. This page is a collage of recent Palm Oil news, shared posts, and more covering ecosystems, rhinos, the Great Apes, orangutans, elephants, monkeys, investments, scandals, petitions related to land grabs, animal caring, animal rescue, world politics surrounding palm oil, Indigenous voices and more.
'Saying No To Palm Oil Deforestation' on Facebook
https://www.facebook.com/sayingnotopalmoildeforestation/
Also visit these sites for ways to avoid palm oil by the book - on the label, and ingredient names.
Palm Oil In Disguise (Australia) printable pocket fold up PDF:
http://www.palmoilinvestigations.org/Fold%20up%20ingredients%20list.pdf
Palm Oil Free Guide (UK)
http://ow.ly/Zp64S
And a brief (US) list of common names for palm oil can be found here:
http://philadelphiazoo.org/unless-pdfs/Common-Names-for-Palm-Oil-and-Palm-Oil-Derivatives.htm
Palm Oil Investigations Group has also published an online list and added: "If a product's saturated fat content is over 40 percent of it's total fat content, it will almost always have palm oil in it. Palm sugar is not palm oil. Palm Sugar is manufactured and harvested in a completely different way, so palm Sugar is safe. Vegetable Gum is also not Palm Oil so it is also safe."
A - Z of Alternate names for Palm Oil (Australia and New Zealand)
http://www.palmoilinvestigations.org/names-for-palm-oil
Common Names For Palm Oil and Palm Oil Derivatives (US)
http://philadelphiazoo.org/unless-pdfs/Common-Names-for-Palm-Oil-and-Palm-Oil-Derivatives.htm
PalmSmart the Mobile App Made in L.A.
For those with smart phones and mobile devices, try the PalmSmart app. A well made useful tool (fast) which allows users to not only check a product barcode, but also add to the database of known 10,000 US products. Made in Los Angeles, California, the PalmSmart app, is a well designed mobile app.
http://palmsmart.azurewebsites.net/
Tomas DiFiore
By invoking the 'Copyright Disclaimer' Under Section 107 of the Copyright Act 1976, allowance is made for "fair use" for purposes such as criticism, comment, news reporting, teaching, scholarship, and research. Fair use is a use permitted by copyright statute that might otherwise be infringing. Non-profit, educational or personal use tips the balance in favor of fair use."
§ 107. Limitations on exclusive rights- Fair use: Notwithstanding the provisions of sections 106 and 106A, the fair use of a copyrighted work, including such use by reproduction in copies or phonorecords or by any other means specified by that section, for purposes such as criticism, comment, news reporting, teaching (including multiple copies for classroom use), scholarship, or research, is not an infringement of copyright. In determining whether the use made of a work in any particular case is a fair use the factors to be considered shall include (1) the purpose and character of the use, including whether such use is of a commercial nature or is for nonprofit educational purposes; (2) the nature of the copyrighted work; (3) the amount and substantiality of the portion used in relation to the copyrighted work as a whole; and (4) the effect of the use upon the potential market for or value of the copyrighted work.
If you or anyone wish to use copyrighted material from this article for purposes of your own that go beyond 'fair use', you must obtain permission from the copyright owner.
Tomas DiFiore
We are 100% volunteer and depend on your participation to sustain our efforts!
Get Involved
If you'd like to help with maintaining or developing the website, contact us.