From the Open-Publishing Calendar
From the Open-Publishing Newswire
Indybay Feature
Warming Center 'Director' Uses Fake Sockpuppet Accounts to Woo TBSC on Facebook
Brent Adams, who calls himself the 'director' of the Santa Cruz Warming Center, revived his fake sockpuppet account on Facebook named 'Dawn Roquel'. Adams first created the fake account 'Dawn Roquel' in 2013 to drum up support for the Warming Center project he had just started working on. Adams posted as 'Dawn' in a discussion group on Facebook. 'Dawn' claimed he had volunteered at the Warming Center and he sang its praises to a group of skeptical TBSC members, many of whom knew it was Brent Adams the whole time. They mocked him for using a sockpuppet, but Adams remained unshaken and continued to post as Dawn Roquel. Adams also used 'Dawn Roquel' to attack his political enemies, such as Steve Pleich of the Homeless Persons Legal Assistance Project, who is someone Adams also views as a 'rival'.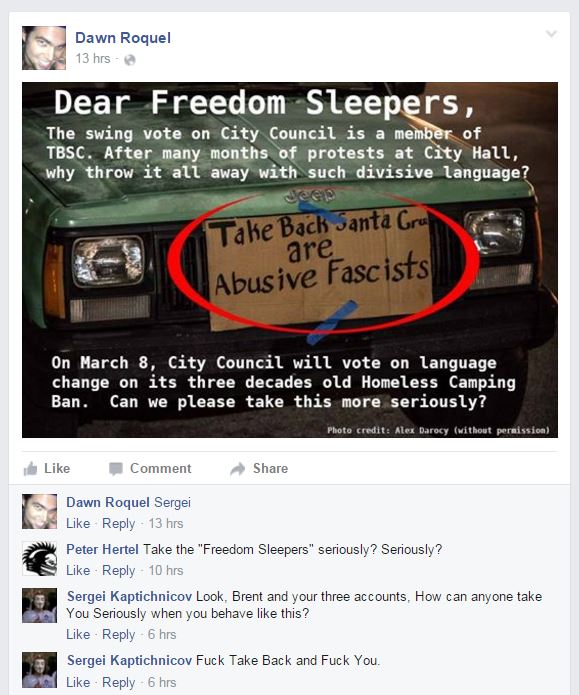 This week Brent Adams used the accounts of 'Dawn Roquel' and 'Homeless Outside in Santa Cruz' to attack the Freedom Sleepers and to court Take Back Santa Cruz on Facebook. The Freedom Sleepers are homeless people protesting at city hall to eliminate the camping ban.

One Freedom Sleeper was angered and posted this to Dawn Roquel's Facebook page: "Look, Brent and your three accounts, How can anyone take You Seriously when you behave like this?"

The attack, in the form of a meme and other statements, was first posted on the 'Homeless Outside in Santa Cruz' Facebook page which Brent Adams now claims is officially connected to the Warming Center program and the Sanctuary Village group, two charities that say they aim to help homeless people.

Simply put, Brent Adams, as a poverty pimp, stands to profit from the camping ban remaining in place. Sometimes he acts like he opposes the camping ban as an act to appeal to homeless advocates who he needs money from.

The attack on the Freedom Sleepers by Adams and his anonymous sockpuppets is in support of Take Back Santa Cruz. Brent Adams has strong ties to Take Back Santa Cruz.

Adams said the Freedom Sleepers should stop protesting because the city council will soon vote on changes to the camping ban. He said all critique of TBSC must end because there are TBSC members on the city council.

TBSC is responsible for a ton of new anti-homeless laws passed by the city council, and the hateful rhetoric used by members of the group has affected many people TBSC targets, homeless and not homeless.

Because of their actions, some compare TBSC to an anti-homeless hate group.

'Dawn Roquel' posted the anti-Freedom Sleepers and pro-TBSC meme on his fake Facebook page.

Adams posted the following statement to 'Homeless Outside in Santa Cruz' to try and silence the Freedom Sleepers:

"One would think that if the group is hoping that the ordinance change is successful, divisive language prominently displayed at the FS protest reading, 'Take Back Santa Cruz are abusive fascists" would run counter to the earnest effort by some to appeal to the various swing voters on the council. Councilperson Noroyan is that swing voter and she is a TBSC member and opinion leader. If so many weeks of FS protest is finally coming to focus on a single council person's vote, we encourage you to soften the divisive rhetoric until after the voting series is complete otherwise'.

When reading the entire passage the above post is taken from, Adams uses the pronoun 'we' as the voice of 'Homeless Outside in Santa Cruz', but Brent Adams is the only person posting to that account. Adams likes to pretend he is a part of a team and he will use the pronoun 'we' to make it appear like a group is posting. It really is him alone voicing his own opinion.

When Brent Adams works hard to silence the voices of homeless Freedom Sleepers, he is silencing all homeless people.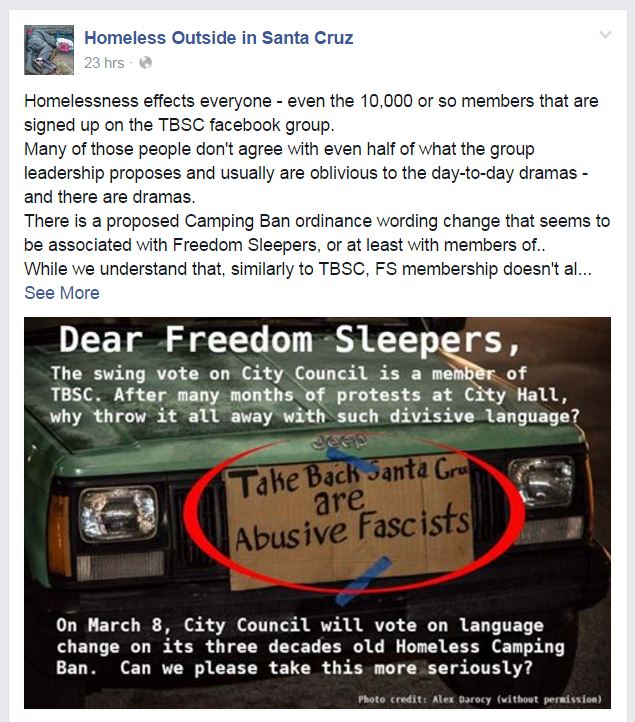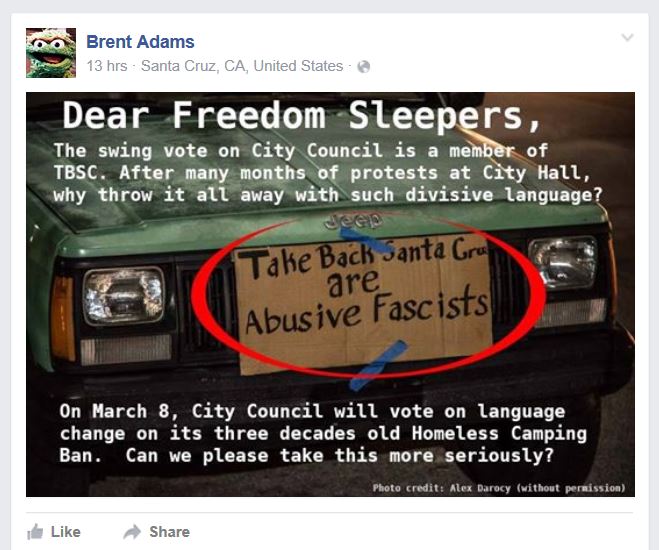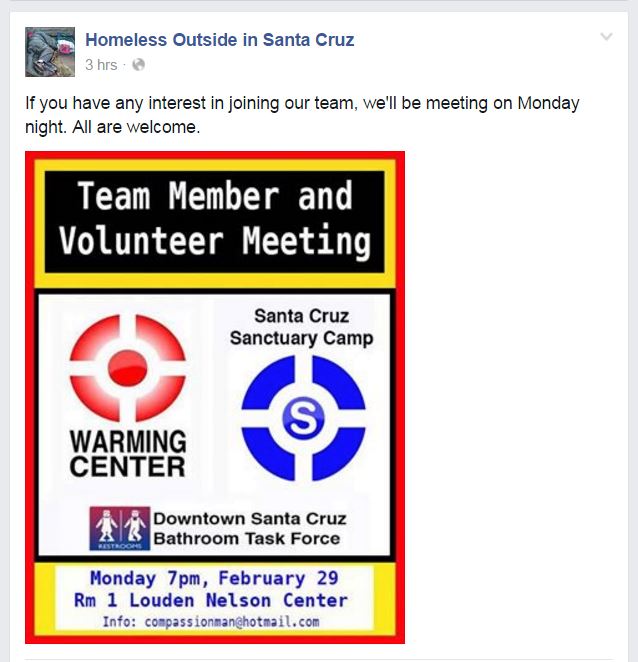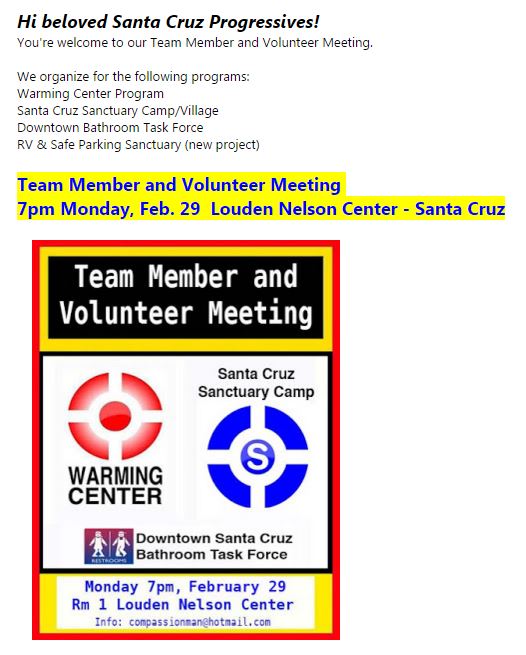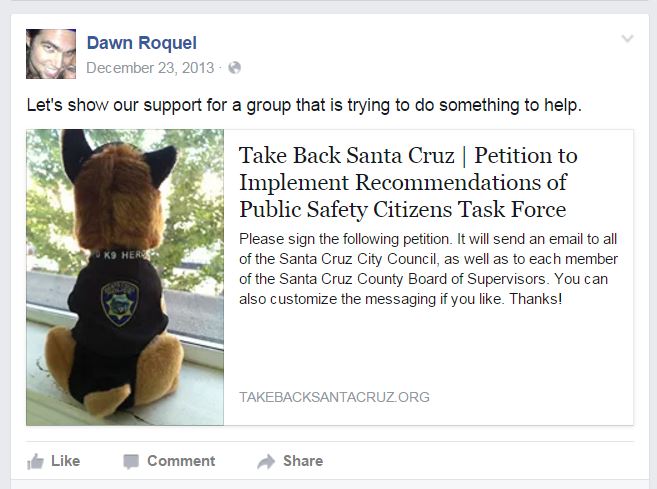 We are 100% volunteer and depend on your participation to sustain our efforts!
Get Involved
If you'd like to help with maintaining or developing the website, contact us.