From the Open-Publishing Calendar
From the Open-Publishing Newswire
Indybay Feature
Related Categories:

East Bay | Education & Student Activism
1/27Speak Out Against Religious Cult Gulen School in Fremont A-Cult Running Magnolia Chain
The Muslim cleric Fedullah Gulen is trying to expand his publicly funded charter school empire with a new school in Fremont, California. The cult school is opposed by the school district and the Turkish government which is fighting with Gulen. Gulen was a supporter of the AKP Erdogan but had a falling out. That is why the Turkish government is opposing the schools. They fund large number of fundamentalist religious schools in Turkey and are attacking Kurdish teachers and public teacher unions and help support and fund ISIS terrorists.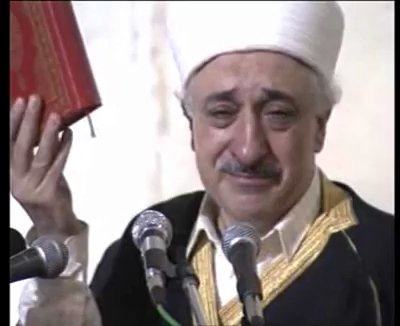 Government of Turkey wants Fremont school board to reject Gulen run charter school-Religious Cult Running Magnolia US Publicly Funded Charter School Chain?
January 27, 2016 Protest At Fremont School Board Against Gulen Schools
6:30 p.m. WednesdayWhere: 4210 Technology Drive, Fremont
http://www.contracostatimes.com/
…/turkey-wants-fremont-scho…
By Rebecca
Parrrparr [at] bayareanewsgroup.com
POSTED: 01/25/2016 03:00:23 PM
Pennsylvania, United States. A U.S.-based Muslim cleric, who has become Turkish President Recep Tayyip Erdogan s chief foe, went on trial in absentia in Istanbul on Wednesday, Jan. 6, 2016 accused of attempting to overthrow the government by instigating corruption probes in 2013 that targeted people close to the Turkish leader. Gulen and 68 other people, including former police chiefs, have been charged with attempting to overthrow the Turkish republic through the use of violence, leading a terrorist organization and "political espionage." Prosecutors are seeking life imprisonment for Gulen and others. (AP Photo/Selahattin Sevi, File) ( Selahattin Sevi )
FREMONT -- A Southern California charter school wants to expand into Fremont, despite a history of financial problems and accusations of it being linked to a controversial Turkish cleric, which its leaders emphatically deny.
In a bizarre twist, an attorney representing the Turkish government spoke against the Magnolia Public Schools charter application at a recent Fremont school board public hearing, saying it has ties to Turkish cleric Fethullah Gulen. John Martin of Amsterdam & Partners in Washington, D.C., also alleged that Magnolia was not factual in its application.
Magnolia's chief executive officer called the accusations strange and baffling.
"He seems to believe that we are associated with a religious group, which we are not," Magnolia CEO Caprice Young said at the Jan. 13 school board meeting.
"We're not affiliated with anything but educating public school students in California," Young said Friday. The school has straightened out its finances, she said.
The Fremont school board on Wednesday will consider Magnolia Public Schools' request to open a kindergarten-through-12th-grade school. District staff is recommending the petition be denied.
Fremont Unified did not investigate possible connections between Magnolia and the Gulen movement, Superintendent James Morris said.
"We did our analysis of the charter based on the merits of the petition that (was) submitted," he said.
Advertisement
Martin said his law firm was hired by the Turkish government to investigate Gulen and his movement. That investigation led him to Magnolia schools, he said.
Followers of Gulen, a Muslim imam, have U.S. charter schools that emphasize math and science. Martin and others, including the American magazine the New Republic, allege those include Magnolia. There have been accusations of improper use of public funds and importing Turkish teachers in other states, but Magnolia has not been linked to those investigations.
Gulen's followers are believed to operate schools, universities, corporations, nonprofits and publications around the world, according to articles in the New Republic.
Young said she was mystified by the Gulen accusations. Magnolia's founders did include Turkish immigrants who are progressive Muslims who "believe in peace and interfaith dialogue and who see education as a priority, and Gulen is not the only world leader who is professing these things," Young told the Orange County Register.
In 1999, while in the United States, Gulen was charged in Turkey with trying to create an Islamic government. Since then, he has lived in Pennsylvania.
DISTRICT STANCE
The school district's staff report lists three reasons it is recommending the charter petition be denied: Magnolia is unlikely to be successful; the petition does not have enough valid signatures; and it does not have comprehensive descriptions of everything required in a charter petition.
The staff report noted that, at a recent public hearing, no parents, students, teachers, district staff members or residents spoke in support of the petition. Several speakers raised concerns about the petitioners and the petition, according to the staff report.
Charter schools are public schools, funded with taxpayer dollars.
Magnolia emphasizes science, technology, engineering and math, and reports high student achievement and test scores.
"We were approached by a group of parents who saw success of our Santa Clara school," Young told the board regarding Magnolia's interest in Fremont.
In Santa Clara County, Magnolia Science Academy won a five-year renewal of its school's charter in 2013 despite concerns about its finances. But the board did compliment the school on its academics.
Enrollment at Magnolia's San Jose school has declined for several years, dropping to 25 percent of projected students in 2015, when it moved from Santa Clara.
Los Angeles Unified School District tried to close three of the eight Magnolia schools because of financial problems, according to the Los Angeles Times. A 2015 state audit confirmed problems with spending controls, but also found that Los Angeles Unified did not give the schools time to get their finances in order before revoking the charters.
Magnolia has addressed the concerns mentioned in the state audit, said Young, a former Los Angeles school board member who was named Magnolia CEO last year.
"We've made some big changes. I contracted out all our accounting to a professional firm. I hired a new chief financial officer," she said.
During the period the state audited, Magnolia hired a number of employees who were not U.S. citizens, primarily from Turkey, according to the state.
"As you know, there's a tremendous shortage of math and science teachers," Young said.
Magnolia submitted charter school applications in several Southern California school districts late last year and many of the teacher signatures on Magnolia's Fremont application also appear on those petitions, according to the staff report. Eight of the teachers live in Los Angeles County and work at other Magnolia schools. Magnolia is aware of the problems with teacher signatures and has withdrawn its petition in other districts, the staff report said.
"What we want to do is make sure our top teachers become seed teachers in our new schools so that what's good about one Magnolia school becomes good about other Magnolia schools," she said.
Martin, the attorney, questioned why Magnolia has only had one local meeting with parents at the Islamic Center of Fremont. The staff report also noted the single gathering.
"Despite asserting the intent to target Latino students, its single outreach effort did not result in signatures reflecting meaningful interest in enrolling Latino students," the report said.
Young said if the charter was approved, there would be outreach enrollment meetings throughout Fremont.
"We're a public school; we're secular," she said. "We make a point of welcoming all students and all families."
Contact Rebecca Parr at 510-293-2473 or follow her at Twitter.com/rdparr1.
Fremont Unified School Board
When: 6:30 p.m. WednesdayWhere: 4210 Technology Drive, Fremont
More on Gulen Charter Schools
http://charterschoolscandals.blogspot.com/
http://perimeterprimate.blogspot.com
More video on Gulen Charter Schools
https://www.youtube.com/watch?v=pGU_Y7gZctQ
https://www.youtube.com/watch?v=RM1K12XdOLk
https://www.youtube.com/watch?v=rVzWzHOshgc
FBI Whistleblower and Teacher Expose Islamic Gülen Movement Infiltrating U.S. Through Charter Schools
When asked if she considers Gülen a threat to U.S. interests, she responded, "100%, Absolutely."
http://truthinmedia.com/exclusive-fbi-whistleblower-and-teacher-expose-islamic-gulen-movement-infiltrating-u-s-through-charter-schools/
By Joshua Cook -Jul 28, 2014
What Is The Islamic Gülen Movement?
In rural Pennsylvania, a Turkish-born Muslim imam lives in self-imposed exile.
The imam, Fethullah Gülen, came to the United States in 1999 due to cited health problems and has stayed in the United States after gaining his visa with help from former CIA officials. The FBI previously resisted granting permanent residency status to Gülen. According to leaked cables, parts of the U.S. government believe that Gülen "is a 'radical Islamist' whose moderate message cloaks a more sinister and radical agenda."
In an interview with 60 Minutes, Gülen followers claim that he does not control or have anything to do with the day-to-day dealings of the massive network of charter schools he helped found.
Gülen-inspired schools are the largest charter network in the U.S. and receive approximately $150 million a year in taxpayer money. There are about 130 of these charter schools in 26 states where the majority of the teachers are from Turkey, as well as many of the contracts for construction and operation have gone to Turkish businesses. Those actions have raised red flags for the U.S. government.
The schools themselves are considered high quality and are focused on STEM-based learning — something that proponents of the Gülen Movement claim is lacking in U.S. education.
According to 60 Minutes, in Turkey, Gülen schools are everywhere and considered the best. But recently Turkey passed a law to shut down Gulen schools, a main source of the movement's revenue.
Why Are My Tax Dollars Funding an Islamic Movement?
In the United States, many of the Gülen schools have long waiting lists. But that comes at a price for our American teachers:
"Our tax dollars are paying for them to come over here and take our jobs," said Mary Addi, a teacher. "They want to give you the impression that they're just hard-working guys over here to try and educate our kids, because American teachers are just too stupid."
According to Addi, those Turkish teachers' visa applicants oddly include English teachers. Gülen brings in foreign teachers and then takes a cut of their salary. She learned this after marrying a Turkish teacher. She said that after he was paid. He'd cash the check and return 40% of his salary back to the school for a secret fund used by the movement.
These allegations have caused the U.S. government to investigate for immigration fraud as well as misuse of taxpayer money. It has also caused many to wonder about the actual intent of the Gülen school.
According to a secret U.S. government document released by Wikileaks, "Deep and widespread doubts remain, however, about his (Gülen) movement's ultimate intentions. We have anecdotal evidence of the pressure that the various circles of his movement put on people they have drawn in, for instance severe pressure on businessmen to continue to give money to support Gülenist schools or other activities. We have multiple reliable reports that the Gülenists use their school network (including dozens of schools in the U.S.) to cherry-pick students they think are susceptible to being molded as proselytizers and we have steadily heard reports about how the schools indoctrinate boarding students."
One public school teacher from the South spoke with Benswann.com's Joshua Cook on condition of anonymity, said her students recently won a free cultural trip to Turkey through an art contest sponsored by a Gülen organization called the Atlantic Institute.
The teacher had a terrible experience. "They take you on this grueling 10-day death march through Turkey," said the teacher. "It was exhausting."
"After being food deprived the Gülenist hosts brought us to a building called the Journalist and Writer's "light house" which was a compound. This is where we got the cult spiel for 2 hours. The speaker told us, 'Fethullah Gülen, he is the imam that sheds light on the dark waters of our time,'" said the teacher.
"This trip was not about a moderate message of interfaith dialogue or Turkish culture. The whole purpose was to promote the imam Fethullah Gülen," said the teacher.
The teacher added, "the Gülen movement's ultimate goal is to open charter schools in the U.S. to funnel U.S. tax dollars to back into the Gülen movement in Turkey. They skim just enough off the public taxpayers from these charter schools so it won't look suspicious."
Gülen schools are among the nation's largest users of the H1B visas. In 2009, the schools received government approvals for 684 visas – more than Google Inc. (440) but fewer than a technology powerhouse such as Intel Corp. (1,203), reported the Philadelphia Inquirer.
Critics also find it hard to believe that qualified American teachers in math and science are hard to find.
Former president of the parent's group at the Young Scholars of Central Pennsylvania Charter School, Ruth Hocker started asking questions when popular, certified American teachers were replaced by uncertified Turkish men who often spoke limited English and were paid higher salaries. Most were placed in math and science classes.
"They would tell us they couldn't find qualified American teachers," Hocker told the Philadelphia Inquirer. That made no sense in Pennsylvania State University's hometown, she said: "They graduate here every year."
Other school parents described how uncertified teachers on H1B visas were moved from one charter school to another when their "emergency" teaching credentials expired and told of a pattern of sudden turnovers of Turkish business managers, administrators, and board members.
Leaked communications from a diplomatic cable suggests that some Gülen teachers maybe using the school as cover to get to the U.S.
From Wikileaks: "…we are concerned by the link with charter schools in the U.S. that have petitioned for marginally-qualified H1B candidates (The Kentucky Consular Center and our posts in Turkey have started compiling a list of these Gülenist charter schools in the US for use in visa adjudication). These applicants were simply not convincing, did not seem as fully in tune with Gülen's approach to education and might be using the reputation of the school as a cover to get to the U.S."
Recently, FBI agents carried out raids at 19 Gülen Charter schools in Illinois, Indiana and Ohio as part of an "ongoing white-collar crime matter."
Many oppose the Gülen movement due to their lack of transparency, the cloud of suspicion regarding their funding, hierarchy, their pursuit of buying political influence, and their true purposes, and leaving U.S. taxpayers in the dark.
Tax payers being forced to indirectly support Islamist movements is one thing but is there something more insidious planned by the Gülen movement?
While Gülen followers and some U.S. officials claim Gülen teaches a moderate version of Islam, some believe it is only part of a strategy to infiltrate the U.S.
According to The Middle East Quarterly, in 1999, Turkish television aired footage of Gülen delivering sermons which revealed his plan to implement Shari'a law and use controversial tactics to achieve those goals.
In the sermon, he said:
"You must move in the arteries of the system without anyone noticing your existence until you reach all the power centers … until the conditions are ripe, they [the followers] must continue like this. If they do something prematurely, the world will crush our heads, and Muslims will suffer everywhere, like in the tragedies in Algeria, like in 1982 [in] Syria … like in the yearly disasters and tragedies in Egypt. The time is not yet right. You must wait for the time when you are complete and conditions are ripe, until we can shoulder the entire world and carry it … You must wait until such time as you have gotten all the state power, until you have brought to your side all the power of the constitutional institutions in Turkey … Until that time, any step taken would be too early—like breaking an egg without waiting the full forty days for it to hatch. It would be like killing the chick inside. The work to be done is [in] confronting the world. Now, I have expressed my feelings and thoughts to you all—in confidence … trusting your loyalty and secrecy. I know that when you leave here—[just] as you discard your empty juice boxes, you must discard the thoughts and the feelings that I expressed here."
Is Gulen a Front for the CIA?
A classified communication reveals that many secularists in Turkey are convinced that the ruling Justice and Development Party (AKP) is the creation of the United States Government (USG), and that Washington bolsters and funds the Fethullah Gülen movement.
Is the CIA or another agency in the USG using the Gülen movement to fund "cold war" operations overseas? Is the USG using the Gülen Islamic schools to influence Central Asia with a more "moderate" version of Islam to rival more racial Islamic sects?
Some claim that Gulen is a front for the CIA. See here and here.
If there is anyone who knows the truth about the inner workings of U.S. and Turkey relations it is FBI whistle-blower Sibel Edmonds.
Edmonds is considered the "the most gagged person in American history." The USG invoked "state secrets privilege" in her case and she is prevented from revealing government corruption and cannot discuss certain aspects of her knowledge regarding her case. The DOJ's Inspector General stated her claims are credible and Edmonds says her claims can be backed up by FBI files.
Benswann.com's Joshua Cook asked Edmonds via email about her thoughts regarding Gülen. Edmonds has been covering the Gülen movement for years and has extensive research on her website.
Cook asked Edmonds, is Gülen a threat to US interests?
"This has to do with Gülen's role in terrorism," said Edmonds. "Under the guise of schools [Madrasas] in Central Asia & Caucasus his network is involved in training terrorists [from Chechens to other Islamic Jihadis in the area]. The bureau had him under investigations since 1998. However, they were prevented from pursuing the cases [despite all evidence collected] due to direct pressure from the CIA/State Deptment. How do I know? Some of the case files were under the division where I worked [counterintelligence]. Other investigations were being conducted under the FBI's crime & terrorism division."
Cook asked, "Is the CIA using the Gülen network to fund CIA ops in Turkey?"
"They did," said Edmonds. "It was also a channel for money laundering for their $20 billion worth network. They bring teachers from Turkey. They provide them with decent/high salaries, but then, they force them to voluntarily and individually contribute over 50% of their income to their various front charity organizations … I met with several ex-teachers and spoke with them in 2006-2008; however, because of overt and covert threats from Gülen's network to their families in Turkey, they were not willing to come forward or go on record."
While under oath during a legal disposition, Edmonds, was asked if she had any information regarding Fethullah Gülen.
"He landed on the Turkish government's wanted list and was going to be persecuted for wanting to replace Turkey's secular government with an Islamic/Sharia-type of government. When he was wanted in Turkey for that and was going to go jail, he actually got on a plane and came to the United States, and was given immediately a visa to stay in the United States," said Edmonds.
Edmonds states that Gülen has close ties to training militant Muslims.
Edmonds claims in her testimony that "Gülen established more than 300 Madrasahs in Central Asia and what he calls universities that have a front that is called Moderate Islam, but he is closely involved in training Mujahideen (Al-Qaeda) – like militia Islam who are brought from Pakistan and Afghanistan into Central Asia where his Madrasahs operate, and his organization's network is estimated to be around $25 billion, and that he has close ties to training militant Muslims."
When asked if she considers Gülen a threat to U.S. interests, she responded, "100%, Absolutely."
Watch Sibel Edmonds's testimony regarding Gülen Schools and U.S. Foreign Policy Connections.
Gulen Cult Gets $8.7 million from California To Build Charter School
Office of Public School Construction Helps Break Ground for New Orange County School
August 11, 2015
The Office of Public School Construction's (OPSC) Executive Officer Lisa Silverman joined local officials in a groundbreaking ceremony on August 7 for the Magnolia Science Academy in Santa Ana.
The new K-12 charter school will provide learning space for up to 1,020 Santa Ana Unified School District students, while the construction of the project will bolster the local economy through the creation of jobs and the purchase of building materials.
The project will receive approximately $8.7 million in state funding from the State Allocation Board, and $8.7 million from a state loan. The project will provide 33 new permanent classrooms, and include robotics and computer labs, along with a new gymnasium and restrooms.
OPSC serves as staff to the State Allocation Board and implements and administers a $35 billion voter-approved school facilities construction program.
Repeal Charter School Laws Recipient Committee
Petition to Support Ballot Initiative to REPEAL the CA Charter School Act of 199REPEAL Charter School Act of 1992 in CA Ballot Initiative
http://www.ipetitions.com/petition/repeal-charter-school-act-of-1992-in-ca-ballot
Voices Against Privatization of Public Education
https://notocharterschools.files.wordpress.com/2015/08/defend-public-ed-statement.pdf
https://www.oag.ca.gov/system/files/initiatives/pdfs/15-0114%20%28Repeal%20Charter%20Schools%29.pdf?
https://rally.org/RepealCharterSchoolLaws
Kurdish public school teachers disobey Turkish government order to evacuate Kurdish towns: We will stay and keep our students alive! "teachers organized under the Egitim-Sen, the teachers Union decided to resist the move to abandon their students."
http://sendika7.org/2015/12/teachers-disobey-turkish-government-order-to-evacuate-kurdish-towns-we-will-stay-and-keep-our-students-alive/
Tarih: 14 Aralık 2015
Yesterday Turkish government ordered all schools closed, all dormitories shut down and teachers to leave the towns of Cizre and Silopi in the Kurdish area of Turkey. This order came at the time the Turkish military started amassing outside the towns and extra police force was ordered to move to these towns, already bustling with cops from all over Turkey.
Kurds are in the way of Turkish president Erdogan's fantasy of building the defunct Ottoman Empire, the last Turkish, Sunni Muslim empire that crumbled as the "modern" Turkey came to life in 1923. In order to create the greater Islamic empire Kurdish regions in Turkey, Syria and Iraq will need to be invaded by Turkey.
Recently, implementing democracy in accordance with the European Union vision and to break the dependency to the central government mostly the towns and villages in Eastern Turkey (Kurdistan) started a self-sufficiency and self-governance model.
In the Turkish tradition of central state this is nothing that could be tolerated. Democracy, freedoms and equality is only permissible as much as the central government and the state allows.
Having had enough with racist and authoritarian governors appointed by the central government, some Kurdish towns decided to implement democracy where the daily business of running the towns would be transparent instead of being secretive as it is currently, true to the Turkish tradition. In order to bring more real democracy, the progressive HDP party is electing a women as co-mayors to every town they were elected. Bringing a system of co-mayors HDP, a pro-Kurdish party, is promoting women in all levels of local governance in an area known to be the most male dominated, religious and patriarchal.
It is easy to see how the Muslim central government finds this repulsive.
When the progressive HDP was able to pass the 10% threshold to gain votes away from the ruling Islamic AKP (JDP) party in the June elections, it became the target of all conservatives, Muslims, fascist parties and the traditional Kemalists. Muslims oppose the HDP for its progressive ideology and for opposing their government. Nationalists, fascists and Kemalists consider the HDP a threat because it advances a pro-Kurdish stance instead of the traditional Turkish nationalist propaganda.
Since the HDP governing towns and villages in Turkish Kurdistan started this experimentation with democracy as self-governance, central Turkish government forces have attacked in full force. Many towns were shelled with heavy military artillery and police joined forces with Syrian jihadist terrorists to attack the residences as the central state declared curfew. Snipers on roof tops murdered people who stepped outside looking for food after being confined to their homes for more than 5-6 days for 24 hours. Turkish police first destroy the electrical power transformers during a curfew leaving the residents in dark. Then the Turkish state attacks start, usually at night where the cops and the terrorists from Syria together begin raiding the Kurdish homes and breaking down doors mostly randomly. It is a common practice of the Turkish police and special forces to just start spraying entire neighborhoods with automatic rifles, even though the streets are empty. Also, the cops using the curfew as a cover deface the store fronts and walls with racist threats, writing, "If you are a Kurd, you must obey, if you are a Turk you must rule!"
Due to these attacks with the help of Turkish military and helicopters nearly 50 people have lost their lives in the last few months in the Kurdish region alone from police attacks.
Nearly all mayors and co-mayors of these towns have been arrested by the Turkish AKP government.
Two days ago these attacks against the Kurdish democracy of self-governance took a steep hike.
Army units from all over Turkey as well as extra police units have been summoned to the towns implementing co-mayors and giving women the opportunity to govern the towns.
All hospitals in the towns of Silopi, Cizre in Sirnak have been put on notice to expect high activity and be prepared.
Government ordered teachers to leave town immediately. With schools and student quarters closed until further notice, some teachers and their families scrambled to leave their homes. All buses being full, these teachers and their families had to walk around 3 miles to reach a nearby highway to find any means of transportation to evacuate the Kurdish town.
However, progressive teachers organized under the Egitim-Sen, the teachers Union decided to resist the move to abandon their students.
The co-chair of Egitim Sen Union in Sirnak, Serhat Ugur, confirmed the military buildup in their town before the expected Turkish state attack. He said, "I heard from the 1990's generation (where the Turkish state had the entire Kurdistan under siege and murdered more than 40,000 people in its war against the Kurds) however we are now in a situation worse than those days. We are living atrocities many times worse than the 1990's. However, I am still going to school, facing all obstacles. But what kind of hatred, what kind of preparation is this that we are seeing, I am unable to comprehend. What will they say to this population tomorrow? They keep repeating that the main reason for these assaults is for the defense of the country and "all else is detail." We are seeing a level of military transfer to the region never seen before."
Tanks, armored vehicles, heavy artillery are moving to the towns implementing democracy from all over Turkey as far away as 800 miles. Planes are whizzing in and out of the local airport carrying soldiers, police, special forces and of course their associate Syrian jihadist goons.
Ugur added that it was impossible to see the end of the military convoy as they rolled into his town. "It is as if we have a war here. They are coming as if to destroy our whole town and raze it to the ground. How could such a move be justified? If this happened in Palestine everybody would be up in arms, we are following the news, but not a whisper of the events here is heard. We are facing a total annihilation. They (the government) are coming here as if to confine us inside for about 10-15 days." He called for all to stand up and resist this buildup and the upcoming attack.
Ugur, the co-chair of the union, said the central government, through the ministry of education, ordered the teachers to evacuate the towns and most teachers had done so. "I am a teacher for more than 10 years. I've never seen such an order. We liken this order to evacuate the town to the threats received from ISIS before they take over a town where they promise to severe the heads of the people. We are wondering if the Esedullah team (an illegal, Islamic and racist organization inside the Turkish police force) will be raiding us. Our lawyers called the education ministry but the local department head replied that he is not aware of such an evacuation order. We are now in doubt as we are ordered to evacuate but the government is not standing behind its orders. Will they send the order in writing after the fact, we don't know. Majority of the teachers have left town, but there are some left behind. I will not leave. We have teacher friends who say, "I am not only a teacher when the student has his/her school uniform on" and refuse to leave and abandon their students. We have teachers who are from all over the country and refusing to abandon their students.
Trying to describe the mood of the people in the region, Ugur added, "People are thinking, just imagine what may happen if they even pull their teachers from my town. People will ask, will this be a surgical strike or a mass massacre. We have tens and hundreds of teachers who are disobeying the order to evacuate. We are not teachers only when our students are in their school uniforms. If any of our teachers are thinking about abandoning the town our suggestion is to stay here instead of leaving. We are teachers who also teach life and the obstacles and challenges in life and we are also the teachers for the entire population of the town and not only the students. We will stay here and stand by our people to keep them alive. We are not only tasked with teaching history or geography. Our students search for answers by looking directly into our eyes. If we leave, how can we look into their eyes, look at their faces when we return? There is a so-called policy to keep the children away from the war; however they are bringing the war to the children."
Sendika.org News. (Mehmet Bayram)
Council of Europe reacts to Turkish journalists' arrests
http://www.hurriyetdailynews.com/council-of-europe-reacts-to-turkish-journalists-arrests.aspx?pageID=238&nID=91834&NewsCatID=510
Sunday,November 29 2015, Your time is 11:30:13 PM PST
Council of Europe reacts to Turkish journalists' arrests
İpek Yezdani - BRUSSELS
A man holds a Cumhuriyet newspaper on November 27, 2015 in front of the media headquarters, during a demonstration after the arrest of the Editor in Chief. AFP Photo
The arrest of prominent Turkish journalists Can Dündar and Erdem Gül has again raised concerns about media freedom in Turkey, a spokesperson from the European Council has told daily Hürriyet, with the reporters urging the EU not to ignore human rights violations in Turkey as it bargains with Ankara on refugees.
The statement made by the spokesperson of European Council Secretary-General Thorbjorn Jagland noted that Turkey itself has adopted an action plan to prevent future violations of the European Human Rights Convention and that this included violations against Article 10 on freedom of expression and freedom of the media.
"We will raise the most recent issues at the meeting of the working group which will be held between the Justice Ministry of Turkey and the Council of Europe in mid-December. Mr. Jagland will address our concerns with the Ministry of Justice," Jagland's spokesperson said.
Regarding the arrest, the spokesperson confirmed "this case and others" would be raised at a meeting between Council of Europe experts and Turkish officials in Ankara on Dec. 17.
The spokesperson said the council was concerned about "yet another" issue regarding freedom of expression and media freedom in Turkey which needed to be resolved and protected under Article 10 of the European Convention of Human Rights. "Otherwise, more cases might come to the European Court of Human Rights," he added.
The statement came as Dündar and Gül, who were detained Nov. 26 on charges of espionage and assisting a terrorist organization through a news report on the alleged supply of arms to fighters in Syria, sent a letter to EU leaders just a day before a Turkey-EU summit that will take place in Brussels to broker a deal on the growing refugee crisis, urging the EU not to compromise on an agreement with Turkey to help stem the flow of migrants to Europe.
"We sincerely hope that the meeting produces a lasting solution to this problem. We would also like to hope that your desire to end the crisis will not stand in the way of your sensitivity toward human rights and freedom of the press and expression as fundamental values of the Western world," read the letter penned by Dündar, Cumhuriyet's editor-in-chief, and Gül, the paper's Ankara bureau chief.
"We remind you that our common values can only be protected by a common stand and solidarity and that this solidarity is both vital and urgent," the pair said.
The U.S. State Department also expressed concerns over press freedom in the country, calling on Turkish authorities to ensure freedom to freely voice opinions and criticisms.
"We are troubled by the pre-trial arrest yesterday of senior editors of the respected Turkish newspaper Cumhuriyet," the U.S. State Department said in a written statement on Nov. 27, a day after the arrest of Dündar and Gül.
"The investigation, criminal charges, and arrest raise serious concerns about the Turkish government's commitment to the fundamental principle of media freedom. These events are only the latest in a series of judicial and law enforcement actions taken under questionable circumstances against Turkish media outlets critical of the government," it said.
"We call on Turkish authorities to ensure that all individuals and organizations – including but not limited to the media – are free to voice a full range of opinions and criticism, in accordance with Turkey's constitutional guarantees of media freedom and freedom of expression. This will ultimately strengthen Turkey's democracy," it added.
Dündar and Gül were sent to Silivri Prison late Nov. 26 after an Istanbul court ordered their arrest on the publication of footage purporting to show the state intelligence agency helping send weapons to Syria.
Footage released by Cumhuriyet on May 29 showed gendarmerie and police officers opening crates in the backs of trucks which contained what the daily described as weapons and ammunition sent by the intelligence service to fighters in Syria in January 2014.
In the aftermath, President Recep Tayyip Erdoğan said those that published the story "would pay a heavy price" while reiterating that the goods were just destined for Turkmens in Syria.
Making remarks on the arrest, Prime Minister Ahmet Davutoğlu signaled that Dündar and Gül could be tried without arrest, daily Hürriyet reported.
"A trial [of Dündar and Gül] without arrest could be seen as more convenient," the premier told a group of reporters in parliament in Ankara on Nov. 28, adding that the decision to try Dündar and Gül without arrest did not depend on their initiative, but on the country's "independent judiciary."
Republican People's Party (CHP) Kemal Kılıçdaroğlu, meanwhile, described the arrest as a "black spot" on the country's democratic history.
"Imprisoning two journalists is a black spot in our history of democracy," Kılıçdaroğlu said on Nov. 29 while visiting the offices of Cumhuriyet in Istanbul's Şişli district.
November/30/2015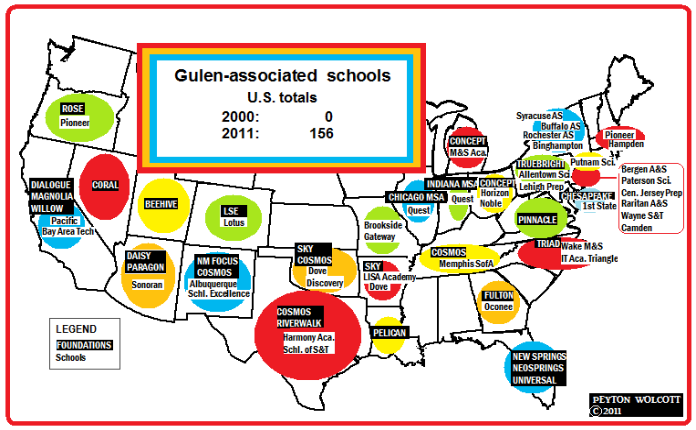 Hundreds of millions of public tax payer funds are going to fund this religious cult business operation using the charter laws which privatize education in California and nationally
Gulen helped suppress democratic rights in Turkey when he was in alliance with the Erdogan government.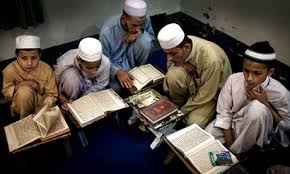 The Gulen international school operation trains mullahs throughout the Middle East and uses US public funds through their charter school operation in the US.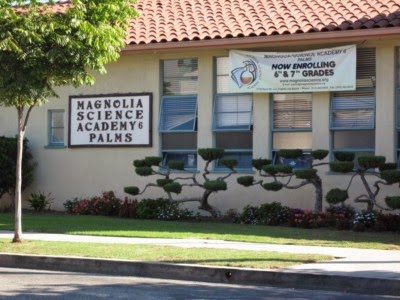 The Gulen schools operation are engaged in a massive criminal conspiracy to rip off the public taxpayers and public education in the US through the use of charter schools.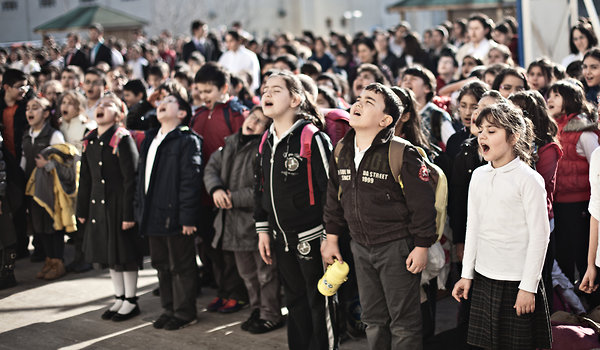 Gulen is spreading his religious cult ideology to children in Turkey and around the world for greater profits.
We are 100% volunteer and depend on your participation to sustain our efforts!
Get Involved
If you'd like to help with maintaining or developing the website, contact us.