From the Open-Publishing Calendar
From the Open-Publishing Newswire
Indybay Feature
Related Categories:

East Bay | Media Activism & Independent Media
Help Free Radical Radio Get New Equipment!
Free Radical Radio is an anti-civilization anarchist podcast and radio show. Every week for almost two hours, broadcasting as part of the Berkeley Liberation Radio (BLR) Collective in West Oakland, Free Radical Radio has brought thousands of listeners thoroughgoing anti-civilization analysis and direct action news.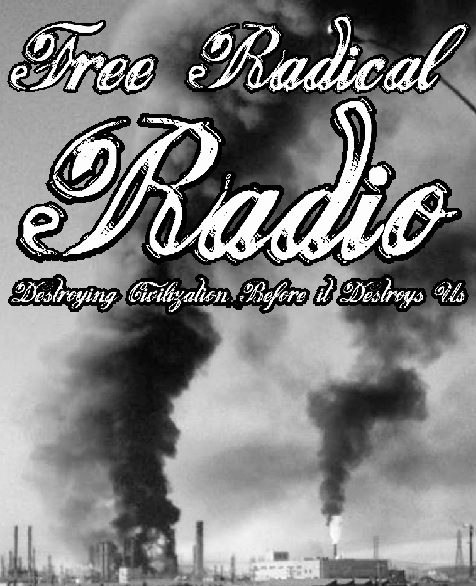 Decidedly anti-journalistic, FRR makes no pretense of adhering to the mythical and undesirable nonsense of "journalistic objectivity". Instead, the hosts - Rydra, Bellamy, and Doug, along with occasional guest hosts - make clear their views and thus speak passionately and unequivocally on all topics, pushing past any ill-conceived notions of impartiality and instead pursuing sincere and subjective critique and analysis. Topics are diverse, especially in light of the show's intentionally improvised nature (another intentional revolt against the excessive formality and stifling rigidity of traditional journalism), but include: anti-civilization critique informed by anarcho-primitivist and egoist theory; unapologetic vitriol toward Leftist currents of "anarchism" and other civilization reformism thinly veiled as "revolutionary movements"; digest and editorial on world news and events; commentary on radical activity in the Bay Area; resistance worldwide and our frank take on what is being done and what might be done differently, with a special focus on current eruptions (such as the recent events in Ferguson, MO:
https://archive.org/details/RevoltInFerguson
); horticulture, forest gardening, intentional communities, rewilding, primitive reskilling, and other activity on the "constructive" end of anarchy; and interviews (released regularly in addition to the weekly show) with authors, organizers, resisters, rewilders, and others.
Free Radical Radio is celebrating its one-year anniversary. Starting as a casual vent-session by Bellamy and Rydra, FRR has grown into a more deliberate and concerted effort to create a much-needed venue for discussion of anti-civilization theory. As we get ready to release a series of in-depth interviews with friends of the show as well as new voices, we also look to the future with a desire to get new equipment that would help us continue and better our project. Having reflected on our first year, we want not merely to maintain but in fact redouble our efforts to expound on anti-civ theory, showcase rewilding and horticulture projects, and tell stories of ongoing revolt: look to our recent interviews touching on everything from riots against police in Salinas and Ferguson; gentrification battles in Oakland; land struggles such as the ZAD and the Albany Bulb; and anarchist writers, thinkers, and doers such as Natasha Alvarez, John Zerzan, Franklin Lopez, Kevin Tucker, and an upcoming conversation with Wolfi Landstreicher to get an idea of what is to come.
Aware of the irony of asking for funds for technology, we nonetheless believe we can improve the anti-civilization discussion with a modest sum of $2,000 that would be used to acquire better microphones, a laptop, and other equipment to improve the audio quality of regular recordings and interviews. Our most frequent complaint from listeners is that they have trouble listening to our sometimes lousy audio quality that stems from our extremely limited equipment, particularly if they have less-than-stellar audio equipment themselves. In addition, we would like to have our own website in order to reduce our dependence on odious social networks, better organize our media, and make space for new efforts like blogging or video down the road. Every bit will help in this pursuit, even if we don't reach our goal.
For transparency's sake, we are happy to inform everyone who contributes exactly how we spend the funding - we will e-mail everyone with budget updates explaining what we spent and why.
We hope that the hundreds of people who download and listen to our show every week can help us meet this goal. We are suggesting a donation of ten to fifty dollars, depending on what individuals believe is practical given their resources and desirable given their interest.
We hope that contributors, as with all listeners, will contact us at
freeradicalradio [at] riseup.net
to give us feedback (positive or negative), suggestions on how to improve the show, and information on potential interviewees (including themselves). We look forward to continuing to work hard to produce content that makes an impact.
We are 100% volunteer and depend on your participation to sustain our efforts!
Get Involved
If you'd like to help with maintaining or developing the website, contact us.