From the Open-Publishing Calendar
From the Open-Publishing Newswire
Indybay Feature
Related Categories:

East Bay | San Francisco | Labor & Workers
On Eve of Protest, a Betrayal Remembered Israel's Zim Line and San Francisco's Shame
The history of South African apartheid of Zim Line is very much connected and the Democratic party in San Francisco including Feinstein and Pelosi were up to their necks in helping to do damage control for Israel and Zim's support for apartheid South Africa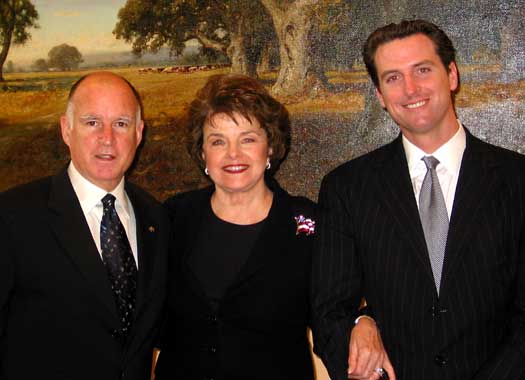 On Eve of Protest, a Betrayal Remembered Israel's Zim Line and San Francisco's Shame
AUGUST 13, 2014
On Eve of Protest, a Betrayal Remembered
Israel's Zim Line and San Francisco's Shame
by JEFFREY BLANKFORT
Over the years there have been scores of demonstrations in front of Israel's San Francisco consulate and dozens of marches and rallies in the city's streets protesting Israel's recurring, pre-planned, episodes of bloody suppression of Palestinian resistance and its devastating wars on Lebanon.
None, however, have been as memorable as the one that took place across the San Francisco Bay on June 24, 2010, when more than 1200 community and labor activists, supported by workers from ILWU Local 10, set up a picket line and shut down the Port of Oakland terminal where a container ship owned by the Israeli Zim line was scheduled to dock and be unloaded.
That action had been called to protest Israel's deadly attack on the Turkish ship Marvi Marmara as it was attempting to break Israel's sea blockade of Gaza and bring humanitarian supplies to the residents of the world's largest outdoor prison. In that incident, which evoked world-wide protests, Israeli commandos murdered nine Turks and one Turkish-American, all of whom were unarmed.
On Saturday, August 16th, building on the hundreds of thousands of people across the globe who have been in the streets protesting Israel's latest genocidal war on Gaza, a coalition of groups, including Palestinian and Arab American youth, anti-war organizations, and labor union activists are hoping to replicate the success of the 2010 action. They will be gathering at 5 AM, as they did last time, at the gate to the Port of Oakland's terminal 57, where two Zim ships are scheduled to arrive and be unloaded.
There is an important back story to the appearance of Zim's ships in Bay Area ports that includes one of the most shameful episodes in San Francisco's history. It bears repeating now since most of those picketing on Saturday are unaware of it and it is not likely to be mentioned by any of the speakers. It illustrates the degree to which the pro-Israel Lobby controlled local politics and politicians then, as it does now and for the past half century on Capitol Hill, and will continue to do so until an enraged public puts an end to it
Our story begins with what turned out to be a naïve decision on the part of the otherwise, politically astute mayor of San Francisco, (now Senator) Dianne Feinstein, to accept an invitation by the Soviet Union to visit Leningrad in 1985 which, in the period of Glasnost, was looking to sign a sister-city arrangement with an American city and it was San Francisco that Mikhail Gorbachev had his eyes on.
As the Los Angeles Times (Oct. 12, 1987) described it:
"Leningrad began courting San Francisco, home of the Russian Hill and the only Soviet Consulate in the United States outside Washington. It too seemed an ideal match, a union between cities that many consider the beauties of their nations.
"They even have bridges in common. Leningrad, called the Venice of the North, is a city of islands linked by bridges. And, of course, San Francisco has its Golden Gate."
Feinstein heard the call and traveled to the Soviet Union, and, according to the Times, "was wined and dined in Leningrad. She and Leningrad's mayor emerged from a private tete-a-tete and announced their civic engagement. But it was not to be."
San Francisco, as Feinstein must have been aware, was home to a Jewish Community Relations Council whose raison d'etre appeared to be organizing rallies in front of the Soviet Consulate demanding "freedom" for Soviet Jewry and outside of New York City, there was probably no Jewish community in the country more active (or mis-informed) on that issue.
Consequently, when Feinstein returned to San Francisco and announcing the city's new sister city relationship that she had learned that she had kicked over a political hornet's nest.
Despite the fact that Feinstein had previously used her office to assist some 36 Jews in leaving the Soviet Union, she was blasted on all sides by Jewish leaders, joined by former mayor, Art Agnos who had previously been arrested at a protest in the Soviet Union on behalf of that country's Jews.
What added strength to their accusations that Feinstein was insensitive to Jewish concerns was that she had never visited Israel (today, a sine quo non for every aspiring big city mayor), and, it was whispered, that not having a Jewish mother, she was technically not an MOT (Member of the Tribe).
'So how come you visited the USSR and never been to Israel?' she heard from so many sides that she quickly did the expedient thing. She canceled the sister-city contract with Leningrad and announced her plans to visit Israel and re-new San Francisco's sister-city pact with Haifa which, at the time, had a sister-city arrangement with Cape Town in apartheid South Africa, a fact that the local media, if it was aware of it, did not see fit to publicize.
So away whisked Mayor DiFi to Haifa and upon her return, she proudly announced that she had not only established new cultural ties with Haifa, she had convinced the head of the Zim Line, Matty Morgenstern, to shift its Northern California business from the Port of Oakland to that of San Francisco.
For some years, before that, the use of the Port of Oakland by the Zim American-Israeli Shipping Co., had apparently drawn no attention from pro-Palestinian or anti-apartheid activists despite the fact that Zim was providing the crucial trade conduit between the two apartheid nations.
Suddenly, with Feinstein's announcement, it was in the news and the reports that Zim did business with South Africa created a problem for San Francisco's very liberal board of supervisors because, just three months earlier, on January 21, 1986, the supervisors had passed an ordinance that prohibited the city from signing contracts with any company that was doing business with South Africa which simply Zim clearly was.
One of the city's two African-American supervisors, Willie Kennedy, who had been a co-sponsor of the anti-apartheid legislation, reported that her staff had learned of Zim's South African ties and argued that approving the contract with the Israeli company and allowing it to unload its goods in San Francisco was in violation of the letter and spirit of the ordinance.
Feinstein's response, backed by the City Attorney, was to deny that the supervisors had any jurisdiction over the port and that any effort to block the contract was "sabotaging" the port's "rebirth."
The response of the Zim Line came in a letter to E.L. Gartland, director of the Port of San Francisco, on April 23, from Dov Teitler, Zim's number one West Coast official, based in Los Angeles. As could have been expected, he denied that any of the Zim's ships did any business with South Africa:
"As Senior Vice-President of the Zim American Israeli Shipping Company, Inc.," he wrote. "I am responsible for all operations of the West Coast Region. I also, of course, am familiar with our operation throughout the world, and I can categorically state that this company has no service to South Africa for carriage or cargo, either to or from that nation.
"At a prior time we did have such service, but it has been cancelled. Unfortunately, our advertising agency did not make the necessary correction, and for a period of time certain publications indicated we serve South Africa.
"If you have any further questions, please feel free to call me at any time. I authorize you to represent the above facts to your board of supervisors by giving them a copy of this letter."
Teitler was clearly lying, but how to prove it beyond the shadow of a doubt or, at least enough to convince the Board of Supervisors to reject the contract? The answer was, to use a term that had yet to be born, a "no brainer."
I simply attached a cassette recorder to my phone and called Zim's offices in Cape Town and Durban in South Africa and New York, Toronto, Houston, and New Orleans and asked them "when is the next Zim ship leaving for Israel from Durban?" Not surprisingly, they all told me and further informed me that there were two sailings every month to the Israeli ports of Ashdod and Eilat.
I then made transcripts of the conversations and delivered them to each of the supervisors' offices at City Hall and awaited their action at the next meeting, naively believing that there was no way, in the face of this new evidence, could they possibly approve the contract.
At that meeting, then Supervisor Harry Britt, another one of the ordinance's co-sponsors, courageously but unknowingly, put a cap on political career when he stood up, with the transcripts gripped tightly in one hand, and declared that Zim was in obvious violation of the ordinance and that its contract with the city's port should be rejected.
But this was Israel, in the form of the Zim Line, that the SF Board of Supervisors was dealing with, and, as anyone familiar with American politics knows or should know by now, Israel and its institutions are not only held to different standards, it is fair to say, as we have seen in Gaza, that they are held to no standards at all.
Bulldozed by liberal attorney and later judge, Quentin Kopp, who a few years earlier had served as a volunteer in the Israel Defense Forces as it was engaged in its second war on Lebanon, the board rolled over and the contract was approved by an 8-2 vote with Britt and Kennedy dissenting. The most pathetic moment came when the other African-American woman on the board, Doris Ward, appeared to be so clearly distressed at voting for what she knew was wrong, that her "Yes" vote was almost inaudible, requiring the board chair to ask her to repeat it more loudly.
Ward's vote for the Zim contract, for those wondering about it, simply reflected the political reality facing black politicians in America who, like Ward was at the time, up for re-election. They are largely dependent for campaign funds on liberal Jewish donors who will cut them off without a dime and back another candidate if they speak out against Israel's actions or racist policies. The last two members of the Congressional Black Caucus to do so, Cynthia McKinney and Earl Hilliard, took the risks, knowingly, and paid the price.
The following year, after the death of San Francisco Congresswoman, Sala Burton, Harry Britt threw his hat in the ring, challenging Democratic Party fundraiser, Nancy Pelosi and three others, including Ward, in the race to replace her. By then, Britt should have learned that his attempt to thwart the Zim contract had been an act of political suicide, that he had no future in the Democratic Party.
Casting principle aside in favor of deluded ambition, Britt flew to Washington where he apparently threw himself at the feet of some Israel Lobby bigwigs, no doubt begging their forgiveness for having challenged their sacred shipping line's business dealings with South Africa, although that's not quite how the San Francisco Chroniclereported it. (2/24/87). According to the paper, "He said he also will meet with labor leaders and with a number of 'Jewish political action committees," to assure them that he views Israel as "a beleaguered nation that must have unqualified support to defend itself."
That was followed by an ad in the Northern California Jewish Bulletin which depicted a photo of Britt standing next to the Russian Jewishrefusnik, Anatoly (now Natan) Sharansky, and committing him "to the issues we care about most."
Topping a list of ten were: 'Support full military and economic aid to guarantee the strength and security of Israel," "Oppose any negotiations with the PLO," and "Defend Israel against scapegoating in the international arena."
Since the ad would fit on a letter sized page, I made a dozen copies of it and send it to some friends. One of them ended up in Britt's hands which he proudly held up at a candidates' forum at the city's Raoul Wallenberg Democratic Club, declaring that "somebody mass produced that ad and sent it to every liberal and lefty activist in the city" and that now, he, too, (a former Methodist minister) had "experienced anti-Semitism."
After an unnamed San Francisco Jewish leader told the SF Bay Guardian that the "community" would never forgive Britt for his efforts to reject the Zim contract, he lost by a few percentage points to Pelosi in the primaries in a surprisingly close vote, but didn't challenge her again.
His turning his back on the anti-apartheid struggle and jumping in bed with the San Francisco's pro-Israel establishment, however, did not appear to tarnish his reputation among the city's left and liberal communities. The most emphatic proof of that would be his endorsement in the congressional race by the city's Rainbow Coalition which voted to support him and "urged all members to take an active role" in his campaign.
"We commend your commitment to working directly with the people in our community to solve the problems of our time," wrote Lyle "Butch" Wing, coalition co-chair, in a letter to Britt.
Except among the minority committed to Palestinian rights, his pro-Israel stance did not hurt him in the gay community in which he had portrayed himself as the late Harvey Milk's successor which, in one sense, he was.
Following Milk's assassination along with that of Mayor George Moscone by fellow supervisor Dan White in 1978, the new mayor, Feinstein, appointed Britt to the board as Milk's replacement where he served until 1990, eventually becoming its president. Throughout the remainder of his tenure, following the Zim vote, he never lost an opportunity to voice his support for Israel.
In 1988, he would get another chance, taking the lead against Proposition W, a measure placed on the San Francisco ballot through the efforts of members of the city's Arab-American community, that would have had the city go on record as endorsing a "two-state" resolution to the Israel-Palestinian conflict.
Trampling on the reputation of his much admired predecessor, Britt sent out a city-wide mailing, telling San Franciscans that "a bullet may have struck Harvey down, but it couldn't kill the vision that guides us today—or the voice that still echoes in our memory. It's in the name of that incomparable vision—and that inimitable voice—that I ask you to defeat Prop. W."
It was, with Harry's help. But to be fair, he wasn't alone. The campaign to defeat the ballot measure, which had an early lead in the polls, exposed the degree to which the American political process, on this issue at least, had already become the provenance of the Israel Lobby.
The same SF Jewish Community Relations Council that had almost brought Feinstein to her knees two years earlier, was able to secure the names of virtually every elected state official from San Diego to the Oregon border to place on the slick mailing pieces that went to the city's voters, opposing Prop. W.
Four years later, in 1992, adding to the city's shame and checkered history of activism, Britt would be appointed chair of the Harvey Milk program on "humanities and social activism" at San Francisco's "alternative" New College which went broke and closed its doors in 2008.
At the end of its 10-year contract with the Port of San Francisco , Zim took advantage of Oakland's superior container facilities and, like most of the other international shipping lines, arranged for it ships to unload and pick up new cargo there.
End Note: In 1989, three years after the Zim contract with San Francisco went into effect, I called Polaris Ltd., the agency that had taken over Zim's South African operations and asked the same questions I had before: "When will the next ship be leaving Durban for Israel?" and "How many sailings are there from South Africa to Israel each month?" When I got the same answers as before, I sent them together with the earlier transcripts to the Investor Responsibility Research Center Inc. (IRRC) in Washington DC, which maintained a directory of companies doing business with apartheid South Africa. On September 27, 1989, I received a letter from the IRRC notifying me that, thanks to the record of those conversations, Zim had been added to its list.
I have often wondered what would have happened had the San Francisco Board of Supervisors the courage to reach the same conclusion in 1986.
Jeffrey Blankfort is a journalist and radio host currently living in Northern California. He can be contacted at
jblankfort [at] earthlink.net
US Government Funded AFL-CIO Solidarity Center Leaves Out Rights Of Palestinian Workers In Israel and Occupied Territories
http://www.solidaritycenter.org/content.asp?pl=407&sl=863&contentid=863
Americas
Africa
Asia
Europe & Central Asia
Middle East & North Africa
Algeria
Bahrain
Egypt
Iraq
Jordan
Kuwait
Morocco
Palestine
Qatar
Tunisia
Yemen
Jewish Labor Committee
The Jewish voice in the labor movement, and the voice of the labor movement in the Jewish community.
« German Unions Follow U.S. Labor to Oppose Boycott Against Israel | Main | Labor Seders across the U.S.A. »
JLC President Stuart Appelbaum in Israel
JLC President Stuart Appelbaum met with Israeli President Shimon Peres Feb. 20. Appelbaum was in Jerusalem as part of the Israel Leadership Mission of the Conference of Presidents of Major American Jewish Organizations. In his meeting with Appelbaum and other leaders, Peres called for forging closer ties between Palestinians and Israeli Jews.
Israel, Feb. 18: JLC President Stuart Appelbaum (right) with Israeli Prime Minister Ehud Olmert (center) and `Presidents Conference' Executive Vice President Malcolm Hoenlein. Participants in the Leadership Mission of the Conference of Presidents of Major American Jewish Organizations are exploring critical issues facing Israel and the region, taking a broad strategic look at shifting centers of power in the region and beyond, learning about emerging trends within Israeli society and the implications for U.S. and world Jewry. The delegation has been engaging in dialogue with key decision and policy makers, opinion molders and leaders of various sectors of Israeli society on a range of current priority foreign policy and domestic challenges.
http://www.forward.com/articles/13033/
American Labor Can Help Right Anti-Israel Left
Opinion
By Stuart Appelbaum
Published March 27, 2008, issue of April 04, 2008.
PRINT EMAIL SHARE AUTHOR ARCHIVE FORWARD FORUM
For more than two years, Israelis living in Sderot and other towns near Gaza have been the target of choice for Hamas terrorists. Launching its arsenal of Qassam rockets from residential neighborhoods and even schoolyards, they have as much as dared Israel to fight back. Now it has.
Predictably, much of the world is expressing its dismay — and those of us who call ourselves progressives are fuming that much of it is coming from our counterparts on the left overseas. However, it's not enough for us to be indignant. Absent the involvement of the American labor movement, any effort to build worldwide support on the left for the Jewish state will be extraordinary difficult.
To grasp the enormity of the challenge facing Israel's friends on the left, one need only look at the Socialist International's condemnation last month of "the excessive use of force by Israel in Gaza." The umbrella body of social democratic, socialist and labor parties went on to point out that it has "consistently denounced the attacks against Israel coming from Gaza as well as the incursions into Gaza by Israel, for both serve only to worsen the cycles of violence that in the end harm innocent people the most."
Of course, those who have even a passing familiarity with Hamas understand that their raison d'etre is the creation of a chain of violence and retribution. Suggesting that Israel and Hamas are both to blame for the bloodshed in Gaza is akin to saying that the would-be victim who fights off a mugger bears equal responsibility for the violence as the assailant.
Statements like the Socialist International's, however, are salutary compared to some of the venom generated by the left abroad.
For example, Australia's Construction Forestry Mining and Energy Union and the Maritime Union of Australia joined forces recently to condemn a parliamentary resolution congratulating Israel on its 60 years of statehood . Their words speak for themselves: "We, as informed and concerned Australians, choose to disassociate ourselves from a celebration of the triumph of racism and the ethnic cleansing of Palestinians since the al-Nakba (Catastrophe) of 1948."
Why do voices that so often cry out for social justice serve up these kinds of diatribes against Israel? Why do they hold Israel to standards that no other nation in the world would ever be expected to meet? And why do so many of them claim that, in the final analysis, Israel is responsible for everything Hamas does or will do?
It is the triumph of instinct over intellect, and one can only conclude that, at least in part, what we are increasingly witnessing on the left overseas is antisemitism cloaked under the veil of anti-Zionism.
Why, then, has this worldview remained so marginal among American progressives? After all, no serious contender for this year's Democratic presidential nomination has offered anything less than total support for Israel.
The answer may be found in the labor movement.
Faced with an alarming growth of anti-Israel boycotts and divestment efforts among unions across the United Kingdom, last year the Jewish Labor Committee launched an aggressive campaign to protest the move by British labor leaders. In the space of two weeks, every major American union had endorsed the effort. In fact, the show of American labor opposition to Israel-bashing was so strong that unions in Germany followed our lead and took a similar stance.
The leadership demonstrated by America's unions last year ought to send a powerful message to Israel's allies at home and overseas.
First, it should remind American Jewish leaders that they have a vital stake in building and maintaining a strong alliance with organized labor. This is particularly true now that Israel's conservative Republican supporters are in the minority on Capitol Hill and seem well on their way to losing the White House. By this time next year it will likely be far more important for Jewish leaders to have a working relationship Change to Win's Anna Burger and the AFL-CIO's John Sweeney than with Pat Robertson, John Hagee and others on the right.
Second, it ought to embolden Israel's supporters in foreign unions and encourage them to make their voices heard. As German activists demonstrated, American leadership is fundamental to challenging Israel bashing within the labor movement globally — and there can be no effective campaign to build support for Israel on the left internationally absent labor support.
Historically, American progressives have been bit players in the global left. Some might say that our biggest contribution was creating May Day.
However, the continuing assault against Israel by the left in other countries demands that we make our voices heard. With the support of the American labor movement we can. I know this much: We owe it to the families living in Sderot to try.
Stuart Appelbaum is president of the Jewish Labor Committee and of the Retail, Wholesale and Department Store Union.
Read more:
http://www.forward.com/articles/13033/#ixzz1b3PLtxXN
← Need help getting to Istanbul?Workshops – draft list →
Conference timetable – draft
Posted on 10/10/2011 by admin
This is a draft – it will probably change between now and the conference opening. But if you're planning your travel to and from Istanbul, the opening and closing times should not change.
Friday, 18th November 2011
14:00 – 16:00 Labour history walking tour of the Taksim Square area of Istanbul
18.00 -20.00 Conference opening session
Plenary speakers to include a welcome from the Petrol-Is union (who are hosting the conference); a video welcome form Sharan Burrow, general secretary of the International Trade Union Confederation; a representative (to be decided) from the new independent unions in the Arab world; Eric Lee, founding editor of LabourStart.
This will be followed by a session allowing speakers from the floor.
20:00 Welcoming cocktail at Petrol-Is
Saturday, 19th November 2011
9.30 – 12.30 – First workshops session
12.30 – 13.15 – Lunch Break
13.15 – 15.45 – Second workshops session
15.45 – 16.00- Coffee break
16.00 – 18.30 Third workshops session
Evening session – still being decided; may include either a concert or a visit to a picket line (or both?)
Sunday, 20th November 2011
10.30 – 13.00 – Fourth workshops session
13.00 – 14.00 – Lunch Break
14.00 – 15.30 – Conference closing session
Plenary speakers to include Stuart Appelbaum, president of the RWDSU (USA); speakers from the new independent unions in the Arab world and the Turkish trade union movement
15.30-15.45 – Coffee Break
15.45 -17.00 – LabourStart correspondents meeting
This post is also available in: Turkish
October 5, 2011
Seeking Energy, Unions Join Protest Against Wall Street
By STEVEN GREENHOUSE and CARA BUCKLEY
http://www.nytimes.com/2011/10/06/nyregion/major-unions-join-occupy-wall-street-protest.html?_r=1
Stuart Appelbaum, an influential union leader in New York City, was in Tunisia last month, advising the fledgling labor movement there, when he received a flurry of phone calls and e-mails alerting him to the rumblings of something back home. Protesters united under a provocative name, Occupy Wall Street, were gathering in a Lower Manhattan park and raising issues long dear to organized labor.
And gaining attention for it.
Mr. Appelbaum recalled asking a colleague over the phone to find out who was behind Occupy Wall Street — a bunch of hippies or perhaps troublemakers? — and whether the movement might quickly fade.
So far, at least, it has not, and on Wednesday, several prominent unions, struggling to gain traction on their own, made their first effort to join forces with Occupy Wall Street. Thousands of union members marched with the protesters from Foley Square to their encampment in nearby Zuccotti Park.
"The labor movement needs to tap into the energy and learn from them," Mr. Appelbaum, president of the Retail, Wholesale and Department Store Union, said. "They are reaching a lot of people and exciting a lot of people that the labor movement has been struggling to reach for years."
In fact, the unexpected success of Occupy Wall Street in leveling criticism of corporate America has stirred some soul-searching among labor leaders. They have noted with envy that the new movement has done a far better job, not only of capturing interest, but also of attracting young people. Protests have spread to dozens of cities, including Boston, Chicago and Los Angeles.
Several union leaders complained that their own protests over the past two years had received little attention, though they had put far more people on the streets than Occupy Wall Street has. A labor rally in Washington last October drew more than 100,000 people, with little news media coverage.
Behind the scenes in recent days, union leaders have debated how to respond to Occupy Wall Street. In internal discussions, some voiced worries that if labor were perceived as trying to co-opt the movement, it might alienate the protesters and touch off a backlash.
Others said they were wary of being embarrassed by the far-left activists in the group who have repeatedly denounced the United States government.
Those concerns may be renewed after a disturbance about 8 p.m. Wednesday as the march was breaking up. The police said they arrested eight protesters around the intersection of Broadway and Wall Street, after people rushed barriers and began spilling into the street. While a couple of witnesses said that officers used pepper spray to clear the streets, Paul J. Browne, the Police Department's chief spokesman, said that one officer "possibly" used it. Several protesters were also arrested at State and Bridge Streets at 9:30 p.m.; the police said one protester was charged with assault after an officer was knocked off his scooter.
Despite questions about the protesters' hostility to the authorities, many union leaders have decided to embrace Occupy Wall Street. On Wednesday, for example, members of the A.F.L.-C.I.O.'s executive council had a conference call in which they expressed unanimous support for the protest. One A.F.L.-C.I.O. official said leaders had heard from local union members wondering why organized labor was absent.
The two movements may be markedly different, but union leaders maintain that they can help each other — the weakened labor movement can tap into Occupy Wall Street's vitality, while the protesters can benefit from labor's money, its millions of members and its stature.
The labor leaders said they hoped Occupy Wall Street would serve as a counterweight to the Tea Party and help pressure President Obama and Congress to focus on job creation and other concerns important to unions.
"This is very much a crystallizing moment," said Denise Mitchell, the A.F.L.-C.I.O.'s communications director. "We have to look for sparks wherever they are. It could be an opportunity to talk about what's wrong with the system and how to make it better."
Still, it may not be easy for organized labor to mesh with this new movement. Labor unions generally represent older workers, while the Occupy Wall Street protesters are younger. Unions are hierarchical, while the Occupy Wall Street protesters are more loosely knit and like to see themselves as highly democratic.
Unions invariably have a long and specific list of demands, while Occupy Wall Street has not articulated formal ones. Union leaders often like the limelight, while Occupy Wall Street is largely leaderless.
"Labor's needed a way to excite younger people with their message," Michael Kazin, a historian at Georgetown University, said. "And to the extent that Occupy Wall Street's '99 percent versus 1 percent' theme goes along with what labor has been saying for a while, it's a natural fit."
"But obviously," said Professor Kazin, who has written several books on populist and progressive movements, "demographically, there may be some problems here. The protests haven't gotten much institutional presence, and if labor can help give them institutional presence, that can really help them."
Several major labor groups — including the Transport Workers Union, the Service Employees International Union, the United Federation of Teachers and the United Auto Workers — took part in the march on Wednesday. Some more traditionally conservative ones, like those in the construction trades, stayed away.
George White, 60, a retired union member who lives in Marine Park, Brooklyn, said it was up to the young protesters to champion bread-and-butter issues in the future. "Unions are on the way out," he said. "These are the children of mothers and fathers who have worked hard all their lives and now can't put food on the tables. These are the children who can't pay off their loans, who have nowhere to go and no opportunities."
Julie Fry, 32, a lawyer who is a member of the union at the Legal Aid Society, said labor's backing of the protest was momentous, and born out of frustration.
"We're so fed up and getting nowhere through the old political structures that there needs to be old-fashioned rage in the streets," she said.
Before the march, protesters at the Occupy Wall Street encampment's welcome table said that while the unions were welcome, they would be only one more base of support.
"The idea that the unions will take over the crowd, that's not going to happen," said Jeff Smith, 41, a freelancer in advertising who has been on the welcome committee since the protests began. "We are not a group looking for a leader."
Others expressed frustration with the unions. Chris Cicala, 26, from Staten Island, said his father, a union painter, had been laid off, leaving his family without health insurance. "I don't get where the unions have been for the past 10 years," Mr. Cicala said.
Reporting was contributed by Al Baker, Joseph Goldstein, Rob Harris and Colin Moynihan.
← Need help getting to Istanbul?Workshops – draft list →
Conference timetable – draft
Posted on 10/10/2011 by admin
This is a draft – it will probably change between now and the conference opening. But if you're planning your travel to and from Istanbul, the opening and closing times should not change.
Friday, 18th November 2011
14:00 – 16:00 Labour history walking tour of the Taksim Square area of Istanbul
18.00 -20.00 Conference opening session
Plenary speakers to include a welcome from the Petrol-Is union (who are hosting the conference); a video welcome form Sharan Burrow, general secretary of the International Trade Union Confederation; a representative (to be decided) from the new independent unions in the Arab world; Eric Lee, founding editor of LabourStart.
This will be followed by a session allowing speakers from the floor.
20:00 Welcoming cocktail at Petrol-Is
Saturday, 19th November 2011
9.30 – 12.30 – First workshops session
12.30 – 13.15 – Lunch Break
13.15 – 15.45 – Second workshops session
15.45 – 16.00- Coffee break
16.00 – 18.30 Third workshops session
Evening session – still being decided; may include either a concert or a visit to a picket line (or both?)
Sunday, 20th November 2011
10.30 – 13.00 – Fourth workshops session
13.00 – 14.00 – Lunch Break
14.00 – 15.30 – Conference closing session
Plenary speakers to include Stuart Appelbaum, president of the RWDSU (USA); speakers from the new independent unions in the Arab world and the Turkish trade union movement
15.30-15.45 – Coffee Break
15.45 -17.00 – LabourStart correspondents meeting
This post is also available in: Turkish
Rally Exposes Union Leaders Feasting with Apartheid Fund Raisers
http://dumpisraelbonds.com/?p=162
Uncategorizedby Stan
Several score unionists, and Palestinian rights activists picket Israel Bonds dinner honoring Dennis Hughes and Stuart Applebaum for their support of the Israeli state. It's secret how much union dues and public pension money these men steered to Israel at a time when the U.S. workers are facing desperate times. Youtube video "Shame on Denis Hughes and Stuart Applebaum" here
AFL-CIO Leadership-Zionist To The Core
http://www.leftturn.org/?q=node/334
Labor for Palestine
By Lauren Anzaldo
Published on: August 01, 2005
Disgusted by the national labor establishment's blind support for US foreign policy in the Middle East, trade unionists and Palestinian-liberation activists have initiated a campaign called Labor for Palestine. The campaign centers on educating workers about the Israeli occupation of Palestine and fostering international solidarity reminiscent of the movement to topple apartheid in South Africa.
Al-Awda, The Palestinian Right to Return Coalition, and New York City Labor Against the War (NYCLAW) launched Labor for Palestine in the spring of 2004 with an open letter to "fellow trade unionists and workers." The letter, endorsed by 31 labor organizations and individuals nationally and internationally, asks all labor bodies to fully support Palestinian rights, including the right of return; to demand an end to US military and economic aid for the occupation; and to relinquish all investments that further the occupation.
Michael Letwin, a member of Legal Aid Attorneys/United Auto Workers (UAW) Local 2325 in New York City and a co-convener of NYCLAW, sees Labor for Palestine as an extension of the vital anti-war work that needs to occur within the labor movement.
"Palestine is just so clearly another front in the war that the US has been waging for a long time, for decades, and especially since 9/11," Letwin says. "It's very distressing that official US labor supports the oppression of the Palestinians, but that reflects long-standing US labor support for reactionary US policy around the world."
Addressing these issues within the labor movement means confronting the behemoth AFL-CIO, which represents 13 million workers, some 80% of organized labor in the United States. Convincing the federation leadership to change its stance on the Israeli occupation of Palestine will be a major challenge.
Darkest hours
The AFL-CIO has been a strong backer of Israel for decades. Early AFL leaders romanticized the warped socialist notions on which Israel was built. Today's leadership cleaves to Israel because of its strategic role as a Western ally in the Eastern world. "They straight up support Israel all the time," in the words of a reporter for the Palestine Solidarity Review.
A statue of former Israeli Prime Minister Golda Meir – infamous for her declaration that Palestinians never existed – stands in the federation's Washington, D.C., headquarters. President John Sweeney proclaimed the AFL-CIO's support for the Israeli people "in the darkest of hours" at a pro-Israel rally in April 2002 at the height of the Israeli military's invasions of the Palestinian cities of Jenin, Nablus and Bethlehem. Sweeney was knowingly silent about the Israeli bombing of the offices of the Palestinian General Federation of Labor Unions in Nablus in February of that year.
The AFL-CIO's support for Israel is monetary as well as rhetorical. The federation is the largest non-Jewish holder of Israeli bonds in the world, according to a report by Lenni Brenner in the June/July 1997 issue of the Washington Report on Middle East Affairs. AFL-CIO affiliates have more than $300 million in Israeli bonds invested in pension funds. In all, the US labor community holds $5 billion worth of Israeli bonds, according to Jerry Goodman, director of the National Committee for Labor Israel.
Ethically speaking, the bonds should be boycotted because they help fund the illegal and bloody Israeli occupation of Palestinian lands and the construction of settlements and the Apartheid Wall. From a financial standpoint, they are also a risky investment that yields a lower-than-average payoff.
Labor for Palestine aims to bring this information to the attention of AFL-CIO-affiliated workers in hopes that a combination of compassion, common sense and international labor solidarity will spur the rank-and-file to push the AFL-CIO to divest from Israeli bonds.
"Most workers do not know about the investments of their union's pension funds, and this information is not readily available," says Steve Zeltzer of the International Union of Operating Engineers (IUOE) Local 39 in San Francisco. "When workers find out that their union is investing in a state that discriminates against Palestinian workers, they won't put up with it."
Labor divestment
Labor for Palestine campaign organizers are looking to the South African anti-apartheid movement as a model and a guide. Divestment was a critical tool in that struggle and has recently gained ground as a strategy of the Palestinian-liberation movement. Large-scale labor divestment could prove decisive in crippling the Israeli occupation apparatus.
"If you look at the way the South African divestment movement went, it was when the AFL-CIO leadership said that the AFL-CIO would completely divest from South African bonds [that the movement succeeded]," says Francesca Rosa of the Justice in Palestine Coalition's Labor Solidarity Committee and Service Employees International Union (SEIU) Local 535 in San Francisco. "It was a follow-the-money thing. Those South African bonds were fueling apartheid just like the Israeli bonds now are fueling the occupation."
Zach Wales, an Al-Awda volunteer who helped to kickstart the campaign, recognizes that this effort diverges from the South Africa movement in several places. For one, Wales says, Americans are woefully misinformed about the nature of occupation: "They see it as mostly benign." And emotions run high on the subjects of Israel and Palestine, even among those who possess little factual knowledge of the situation.
"We are in the very nascent stages of that [South African]-type movement, and it's going to be a lot harder because there is so much misinformation about what is happening and conflation of anti-Zionism with anti-Semitism," Rosa says. She stresses that Labor for Palestine must be a bottom-up campaign to be effective. In fact, working chapter-by-chapter and local-by-local may be Labor for Palestine's only chance for victory. While AFL-CIO officials have their minds made up about Israel, rank-and-file workers seem more open-minded on the topic, although they are often hesitant to take on such a controversial issue. Still, several locals have passed resolutions condemning various aspects of the occupation, and Labor for Palestine organizers plan to encourage more, as well as a petition campaign calling on the AFL-CIO to sell its Israeli bonds.
"This fight for the rights of Palestinian and [other] Arab workers is something that has to be fought for in the labor movement in an organized way," Zeltzer says.
The first Labor for Palestine conference – entitled Palestine, Labor and the AFL-CIO – will take place in Chicago on July 23, the weekend before the AFL-CIO holds its national convention in the same city. A documentary explaining Israeli bonds and outlining the AFL-CIO leadership's relationship with Israeli labor will debut at the convention. Wales, who worked for two years as a reporter in South Africa, is the filmmaker.
ABOUT THE AUTHOR
Lauren Anzaldo is a teacher and global justice activist who has traveled twice to Occupied Palestine. She is one of the founders of the Florida Palestine Solidarity Network (
http://www.flpalsolidarity.com
). For more information about the Labor for Palestine campaign, visit
http://www.laborforpalestine.org
.
Democrat House leader Nancy Pelosi is a major supporter of apartheid Israel and speaks along with many other Democrats at the Zionist AIPAC dinner in Washington. She supports the continued US military and economic aid to Israel as it massacres thousands of civilians in Gaza with US planes and bombs.
Racist apartheid Isreal was a key and active supporter of apartheid South Africa and Democratic party Zionists including the leadership of the unions did damage control for Israel's support of the apartheid regime.
We are 100% volunteer and depend on your participation to sustain our efforts!
Get Involved
If you'd like to help with maintaining or developing the website, contact us.