From the Open-Publishing Calendar
From the Open-Publishing Newswire
Indybay Feature
Related Categories:

California | Santa Cruz Indymedia | Environment & Forest Defense | Government & Elections
Bill to ban oil drilling in marine protected area passes
The time to ban offshore oil drilling, fracking, pollution, corporate aquaculture, military testing and other harmful activities to marine life in the "marine protected areas" created under the MLPA Initiative is long overdue. The oil industry's inordinate influence over the MLPA Initiative and other environmental processes, the Legislature and the Governor's Office is due to the enormous amount of money that the oil industry dumps into campaign contributions and lobbying in Sacramento every year.

Plaform Irene photo courtesy of calbuzz.com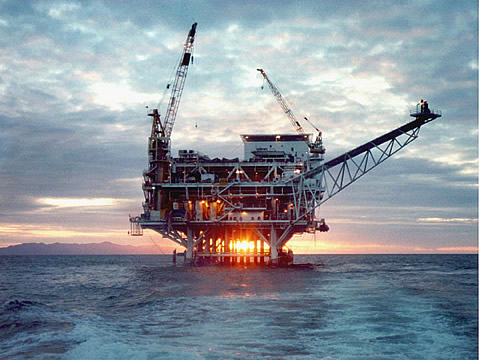 Bill to ban oil drilling in marine protected area passes
by Dan Bacher
A bill to ban offshore oil drilling in state waters in the Santa Barbara Channel known as Tranquillon Ridge passed out of the Assembly Natural Resources Committee on June 26 by a vote of 6 to 2.
Senate Bill 1096, sponsored by State Senator Hannah-Beth Jackson (D-Santa Barbara), now heads to the Assembly Appropriations Committee.
Assemblymembers Chesbro, Garcia, Muratsuchi, Skinner, Stone and Williams voted yes, while Dahle and Patterson voted no. Assemblymember Bigelow was absent.
The passage of the bill through the Committee sheds the spotlight on two glaring loopholes in the implementation of California environmental law – one in the Marine Life Protection Act (MLPA) Initiative's creation of "marine protected areas" and the other in the California Coastal Sanctuary Act.
Fishermen, Tribal leaders and grassroots environmentalists have repeatedly criticized the privately funded Marine Life Protection Act (MLPA) Initiative for creating questionable "marine protected areas" that fail to protect the ocean from oil drilling, fracking, pollution, military testing, corporate aquaculture and all human impacts on the ocean other than fishing and gathering.
The Coastal Justice Coalition, a group of members of the Yurok, Hoopa Valley, Karuk and other Tribes who agree that the State of California has no right to regulate tribal gathering, exposed this loophole in the MLPA Initiative when they stated, "Protected areas would allow for deep water drilling yet would ban tribal gathering," in a news release issued in June 2010. (
http://www.indybay.org/newsitems/2010/06/29/18652206.php
)
While MLPA Initiative officials let the oil industry, corporate polluters and ocean industrialists off the hook in their strange concept of "marine protection, oil drilling will be banned in one state marine protected area, the Vanderberg State Marine Reserve, if Senator Jackson's bill passes through the legislature and is signed by Governor Jerry Brown.
The bill bans drilling in the marine reserve by repealing a dangerous loophole in the California Coastal Sanctuary Act. In 1994, declaring that "offshore oil and gas production in certain areas of state waters poses an unacceptably high risk of damage and disruption to the marine environment of the state," the California Legislature banned any new offshore oil and gas leases when it passed the act.
"But a loophole in state law left Tranquillon Ridge, which extends into state and federal waters, with reserves that are currently being tapped in federal waters from Platform Irene, uniquely vulnerable to offshore drilling," according to Jackson's office.
This loophole in the California Coastal Sanctuary Act authorizes the State Lands Commission to enter into a lease for the extraction of oil or gas from state-owned tide and submerged lands in the Sanctuary, "if the commission determines that the oil or gas deposits are being drained by means of producing wells upon adjacent federal lands and the lease is in the best interest of the state."
"In Santa Barbara, our beautiful coastline helps drive our local economy, creating 25,000 tourism jobs and generating $4 million a day in visitor spending, " said Jackson. "Even the slightest chance of an oil spill in a Marine Protected Area far outweighs any potential benefit to the state. This bill will close the book on the possibility of offshore drilling in these state waters and help ensure that our precious coastline remains protected forever."
Oil companies have made numerous attempts over the years to tap into Tranquillon Ridge's offshore reserves from state waters, according to Jackson. Since 2003, an oil development proposal has been pursued by Sunset and Exxon to drill into Tranquillon Ridge reserves from an onshore location at Vandenberg Air Force Base.
"Slant drilling from onshore into offshore waters raises significant concerns about possible oil spills, impacts on marine life, air and water pollution, and contributions to global climate change," Jackson's Office noted.
On September 28, 1997, a discharge of at least 163 barrels of crude oil occurred from a rupture in a 20-inch offshore pipeline emanating from Platform Irene off the Santa Barbara County coast near Vandenberg Air Force Base, according to the California Department of Fish and Wildlife. The spill resulted in the fouling of approximately 17 miles of coastline, and caused an impact to a variety of natural resources, including seabirds, sandy and gravel beach habitats, rocky intertidal shoreline habitats, and use of beaches for human recreation. (
https://nrm.dfg.ca.gov/FileHandler.ashx?DocumentID=17442&inline=true
)
"If a project like the original T-ridge, which contained significant environmental benefits, was rejected by the state, then our community should vehemently oppose an oil project that has even worse environmental impacts and no benefits," said Assemblymember Das Williams (D-Carpinteria). "This bill would protect our waters from potential harmful new oil development."
"We are thrilled to sponsor this bill, which would protect one of the most environmentally rich areas on the California coast," said Linda Krop, chief counsel of the Environmental Defense Center, a nonprofit environmental law firm headquartered in Santa Barbara County. "This region is recognized as one of five important ecological regions on the planet. For this reason, the state has designated this area as a Marine Protected Area, which means that it warrants the highest possible level of protection."
Zeke Grader, Executive Director of the Pacific Coast Federation of Fishermen's Associations (PCFFA), praised Senator Jackson for sponsoring the bill.
"I'm glad she's doing it," said Grader. "We should have bans on oil drilling in all of the marine protected areas. This bill highlights what a failure the MLPA Initiative was."
"If these are true marine protected areas, they why are we allowing drilling and other insults to the ocean in them?" asked Grader. "The whole MLPA Initiative was a phony process that provided an opportunity for Big Green and government bureaucrats to write press releases claiming these were 'protected areas' when in reality the fishermen and Tribes got screwed."
Supporters of the bill include the Environmental Defense Center (sponsor), Asian Pacific Environmental Network, AZUL, California Coastkeeper Alliance, California Coastal Protection Network, California League of Conservation Voters, California State Grange, Salud Carbajal, First District Supervisor, County of Santa Barbara, Carpinteria Valley Association, Center for Biological Diversity, Center for Race, Poverty and the Environment, Community Environmental Council, Citizens for Responsible Oil & Gas, Clean Water Action, Earthworks, Environment California, Environmental Working Group, Food and Water Watch, Get Oil Out!, Heal the Ocean, Cathy Murillo, Mayor Pro-Tem, City of Santa Barbara, Natural Resources Defense Council, Ocean Conservancy, San Diego 350.Org, Santa Barbara Audubon Society, Sierra Club California, Surfrider Foundation, WILDCOAST and 350 Santa Barbara.
Opponents include the California Chamber of Commerce, California Independent Petroleum Association, California Manufacturers & Technology Association, Coalition of Labor, Agriculture and Business, Concerned Taxpayers, I.N.C., Santa Barbara County Taxpayers Association, Santa Barbara County Technology and Industry Association, Sunset Exploration and the Western States Petroleum Association.
Vandenberg State Marine Reserve (SMR) is a marine protected area (MPA) located offshore of Vandenberg Air Force Base, near the city of Lompoc on the Central Coast. The MPA covers 32.84 square miles.
Vandenberg SMR is supposed to "protect" all marine life within its boundaries and fishing and take of all living marine resources is prohibited. However, the "marine reserve," like others established under the MLPA Initiative, doesn't ban oil drilling, fracking or pollution.
Vandenberg SMR was established in September 2007 in a controversial public-private partnership between the Resources Legacy Fund Foundation and the California Department of Fish and Wildlife. It was one of 29 marine protected areas adopted during the first phase of the Marine Life Protection Act Initiative.
The time to ban offshore oil drilling, fracking, pollution, corporate aquaculture, military testing and other harmful activities to marine life in all "marine protected areas" created under the MLPA Initiative is long overdue. The oil industry's inordinate influence over the MLPA Initiative and other environmental processes, the Legislature and the Governor's Office is due to the enormous amount of money that the oil industry dumps into campaign contributions and lobbying in Sacramento every year.
In one of the most overt conflicts of interest in recent California history, Catherine Reheis-Boyd, the President of the Western States Petroleum Association, chaired the MLPA Initiative Blue Ribbon Task Force to create alleged "marine protected areas" in Southern California. Reheis-Boyd, who is leading the campaign to expand fracking and offshore oil drilling in California, also served on the task forces to create "marine protected areas" on the Central Coast, North Central Coast and North Coast.
A report released on April 1, 2014 by the ACCE Institute and Common Cause reveals that Big Oil has spent $143.3 million on political candidates and campaigns – nearly $10 million per year and more than any other corporate lobby – over the past fifteen years. (
http://www.indybay.org/uploads/2014/04/10/bil_oil_floods_the_capitol_4.1.14v2.pdf
)
But Big Oil exerts its influence not just by making campaign contributions, but also by lobbying legislators at the State Capitol. The oil industry spent $123.6 million to lobby elected officials in California from 1999 through 2013. This was an increase of over 400 percent since the 1999-2000 legislative session, when the industry spent $4.8 million. In 2013-2014 alone, the top lobbyist employer, Western States Petroleum Association, spent $4.7 million.
We are 100% volunteer and depend on your participation to sustain our efforts!
Get Involved
If you'd like to help with maintaining or developing the website, contact us.