From the Open-Publishing Calendar
From the Open-Publishing Newswire
Indybay Feature
Related Categories:

East Bay | Media Activism & Independent Media
"Save KPFA" Loves Cancellation Of "Morning Mix" Local Community Labor Shows On KPFA
The "Save Kpfa" group loves the cancellation of the "Morning Mix" shows and it's replacement by an imported show from Los Angeles "Uprising" by Sonali Kolhatkar. The "Save KPFA" grouping is backed by Brian Edwards-Tiekert who was just elected the new treasurer of Pacifica by Pacifica Board Chair Margy Wilkinson and the Dan Seigel supporters on the board. Edwards-Tiekert bas in the past been accused of financial malfeasance and manipulating the books at KPFA during the fund drive. This was reported to the manger of KPFA and Margy Wilkinson but they refused to do any investigation of the serious charges of possible financial manipulation and corruption by Edwards-Tiekert. Apparently financial transparency and accountability don't apply to those who are making these programming changes. Appointing the person who was charged with these possible violations as the National Treasurer of Pacifica and who is also an employee of KPFA shows that conflicts of interest and cover-ups are the order of the day by "Save KPFA".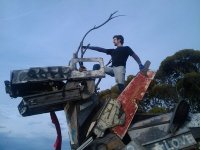 "Save KPFA" Loves Cancellation Of "Morning Mix" Local Community Labor Shows On KPFA
http://www.savekpfa.org/pacifica-broadcaster-sonali-kolhatkar-joins-kpfa-morning-line-up
Pacifica broadcaster Sonali Kolhatkar joins AM up; KPFA pledge drive over the top!
Posted on May 22, 2014 by Save KPFA
KPFA announced today that award-winning Pacifica programmer Sonali Kolhatkar will bring her Uprising Radio to our station each week day from 8-9am. Kolhatkar is co-host of KPFA's 7 a.m. drive-time programUpFront, with Brian Edwards-Tiekert. She also produces Uprising Radio on KPFA's sister station KPFK in Los Angeles.
In a statement sent widely to listeners, interim general manager of KPFA and KPFK, Richard Pirodsky said, "This week's broadcast of Uprising Radio on KPFA and KPFK during our spring on-air fund drive has produced spectacular results. We're pleased to bring Sonali's smart, progressive program to KPFA's airwaves – and to know that listeners will respond during our fund drive."
Kolkathar also welcomed the move, saying in the statement that she was "thrilled that Uprising is expanding to KPFA and will strive to live up to the high standards that Pacifica listeners expect from their beloved station!"
Kolhatkar program is also expanding to national television via Free Speech TV, starting in July. KPFA's statement reads: "The broadcast of Uprising Radio on KPFA is but the latest collaboration between the Pacifica 'Left Coast' stations KPFA-Berkeley and KPFK-Los Angeles. The popular Letters and Politics produced at KPFA by Mitch Jeserich airs on KPFK and the News Departments at KPFA, KPFK and KFCF Fresno collaborate to
produce the Pacifica Evening News." | READ KPFA's ANNOUNCEMENT, message fromiGM Richard Pirodsky
KPFA's fund drive gets big boost from court ruling
KPFA just successfully wrapped up its spring 2014 fund drive. The "unofficial" tally at press time is $762,024, far surpassing the fund drive's goal of $722,000.
The drive received a shot in the arm on May 12, when an Alameda County Superior Court judge ordered fired Pacifica executive director Summer Reese to vacate the Pacifica National Office next door to KPFA where she, her mother and a small band of supporters were camped out. Immediately following the news, listener donations skyrocketed. | READ NEWS COVERAGE from Current, the Pacifica Evening News, the Daily Californian, the San Jose Mercury | READ the judge's decision
Listeners also responded enthusiastically when KPFA began an 8 AM simulcast of the popular KPFK program Uprising Radio hosted by Sonali Kolhatkar. Fundraising totals from the program totaled as much as $15,000 per day, split between KPFK and KPFA.
Digging further into the numbers, the five hours of joint fundraising with Kolhatkar at 8 AM raised a total of $57,388 for KPFA (even with the rollover pledge answering service down for one day). KPFA also rebroadcast Kolhatkar's programs and pitches during the last week of fundraising on six other occasions, raising a total of $35,419 more. That's $92,847 that Kolhatkar raised for KPFA in four and a half days!
Kolkathar's 8 AM average was an astonishing $11,477 per hour. Analysis showed the pledges were almost 50/50 for KPFK and KPFA, or an average of about $5,738 per hour at each station.
Uprising will continue to air as the newest addition to KPFA's morning line up at 8 AM. Kolkathar describes her program as "a daily digest of independent news analysis, investigation, education, artistic expression and activism."
The Morning Mix shows formerly airing at 8 AM have been offered afternoon time slots, and some other programs' air time have also been moved:
Project Censored with Mickey Huff and Peter Phillips will air Fridays from 1-2pm.
Terre Verde will move from 1pm to 2pm on Friday.
Sabrina Jacobs will air every Monday from 3:30-4pm.
Steve Zeltzer will air every Tuesday from 3:30-4pm
Open Book will air every Wednesday from 3:30-4pm
Andres Soto will air every Thursday from 3:30-4pm.
Counter Spin will air every Friday from 3-3:30pm
Making Contact will air every Friday from 3:30-4pm.
PLEASE SHOW YOUR SUPPORT for the addition ofUprising Radio to KPFA's morning schedule, by contacting interim GM Richard Pirodsky at
richard [at] kpfa.org
or (510) 848-6767 x 203 and interim Pacifica executive director Bernard Duncan at
ed [at] pacifica.org
or 510-849-2590 x 208.
If you didn't get a chance to pledge to KPFA and would like to, the "thank you" gifts offered during the fund drive will remain available for the next week. Find them online at KPFA's webpage.
We are 100% volunteer and depend on your participation to sustain our efforts!
Get Involved
If you'd like to help with maintaining or developing the website, contact us.