From the Open-Publishing Calendar
From the Open-Publishing Newswire
Indybay Feature
Related Categories:

International | U.S. | Labor & Workers
Solidaridad Para Siempre ~ To the Noroeste from Oaxacallifornia ~ Boycott Sakuma Berries
Share bee cuz we care! Boycott because we are family!! Se pueden hacer... Si! ~ eso!!!


"Memory is a moral obligation, all the time."
-J. Derrida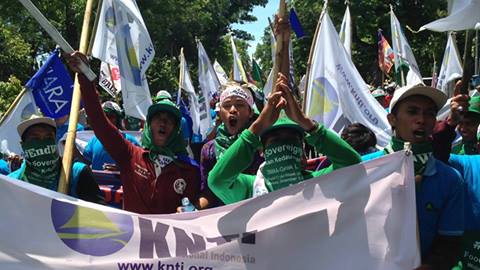 SAKUMA BERRY FARM SEEKS TO DISPLACE DOMESTIC WITH FOREIGN WORKERS
FOR IMMEDIATE RELEASE
Please repost. I received this important letter from Rosalinda Guillen of
Community 2 Community. I offer a bit of context. It is like Delano in
1965-66 all over again; growers trying to breaks a movement with scabs.
Avril 27
When Food Workers Rebel | Sakuma Berry Farm Seeks
Strikebreakers
*Moderator's Note:* When Cesar Chavez and his nascent union-organizing
committee joined the Filipina/o farm workers in strike against the table
grape growers of Delano in 1965-66 one of the challenges they faced
together was the importation of temporary guest workers and hiring of
undocumented field hands. The grape producers used these even more
vulnerable workers to circumvent the growing resistance by the local farm
workers; by local, I mean the people, including many multi-member families,
that were already settled in the community, with extensive social and
cultural ties, and extant livelihoods tied to the berry fields.
Despite this unethical strategy, the union defeated the growers – perhaps
in large measure because of the effectiveness of the consumer boycott
response – and the workers' demands were met, that is until the process of
political conflict and change resulted in the next round of struggle and
the elimination of most of the original union contracts negotiated with the
grape growers. And so it goes in the history of working-class struggle. The
workers' own narratives reveal that "scabs" – strikebreakers – often refuse
to cross picket lines and may instead, if given the opportunity, join *la *
*cause*. Ironically, Sakuma Brothers management may just be enlarging the
ranks of their equally determined opponents. Between equal rights, might
decides.
And so, history repeats itself. The Sakuma Brothers berry farm operation in
Burlington, WA is once again preparing to launch anti-human
rights activities to suppress the Triqui-Mixteca-Chicana/o organizing
campaign that has created a local grassroots group named *Familias Unidas
por La Justicia that waged a lengthy strike and other direct actions last year in a righteous
struggle to recompose the power relationships with the owners and managers
of a fruit factory in the field. Like the grape growers in Delano Chavez
battled, the Sakuma brothers wish to break the back of Indigenous farm
worker resistance by seeking permission to import more than 400 H-2A guest
workers; these workers who would not be allowed to settle in the community
and are reduced to "temporary stoop labor" – quickly in-and-out around the
job.
The law governing the granting of permission to import [sic] H-2A workers
to cultivate and harvest the berries during the summer 2014 season requires
that proof that there are no local workers available to get the jobs done.
And therein lies the rub since members of the local
Triqui-Mixteca-Chicana/o community are available to do the work – except
they will not agree to do it for substandard wages under conditions of
extreme deprivation and constant harassment by aggressive bosses in a
hostile and tyrannical workplace environment. No one should.
Here is a press release from the attorneys representing Familias Unidas in
protesting the request for H-2A workers. The legal counsel states in clear
terms that this is an act of calculated political retaliation against
locally available workers rather than a search for temporary workers
filling a void: "[T]he farm is acting to punish the Familias Unidas workers
for seeking better wages and working conditions by replacing them with H-2A
workers." Delano-styled roughhouse bullying returns to northwestern
Washington.
I am waiting to hear from other progressive allies who are ready to lend a
hand to compel the Sakuma brothers to remember what it is like to live and
die when home is a camp.
Delano, Washington?
SAKUMA BERRY FARM SEEKS TO DISPLACE DOMESTIC WITH FOREIGN WORKERS
FOR IMMEDIATE RELEASE
Friday, April 25, 2014
Contact:
Sarah Christiano
schristiano [at] fenton.com
202-789-7769 Sakuma
Brothers Farms Petitions Department of Labor for 438 H-2A Workers Despite
Over 460 Former Workers Signing Pledges to Work for Sakuma in 2014
Lawyers and advocates for farmworkers have asked the U.S. Department of
Labor to block a large Washington state berry producer from displacing
hundreds of domestic workers with foreign guest workers brought in under
the federal government's temporary foreign agricultural worker program,
Known as the "H-2A" program. H-2A workers are vulnerable to abusive
employer practices and fearful of challenging unfair or illegal conduct
because they hold only a temporary visa to work for a single employer and
return home at the end of the season with no promise of being hired in a
future year.
Sakuma Brothers Farms, located an hour north of Seattle in Burlington, WA
is a major employer of migrant and seasonal berry harvest workers and
supplies fruit to the gourmet ice cream maker, Haagen-Dazs. Familias
Unidas por la Justicia, a union organized by Sakuma Brothers workers,
sought improved wages and working conditions last season after workers were
fired in retaliation for requesting improvements. They eventually filed a
wage and hour class action lawsuit last fall against Sakuma for not
receiving rest breaks and violations of their rights under the federal AWPA.
In a letter sent yesterday to the Department of Labor, the DC-based
advocacy group Farmworkers Justice and Seattle law firm Schwerin, Campbell,
Barnard, Iglitzin & Lavitt LLP urged the Department to deny Sakuma's
application for foreign H-2A workers. The letter asserts that the farm is
acting to punish the Familias Unidas workers for seeking better wages and
working conditions by replacing them with H-2A workers.
Sakuma Brothers filed an application this month for 438 H-2A workers for
the summer season. The program requires that they demonstrate a shortage
of available farmworkers in the United States. The Law also requires
Sakuma to contact its workers from 2013 and seek their return to work.
Familias Unidas has already sent Sakuma letter from more than 460 of its
members declaring their intent to return to work this season.
"How can Sakuma Brothers tell the federal government they have a domestic
labor shortage when we have delivered over 460 pledges from workers who were employed at Sakuma
last year?" asks Ramon Torres, one of the leaders of Familias Unidas.
Triqui berry worker on 2013 picket line.
Photo Credit: FamiliasUnidas
"It is clear that Sakuma Brothers Farm seeks to displace domestic workers
who have sought better wages and working conditions," said Bruce Goldstein,
President of Farmworker Justice. "The H-2A workers that Sakuma has
requested do not have the same protections or ability to demand fair wages
and workers, leaving them vulnerable to employer exploitation."
"Using the H-2A temporary agricultural guestworker program as a means to
retaliate against workers seeking better wages and working conditions
violates the spirit and intent of the program," said Laura Ewan, attorney
at Schwerin, Campbell, Barnard, Iglitzin & Lavitt. "If a worker applying
for these positions also wishes to participate in labor organizing or other
concerted labor activities, such participation does not create a valid
job-related reason for denying the worker employment. Allowing these
workers to be rejected for such reasons would deprive them of labor rights
they enjoy under state law."
###
Farmworker Justice is a Washington, D.C.-based nonprofit litigation,
advocacy and education organization.
http://www.farmworkerjustice.org
Schwerin, Campbell, Barnard, Iglitzin & Lavitt LLP is the Pacific
Northwest's largest union-side labor and employment law firm, representing
public and private sector unions across the nation.
SOURCE ACKNOWLEDGMENT: The document prepared by the attorneys was forwarded
to us via email by:
*Rosalinda Guillen, Executive Director*
203 W. Holly, Suite 317
Bellingham, WA 98225
360-738-0893
http://www.foodjustice.org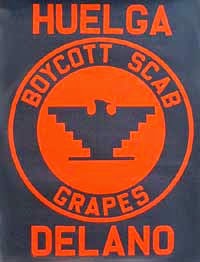 We are 100% volunteer and depend on your participation to sustain our efforts!
Get Involved
If you'd like to help with maintaining or developing the website, contact us.