From the Open-Publishing Calendar
From the Open-Publishing Newswire
Indybay Feature
Related Categories:

California | Environment & Forest Defense
When The Fog Lifts, The EDC Flag Will Fly Over An Offshore Platform
Recommendations by Environmental Defense Center, CFROG, the new GOO, Surfrider, CIPA, Ocean Foundation, California Coastal Protection Network, and Wild Coast, will lead the California Coastal Commission down the path of development, federal consistency of LDCP, and approval is the only option. The words Moratorium and Ban, are mysteriously missing from recommendations to the California Coastal Commission from the EDC and CFROG, Surfrider, others who have supported new plans for offshore drilling by PXP and have lost repeatedly both locally and at the State level since 2008. The EDC has become the offshore platform cheerleaders for drill baby drill. Assemblymember Pedro Nava had to tell the corporate enviros and PXP to back off.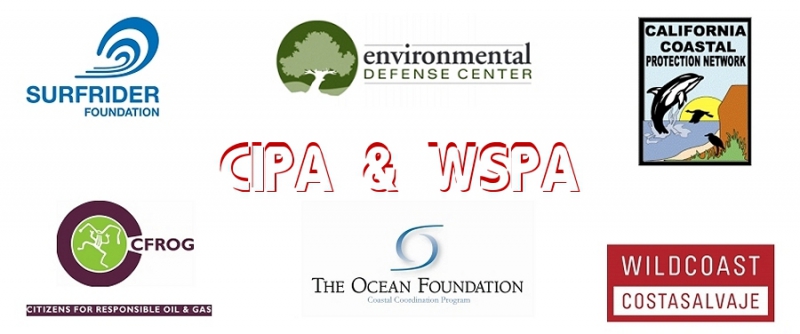 When The Fog Lifts, The EDC Flag Will Fly Over An Offshore Platform
The words Moratorium and Ban, are mysteriously missing from recommendations to the California Coastal Commission from the EDC and CFROG, Surfrider, others who have supported new plans for offshore drilling by PXP and have lost repeatedly both locally and at the State level since 2008. The EDC has become the offshore platform cheerleaders for drill baby drill. In his days in Office, Assemblymember Pedro Nava actually told them and PXP to back off.
But the 'Environmental Defense Center (EDC) and members from each partnering organization went before the California Coastal Commission using the 'Ocean Fracking' Report Hearing to carefully, promoted offshore oil and gas development on February 12, 2014..
"The California Coastal Commission (CCC) is in a unique position to help influence how permitting and monitoring of fracking and other well stimulation techniques should take place on land within the coastal zone and in state and federal waters. Below are some recommendations that may clarify the CCC's jurisdictional authority."
"6. Analyze the extent of well stimulation practices in State waters and clarify if these practices constitute 'development' under the Coastal Act: Approval of ongoing well stimulation activities appears to be handled by other state agencies administratively without additional environmental review. The CCC should analyze current operations to determine if the CCC could feasibly and retroactively permit well stimulation activities and consider requiring CDPs for all 'new' well stimulation activities in State waters."
"9. Issue guidance to local coastal authorities encouraging local coastal plans (LCPs) to include regulatory measures for onshore well stimulation within the coastal zone."
I can just see the breakdown on that one. The wellhead is onshore in the coastal zone, but the borehole is in State waters, and acid fracking in the upwelling. For those concerned with arsenic levels in near shore waters, under any acidization program, arsenic is used to inhibit corrosion of the steel casing.
Seems though, that the case against new offshore oil drilling in Santa Barbara gets easier to make. Six months ago, … another offshore petroleum platform exploded and is on fire in the Gulf of Mexico, a rig drilling for gas in the, 55 miles (85km) off the Louisiana Coast. A blowout at the well forced the evacuation of 44 workers from the platform.
http://www.bbc.co.uk/news/23430161
6 months before that, again in the Gulf off the Louisiana Coast:
http://www.cnn.com/2012/11/16/us/oil-platform-fire/index.html
We've lost the Gulf of Mexico as an ecosystem and productive fishery, but not as a hydrocarbon production zone. A wave of new projects are expected to come online in the Gulf over the next two years, potentially pushing the region's daily oil production past its previous peak of 1.8 million barrels per day by 2016, Wood Mackenzie forecasts. The Gulf's daily production could grow by 180,000 barrels to 1.55 million barrels per day this year alone, according to the Energy Information Administration.
http://www.news-journal.com/business/deep-water-giant-begins-gulf-production/article_2b40409a-e668-5dc6-bfe6-8dd816f0dc0b.html
But in their exuberant promotion of offshore drilling, the southern California pro-oil groups refuse to take down the original Press Release from 2009 which the EDC orchestrated, and in which one can find the list of local groups and 'environmental organizations' that once supported their goals and PXP.
And even though these same groups, the Sierra Club being one of them, have requested that the list be updated and names be removed of groups no longer supportive of EDC methods and Surfrider, the Ocean Foundation, the January 26, 2009, press release not only remains but is framed in the context of continued support, and is cited in current references.
Paul Mason, Sierra Club, signed on to the backroom deal with PXP and EDC, and not Sierra Club California. I doubt Michael Endicott, Sierra Club Coastal Program Manager California Coastal Commission, North Central District, knew anything about it at the time. On January 28, 2009, Endicott and every environmental organization tricked by the EDC and PXP, came out in a bigger Press Release against the 'sweetheart deal' which intended to expand offshore drilling and 'new' offshore drilling.
The EDC is challenged by many locals in their own 'neighborhood'. "It's time to halt all proposals to allow more oil drilling off our coasts permanently. And, the "environmental leaders" who gathered year after year to promote a revised PXP deal that would allow new offshore oil drilling off the coast of Santa Barbara County in exchange for a handful of financial concessions from a Texas oil company should hold a similar press conference to issue a public apology."
http://www.santabarbaraview.com/no-new-offshore-oil-drilling/#sthash.1Y1ZNf4J.dpuf
The words Moratorium and Ban, are mysteriously missing from the "Lift The Fog" recommendations to the California Coastal Commission from the EDC and CFROG, Surfrider, and others who have supported new plans for offshore drilling by PXP and have lost repeatedly. The EDC has become the offshore extended reach drill baby drill cheerleaders. Assemblymember Pedro Nava had to tell the corporate enviros and PXP to back off.
No New Drilling means NO NEW DRILLING.
Instead, these recommendations by EDC, CFROG, the new GOO, Surfrider, CIPA, Ocean Foundation, California Coastal Protection Network, and Wild Coast, lead the California Coastal Commission down the path of development, consistency, and approval, only.
WildCoast, has a history of work that lies geographically from San Diego south, Mexico, Latin America. And while they do lot to halt development onshore, they have no position on oil or gas development. Not a word in any news story or press release.
The Ocean Foundation is another storefront and recent non-profit funded by the Gordon and Betty Moore Foundation. The Ocean Foundation was/is a host of the MLPA Initiative process to promote acceptance of California's Makeover Licensing and Privatization Act, and MPAs under the Marine Petroleum Act.
Am I being too harsh. Oil companies can erase their history, everything, company history etc., simply by filing for reorganization under Chapter 11 Bankruptcy. Subsidiaries buy parent companies, nothing changes but the debt load, added assets, and the officers. Charles Hurwitz pioneered that maneuver in the 60's in Texas.
Mentioning Charles Hurwitz brings up California Politics, MAXXAM, Headwaters, ENRON, The Gordon and Betty Moore Foundation, Bank of America, The Nature Conservancy, and the MLPA(i). Oh yes, those names are all connected, along with Lew Coleman (ex) President BofA and a Dr. John Mick Seidl, and Barry Munitz.
The connections between ENRON, MAXXAM, Pacific Lumber, the Nature Conservancy, the Gordon & Betty Moore Foundation, and the Getty Trust, Gray Davis and AB 993 which is the MLPA in it's original form are through Dr. John M. Seidl - President of ENRON, MAXXAM, and Pacific Lumber, and Chancellor Barry Munitz the VP of MAXXAM and PL, Getty Trust Officer and California State University Chancellor California Board of Regents, Director Sallie Mae.
The Green Chameleons
SAN FRANCISCO June 5, 2001 The Gordon and Betty Moore Foundation announced the addition of Dr. John M. "Mick" Seidl as Director for the Foundation's environmental programs. Seidl oversaw, directed and managed the grant administration of the Foundation's environmental programs, which focus on biodiversity and the protection of the intact natural ecosystem.
Dr John reported directly to Lew Coleman (B of A), the Foundation's President. "With the Foundation's unique approach to grant-making, we stand to make a significant impact through the smart protection, preservation and stewardship of the earth's biodiversity." J. Seidl
http://www.allbusiness.com/environment-natural-resources/ecology-environmental/6136963-1.html
Environmental groups such as Greenpeace (which eschews any corporate support) made headlines by chasing whaling ships and blocking logging roads. The Nature Conservancy's less confrontational approach attracted a broad base of supporters. By 1985 membership stood at 300,000.
Mr. John M. Seidl (1987-1995: Vice Chair, 1991) The Nature Conservancy:
http://www.nature.org/aboutus/leadership/art15467.html
1991. MAXXAM's President, John Seidl, was selected to be a vice president of the Board of Directors of the Nature Conservancy. Seidl resigned from MAXXAM in 1992. In less than 10 years he had learned to spell the word "biodiversity".
And under the guise of:
PARTNERSHIPS TO ENSURE ENVIRONMENTAL SUSTAINABILITY
Nov. 11, 2004
SAN JOSE, COSTA RICA - The Gordon and Betty Moore Foundation has granted $8 million to
The Nature Conservancy to protect forest areas in the Costa Rican Osa Peninsula. TNC with 8$ million dollars from the Moore Foundation sent Dr John to Costa Rica (with) the National Biodiversity Institute (Costa Rica) John M. "Mick" Seidl, is Chief Program Officer, Environment, Gordon and Betty Moore Foundation.
One thing is for certain. MAXXAM has designs on California as well as the rest of the world. It is far more than just a lumber company. And it is something we should all take very seriously.
http://www.jailhurwitz.com/sevensins.html
The MAXXAM company quit the timber business in 2008 when its former subsidiary, Humboldt Redwood (formerly Pacific Lumber Company), was taken over by Mendocino Redwood Company. Pacific Lumber Company had filed for bankruptcy a year earlier. Chairman and CEO Charles Hurwitz controls more than 80% of MAXXAM.
http://www.answers.com/topic/maxxam-inc
Cooking The Books, Recipes From California's Corporate Steak Holders
Under questioning by Federal investigators, oil traders said that Enron executives (Seidl, others) had asked them to manipulate earnings by moving revenue from one year to another. Enron investigators had also learned that bank statements were doctored and that the account was opened with forged documents. "I was waiting for Lay to fire them on the spot," says one participant in a meeting. To the contrary, Enron executives expressed faith in the head of the trading unit, Louis Borget. "I have complete confidence in your business judgment . . . and personal integrity," Enron's then President John "Mick" Seidl wrote to Borget. "Please keep making us millions."
Two months later, at a meeting of Enron's audit committee, Lay weighed in. "I've decided we're not going to discharge the people involved in this, because the company needs those earnings," Lay said, according to two participants in the meeting.
New Approaches To Influence And Governance
In late 1992, a group called the New Foundations Working Group was formed at Harvard University the oldest American college. Harvard College, originally for men, was founded in 1636 with a grant from the General Court of the Massachusetts Bay Colony. The New Foundations Working Group was comprised of a consortium of institutional investors, corporate CEOs, senior managers, board members, and legal and economic experts on governance.
The charter of the group was to train their assembled expertise on a search for new approaches to governance that would allow corporations and investors to capitalize on the new realities of the market to develop positive, constructive long-run relationships.
http://www.thefreelibrary.com/Communicating+smartly+to+your+shareholders.-a015717695
John Seidl - Former Chairman Kaiser Aluminum, President MAXXAM, ENRON Corporations.
Celebrated at the 2002 Annual Meeting of Shareholders of Iomega Corporation: "Mr. Seidl, 62, has been a Director since 1999. He is also Chief Program Officer, Environment, of the Gordon and Betty Moore Foundation located at The Presidio in San Francisco. Mr. Seidl is a director of the Denver, Colorado-based St. Mary's Land and Exploration Company, and a former member of the Board of Governors of the Nature Conservancy of Arlington, Virginia."
Crashing Savings And Loan Systems and Profit Structures for University Services and Activities
Throughout the 1990's the merging of financial institutions and educational systems prospered. Many books appeared in the business and Education sections of national bestseller lists, bestsellers with titles like:
The Emerging Expanding Duties of Educational Institutions Chief Financial Officer
First, Break All the Rules: What the World's Greatest Managers Do Differently
Roles and Responsibilities of the Chief Financial Officer (New Directions for Higher
Education)
Managing Higher Education as a Business
A Vice President from the Business World Brings a New Bottom Line to Penn State
An Analytical Framework for Thinking About the Use of For Profit Structures for University Services and Activities
The Monster Under the Bed: How Business Is Mastering the Opportunity of Knowledge for Profit
The New Society of Organizations
The Global Learning Infrastructure Blueprint for a Digital Economy: Wealth Creation in an E-Business Era
When Industries Change: Scenarios for Higher Education
Reinventing the University: Object Lessons from Big Business
California's State University educational systems and Institutions of Philanthropy were often headed by the same "cultural despots" of the recent MAXXAM/ENRON regime. Having seized control of the obvious land use margins of error within the continental borders of the US, and survived numerous national scandals, mergers, stock market fluctuations, lawsuits, and the collapse of savings and loan institutions, the officers of publicly traded corporations profiting on hostile takeovers and increased extraction rights to the commons, became stewards of culture for the new century.
Barry Munitz, Vice President of MAXXAM, went on to be the Chancellor of the Regents at CSU System, after causing problems there, went on to the J. P. Getty Trust where after 8 years of corporate inappropriateness he got fired in 2006. He is a director of Sallie Mae. His tenure at the Getty exposed the corporate governing structure of the largest Foundations of Philanthropy to scrutiny by state policy makers across the nation and was found that it asserted the same undo corporate influence on politics, golden parachute packages, resource and land use decisions, and public perception of law.
As soon as Barry Munitz joined the Getty, he took to the road and the speaking circuit. His speech on the "The Role of Institutions in Leading Public Discourse". The head of the Getty Trust, it's chief executive officer would Chair Gray Davis' gubernatorial transition team in the name of facilitating public discourse and proposed a conspiracy between boards of institutions, agencies, etc., to change public perception and policy towards governance reform. It is succinctly illuminating.
"The fundamental change has to be a conspiracy between governing boards, the selectors of governing boards and the preparers of college and university presidents and museum directors and symphony directors...."
Simultaneous to the selection of Dr. Munitz' as Chancellor, then California State Senator Barry Keene introduced and later passed a Senate-Assembly Joint Concurrent resolution that would make the Chancellor of the CSU system the head of a to-be-formed Center for the Resolution of Environmental Disputes. In March 1992 of Chancellor Munitz named Humboldt State University the Center for Resolution of Environmental Disputes.
http://library.humboldt.edu/humco/holdings/archives/chronology.html
Later. California's governor-elect, Gray Davis, would make his first appointment since being elected governor. In a hurried conference call with reporters less than one week after the election, he announced that former California State University Chancellor Barry Munitz would direct his transition team.
http://www.metroactive.com/papers/metro/12.03.98/munitz-9848.htm
The MLPA was based on Payroll Science as Policy. Any Science Advisory Team review was truncated by the MLPA Master Plan Framework. And the Petroleum Princess Catherine Reheis-Boyd, presided over every the Blue Ribbon Task Farce.
Everybody Switching Sides All The Time, Just doesn't work for me.
http://www.vcstar.com/news/2010/jan/31/ex-lawmaker-jackson-to-press-of-offshore-deal/
SACRAMENTO Former Assemblywoman Hannah-Beth Jackson, long a fierce crusader against new offshore drilling in California, has become a paid consultant to a Santa Barbara environmental group advocating for a project that would allow the first new drilling in state waters since the 1969 Santa Barbara oil spill. "I've been asked to come in and help the Environmental Defense Center," she said. "We need to try to calm down the agitated waters."
California Coastal Commission's Hearing on Ocean Fracking, February 12, 2014
One of the biggest discussions promoted by CFROG, EDC, Surfriders, CIPA, even a Surfrider lawyer "speaking for CIPA", was the subject of addressing the Federal Consistency and LDCP to cover OCS oil and gas development.
It appears that the EDC is moving ahead with their promotion of oil and gas in the OCS northwards to the Oregon border. All Coastal Counties are in jeopardy.
At DOGGR's March 2013 workshop in Sacramento an entire room full of environmental organizations requested that the Coastal Commission be in the loop of Public Notification. DOGGR laughed and asked if anyone has a mailbox on State Bottom Lands. In their arrogance they rejected the plea.
PASS LOCAL BANS ON FRACKING NOW!
Local Coastal Counties Moratoriums and Bans on fracking, on drilling, on pipelines.
(LCCMB)
Coastal Counties, by developing Federal Consistency Plans, Local Development Coastal Plans, and a permitting process regarding development of offshore oil, would do just that:
Process Permits for offshore oil development.
No No No. Well failure rates, both onshore and offshore are too great. Not too great a risk, but too great a known, documented, and researched phenomena of production of oil and gas.
A 13 year old, near the end of Public Comment period, spoke more honestly than the EDC, CIPA, CFROG, and Surfrider reps.
Unfortunately, the Coastal Commission cannot ban or place a moratorium on fracking, yet. But perhaps we can change that. If the EDC and friends can work to undermine local control, we can work to strengthen the Coastal Act.
Perhaps some folks been looking at oil rigs for too long already.
STEAM INJECTION IS LITERALLY GLOBAL WARMING
constant comments, and informative research links;
http://banslickwaterfracking.blogspot.com/
Tomas DiFiore
We are 100% volunteer and depend on your participation to sustain our efforts!
Get Involved
If you'd like to help with maintaining or developing the website, contact us.