From the Open-Publishing Calendar
From the Open-Publishing Newswire
Indybay Feature
Related Categories:

International | Government & Elections
Russian professor arrested for publishing political scenario
Associate Professor Vyacheslav Dmitriyev was arrested by the Russian Federal Police on the campus of Moscow State University shortly after sharing an article online. His article posed a scenario for regime change in the Russian government. The article was removed, and Dmitriyev was taken in for questioning by the FSB, then later released, although he may yet be charged with the "publication of extremist views".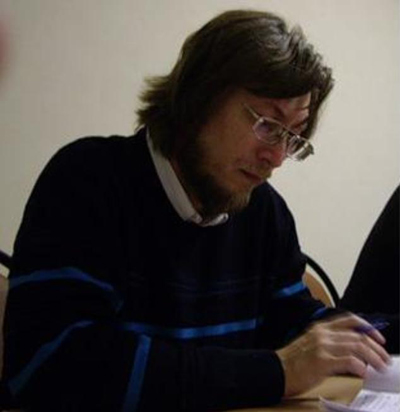 From grani.ru and other sources, this is what we have available, in English and Russian:
Associate Professor at MSU questioned over post of an article
http://grani.ru/Politics/Russia/m.223908.html
FSB officers detained and questioned the Associate Professor of the Philosophy Faculty Department at Moscow State University, Vyacheslav Dmitriyev. This was in reference to a message that the culturologist and journalist, Konstantin Frumkin received.
"Just got a monstrous message that Vyacheslav Dmitriyev, Associate Professor of the Philosophy Faculty of Moscow State University who is one of the most original, erudite and passionate philosophers of Moscow University since the 1990 's, who actively distributed publications in Russia of the latest achievements of French thought (post structuralism, etc.). He is the creator of the philosophical movement "Anonsens," active in the policies related to the government and of the supporters of the community for direct democracy, was arrested by FSB (Ministry of Internal Affairs "E") right in the building of the University, questioned, released on recognizance, and now has the threat hanging over him of a criminal case for publishing an "extremist" article," Frumkin wrote.
According to the publication edition of Slon.Ru, the incident occurred Friday, 24 January. Dmitriyev was arrested at his office in the department on campus, and the FSB told him that the questioning was being conducted in the framework of the pre-investigation under articles of "extremism." Dmitriyev said, "he was asked about the content of an article he had shared in a Census Community of the "Direct Democracy Movement." (Garry Kasparov founded this group and is in self exile -ed.)
In this article we discuss the possible change of power in Russia, but when publishing to the community I gave as a "possible scenario as a theory," - noted Dmitriyev. Currently, the publication has been removed from public access.
Сотрудники ФСБ задержали и допросили в здании МГУ доцента философского факультета Вячеслава Дмитриева. Его обвинили в репосте в соцсети статьи, в которой говорилось о возможной смене власти в России, - как подчеркивает сам Дмитриев, "теоретически, как возможный сценарий". Ученому грозит возбуждение уголовного дела по статье "экстремизм". http://grani.ru/Politics/Russia/m.223908.html Путин навсегда! Понятно, насекомые!
This was originally brought to light by Konstantin Frumkin in a Facebook post on January 28:
Только что получил чудовищное сообщение, что Вячеслав Евгеньевич Дмитриев, доцент философского факультета МГУ, один из самых оригинальных, эрудированных и пассионарных философов московского университета, в 90-х годах активно распространявший в России новейшие достижения французской мысли (постструктурализм и пр.) создатель "архиавангардистского" философского движения "Анонсенс", а в политике- учас тник группы сторонников Прямой демократии был арестован сотрудниками ФСБ (вроде бы Центра "Э") прямо в здании университета, подвергнут допросу, отпущен по подписке и теперь над ним висит угроза открытия уголовного дела по "экстремистской" статье. Уже высказывание философа может обернуться уголовной статьей.
О Дмитриеве: http://www.runiver.net/VDmitriev
INDYRADIO
bring the ruckus to Facebook:  http://facebook.com/IndyRadio
The future of radio comes not from the Tower of Corporate Media but through WiFi and cellphone it now belongs to us. Circa 2014 we have a window of opportunity since web radio is received on desktops, mobiles and phones without added charges, and there are more than 50,000 free independent stations you can access with simple software. You don't need to download files, or worry about how much storage your device has available.
The newest playlists from Indyradio appear at  http://rd0.org
We are 100% volunteer and depend on your participation to sustain our efforts!
Get Involved
If you'd like to help with maintaining or developing the website, contact us.