From the Open-Publishing Calendar
From the Open-Publishing Newswire
Indybay Feature
Eel River Basin Natural Gas and Fracking in Humboldt
There is an enormous natural gas basin off the Humboldt Coast. Exploration has already begun. I think the companies holding the leases are holding back on production contracts with drillers including frackers, and are awaiting the outcome of DOGGR Final Regulations January 1, 2015 and the SB 4 requirements along with the WSPA who-do voodoo man, Governor Jerry Brown's insistence that wells be grouped for the EIR, and then let's get drilling!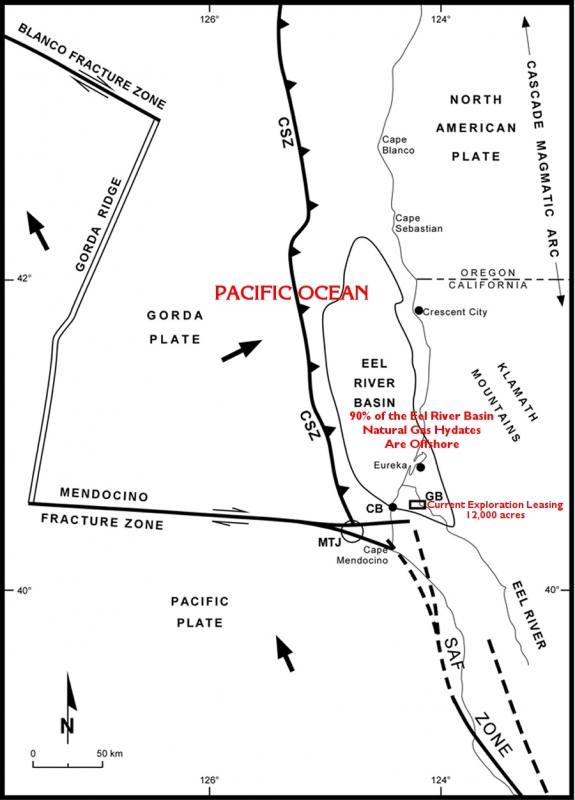 More Counties In California Ban The Frac King
With the signing into law of SB 4 in September, DOGGR and the oil industry are jumping over themselves with interim period giveaways. And the elected leadership of counties throughout the State are being taken to task. Santa Cruz, Marin, Sonoma, Mendocino, Humboldt... each county approach can be different. Santa Cruz County is in the process of extending it's Moratorium on Fracking.
In Mendocino, Sonoma and Humboldt Counties, Petitions are respectfully asking the Boards of Supervisors for moratoriums on fracking to outright bans on fracking.
Both Mendocino and Humboldt Counties have vast reservoirs of oil or natural gas hydrates most of which are just offshore, but development is already underway onshore with 12,000 acres under lease to tap the Eel River Basin for Natural Gas Hydrates. At least one exploratory well has reached approximately 9,500 feet depth, and producing zones are expected at 4,000 to 6,000 feet and at 9,400 feet. Production wells will employ "fracture stimulation techniques".
In the southern onshore region of the Eel River Basin, geologically recent west-east-striking faults and folds are superimposed on top of older north- to northwest-trending structures formed as a result of Gorda-North American plate convergence (Clarke, 1987; Nilsen and Clarke, 1987). Seismologically, this is a very active region, and most earthquake hypocenters occur at depths of less than 20 km (Smith and Knapp, 1980).
Anticipating Production
Neither Santa Cruz County nor Mendocino County are currently 'producing counties' thus making it easier to legally pass local ordinances in the unincorporated areas of the counties.
In southern Mendocino County, the Point Arena Basin holds enormous quantities of oil.
90% of the Eel River Basin in Humboldt County is Offshore
I personally no longer think that the Mendocino Coast remains protected from offshore oil. Well maybe offshore oil development and the onshore facilities that support that offshore oil development. That's how the protections read. Local ordinances in the General Plan of Mendocino and the Coastal Element might not adequately cover onshore development of natural gas zones, or access to offshore basins for extraction of Natural Gas Hydrates.
In the 80's un-associated or non-associated gas fields (not associated with oil), were not even considered. As recently as March 21, 2013 DOGGR would not use the term in presentations throughout the State, and dismissed queries amid discussion regarding the locations and production levels of non-associated gas wells. A gas field is generally comprised of a number of wells.
There is an enormous natural gas basin off the Humboldt Coast. Exploration has already begun. I think the companies holding the leases are holding back on production contracts with drillers including frackers, and are awaiting the outcome of DOGGR Final Regulations January 1, 2015 and the SB 4 requirements along with the WSPA who-do voodoo man, Jerry Brown's insistence that wells be grouped for the EIR, and then let's get drilling!
Deviant Under Balanced Horizontal Directional Drilling and Forced Unitization
Since the advent of directional drilling, oil companies have eyed the oil and (or) gas reservoirs under State waters and tried to find access to them from onshore or from Federal waters.
Wednesday, November 3, 2004
"Tight Gas Sands of the Eel River Basin, California." Jere Jay, INNEX Energy
http://www.beg.utexas.edu/pttc/archive/nov3-2004-unconventional.htm
Ellison Miles Geotechnology Institute at Brookhaven College, Dallas Geological Society, Dallas Geophysical Society, SIPES Dallas Chapter, Fort Worth Geological Society, SIPES Fort Worth Chapter, PTTC Texas Region, and Southern Methodist University – Institute of Earth and Man Unconventional Reservoirs Symposium
Let's visit the online the Humboldt State University Library, Energy and Mineral Resources Section: "This research guide lists both print and Internet maps that cover northwestern California. The table of contents below lists maps by theme and environment."
But there are no entries for Energy and Mineral Resources. The only listing with no entries! Seems odd with all the interest in Natural Gas Hydrates and leases.
"Energy & Mineral Resources"
http://library.humboldt.edu/infoservices/staff/rls/geospatial/nwcalmaps.htm#energy
Yet, up river, the California Eel River basin drilling nears
06/19/2007
http://www.ogj.com/articles/2007/06/california-eel-river-basin-drilling-nears.html
Three or more wells could be drilled later this year in northwestern California's remote Eel River basin southeast of Eureka.
Bakersfield, Calif.-based Foothills Resources Inc., which is averaging 395 Mcfd of gas from two wells in Grizzly Bluff field in Humboldt County, said a rig is expected to arrive in mid-August in the basin, where the company shot 13 sq miles of 3D seismic early this year (OGJ Online, Jan. 12, 2007).
Foothills also accumulated a controlling leasehold position 7 miles northwest of Grizzly Bluff near abandoned Table Bluff gas field, where it has a high-quality prospect supported by a direct hydrocarbon indicator. The company is integrating its geologic mapping with 2D seismic and data from wells drilled in the area.
Company Press Releases show:
The GB 4 well reached a total depth of 9,530 feet on March 24, 2008, after which electric logs were run and production casing was cemented in the hole. A comprehensive testing program commenced on April 15th.
http://www.prnewswire.com/news-releases/foothills-resources-inc-announces-well-tests-in-california-57458537.html
BAKERSFIELD, Calif., June 13 Foothills Resources, Inc. today announced the results of production testing on its GB 4 well in the Eel River Basin in Humboldt County, California.
Since 2006, Foothills has acquired additional oil and gas leases in the Eel River Basin, and currently has interests ranging from 70% to 75% in approximately 12,000 additional gross leasehold acres over seven prospects with no depth restrictions.
And What Are Tight Gas Sands?
The term tight gas sands refers to low permeability sandstone reservoirs that produce primarily dry natural gas. A tight gas reservoir is one that cannot be produced at economic flow rates or recover economic volumes of gas unless the well is stimulated by a large hydraulic fracture treatment and/or produced using horizontal wellbores (Holditch, 2006).
The development of many tight gas sand fields that are productive today began in the 1970s.
Drilling accelerated in the 1980s due, in part, to tax credits that encouraged the development of low permeability reservoirs. By the 1990s, advances in 3-D seismic, horizontal drilling, and hydraulic fracture stimulation allowed wells to be placed and completed more effectively, increasing their rates and reserves. In the 2000s, rising gas prices coupled with large investments by growing companies drove-up rig counts and resulted in tens of thousands of wells being drilled.
http://emd.aapg.org/technical_areas/tightGas.cfm
Now I don't know why academia didn't share this next one! "Our studies show abundant subsurface gas... Analysis of seismic data in the Eel River basin shows that although natural gas in this area is abundant, it is regionally variable and controlled more by stratigraphy than by structure. The abundant gas detected in this basin may affect sediment strength and slope stability, altering both seafloor morphology and sediment transport."
http://www.dtic.mil/dtic/tr/fulltext/u2/a348384.pdf
ONR Grant N000014-96-1-0361 Final Technical Report:
Seafloor Geomorphology, Gas and Fluid Flow, and Slope Failure on the
Southern Cascadia Continental Margin; Daniel L. Orange
Deptartment of Earth Sciences, University of California, Santa Cruz, CA 95064
In 2005, a US panel backed offshore gas drilling
http://www.resilience.org/stories/2005-09-29/other-energy-headlines-30-september-2005#
Sacramento Bee
September 29, 2005
Two areas off California's coast could be exploited quickly if the bill passes.
WASHINGTON: A House committee voted Wednesday to end long-standing moratoriums that have prevented opening new areas off the coast of California and other states to natural gas development. If enacted into law, the provision could immediately open for development the Eel River basin in Northern California and the smaller Pitas Point gas field in the Santa Barbara Channel.
The federal Minerals Management Service estimates that there is some 2 trillion cubic feet of natural gas in those deposits, mostly in the Eel River area.
The Humboldt General Plan lists Natural Gas Resources in Humboldt County
http://www.ci.eureka.ca.gov/civica/bids/inc/blobfetch.asp?blobID=3438
There are natural gas deposits present in Humboldt County. Active gas wells are concentrated in the Tompkin Hills Gas Field. Of the County's 39 gas wells, 31 are currently producing and 8 are considered shut in, meaning they cannot produce gas at their current depths and are sealed off in order to maintain the pressure on remaining deposits. In 2000,net gas production was 1,337,796 million cubic feet (mcf); this represents a 31 percent decrease in gas production since 1992, when net production was 1,927,787 mcf.
Also in 1992, 34 gas wells were in production and 5 were shut in. Humboldt County contains three inactive oil wells and has not produced oil in at least the past ten years. FOREXCO, Inc. of Greensboro, NC, recently secured a 20-year lease (through 2022) to engage in the exploration of natural gas in Humboldt County on the east and west side of the Eel River near Alton to determine potential natural gas reserves. As part of this lease, they have the rights to the exploration and operation of up to five previously developed well sites that have the potential for up to five wells per site. FOREXCO has proposed to construct a natural gas collection and transportation system that would cross the Eel River and interconnect with the existing gas sales delivery point at the Pacific Gas and Electric Company's (PG&E) natural gas meter station in Alton. The pipeline will be designed to operate at a maximum allowable operation pressure of 1,360 pounds per square inch (psi). The design of the project allows for greater capacity for possible future development of natural gas reserves west of the Eel River.
http://www.co.humboldt.ca.us/planning/gp/meetings/natl_res/nr_report.asp
But the Humboldt State Library has not a single resource available under Minerals and Energy!
North Coast Moratorium: NO OFFSHORE OIL Point Arena Basin, Mendocino County
But the bulk of natural gas reserves off the California coast, estimated at some 17 trillion cubic feet, are in areas where they coexist with oil deposits, and therefore can not be touched unless the state were to specifically agree to open those federal waters to oil drilling.
The last proposed lease sale in 1987, thwarted by the moratorium, would have opened 6.5 million acres off the North Coast. Off Mendocino and Humboldt counties, the tracts for sale lay from 3 to 27 miles offshore, and some of the 24 planned platforms at 300 feet tall and each with dozens of wells, would have been visible from land.
Tourism and commercial fisheries would have been affected, according to an environmental review then, while as many as 240 new oil tanker trips from Fort Bragg and Eureka to San Francisco Bay refineries were predicted under the full development scenario. The probability of one or more spills occurring would be 94 percent for accidents involving 1,000 barrels or more, according to documents.
http://www.sfgate.com/cgi-bin/article.cgi?f=/c/a/2008/12/28/MN4G14QMVE.DTL#ixzz0WKVRptL0
And Humboldt is seismologically, a very active region. Most onshore earthquake hypocenters occur at depths of less than 20 km.
Gorda-North American plate convergence at the Mendocino Triple Junction.
http://www.academia.edu/665848/THE_EFFECTS_OF_TRIPLE_JUNCTION_INTERACTIONS_AT_CONVERGENT_PLATE_MARGINS
Goldman Sachs and PGE though, almost did accomplish a lease agreement for offshore development within State waters. Thwarted again by citizen actions.
On August 26, 2008 David Gurney spoke at the Humboldt Bay Harbor Recreation and Conservation District meeting.
http://humboldtbaywatch.wordpress.com/2008/08/26/an-important-message-from-david-gurney/#more-287
"It is apparent that Humboldt Bay is about to be blindsided by oil and gas development."
"Pacific Gas and Electric Co. has staked claim to a 136 sq. mi. area of ocean right outside the mouth of the Humboldt Bay. They also have permits for 68 square miles off the Mendocino Coast, and are apparently in negotiation with the Minerals Management Service to lease even more large tracts of ocean, just outside of these huge areas.
These tracts correspond to offshore oil drilling zones, that were under negotiation for Oil and Gas Lease/Sale # 91 back in 1988."
"PG&E does not need such huge areas of ocean to test wave energy devices, and instead has the potential to "site sit" these locations, until such a time that the leases can be converted to natural gas and oil drilling permits. It says so in their permit documents."
"Also documented is the fact that P.G.& E. has approached as two companies as consultants on their wave energy projects: Black & Veatch and CH2M Hill. Both are world-wide conglomerates engaged in natural gas and oil development."
"Furthermore, Goldman Sachs has offered to lease and develop the marine terminal of Humboldt Bay, supposedly for the benefit of commerce and tourism. But Goldman Sachs is heavily involved in speculation on oil futures, and is in fact one of the major players in such speculation, and thus could have a serious conflict of interest in what is best for the Bay and the citizens of Eureka."
What is the significance of access to the Eel River Basin offshore Natural Gas Hydrates?
Methane (Natural Gas) Hydrates in offshore subduction zone sediments hold the world's largest reserves of Natural Gas. More than all combined known global shale gas reserves. Not all coastlines share this geologic feature. The Eel River Basin (offshore) is important enough to be shown on the Global Inventory of Methane Deposits.
http://geology.com/articles/methane-hydrates/
Local Control in General Law Counties
Join us as we petition our respective County Board of Supervisors, to Ban Fracking (for all the reasons we already know), and let's take the Precautionary Principle to heart. Legal processes to petition local governments are currently ongoing in different counties taking different forms from moratoriums to bans, General Plan Ordinances to Ballot Initiatives.
Several counties have already succeeded.
A Fracking Moratorium may be on the November 2014 Butte County ballot.
http://www.orovillemr.com/news/ci_24731172/group-is-working-butte-county-fracking-moratorium
12152013
"A group has begun a campaign for a moratorium on the practice, and plans to start collecting signatures. Citizens Action Network, critical of the new rules for not being strong enough, and for amendments that weakened the package of regulations are taking the basic position that we can't rely on federal and state people to protect the local area, We are uncomfortable with the laxness of the language in SB4, said Joni Stellar, media coordinator for CAN."
This holiday season, give the gift that keeps on giving.
To sign a Northern Coastal Counties petition please select from one of the following options!
To be delivered to The California State House, The California State Senate, and Governor Jerry Brown - Ocean Protection Coalition (OPC) Fort Bragg
http://petitions.moveon.org/sign/ocean-protection-coalition/?source=search
To be delivered to The Mendocino County Board of Supervisors
South Mendocino Coast
http://www.credomobilize.com/petitions/ban-fracking-in-mendocino-county-1
To be delivered to The Mendocino County Board of Supervisors
Potter Valley
http://www.credomobilize.com/petitions/ban-fracking-in-mendocino-county?sp_ref=13366667.4.822.e.0.2&source=mailto_sp
To be delivered to The Humboldt County Board of Supervisors
http://www.credomobilize.com/petitions/tell-the-humboldt-county-board-of-supervisors-ban-fracking-now
Have a happy safe holiday time.
Sincerely
Tomas DiFiore
Steam Injection Is Literally Global Warming.
http://banslickwaterfracking.blogspot.com/
We are 100% volunteer and depend on your participation to sustain our efforts!
Get Involved
If you'd like to help with maintaining or developing the website, contact us.