From the Open-Publishing Calendar
From the Open-Publishing Newswire
Indybay Feature
Related Categories:

International | Environment & Forest Defense
Can Brazil Save the Amazon? Deforestation a climate change issue at COP19
Brazil's recent efforts to curb its deforestation have all but increased in the past year. Known as the world's lungs, the Amazon is one of the biggest carbon sinks. With each patch of dense jungle chainsawed and burned away, the rate of climate change increases.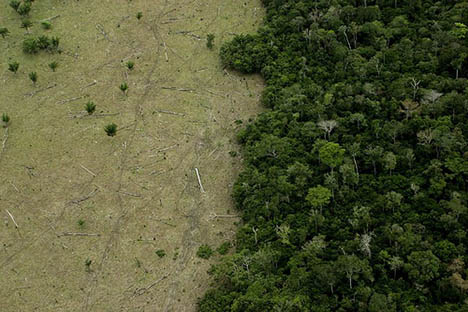 Brazil has been making strides over the past eight years, curbing deforestation rates by a staggering 70 per cent. But in this past year, the slow rustle of the forest has given way to the harsh drones of chainsaws and helicopters.
Between August 2012 and July 2013, the rate of deforestation increased by over one-quarter, or a whopping 28 per cent.
National and local policymakers are now blaming each other.
The real cause is recent Brazilian forest law reform. Brazilian law dictates that 80 per cent of forests in Amazon states and 50 per cent in other states must be left untouched. But negotiations between the legislature and the executive over the past year have created uncertainty over exceptions to these provisions.
Renato Farias, a local environment minister in the soy-producing Mato Grosso state explained that "in the process of reforming the Forest Code, local politicians promised concessions to agro-business and farmers." Even though only some of the concessions were included in the legislation, "deforestation occurred during this time of uncertainty," argues Farias.
At previous climate negotiations, Brazil had promised to halt and reverse its deforestation. This year, Poland plays host to the UN climate change negotiations in Warsaw. Here, Brazil has made a lot of noise about historical emissions, demanding more reductions from developed countries and more support for developing countries.
Back home in the Amazon, however, doubt remains about whether its revised forest laws will even be respected.
Responding to the increase in monitoring and enforcement, loggers are now destroying smaller parcels of forest, but are still taking more wood and burning more land.
At the heart of the problem are small-scale farmers, who clear the land for plantations or cattle grazing. Lured by the higher prices they can fetch for soya or beef, their slash and burn techniques make them wealthy at a cost to the environment. The solution to Amazonian forestry is economics.
Laws could be strengthened to support farmers and improve their access to markets. This would require capacity building and training so that farmers produce sustainable products instead of cattle. Realistically for this to work, Brazil would also need to improve its infrastructure in isolated areas.
Up until now, Brazil has been a successful model that developing forestry nations such as Indonesia could emulate. Straddling the divide between rich and developing countries, Brazil is a protagonist in the climate story. Whether it plays the role of hero or villain remains an open question.
By Cécile Schneider with Lachie McKenzie, photo by Leonardo F. Freitas.
The original of this story is from The Verb. Reproduced with permission. The Verb is a newswire service focusing on the stories that matter. They are currently reporting from COP19. Follow them on Facebook and Twitter.
We are 100% volunteer and depend on your participation to sustain our efforts!
Get Involved
If you'd like to help with maintaining or developing the website, contact us.