From the Open-Publishing Calendar
From the Open-Publishing Newswire
Indybay Feature
Filipino Diplomat Fasts for Progress at COP19 Warsaw Climate Change Talks
Yeb Saño, 'celebrity delegate', from the Philippines has been refusing to eat for the duration of the UN climate change negotiations.
Typhoon Haiyan
struck the east coast of the Philippines as delegates started arriving in Poland. The significance of an international diplomat going on a hunger strike has not been lost on the people here.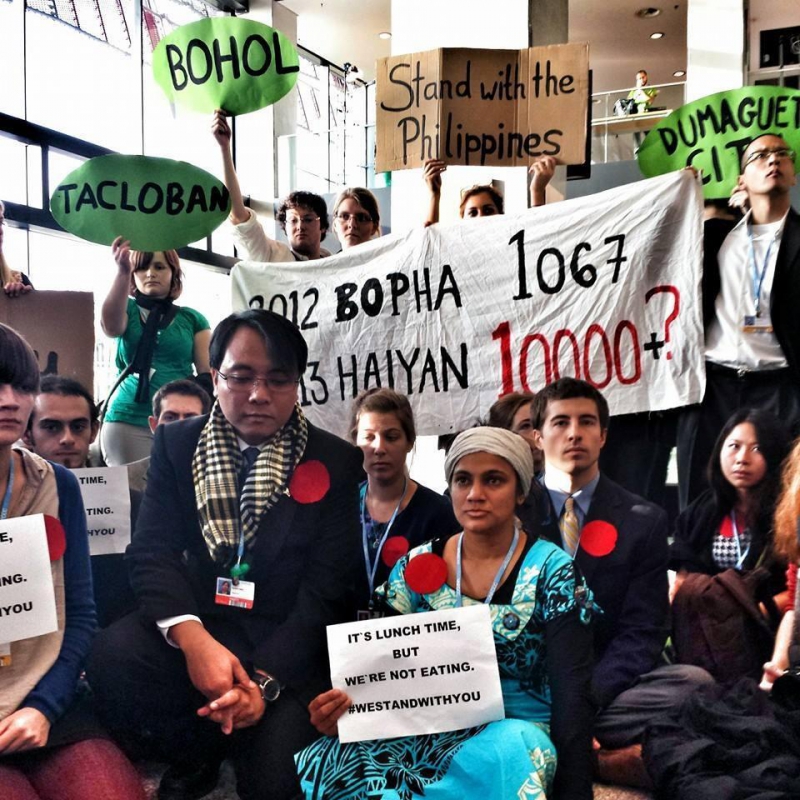 Saño's address to them highlighted the 10,000, and increasing daily, deaths – catapulting the tragedy to the global stage. Saño shared his personal connection and that "what gives me renewed strength and great relief was when my brother succeeded in communicating with us that he has survived the onslaught".
His connection to his family and country people is obvious, but it was his declaration to fast for the conference that has surprised delegates:
"I express this with all sincerity: In solidarity with my countrymen who are now struggling for food back home, I will now commence a voluntary fasting for the climate. This means I will voluntarily refrain from eating food during this COP, until a meaningful outcome is in sight. Until concrete pledges have been made to ensure mobilisation of resources for the Green Climate Fund as this process cannot afford a fourth COP in a row with the GCF empty."
There has been widespread interest and support, with offers solidarity coming far and wide. Other delegates and people back home in the Philippines are also fasting. There are rising concerns about the health and well-being of the young people, especially given the often hectic environment of COPs. Saño, is "touched with this solidarity" and thinks that "it is time for the youth to be the architects of their own future."
There are currently fifty people fasting. Delegates fasting have been offered medical help and support. The Verb spoke with SustainUS, a youth delegation from the United States, that has seven people fasting alongside Saño. Anita Raman thinks that "it will instil some empathy in these negotiators to really push forward towards an agreement".
Mima Mendoza, a member of the Philippines' delegation, has been working closely with Saño and told us that he "has no health or medical conditions [and] is also seeing a doctor everyday as a precaution to ensure that his blood pressure [is] okay."
This is not his first fast with his last lasting for seven days. He is currently receiving advice from experienced fasters and "is [still] representing the Philippines to full capacity during this time". This is important in the event that there is progress on loss and damage, the primary focus of the Philippines during this COP.
Fasting is not uncommon in social justice movements, with Gandhi being most readily associated with the practice. In the lead up to the 2009 Copenhagen negotiations individuals participated in the Climate Justice Fasting. Whilst the strikes did not lead to an income, they did generate media attention to the equity issue at hand at the talks.
Saño told The Verb exclusively that, "I am in high spirits and will continue to work tirelessly to push progress in the negotiations."
If you are fasting, our biggest tip is a lot more sleep and fluids; and remember that you won't be able to run on adrenaline forever so beware of the crash.
By Andrew Johnson. Photo via twitter (unknown source)
The original of this story is from The Verb. Reproduced with permission. The Verb is a newswire service focusing on the stories that matter. They are currently reporting from COP19. Follow them on Facebook and Twitter.
We are 100% volunteer and depend on your participation to sustain our efforts!
Get Involved
If you'd like to help with maintaining or developing the website, contact us.