From the Open-Publishing Calendar
From the Open-Publishing Newswire
Indybay Feature
Wildfires set new destructive records in Colorado and New Mexico due to climate change
High temperatures, high winds and low humidity are contributing to extreme fire weather across the US southwest. In Colorado the Black Forest fire burning north east of Colorado Springs has become the most destructive fire on record for the state destroying at least 379 homes and killing two people. Over the border the Whitewater Baldy Complex fire in the Gila National Forest has become the largest wildfire in New Mexico's recorded history. For several years scientists have indicated that Climate change is a primary cause driving the increase in the length of the fire season, the frequency and intensity of wildfires.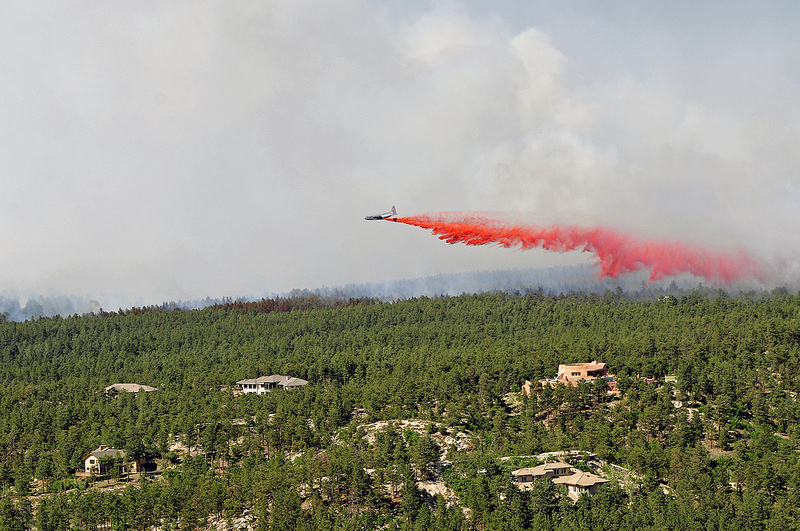 Reports from Colorado confirm that the Black Forest fire has so far burned 15,700 acres; 38,000 people and 13,000 homes evacuated; with the fire only 5% contained. 379 homes have been destroyed and a further 9 damaged. The damage exceeds the record destruction last year from the Waldo Canyon Fire which destroyed nearly 350 homes and also killed two people. Another Colorado wildfire near Royal Gorge has burnt 3,100 acres, destrying 20 structures and is just 20% contained.
Over the border in New Mexico the Whitewater Baldy Complex fire continues to burn in the Gila National Forest. It is the largest wildfire in New Mexico's recorded history. Started by a lightning strike on May 15th 2013, the fire has burned almost 280,000 acres and is assessed as only 37% contained one month later in mid June. High temperatures, low humidity and moderate winds continue to feed the fire. Fire fighters are focussed on containing the southern boundary of the fire. Costs of fighting this blaze have now exceeded $22 million.
Climate change is driving the increased destruction of wildfires with US Forest Service Chief Thomas Tidwell warning of more extreme wild fires in testimony to the US Senate Energy and Natural Resources Committee last week.
In 2012 wildfires burned a record 9.2 million acres in the U.S., with this year also likely to set exceptional fire records.
Wildfires linked to Climate change
Scientists have highlighted the link between climate change and the increase in the wildfire season, frequency and intensity for several years. A University of Arizona Study from 2006 found More Large Forest Fires Linked To Climate Change reported this Science Daily media release:
The new finding points to climate change, not fire suppression policies and forest fuel accumulation, as the primary driver of recent increases in large forest fires.

"I see this as one of the first big indicators of climate change impacts in the continental United States," said research team member Thomas W. Swetnam, director of the Laboratory of Tree-Ring Research at The University of Arizona in Tucson.

"We're showing warming and earlier springs tying in with large forest fire frequencies. Lots of people think climate change and the ecological responses are 50 to 100 years away. But it's not 50 to 100 years away -- it's happening now in forest ecosystems through fire."

The researchers found the wildfire season now starts earlier, fires last longer and the fire season ends later.

"The length of the fire season has increased almost two-and-one-half months compared with 1970 to 1986," Swetnam said. "That's a remarkable thing in itself."
California Governor warns on lack of climate mitigation
The 2013 Fire season has been well underway in Southern California with huge destructive blazes. In Northern California, the fire season started 6 weeks earlier than normal.
In early May California Governor Jerry Brown warned on the lack of Federal climate mitigation action would result in expensive adaptation measures:
"Our climate is changing, the weather is becoming more intense. It's going to cost a lot of money and a lot of lives. The big issue (is) how do we adapt," Brown said ,"because it doesn't look like the people who are in charge are going to do what it takes to really slow down this climate change, so we are going to have to adapt. And adapting is going to be very, very expensive." reported the Los Angeles Times.
While the scope and intensity of wildfires increases, the sequester of federal funds slashing federal Government expenditure forced on the Obama administration by Tea Party Republicans has also slashed funding for firefighting. This year over 500 fewer firefighters will be hired and 50 fewer fire engines will be available to fight wildfires according to a Grist report.
Reduced snow pack, earlier snow melt
The higher temperatures that accompany global warming also results in reduced snow in the Rockies, reduced and earlier snow melt, leading to drier conditions and drought with reduced soil moisture lowering humidity.
This year the snowpack in the Sierra mountains was just 17% of normal.
Mountain Pine Beetle adapting, pine forests more fire prone
Higher minimum winter temperature and a shorter winter season mean the pine bark beetles are less likely to be killed with extreme cold winter temperatures and have more time to for a second brood, with their range expanding further north and to higher altitudes in the mountain pine forests. The mountain pine beetle, has already killed 70,000 square miles of trees. This makes these forests containing dead trees killed by pine bark beetle infestation more flammable, burning with greater intensity.
Wildfires are projected to be at least twice as destructive by 2050, burning at least 20 million aces each year.
Wildfire projected to increase globally in Mid to High Latitudes
On a global level, extreme fire weather may reduce slightly in the tropics, while much of the mid to high latitudes are expected to have increasing fire probabilities. A study published in Ecosphere in June 2012 - Climate change and disruptions to global fire activity (Full paper) highlights the increasing projection for extreme fire weather. From the abstract of this study:
"Although certain biomes are sensitive to constraints on biomass productivity and others to atmospheric conditions promoting combustion, substantial and rapid shifts are projected for future fire activity across vast portions of the globe. In the near term, the most consistent increases in fire activity occur in biomes with already somewhat warm climates; decreases are less pronounced and concentrated primarily in a few tropical and subtropical biomes. However, models do not agree on the direction of near-term changes across more than 50% of terrestrial lands, highlighting major uncertainties in the next few decades. By the end of the century, the magnitude and the agreement in direction of change are projected to increase substantially. Most far-term model agreement on increasing fire probabilities (62%) occurs at mid- to high-latitudes, while agreement on decreasing probabilities (20%) is mainly in the tropics."
The increase in wildfire on a global basis will result in substantial carbon emissions, reduce carbon sink capacity, stress native fauna and flora and threaten biodiversity in many high conservation areas.
Add to this ecologically unsustainable logging of remnant native and regrowth forests, such as the clear-fell logging practices in the Victorian Central Highlands of Australia, which combined with climate driven increased fire weather probabilities, is likely to lead to landscape traps permanently changing entire forest landscape ecosystems.
---
Sources:
Takver is a citizen journalist from Melbourne Australia who has been writing on climate change, science and protests since 2004.
We are 100% volunteer and depend on your participation to sustain our efforts!
Get Involved
If you'd like to help with maintaining or developing the website, contact us.