From the Open-Publishing Calendar
From the Open-Publishing Newswire
Indybay Feature
Related Categories:

California | Racial Justice
National Freedom Day ~ Rosa Parks 100th Birthday Celebration
Beginning February 4, 2000 the notion of California Black Agriculture supporting honoring Rosa Louise McCauley Parks is consistent and seen. The golden lifetime legacy of our "Mother of the Modern Day Civil Rights Movement" will become a nationwide observance once her bronze statue is installed in the National Statuary Hall, Washington D.C. Noon, Emancipation Hall, US Capitol our 13th Annual California Rosa Parks Day will share the national stage with global leaders who recognize the importance of global intermodal transportation systems reflecting equity and equal opportunity. Join us National Freedom Day, February 1, 2013 at the California State Capitol to begin the celebration.
BILL NUMBER: HR 5
INTRODUCED BY Assembly Members Yamada and Mitchell

Relative to the Commemoration of Rosa Park's 100th Birthday.

WHEREAS, Rosa Parks was born on February 4, 1913, in Tuskegee,
Alabama, the first child of James and Leona (Edwards) McCauley; and

WHEREAS, Rosa Louise McCauley married Raymond Parks on December
18, 1932; and

WHEREAS, Rosa Parks, tired after a long day's work as a
seamstress, was arrested on December 1, 1955, in Montgomery, Alabama,
for refusing to give up her seat on a bus to a white passenger; and

WHEREAS, Rosa Parks' arrest for refusing to comply with Montgomery'
s segregation law was the impetus for the Montgomery Bus Boycott, led
by Dr. Martin Luther King, Jr., which lasted 381 days and involved
more than 40,000 African American Montgomery residents; and

WHEREAS, On November 13, 1956, the United States Supreme Court
ruled that Montgomery's segregation law was unconstitutional, and on
December 20, 1956, Montgomery officials were ordered to desegregate
buses; and

WHEREAS, Rosa Parks is honored as the "Mother of the Modern Day
Civil Rights Movement," because her quiet act of defiance began a
movement that ended legal segregation in our country and made her an
inspiration to freedom-loving people throughout the world; and

WHEREAS, The courage and conviction of Rosa Parks laid the
foundation for equal rights for all Americans and for the Civil
Rights Act of 1964; and

WHEREAS, Rosa Parks was the first woman to join the Montgomery
chapter of the NAACP, and was an active volunteer for the Montgomery
Voters League; and

WHEREAS, Rosa Parks cofounded the Rosa and Raymond Parks Institute
for Self Development in 1987 with Elaine Easton Steele to motivate
and direct youth to achieve their highest potential through the
"Pathways to Freedom" program; and

WHEREAS, Rosa Parks was the recipient of many awards including the
Presidential Medal of Freedom, the nation's highest civilian honor,
the Congressional Gold Medal, the highest honor Congress can bestow
upon a civilian, and the first International Freedom Conductor Award
from the National Underground Railroad Freedom Center, among many
other awards and honors; and

WHEREAS, Rosa Parks dedicated her life to the cause of human
rights and truly embodied the love of humanity and freedom; and

WHEREAS, Rosa Parks passed away on October 24, 2005, and was the
first woman to lie in state in the nation's capitol; and

WHEREAS, The people of the State of California are grateful for
the bravery of Rosa Parks and her contribution to the civil rights
movement; now, therefore, be it

Resolved by the Assembly of the State of California, That the
Assembly of the State of California hereby honors the 100th birthday
of Rosa Parks and urges all Californians to remember this great
American woman; and be it further

Resolved, That the Chief Clerk of the Assembly transmit copies of
this resolution to the author for appropriate distribution.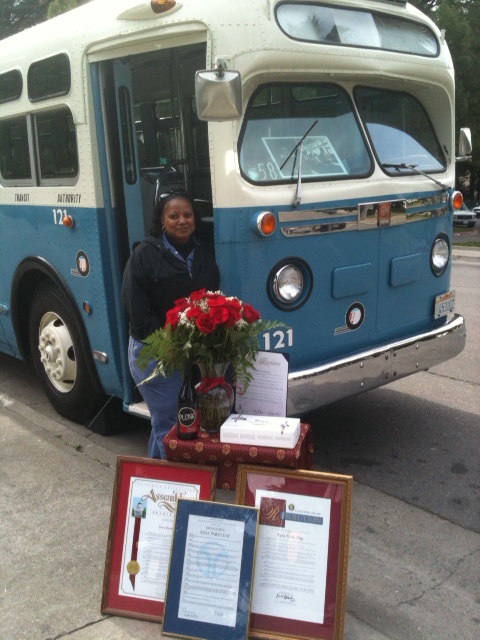 The broader community is invited to join us a the California State Capitol, Friday, February 1, 2013 to kick-off Black History Month 2013 ~ National Freedom Day ~ Rosa Parks Centennial Celebration.

Sacramento, California ~ National Freedom Day is a United States observance of the February 1, 1865 signing by President Abraham Lincoln a joint House and Senate resolution that later became the 13th Amendment to the U.S. Constution.

Major Richard Robert Wright, Sr., born an enslaved American, believed that there should be a day when freedom for all Americans should be celebrated. He invited local and national leaders to meet to organize a movement for a national holiday to commemorate Lincoln's signing of the 13th Amendment.

The National Freedom Association proposed a memorial date to call attention to the continuing struggle for freedom for African-Americans. President Truman signed a proclamation in 1942 to recognize the first National Freedom Day celebration surrounding the "Liberty Bell" in Philadelphia, PA.

California Rosa Parks Centennial Celebration uses the historic 'Ole Blue Bus" as a powerful symbol of the quiet, stregnth and courage of Rosa Parks for education and advocacy of the broader Montgomery Bus Boycott and resulting change is scheduled to be on display Friday, February 1, 2013, 10:30 am – 12: 30 pm, California State Capitol.

Rosa Parks Day in California began February 4, 2000, our annual celebration of the "Mother of the Modern Day Civil Rights Movement." Our continuing theme "Red Roses, Wine, Fine Art, Chocolate and Pan African Cuisine" showcasing our California Black Agriculture Working Group honors the lifetime of service by Rosa Louise McCauley Parks to our nation.

150 years ago, Freedom Statue was placed atop the U.S. Capitol, visable for all to see, yet few know the story to teach a new generation the foundation of an ongoing journey towards freedom. A completed bronze statue of Rosa Parks, yet to be scheduled for installation in the U.S. Statuary Hall, remains a political work in progress as we celebrate her 100th birthday, Noon, Emancipation Hall, US Capitol, Washington D.C.

Special for our 2013 National Freedom Day ~ Rosa Parks Centennial Celebration, artist Donald Harvie captures the vibrant beauty of a young Rosa Parks whose quiet, dignity and courage sparked the Montgomery Boycott in the "Heart of Dixie."

Montgomery, Alabama, original capital of the Confederate States of America, remains the site of Rosa Parks' spark ignited a yearlong, organized and mobilized community action that helped changed global intermodal transportation systems through ending racial segregation in law.

National Freedom Day, the first day of Black History Month, brings attention to the broader contributions to the forward flow of humanity by people of African Descent.

Together, we celebrate the past, present and future of intermodal transportation systems essential to understand the broader U.S. ~ Pan African Trade and Commerce objectives, as well as support tangible research and investment of clean and green transportation systems to enhance our daily lives.

The California Black Agriculture Working Group is proud to continue building upon our extended agricultural heritage through the living legacy of Rosa Louise McCauley Parks, connecting Classical African Civilizations, through the Black Warrior River Basin of Alabama to the Central Valley of California, "the Greatest Garden in the World."

We are 100% volunteer and depend on your participation to sustain our efforts!
Get Involved
If you'd like to help with maintaining or developing the website, contact us.