From the Open-Publishing Calendar
From the Open-Publishing Newswire
Indybay Feature
Related Categories:

Santa Cruz Indymedia | Health, Housing & Public Services | Police State & Prisons
Police and Thieves in Santa Cruz: Good Guys vs. Bad Guys
How safe do you feel when guns are pulled out? How about when police pull out their guns? How does the language of "good guys" and "bad guys" affect our interactions and communication? These questions arose recently when police chased a man through my Santa Cruz neighborhood.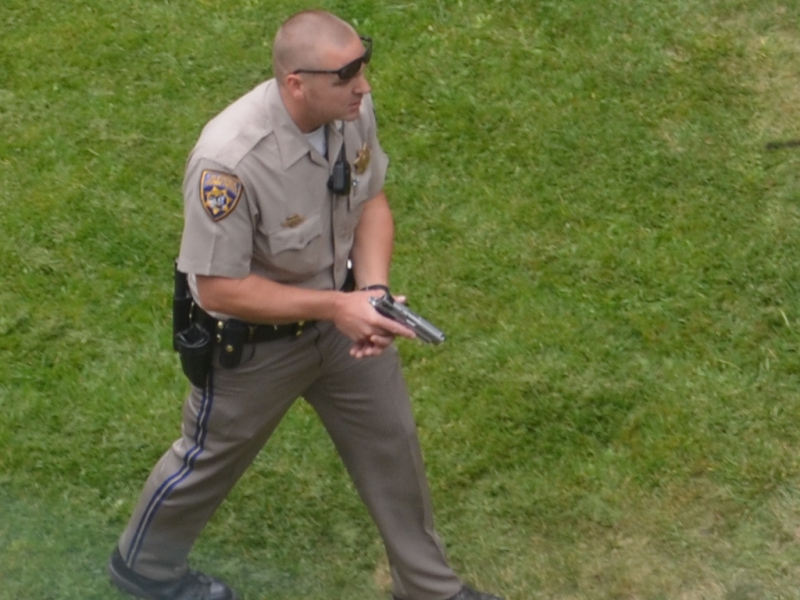 Police and Thieves in Santa Cruz: Good Guys vs. Bad Guys

Sirens. Whenever my five-year old son and I hear the familiar wailing sound we stop for a moment and turn to each other. I usually say aloud, "I hope everyone's okay," and my son returns with, "I hope there's not a fire."

On the afternoon of October 3, 2012 the sirens got closer and closer; louder and louder. We were at home in Santa Cruz, playing and relaxing and as we listened, the sirens kept getting closer. In a couple of minutes police cars and motorcycles were screeching to a halt in front of our house.

We then watched cops run up and down our street and around the corner, some with guns drawn. My son was afraid and curious, wanting to know what was going on. I felt the same. Suddenly, one officer ran into our backyard, followed by another, opening a latched gate. My son and I went to the backdoor and looked outside to the yard. One officer was running across the backyard with a gun out and pointing. One cop yelled at us; "Go inside. Lock the door! Go upstairs! Call 911 if you need to." My son now shook with fear and asked, "What's going on? What's going to happen?"

We went upstairs and I grabbed a camera on the way. From upstairs windows we watched cops jumping over the fences separating our yard from the neighbors. We saw Highway Patrol officers, Santa Cruz City police and other law enforcement come into the yard with guns drawn.

One cop walked toward my son's multi-colored playhouse in the yard, aiming his revolver at the pink and blue mini-sized home. The officers looked behind every corner and plant. We watched them walk around the side yard and into the neighbors yard.

My son and I then ventured back downstairs and noticed that police had cordoned off the area and saw that neighbors were talking with police on the corner. I told my son that I wanted to open the door and ask someone what was going on. My son was not excited about this idea; he was afraid and didn't want me to go outside. He reminded me that the officer had told us to stay inside with the door locked. Soon a vehicle arrived from a local news agency and out came a familiar TV reporter, who's camera operator set up a tripod and began videotaping the now cordoned-off street corner.

A cop was walking across our driveway, so I stepped outside and asked him what was happening. We noticed that the officer's boots were wet and that he was sweating and his chest heaving, as if he'd been running, which in fact he had been doing. He explained that they'd chased a man through the Branciforte Creek after he'd crashed a vehicle during a chase with police. The officer leaned down to my son's height and said in an adult-to-child voice; "We're looking for the bad guy."

The simplistic vocabulary of "good guys" and "bad guys" is certainly not reserved for communication between police officers and children. In this culture, we're taught from an early age to make a distinction between people who follow authority's rules and those who enforce the rules. This education extends into movies, cartoons, games and books; media that young people consume. In extreme cases this way of valuing some higher than others - "good" vs. "bad" - leads to disastrous consequences; history is full of examples of awful things being done to "bad guys" because they "deserve" it. On a daily scale, this separation leads to persistent, subconscious communication informed by moral judgment toward others.

The officer who told my son he was going after the "bad guy" added, "Don't be afraid; there's so many police here, nothing bad can happen to you. You're safe." The cop then reached into his pocket, pulled out a sticker and handed it to my son.

Despite the cop's words, and the sticker, neither of us felt safe. The police presence had actually inspired the opposite for us; discomfort. Even though the police officers told us that they were "good guys" protecting us from a "bad guy," our actual direct experience was watching people running around our neighborhood, into our yard, with guns pointed. Perhaps if the "bad guy" had turned up and threatened to harm us, I would've appreciated protection and help. But in reality, it was the "good guys" with guns that had stimulated our fears. We didn't want to be shot. And their story of a nebulous, unknown "bad guy" only served to inspire scary images and ideas of our own.

My son and I wondered aloud to each other what the man they were chasing could've done to have inspired a gun-wielding chase -- Robbed a bank? Physically harmed someone? I tend to assume that when the "good guys" pull out their guns it must be in response to a particularly intense situation, where the "bad guy" has just done something very harmful. According to news reports, it turned out the "bad guy" was a "30-year-old" who had "led police on an 80 mph chase" and that his crime had been "driving with a suspended license with prior convictions for driving under the influence." According to the report he was a Latino man who'd "crashed into a ravine on the 100 block of North Branciforte Drive… ditched the pickup and fled across a creek to backyards on Isbel Drive."

Reports also said that he had a "history of methamphetamine abuse" and "is now wanted on suspicion of driving with a suspended license with prior DUI's, felony reckless evading, resisting arrest, trespassing, misdemeanor hit-and-run, and other crimes."

Police officers with guns drawn ran around our neighborhood for another hour. The "bad guy" wasn't found for many days, and not in our neighborhood. He was arrested on October 17 at his home in Santa Cruz. When the police and TV reporter packed up and went away, no explanation was offered. We didn't know at that time if anyone had been apprehended or not. Where was the "bad guy" that they'd been chasing after with guns drawn?

It reminded me of an experience I'd had about two years earlier in downtown Santa Cruz, near Café Pergolesi, where police were involved in another situation where guns were drawn. Again, when it was all over, police offered no explanations to those affected as bystanders and witnesses.

In that case I was driving in a car and I watched along with a dozen people sitting at the café as a police officer pointed a semi-automatic assault-type rifle at a young Black man. His arms were raised and his facial expression was one of panic. The cop was yelling to the man to walk toward him with hands raised. The "bad guy" appeared very afraid and was mumbling, "Oh man. Okay. Oh, man." I parked my car and by the time I walked over to the scene, police officers were detaining other suspects; two young Latino men, seating them on the ground. I stayed and observed and in the end all the suspects were let free. I asked the dispersing police about what that was all about and one officer explained that a 911 call had been received that somebody had a gun. The cop told me that after detaining a few people (at gunpoint) the "gun" had turned out to be a cigarette lighter. I asked the cop with the assault-type rifle if it was an automatic weapon and he answered, "semi-automatic."

Get this: this wasn't my five year-young son's first experience seeing cops in Santa Cruz with guns drawn. A couple months earlier in 2012 we'd been playing at a San Lorenzo Park play structure. I noticed police cars pull up and officers jump out of a half dozen cars and surround another car. The cops had guns out and pointed at the vehicle. Because the officers stood in a semi-circle around the car, their guns also pointed at my self and my son, and a bunch of other families and individuals playing and picnicking in the park. Concerned for our safety, I quickly moved my son and myself toward the grove of cork trees, out of the line of fire. Others followed. We were afraid and concerned.

A man was removed from the car and placed in a police car. We watched as officers searched the car and removed an old blanket, a tattered jacket and a syringe. My son asked thoughtful questions; "When they take the bad guy to jail will they leave the handcuffs on?" and "Why did he have a blanket in the car? Why was he sleeping in the car? Why doesn't he sleep at his house?"

And this wasn't my first experience moving out of the line of fire of SCPD guns. Some years ago I was on my bicycle on the way to the beach and saw a police car pull over a vehicle. The officer un-holstered a gun and pointed it at the car, and by extension, at me. The cop waved for me to move out of the way.

And back in 1991 I'd witnessed local police kill a man named Carlos Machado. He'd stolen a car and gun and was cornered by cops at a gas station near the downtown County Courthouse building. Machado had shot the gun out the car window while being chased. It happened to be just a few days after the US military had begun bombing Iraq and hundreds were gathered at the County building to protest the latest war.

At the gas station police officers repeatedly told Machado to drop his gun. The officers formed a semi-circle around him with guns, rifles and shotguns pointed at him, and by extension, each other and at many people coming and going from the County building. A police dog was directed to attack Machado and first mistakenly bit a police officer. He was then re-directed and in the next moment the dog was wounded by a bullet and Machado was killed in a volley of eighteen bullets. Half of the bullets hit Machado and the other half flew past, with some lodging in the gas station mini-mart and some shooting past myself and a few hundred others into the portable court room buildings.

The most recent experience of having police run into our living space with guns drawn was unsettling for my son and I. It reminded me of past experiences and has re-ignited some long-held questions of my own:

- How can communities best create safety and respond to emergencies?
- Do we feel safer with the presence of police and guns?
- How often do local police pull their guns?
- Wouldn't it be useful for police to explain and offer an ear to citizens who've just witnessed the violence of gun pointing or shooting?
- How does the dichotomy of "good guy" and "bad guy" affect us; especially children?

John Malkin is a journalist, musician and board member of Santa Cruz Nonviolent Communication.

Police officer searching our backyard for a "bad guy" in October, 2012.

Officers in our backyard after telling us to, "Lock the door and stay inside."
Two officers going into our neighbors yard, searching for a "bad guy" who'd crashed a vehicle after a chase through Santa Cruz.
My five year old son watching police run around our home from an upstairs window.
We are 100% volunteer and depend on your participation to sustain our efforts!
Get Involved
If you'd like to help with maintaining or developing the website, contact us.