From the Open-Publishing Calendar
From the Open-Publishing Newswire
Indybay Feature
Related Categories:

California | Environment & Forest Defense
24 Reasons To Halt Fracking In California
24 Reasons To Halt Fracking In California – Demand Full Disclosure of Wastewater Injection Chemicals and Toxicity per well location, along with an EIR per well under CEQA, and an estimate of groundwater usage, and the power consumption to pump said water, delivery energy usage, etc, etc, etc.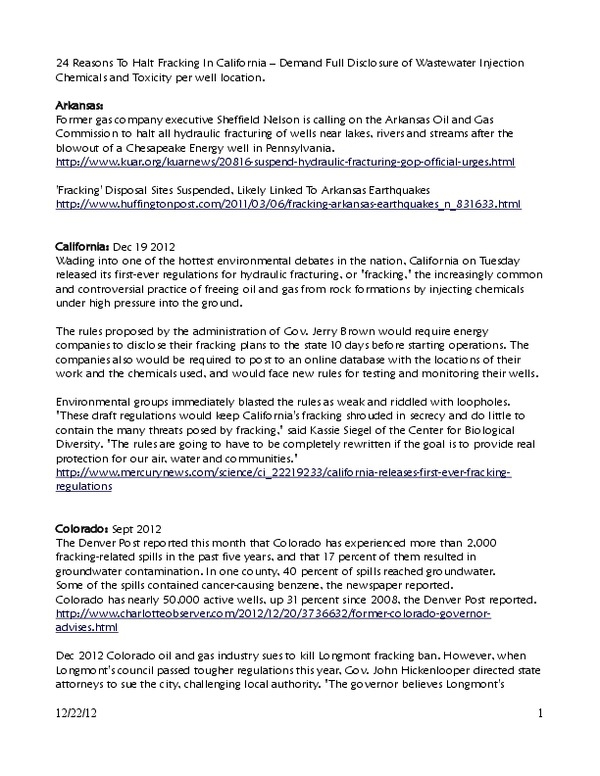 Download PDF (66.1kb)
The SourceWatch National Map Of Fracking
At the bottom of each page, a map of the Nation appears. Just click on a State for a wealth of information, fracking's historical context, political payoffs, citizen involvement, petitions to our government... a fantastic resource of the boom status state by state.
http://www.sourcewatch.org/index.php/California_and_fracking
Fracking, or Hydraulic fracturing, is the propagation of fractures in a rock layer caused by the presence of a pressurized fluid. Hydraulic fractures form naturally, as in the case of veins or dikes, and is one means by which gas and petroleum from source rocks may migrate to reservoir rocks. This process is used to release petroleum, natural gas (including shale gas, tight gas and coal seam gas), or other substances for extraction, via a technique called induced hydraulic fracturing, often shortened to fracking or hydrofracking. This type of fracturing, known colloquially as a 'frac job', creates fractures from a wellbore drilled into reservoir rock formations. A distinction can be made between low-volume hydraulic fracturing used to stimulate high-permeability reservoirs, which may consume typically 20,000 to 80,000 gallons of fluid per well, with high-volume hydraulic fracturing, used in the well completion of tight gas and shale gas wells; high-volume hydraulic fracturing can use as much as much as 3 million gallons of fluid per well. This latter practice has come under scrutiny internationally, with some countries suspending or even banning it. The first frac job was performed in 1947, though the current fracking technique was first used in the late 1990s in the Barnett Shale in Texas. The energy from the injection of a highly-pressurized fracking fluid creates new channels in the rock which can increase the extraction rates and ultimate recovery of fossil fuels.
http://www.sourcewatch.org/index.php/United_States_and_fracking
Perma Drought
http://www.bloomberg.com/news/2012-07-11/usda-declares-disaster-in-26-states-as-drought-sears-midwest.html
More than 1,000 counties in 26 states are being named natural-disaster areas, the biggest such declaration ever by the U.S. Department of Agriculture, as drought grips the Midwest.
http://topics.bloomberg.com/u.s.-department-of-agriculture/
Flash Video of Fracking (Kind of an artistic conceptual animation of the problems associated with Fracking based on the movie Gasland).
http://www.gaslandthemovie.com/whats-fracking/
I feel strongly that this industrial assault on America will change the landscape of this great country more quickly than denuding the land of the original forests.
American Citizens are the New Indian and Public Lands the New reservations -John Trudell
Don't Frack Our Farmland
Don't Frack Our Forests
Don't Frack America
Tomas DiFiore
We are 100% volunteer and depend on your participation to sustain our efforts!
Get Involved
If you'd like to help with maintaining or developing the website, contact us.