From the Open-Publishing Calendar
From the Open-Publishing Newswire
Indybay Feature
Related Categories:

Central Valley | International | U.S. | Police State & Prisons
Anonymous Demands Manteca Police Fire John Moody for the Murder of Ernest Duenez
Anonymous takes aim at Manteca Police Department in the wake of video footage being released.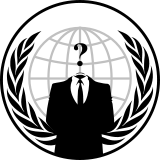 Anonymous, the decentralized and autonomous network of hackers, has chosen it's next target: the Manteca Police Department. (View video communique here:
http://www.modestoanarcho.org/2012/12/anonymous-demands-manteca-police-fire.html
)
In a video released several days ago, the group sites an increase in the rise of police brutality across the United States, in particularly in the Central Valley. Quoting a recent Modesto Bee opinion piece by Ralph Shaffer:
This year's California death toll is inexplicably high. Over 70 have died in Southern California alone, with probably a few less in the rest of the state. Even in an average year, slightly more than 100 people are killed by California law enforcement officers.
The graphic video posted last week on several Internet sites showing the death of Ernest Duenez of Manteca is a chilling argument for an end to the all-too- frequent use of deadly force by law enforcement in California. His death was only one in a staggering death toll racked up by police and sheriff's deputies. The body count in the past six years is approaching 700. If we executed every man on San Quentin's death row tomorrow, the toll would only be slightly more than the number cops have killed since 2007.
Since the release over a week ago of the of the dash cam footage of Ernest Duenez's death in 2011 by MPD officer, John Moody, the video has gone viral and has been posted on youtube, World Star Hip-Hop, and shown on countless Spanish and English speaking news programs and reported on in various newspapers. The video shows what the Duenez family and supporters have been stating for over a year now in the streets and through their constant organizing: that Ernest Duenez was shot and killed in cold blood and that the police officer that killed him continues to patrol our streets.
In response, Anonymous, which is made up of autonomous individuals who take on the name and title of Anonymous to carry out 'electronic direct action,' declared in their video communique:
...Manteca Police Department, we demand as a final resort that you [fire] your corrupted enforce John Moody and serve justice for his despicable act of violence. Otherwise, Anonymous users will act appropriately and inevitably a complete shutdown of the official website [of the Manteca Police Department]...
The video features regular staples of Anonymous communique videos: is shows a masked figure dressed as "V," from "V for Vendetta," the anarchist hero from the Alan Moore book (and later film devoid of Moore's politics) who fought against a fascist government. The figure in the video speaks in a computer dubbed voice. It finishes with the Anonymous credo: "We are Anonymous. We are Legion. We do not forgive. We do not forget. Expect us." While it is unclear from the video when or how Anonymous will decide to act on this threat, Anonymous hackers in the past have lent their talents to other struggles involving police brutality. In the bay area, after police shot and killed an armed homeless man on BART, and authorities then cut wi-fi access on the lines to thwart protesters, Anonymous responded by hacking the BART website and releasing the personal information of 100 police officers. Other groups such as Antisec, followed suit in Arizona in similar attacks.
In the streets, the Duenez family and their supporters continue to keep the heat on the MPD, with continued demonstrations as messages of solidarity are pouring in throughout the US, as more and more people become aware of the case after watching the video. Last Sunday, people rallied outside of the Manteca Police station. As CBS reported on the demonstration:
Since Ernest's death last summer, his family stood in front of the Manteca Police Department nearly every Sunday, calling for an investigation into the officer who killed him. "We're going to keep fighting. They're not going to get rid of us," said Reyna.Many times only a few family members stood in protest, then a couple of days ago, the family's attorney posted the dash cam video on YouTube after the district attorney ruled the shooting was justified.
"I thought it was a horrible, brutal homicide," supporter Jose Lopez said.On Sunday, some who watched the video joined the Duenez family in their weekly protest. "I want to see justice for the family of Ernest Duenez," said Lopez. "You watch the video, it don't look justified to me," supporter Ray Barajas said. "It don't look justified to anybody out here."
In a recent message to supporters on the Justice for Ernest Duenez's facebook page:
It has been a long 18 months for us, we have waited for justice but justice was denied. The District Attorney's office has refused to prosecute John Moody of the Manteca, PD, they have ruled Ernest's death "legally justified". We do not accept that decision. It is even further reason why the Justice Department needs to get involved. We are not only dealing with a murdering cop, a corrupt police station, a non-responsive city council, an ex-police officer gone Expert who violated his profession by writing his report in order to clear Moody but now a District Attorney's office who is working for the Police Department not THE PEOPLE! DA James Willett only has his job because he ran un-opposed...we didn't put him there but we need to take him out of there!
Because of your support we are more determined than ever to make sure that we get justice for Ernest and all of your family that has been murdered or brutalized by the police.
We are 100% volunteer and depend on your participation to sustain our efforts!
Get Involved
If you'd like to help with maintaining or developing the website, contact us.